REVIEW: YANMAR 3YM20 DIESEL
---
Three really is the magic number for small marine diesel engines like the Yanmar 3YM20.
The Yanmar 3YM20 is really a scaled-down version of the beautiful (I'm such a nerd) Yanmar 3YM30 diesel engine, which from owner reports has the same running qualities of low vibration and exhaust smoke emissions. It's one of the few small Yanmar diesel engines I haven't tested afloat but Yanmar is very thorough when it comes to supplying tech specs.
YANMAR 3YM20
Based on a TNV industrial engine manufactured in the Netherlands, the indirect injection 3YM20 displaces 854cc and has a simple OHV design with pushrods operating the two valves-per-cylinder and a slightly under-square bore:stroke ratio for better combustion efficiency. It develops a maximum of 21.7bhp at 3600rpm at 250C fuel temperature or 20.5bhp at 400C. The maximum continuous output is 19.7bhp at 3490rpm and the engine is rated to 250 hours of running per year, with no more than 10 per cent of this at Wide Open Throttle.

The maximum torque is an impressive 50.5Nm at 2200 to 2500rpm, with plenty of torque still above and below this range. I recommend not running the engine continuously below 2500rpm as the fixed injection timing is set for this rev range and below this the fuel spray is too advanced to be fully combusted, leading to possible cylinder bore glazing down the track.
To meet EU and US exhaust emission laws, the 3YM20 has heat exchanger cooling with hot water take-off and centrifugal freshwater cooling pump and a gear-driven saltwater pump.
The voltage regulated alternator pumps out up to 60amps and can be upgraded to an 80amp unit, which is the route I'd take. Both the alternator and starter motor are mounted high on the engine, away from bilge water, though this should not be there in a 'glass hull. And you don't want it either, as only electric starting is fitted!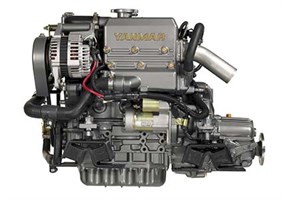 The main drawback is that a down-angle gearbox is not available, so care has to be taken when mounting the engine to avoid oil starvation when the hull is pitching underway. But, cleverly, Yanmar offers two boxes that have a taller ahead gear than astern, allowing the engine to reach its torque band faster when going astern in a marina. These boxes have either 2.21:1 or 2.62:1 reductions ahead and 3.06:1 astern and mechanical cone clutches for reliability and servicing ease.
Complete with box, the 3YM20 measures 694mm long by 463mm wide and 600mm high, so it is a fairly tall engine, compounded by the forward end being raised as there's no down-angle box. This model weighs 130.3kg dry.
An SD20 saildrive model is also available with 2.64:1 reductions ahead and astern and weighs 150kg dry. The SD20 has a long-running double seal design with water ingress alarm between the seals – just as well as the hull opening for a saildrive is way bigger than the hole for a shaftdrive!
Yanmar recommends using good quality mineral-based SAE 10W30 or 15W40 oil depending on the anticipated ambient temperature range between oil and filter changes. For infrequently used engines, I recommend doing this every six months.
YANMAR 3YM20 DIESEL ENGINE ECONOMY
| | | | |
| --- | --- | --- | --- |
| RPM | MAX TORQUE (NM) | BHP (absorbed by prop) | ACTUAL LT/H |
| 1800 | 49 | 2.7 | 1 |
| 2200 | 50 | 54.7 | 1.5 |
| 2500 | 50.5 | 6.7 | 2 |
| 2800 | 49 | 9.7 | 2.7 |
| 3200 | 47.5 | 14.1 | 3.9 |
| 3490 | 44 | 18.1 | 5 |
| 3600 | 41 | 21.7 | 5.4 |
*Engine data supplied by the author.
TORQUE AND FUEL BURN
Like most industrial and tractor engines the 3YM20 has rapid torque rise at low rpm, with a relatively big tapering off above its maximum torque band. This is good news for yacht owners as, when the maximum torque and power are low relative to hull displacement, the more torque down low the better. Torque higher in the rpm range is only really useful in lightweight planing hulls.
Being a real nerd I've mentioned many times before how inefficient a diesel is at low rpm so, based on standard prop power curves which give an indication of real-time fuel flow, the 3YM20 appears to use way more fuel for output than it does approaching WOT. Even so, based on my on-water testing of the Yanmar 3YM30 diesel, it will return up to 2.5 times better fuel efficiency (distance travelled for fuel used) at 2500rpm than it does at WOT, especially when fitted with a Gori folding prop having the overdrive function. The rule of thumb with all true displacement hulls is that halving the speed needs only one-eighth the power to achieve it.
THE VERDICT
Thanks Yanmar for supplying such comprehensive tech specs. On-water testing would be much better but, at least, Trade-a-Boat visitors can get an idea of how this engine compares with its direct competition.
So, with your smooth running three-cylinder diesel engine, you can sit at the helm knowing that your flab won't be affected – or that your transom will get dirty from exhaust soot.
Visit yanmar.com.au or email sales@powerequipment.co.nz for more information on the Yanmar 3YM20 diesel engine.
YANMAR 3YM20 DIESEL ENGINE SPECIFICATIONS
TYPE Three-cylinder diesel engine
RATED HP 21.7 at 3600rpm
TORQUE 50Nm at 2200 to 2500rpm
DISPLACEMENT 854cc
BORE X STROKE 70 x 74mm
WEIGHT 130kg (dry w/gearbox)
See the full version of this review in Trade-A-Boat #241, June / July 2014. Why not subscribe today?
Keep up to date with news from Trade-A-boat or like us on Facebook!