REVIEW: ZODIAC 650 PRO OPEN
---
The versatile Zodiac 650 Pro Open rigid inflatable is fast becoming a deadly weapon on all waterborne fronts.
When married couple Riley and Laura Tolmay went looking for a boat, they needed something suitable for inshore and offshore fishing adventures, yet still super-easy to manage solo – a weekender that could punch through a big sea one day and perform tendering duties the next.
So where did they land? It seemed immediately clear a Rigid Inflatable Boat (RIB) would fit the bill, but which one? In the end our duo went for a Zodiac 650 Pro Open RIB.
ZODIAC RIBS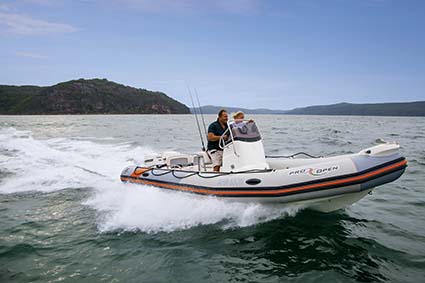 In the blink of an eye the beautiful blue sky that greeted our test day had been vacuumed up into an ugly grey weather system moving in over Sydney's Northern Beaches. With it came a choppy 15kt northeasterly breeze and a swell that stood up in the shallow water around Barrenjoey headland. Nonetheless, we pushed on. Admittedly, I've only had limited experience on RIBs and in these less than ideal conditions I wasn't exactly sure what to expect.
But after cutting a few laps I was left dumbfounded by how this RIB performed. With two big airbags hanging off the sides and a solid deep-vee hull underneath this boat shouldn't ride well to my mind – but it really does!
The 650 Pro Open handles beautifully in chop and the swell but where it really impresses is in the stability at rest. It hardly budges as you make your way around the sides of the boat – talk about one sweet fishing platform.
It's also much lighter than any other 6.5m fibreglass or aluminum boat in its range, so you go much faster than expected with only 150hp on the back. The Zodiac responds brilliantly to trim and is incredibly dry too.
WHAT'S THE CATCH?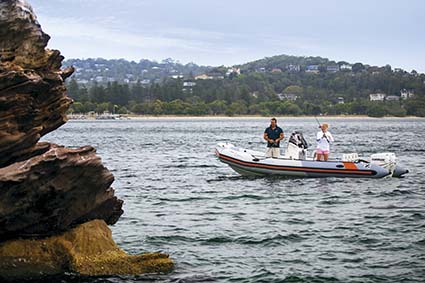 So what's the catch? For me, it had to be the lack of space and storage. For a 6.5m boat, it felt quite small – the internal length is only 4.95m long but that's part and parcel with RIBs. Luckily Zodiac has done a great job at filling what space you do have, efficiently and effectively.
When it comes to storage options, there's a large hatch at the bow that has room for a few bits and pieces, including the anchor. Next you'll notice that the entire centre console manually lifts forward to reveal access to the electronics, plus storage space for those items you don't need in a hurry. Behind the console sits a big, comfortable helm chair that accommodates two people and four favourite rods in the rocket launchers.
Although not exactly ideal for fishing, I did love the aft lounge setup. It's suitable for three, with an Esky underneath the central seat and two dry storage areas underneath the other two. A cool innovation was the backrest that when removed, reveals four more rodholders. The battery position was a little precarious, though, as you have to lean into the engine well and remove a tricky hatch (well, it was tricky for me). Finally, the cockpit features a self-draining deck that worked well.
ENGINE

The transom of the 650 Pro Open is big and beefy, so-much-so that Riley decided to mount twin 75hp Evinrude E-TECs on it. Riley said twin outboards gave the boat much better manoeuvrability at slow speeds and peace of mind when fishing out wide offshore.
I loved this addition to the Zodiac which has the ability to turn on a dime and make docking a breeze when she returns home to the drive-on pontoon. The E-TECs themselves are pretty special engines too. They're super fuel-efficient two-strokes that have unmatched accelerating power and punch out of the hole. Match that with quiet performance and very little smoke output and you're looking at one killer outboard – or two, for that matter.
THE VERDICT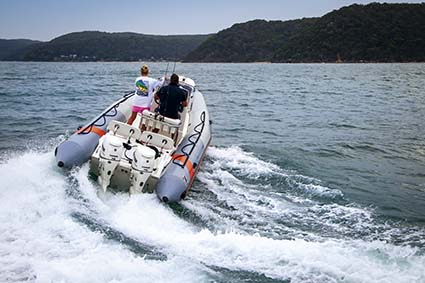 Laura and Riley have gone all out in making this boat a simple jump on-jump off weekender. Everything is setup for minimal stress and maximum simplicity, from the drive-on pontoon to the set-and-forget E-TEC outboards.
The Zodiac 650 Pro Open rigid inflatable requires little maintenance and can be bumped and knocked around without any worries. Considering how busy everyone seems to be these days RIB boats will continue to look increasingly attractive to anglers, small families, commuters and watersports enthusiasts, and for good reason.
HIGHS
• One of the most versatile boats on the water
• Twin outboards are a nice touch
• Super stable
LOWS
• Battery position could be improved
• Limited storage
ZODIAC 650 PRO OPEN SPECIFICATIONS
PRICE AS TESTED
$75,000 or $70,000 with a single 150hp outboard motor
GENERAL
MATERIAL Fibreglass/Hypalon
TYPE RIB
LENGTH 6.5m
BEAM 2.5m
WEIGHT 670kg (hull)
DEADRISE 24°
CAPACITIES
PEOPLE 5
REC. HP 150
REC. MAX HP 175
FUEL 180lt
ENGINE
MAKE/MODEL 2 x Evinrude E-TEC 75
TYPE Two-stroke petrol outboard
RATED HP 75 (each)
WEIGHT 145kg (each)
DISPLACEMENT 1296 cc (each)
FOR MORE INFORMATION
Visit zodiacmarine.com.au
See the full version of this review in Trade-A-Boat #241, June / July 2014. Why not subscribe today?
Keep up to date with news from Trade-A-boat or like us on Facebook!