Review: Outer Reef Yachts 630 Long Range Motor Yacht
---
Long range cruising made easy by an extended fuel capacity and proven hull design.
mooth and quiet engines will make the cockpit a favourite location.
The luxurious helm has the best navigational aids, practical handrails and great visibility.
The boat deck offers plenty of space and entertaining features.
Postioning the vessel is made easy from the raised vantage point plus bow and stern thrusters.
Twin Caterpillar C9 ACERT diesel engines.
Luxuriously appointed cabins.
The luxury is everywhere.
The Outer Reef Yachts 630 Long Range Motor Yacht (LRMY) will show you how to cruise in style and comfort.
I recently got to cruise aboard an Outer Reef Yachts 630 Long Range Motor Yacht called Jinsei. Outer Reef Yachts claims its yachts are built for maximum cruising pleasure and long-range capability. From my time on board I would attest to the first part and owners, Simon and Celigh Calleia with their two young children, are about to check the second, with trips to Queensland and Tasmania planned in the near future.
OUTER REEF YACHTS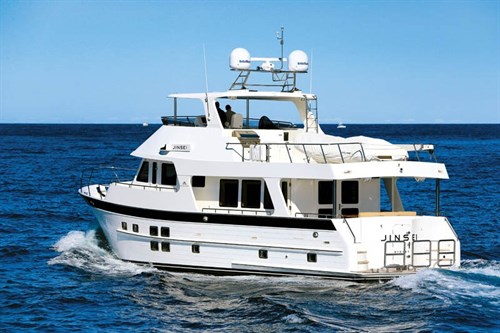 Based on the experience of other Outer Reef owners they should have no worries. Outer Reef craft have cruised the Pacific and Atlantic oceans, so a voyage along our eastern seaboard should be a breeze. As added assurance all of Outer Reef Yachts' craft are built to European standard Ocean Category A enabling 'unrestricted navigation' in open ocean to a wave height of six metres and sustained winds in excess of 40kts.
OUTER REEF 630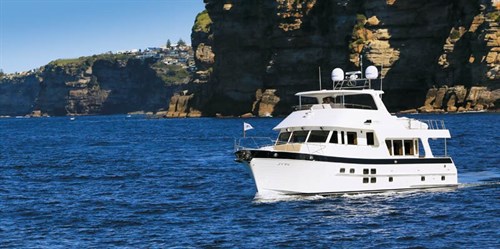 The all-white Outer Reef 630 blends a traditional trawler look with modern touches for a conservative, timeless appeal. The semi-displacement pilothouse cruiser has covered walk-around decks, Portuguese bridge, fully covered flybridge and a covered cockpit.  In the bow a modest flare leads to high timber-look sides with a black stripe following the sheerline aft and reflecting colour accents inside. Square portholes reflect the shape of the pilothouse and saloon windows, framed by sturdy mullions that contribute to the boat's serious seagoing nature.
Below the waterline the handlaid fibreglass employs a vinylester resin barrier for osmosis protection, while the hull has a patented Quiet Roll Spray Rail System to deflect spray and reduce hull slap underway. Rigid foam sandwich in the superstructure keeps weight down and helps keep it cool.
Underneath the staid exterior a Ken Freiokh-inspired fitout steps away from conventional style into a 'modern classic' blend of quality material and use of space. The England-based designer has brought a horizontal grid and long sightlines to the saloon for a spacious open plan interior that is both visually integrated and functional.
DESIGN AND LAYOUT
For Simon and Celigh, their journey to an Outer Reef 630 was a gradual progression in size through a Bayliner 26, a Riviera 38 and a Marina 43 before having the desire and wherewithal to move into something even more substantial. Criteria leading to the choice of the Outer Reef Yacht included the boat's structural integrity but also the amount of input they could control in customising the interior to their needs. Simon was effusive in his praise of the local agent Andrew Coffey who he said offered an unbelievable level of customer care.
The Calleia's options didn't come without a price but they have a boat that is exquisitely finished and the personal touches give them a real sense of belonging. Options included selection of cladding materials, choices of galley appliances, a mega sound system throughout the boat and a complete redesign of the master stateroom. They also added as much fuel capacity as possible, ending up with 5000lt in four tanks.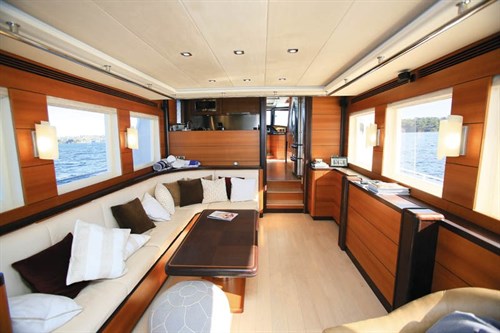 As the camera boat backed up to the boarding platform of the Outer Reef 630 I was impressed with the removable stainless steel staples that facilitated an uneventful transfer. Stairs either side ascend to the cockpit and a central watertight door leads down to a utility room and a two-berth crew/guest cabin with head, and through to the engine room.
A beige Sunbrella-clad lounge joins with an intricately inlaid teak and white ash table to make a great breakfast setting in the covered cockpit. Gates either side ease transfers from a wharf, and wing doors to the side decks can be closed to keep the breeze down when underway.  If breakfast extends into the late morning, a drawer under the lounge means there's no need to go searching for a cold drink.
Sliding watertight doors open to the cockpit where the view goes on forever through to the raised pilothouse. Wide horizontal panels of satin teak are defined with dark wenge break lines to maximise the feeling of space and render a modern interpretation to this nautical material.
CABINS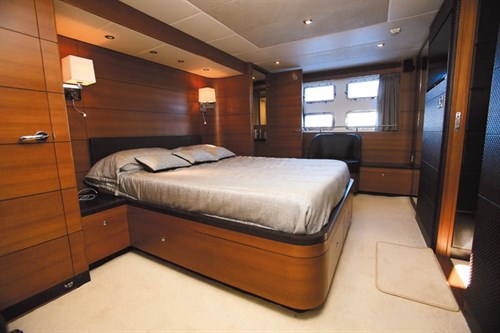 To port is a twin-cabin and forward is a double where the queen bed has steps each side to assist the climb onto the high mattress. No need to skimp on the luggage – there's plenty of storage in hanging cupboards, under-bed drawers and long shelves along the hull. Each cabin has its own sound system and television and they share a well-equipped en suite with monster shower, Tecma head and black granite vanity.
If anything represents the quality and refinement of Jinsei it's the master stateroom. Stretching the full width of the hull it offers a roomy relaxing space away from the rest of the boat.
Black leather-weave feature panels offset the horizontal teak and wenge walls, while cream carpet and ceiling reflect natural light from ports either side. There are two walk-in wardrobes, the rear one opening to the engineroom and the second leading to added storage under the stairway.
This opulent theme is continued in the en suite with parchment wallpaper, black-tiled floor and black granite vanity. There's even a black granite seat in the giant shower and with 1100lt of fresh water and a 283lt/h FMI watermaker below, lingering here won't be a problem.
HELM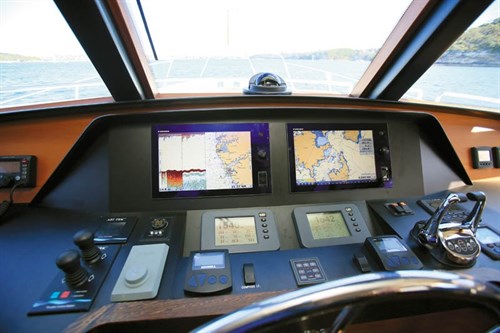 Forward of the galley is a walkway through to the pilot house where the skipper has the best of everything at his fingertips. Set on a sculptured platform, the black leather Stidd helmsman's chair matches the wrap-around matt black dash and overhead console.
Twin Furuno TZ14 screens display information from the sounder, GPS, 40-mile digital radar or FLIR night-time camera, while two digital readouts provide data from the twin Caterpillar C9 engines. Ancillary equipment includes ABT-TRAC automatic stabilisers, Furuno autopilot, front and rear thrusters, and hydraulic winches for the twin anchors.
With its expansive views forward the pilothouse will find favour with crew when travelling and they are treated to a wide lounge and table – but in a way I'm surprised there is no second helm chair to keep the skipper company.
PERFORMANCE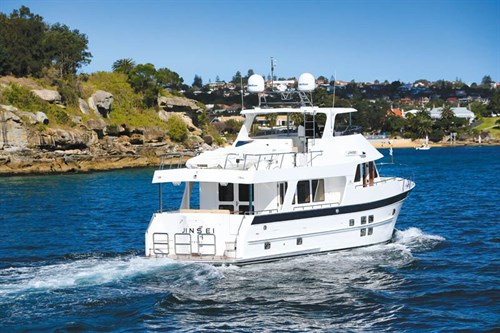 Our time on the Outer Reef Yachts 630 LRMY included a short romp past Sydney Heads and into a slow rolling swell, just unsettling enough to have the stabilisers working when side-on to the sea. We motored along at a cruising speed of 9kts and 1600rpm, burning 41lt/h from both engines. Plant the throttles and top speed is just over 13kts, but the fuel burn goes to 190lt/h.
Underway the Outer Reef is smooth and very quiet with only a faint rumble from the underwater exhausts and no hint of vibration through the hull – rest the champagne flute on the table and it's still going to be there after the barbecue is cooked!
THE VERDICT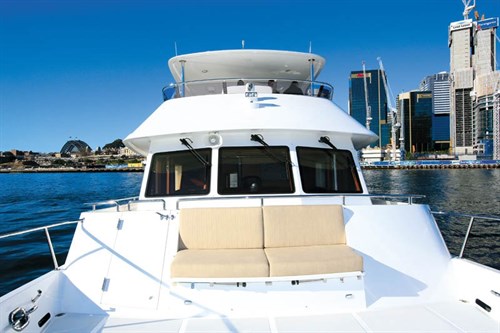 This Outer Reef 630 is designed for the owner to take control of the helm and head off towards that sky-blue horizon.  Thrusters make undocking possible, the electronics will guide your way and there's fuel to get you to where you want to be. What's keeping you?
Maybe the price. All this luxury and technology doesn't come cheap, and with a price somewhere north of $2.5m it's for those fortunate ones ready to take on a new adventure. The enduring quality and seafaring ability of the Outer Reef will enable them to enjoy places the rest of us only dream of.
HIGHS
• Stable, soft ride
• Long-distance capability
• High level of fitout and engineering
• Category A rating
LOWS
• I'd like a companion helm seat for the skipper
OUTER REEF 630 LRMY SEA TRIALS
Twin Caterpillar C9 ACERT turbo-diesels
| | | |
| --- | --- | --- |
| RPM | SPEED (KTS) | FUEL BURN (LT/H) |
| 700 | 4.8 | 7 |
| 1000 | 5.5 | 15 |
| 1500 | 8.8 | 36 |
| 2000 | 10.9 | 89 |
| 2500 | 13 | 180 |
* Sea-trial data supplied by author. Fuel-burn figures are combined for both engines.
See the full version of this review in Trade-A-Boat #244, August / September 2014. Why not subscribe today?
OUTER REEF 630 LRMY SPECIFICATIONS
Outer Reef 630 price: $US2,250,000
GENERAL
MATERIAL Fibreglass
TYPE Monohull
LENGTH 19.22m
BEAM 5.23m
WEIGHT 33.11t 
CAPACITIES
PEOPLE 22 day, 8 night
FUEL 5000lt
WATER 1100lt
ENGINE
MAKE/MODEL 2 x Caterpillar C9 ACERT
TYPE Inline six-cylinder turbo-diesel
RATED HP 503 (each)
DISPLACEMENT 8800cc (each)
WEIGHT 946kg (each)
GEAR RATIO 2.6:1
SUPPLIED BY
ANDREW COFFEY'S BROKERAGE
PHONE +61 416 045 142 or +61 2 9918 3395
EMAIL andrew@outerreefyachts.com
Keep up to date with news from Trade-A-boat or like us on Facebook!