Review: Stabicraft 2900 Weekender
---
Twin 200hp Mercury Verados on the back.
This twin-burner meths cooker is typical of the thoughtful practicality in the setup of the Vosloo's Stabicraft 2900 Weekender.
Everything's been thought of.
The cockpit setup with dinette closed.
And with dinette unfolded.
Not one but two Simrad displays!
For this boating couple the Stabicraft 2900 Weekender is the perfect partner for exploring the deep blue in safety and comfort.
New Zealand boating couple Pieter and Annelize Vosloo's idea of a holiday is diving with sharks and squeezing through underwater swim-throughs in some of the most remote dive locations in the world. They also like to explore their own backyard, New Zealand's Hauraki Gulf and beyond, whenever the chance arises. After owning several Stabicraft aluminium boats they reckon they've found their perfect boat to live out their dreams in – the Stabicraft 2900 Weekender.
STABICRAFT 2900 WEEKENDER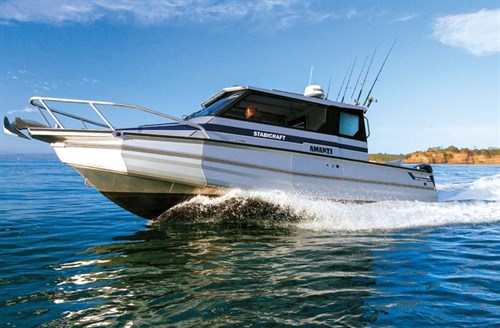 Being keen divers and underwater photographers, Stabicraft's optional enclosed toilet and shower cubicle was a must-have.  "You've got to have a hot shower after a dive mate," Pieter explained. Stability and storage were also paramount and the big Stabicraft doesn't lack either.
Bulky dive gear can be safely stowed beneath the large baitstation and plus-sized under-floor bin (complete with gas stays to save your forehead and fingers from unnecessary torture). Heavy-duty Hi Tech Plastics dive bottle holders provide secure storage for four tanks along the gunwales, with space to triple that number if required. Additional tube floor matting also helps to absorb any knocks from stray tanks and enhances comfort underfoot.
A customised roof rack allows the dive tender and even more gear to be stored out of the way, while Stabicraft's excellent dive ladder design means the Vosloo's can enjoy exploring their underwater surroundings.
---
---
WEEKENDER RANGE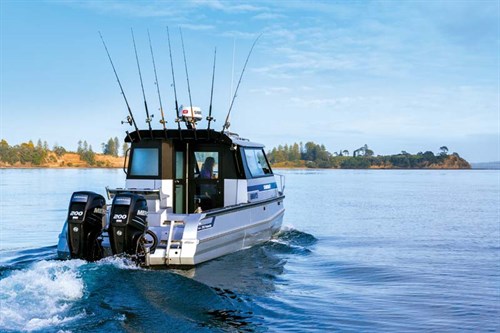 The Stabicraft 2900 Weekender is the latest evolution of the outgoing Stabicraft 2880 Weekender model. The inclusion of arrow pontoons, Game Chaser Transom and Stabicraft's excellent livebait tank-bait station has increased the length, fishability and ride quality over its predecessor. This personalised 2900 Weekender is fittingly christened Amanzi. 
The handy Stabicraft Game Chaser Transom is not just a game changer in reverse, it also increases the waterline length and buoyancy aft to easily cater for the twin 200hp Mercury four-stroke outboards hanging off the back. Where the Vosloos originally hail from, twin engines are a requirement rather than an option.
The design team went to extra lengths to leave no space underutilised and enhance the interior finish over previous models. For extended adventures a large double berth up front provides plenty of sleeping room for two, while the dining table drops down to create a large single berth in the main cabin. A twin-burner meths cooker and sink in the galley take care of the coffee, hot meals and the dishes. A multitude of drawers, compartments, cupboards, shelving up the walls and a fridge allow for all the necessities to be stowed out of the way.    
FISHABILITY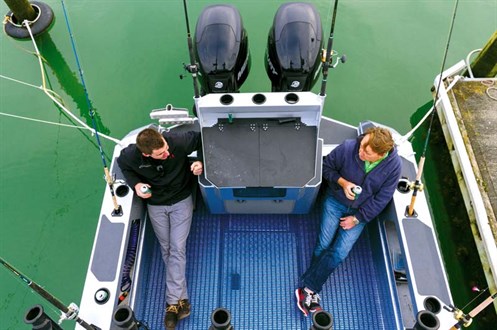 After a week of horrendous weather it was too cold and murky to go diving, so we loaded up the rods and went fishing instead. Once a sufficient sign was located on the Simrad screens the Stress Free free-fall drum winch made anchoring just that – stress free.
The burley was deployed and the large livebait tank with a split food-grade filleting surface and knife slots made baiting up quick and easy.
Wing coamings with added non-skid surfacing make for a comfortable perch, while the drinkholders keep the coffees from being spilled. With eight rodholders in the rocket launcher, a couple in the bait station and another five along the gunwales, we weren't left wanting for rod storage.
HANDLING AND RIDE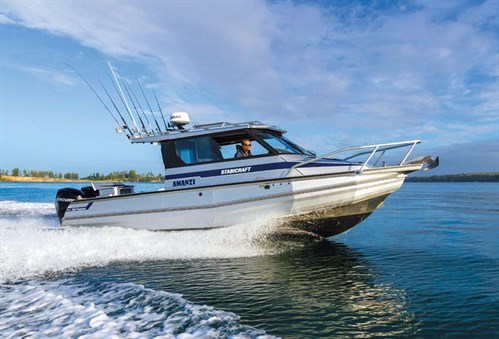 Pieter kindly handed over the helm of the Stabicraft for the home run and I have to say that sitting comfortably in the bolstered helm seat, with well-appointed dash, superb visibility and 400 supercharged horses waiting to be unleashed had me feeling green with envy. There was but one solution ... and that was to give it some gas. The SmartCraft DTS throttle system was ultra-smooth with the Verados providing plenty of responsive grunt. 
While prop cavitation was noticeable transitioning onto the plane and prevalent in tight turns, this Stabicraft is designed to provide a quick, comfortable and safe ride rather than navigate a slalom course. The 21-degree deadrise, staunch 6mm hull and Arrow Pontoons make for a comfortable, safe and assured ride. With a whopping 570lt of fuel on board, lack of range isn't an issue.
---
---
For such a big, solidly-built adventurer she's no slouch once she gets going, with 27.3kts recorded at 4000rpm, 33.5kts at 5500rpm and a brief burst to 5900rpm resulting in 35.6kts.
Conditions were glassy, so we had to make do with the photo boat wake to assess the ride but I've been in enough Stabicraft boats in stay-at-home conditions to vouch for their rough-water prowess. Pieter speaks highly of the Stabicraft 2900 Weekender's (and his six previous Stabis) abilities when conditions take a turn for the worse.
The boat is fitted with a Mercury Precision MerCathode system to protect from galvanic corrosion while on her marina berth, but the Stabicraft 2900 Weekender is also trailerable.
At 3.5 tonnes on the road, it's using all of their Toyota LandCruiser's braked towing capacity but just squeezes under the road legal 2.5m towing limit for unrestricted journeys.
THE VERDICT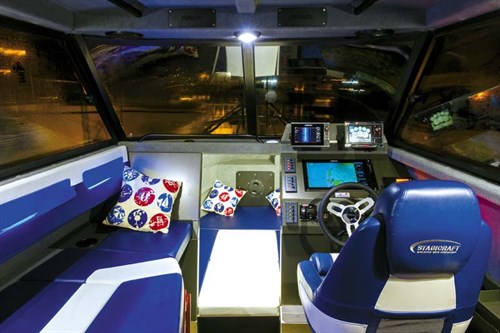 The new Stabicraft 2900 Weekender is infused with comfort, instilled with a comfortable ride, overnight accommodation for three and a hot meal with a few cold drinks on the menu. With its balanced layout and balanced on-water demeanour it'll suit those with a thirst for adventure, a quest to catch dinner or relaxing in comfort and safety. 
Of course being Pieter Vosloo's seventh Stabicraft boat he's more qualified to comment than most. "It's not a gin palace – it's a diving/fishing boat with a bit of creature comfort," he says.
"This one's by far my favourite and not because it's my newest acquisition either … it's just because I like it better. It's also not just the size; I think it rides better, it handles better and it feels better to the previous Stabicraft boats I've owned," said Pieter.
See the full version of this review in Trade-A-Boat #244, August / September 2014. Why not subscribe today?
HIGHS
• Comfortable and accommodating
• Protective yet light and airy lockable hardtop
• Private toilet and shower
• Fish, dive, getaway or combine all three
• Stable with a good ride
LOWS
• Propeller cavitation under acceleration and through tight turns (as tested)
STABICRAFT 2900 WEEKENDER SPECIFICATIONS
PRICED FROM
As tested Stabicraft 2900 Weekender price: $300,000 approx
Priced from: $213,000 incl. twin 150hp four-stroke outboard motors and 3500kg rated trailer
OPTIONS FITTED
Shower/toilet cubicle with hot water, electric loo and holding tank; full metallic paint and ladder, and Simrad electronics package
GENERAL
MATERIAL Marine grade aluminium
TYPE Planing monohull
LENGTH 8.84m
BEAM 2.49m
WEIGHT 3500kg (BMT)
DEADRISE 21˚
CAPACITIES
PEOPLE (DAY) 10
BERTHS 3
REC. HP 300 (single)
REC. MAX HP 400
FUEL 570lt
WATER 100lt
ENGINE
MAKE/MODEL 2 x Mercury Verado outboard motors
TYPE Supercharged four-cylinder four-stroke petrol outbard
RATED HP 200 (each)
WEIGHT 231kg (each)
DISPLACEMENT 1732cc (each)
PROPS Mirage 17 (counter-rotating)
SUPPLIED BY
GULFLAND MARINE
671 Whangaparaoa Rd,
Whangaparaoa, Auckland
PHONE +64 9 424 5556
Keep up to date with news from Trade-A-boat or like us on Facebook!