Review: EdgeWater 170 Centre Console
---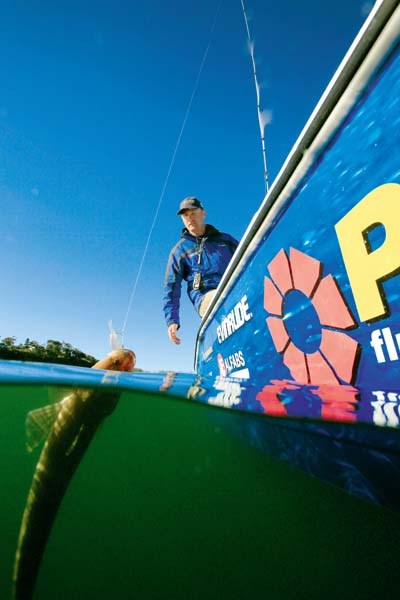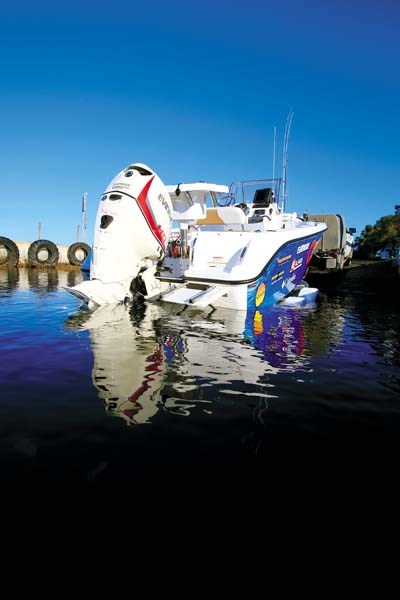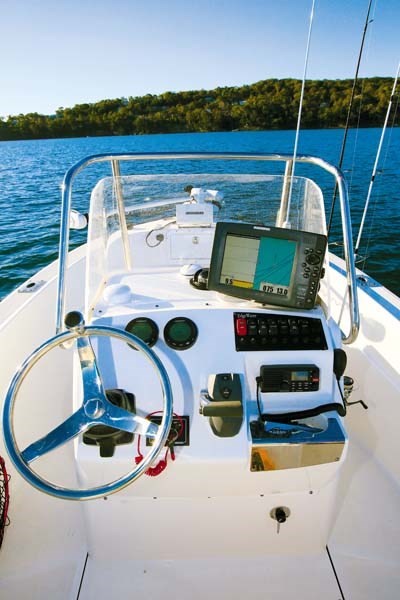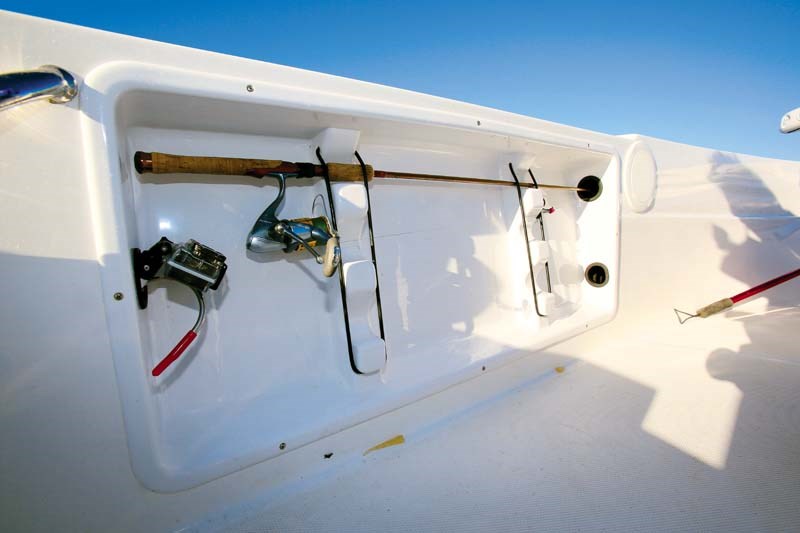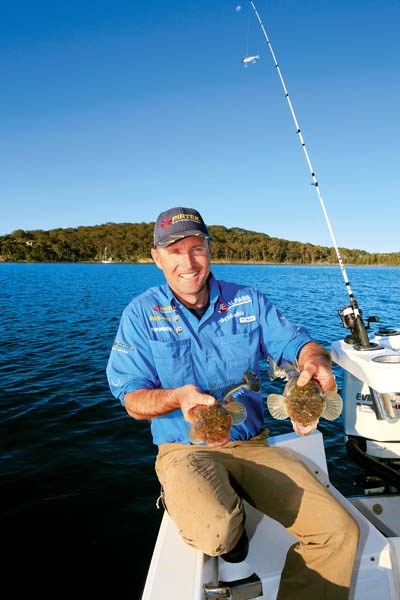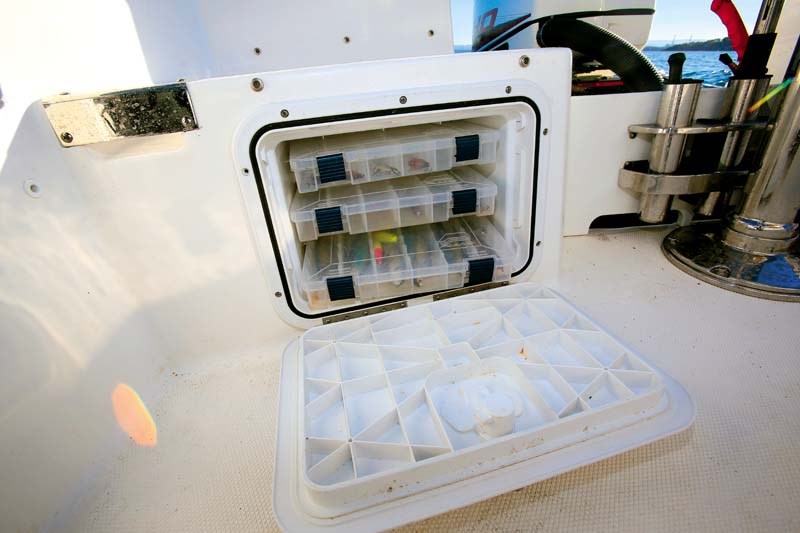 TV presenter Michael Guest opted for an EdgeWater 170 CC for his fishing show. We get up close with this beaut fishing boat.
Over the years I have been lucky enough to review a number of boats with fishing sage Michael Guest. As host of his own free-to-air fishing show and a Macquarie Radio Network programme, Guesty is a sea of knowledge about all things fishing. And as a professional rally driver, the only speed he knows is fast, so it's always fun catching up with him.
Because Michael Guest's show encompasses a range of fishing styles from estuary and impoundments through to the open sea, his fishing boat needed to be a crossover design that could be manoeuvred into tight places and still be safe on the open water. As the crew travel long distances he also wanted a boat that is easily towed. Thankfully, EdgeWater Boats had just the right fishing boat: the light weight of the Edgewater 170 CC.
EDGEWATER BOATS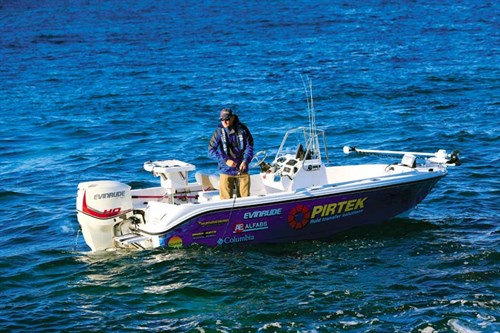 With all the weather apps predicting a perfect sea the plan was to head out wide from Swansea, NSW, early in the morning to find some small gamefish and then try our luck on the sand flats in Lake Macquarie.
It wasn't to be, however, as dawn of the boat review day broke with the cold blast of a 25kts westerly bending the tops of the trees and rendering conditions offshore very uncomfortable. Plan B was quickly adopted and we decided to stay closer to shore where we would be out of the wind and have a look for some salmon around the rocks.
One of the advantages of this crossover style of fishing boat from EdgeWater boats became evident at the ramp, where the EdgeWater 170 was very easy to launch.
LAYOUT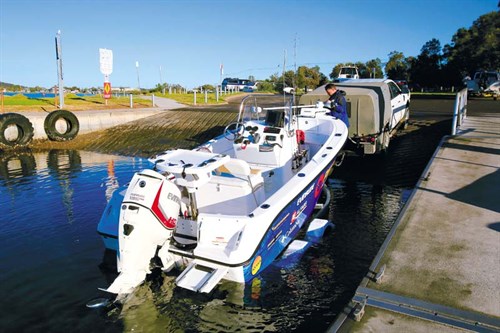 The EdgeWater 170 CC makes the most of its 2.2m beam to allow a capacity of six people, with enough space for three to fish. The centre console is a compact fibreglass moulding with a low acrylic screen, wide enough to protect two of us from the biting breeze. I noted grabrails on the side for passenger comfort and another around the rim of the screen to protect it from damage. Inside the console, along with a large storage area, are mounts for two 100amp/h deep-cycle batteries for the electric motor, while the cranking battery is set in the ideal place low down on the keel line.
Behind the helm a second moulding supports a flip-over twin seat, storage hatch and a livebait tank.
Up front a casting deck has a killtank under an opening hatch and comes standard with a padded rest, which had been removed for fishing. The normally clutter-free bow step has been festooned with fishing equipment, with only a narrow walking space either side of a 988 Humminbird sounder-GPS and an 80lb Minn Kota trolling motor.
E-TEC OUTBOARD MOTOR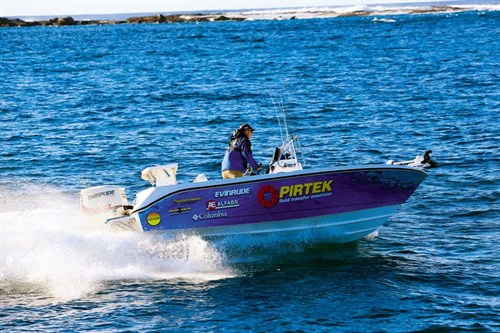 While the American specifications limit engine power to 115hp, the local models can be rated to 130hp. Our test boat has been specially uprated even further to the iCommand-equipped Evinrude E-TEC 135 giving it digital shift and throttle as well as full readout of all engine performance figures.
The hull has a deep-vee in the bow running to a flatter section with a planing plank at the transom, while deep chines along the sides give the boat very good stability at rest.
For our test we took advantage of the relatively calm inshore conditions to head across the Swansea bar and into the backwash coming off the rocky shelf of Moon Island, just offshore.
Once past the calm water of the entrance, I was immediately impressed at how soft the ride was crossing the bar's close chop and despite a relatively low bow section, no spray came aboard as we headed across the stiff breeze. As we pulled up near the rocks the boat stayed very steady at rest as we prepared for fishing.
FISHABILITY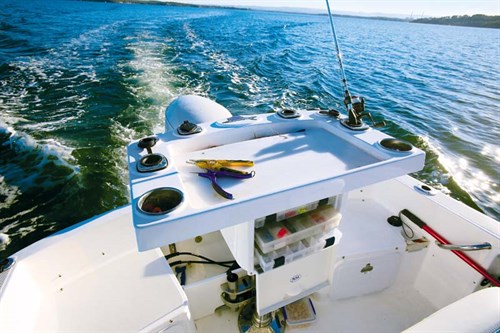 Guesty set the boat just wide of a big bommie and after a couple of tentative drifts we were pretty sure the westerly wasn't going to blow us into trouble, but we both kept an eye on the swells to make sure.
Not too many casts into the foamy water and we were both hooked up on decent salmon that put up a spirited fight on light spin rods with 8lb line fitted to clear plastics that we cut down to only 4 to 5cm long on 3/8oz jig heads.
After landing a couple of fish, we had attracted the attention of some resident seals who seemed keen on the struggling fish we were hooking up, so a move of location was in order. On the way to the southern side of the island, a giant bait school was being monstered by a pack of salmon that were happy to take any small lures presented to them.
As much as it's hard to admit, when the seals showed up again half an hour later and we had to move, I wasn't too upset. Salmon on light tackle is fun but I'd had enough. It was time to chase something a little tastier, so we headed to the reef inside Moon Island that produced some squid.
HANDLING AND RIDE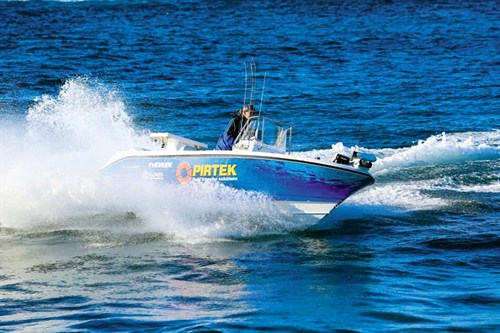 With the day ticking on it was soon time to head back to the lake for some speed runs in flatter water. As might be expected the boat is a willing performer with the 135hp Evinrude E-TEC hooked on the transom. But as the importer Josh Batterson later told me, due to its slick hull design it's no slouch with a 115 outboard motor fitted.
We were on the plane at under 10kts and 2700rpm and a lazy cruise speed of 23kts came up at 3500 with a fuel burn of 22lt/h. On the long run across the lake to the sand flats to the west we sat on a steady 34kts at 4500rpm where the fuel burn increased to 40lt/h. Wide open throttle saw 44kts with the boat glued to the surface, tracking straight and without any feeling of skittishness.
As we came into the shallows the advantage of the shallow draft allowed us to safely traverse sand flats without running aground.
It was a pleasant surprise to hit a current of warm air as we crossed the water near the Vales Point power station outflow and before long we were dropping Trans Am soft vibes under acres of baitfish that showed on the sounder. After a couple small snapper and flounder, we had some nice plate-size flathead in the bag.
THE VERDICT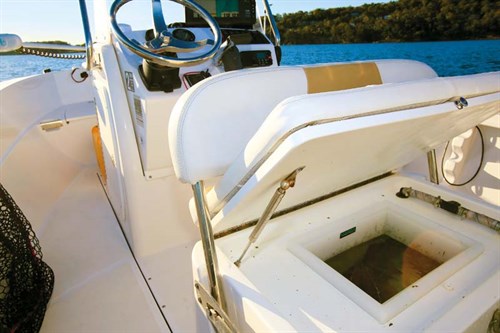 EdgeWater Boats makes versatile craft, something we found out on the day of our boat review. The EdgeWater 170 CC is easily capable of handling conditions offshore with a safe and soft ride, while still being small enough to sneak into some difficult shallow water found in our rivers and estuaries. Price starts at $52,000 on a dual-axle trailer and with an 115hp Evinrude E-TEC outboard motor engine.
See the full version of this review in Trade-A-Boat #244, August / September 2014. Why not subscribe today?
HIGHS
• Soft ride and responsive handling
• Very stable at rest
• High-quality finish
• Easy movement around the boat
LOWS
• A bit light on storage
EDGEWATER 170 CENTRE CONSOLE SEA TRIALS
Single 135hp Evinrude E-TEC outboard motor with 17in Viper propeller
| | | |
| --- | --- | --- |
| RPM | SPEED (KTS) | FUEL BURN (LT/H) |
| 1000 | 4 | 2.3 |
| 1500 | 5 | 5 |
| 2000 | 6 | 10 |
| 2500 | 8 | 17 |
| 2700 (on the plane) | 17 | 18 |
| 3000 | 19 | 20 |
| 3500 | 23 | 22 |
| 4000 | 30 | 30 |
| 4500 | 34 | 40 |
| 5000 | 38 | 48 |
| 5500 | 42 | 56 |
| 5650 (WOT) | 44k | 59 |
* Sea-trial data supplied by the author.
EDGEWATER 170 CENTRE CONSOLE SPECIFICATIONS
PRICED FROM
EdgeWater 170 Centre Console price: $55,000 (approx.) BMT with 115hp Evinrude
GENERAL
MATERIAL Full composite construction
TYPE Planing monohull
LENGTH 5.1m overall
BEAM 2.2m
WEIGHT 771kg  
DEADRISE Variable
CAPACITIES
PEOPLE 6            
REC. HP RANGE 90 to 135             
FUEL 98lt             
ENGINE
MAKE/MODEL Evinrude E-TEC 135 outboard motor
TYPE Direct injection two-stroke V6 outboard motor
WEIGHT 196kg  
DISPLACEMENT 2592cc
GEAR RATIO 1.85:1         
PROPELLER 17in Viper   
FOR MORE INFORMATION
EDGEWATER AUSTRALIA
2/21 Peachtree Road,
Penrith, NSW, 2750d
PHONE Josh Batterson on +61 408 621 426
WEB: ewboats.com
Keep up to date with news from Trade-A-boat or like us on Facebook!