Review + video: Elandra 53
---
The Elandra 53 is the all new Australian-built luxury motoryacht that everyone's been waiting for.
Who are the blokes behind the Elandra 53 luxury motoryacht? Managing director Luke Durman and designer Tom Barry-Cotter both spent time at Maritimo before forging their own path, while operations manager Grant Senior cut his teeth at Formula Cruisers in New Zealand.
The trio saw a niche in the market for low volume production of very high quality vessels, and in 2012 launched the Elandra yachts name. Two years later and I'm stepping onto the gleaming Elandra 53 at Runaway Bay, on the Gold Coast in Australia.
ELANDRA YACHTS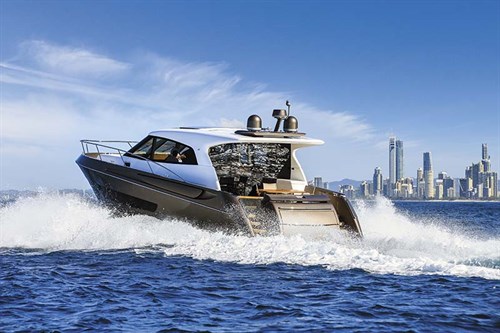 What lay waiting for us at the dock was a sleek sedan-style sportsyacht, offering 55ft (16.7m) of single-level luxury and enormous interior volume for her length. Recent launches from the likes of Riviera, Maritimo and Integrity suggest the single level sedan is what people want right now, so Elandra's market research appears to be bang on. Of course, this counts for nothing if your product doesn't cut it.
On this first point it seems they've hit the mark nicely. American walnut features extensively throughout the Elandra 53, but laid with an unusual horizontal grain running uninterrupted along the panels and highlighted by shadow lines – reverse mouldings routed into the wood to break up the eye.
This dark timber in matt varnish is complemented by lighter Ultraleather panels and roof liners throughout, including the rear lounge where wet bather bottoms might plant themselves occasionally.
Adding to the fresh appearance is a terrific sense of space created by the open saloon and helm layout.
A three-piece glass door concertinas back on port to link the saloon and aft deck entertaining areas seamlessly.
DESIGN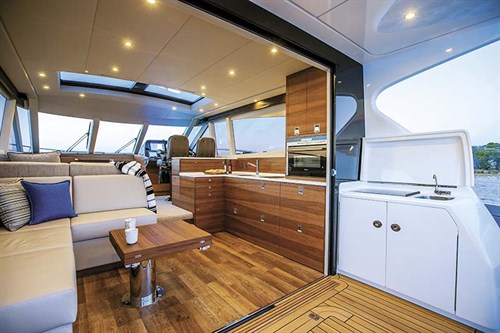 Under the floor, two 800hp MAN R6 diesel engines effortlessly drove us seaward, assisted by a ZF gearbox linked to oversized 2.75in shaftdrives.
Like any legitimate speed machine, the Elandra 53 gives a sensation of travelling much more slowly than you truly are, so it wasn't long before we were pushing 30-plus knots in a gentle swell. Acceleration was barely noticeable as the fine bow entry cut through the waves and she felt solid at the wheel with a reassuring presence as we banked into a few sharp turns for the benefit of the photo boat.
The brief to create a genuine seagoing motoryacht requires walking a fine line between strength and weight and Luke explained this required plenty of late nights puzzling over hull structure, engine choice and shaft angles, right down to the choice of propellers. The net result also had to be more fuel efficient than her competitors.
"When we were designing the hull, we set some parameters for ourselves that it had to be eight to nine per cent more efficient than any shaft-driven boat on the market of comparable size," Luke said.
"They're some big statements to make, because eight to nine per cent improved efficiency is quite a large amount, but from the data we've seen, in some rev ranges, it's 15 per cent better."
A significant part of this equation can be attributed to the hull lay-up which sees three layers of quadraxial E-Glass reinforced with Kevlar. Hand-rolling allows Elandra to achieve a glass-to-resin ratio of around 50:50, resulting in a very lightweight but incredibly strong running surface.
Confidence in this system has seen the company offer a four year 'stem to stern' warranty on workmanship and a 10 year warranty on the hull.
MARINE ELECTRONICS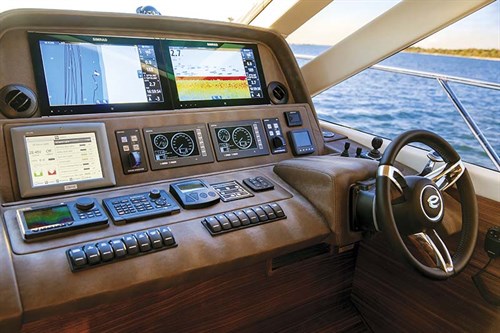 Another feature which sets the Elandra 53 apart is the clever use of technology. Sitting alongside twin 16in Simrad NSO Evo multifunction touchscreens on the Ultraleather-wrapped dash is a compact BEP CZone unit. Despite a modest appearance, this baby's the heart of the Elandra – in combination with twin 3.5kW Mastervolt inverters, CZone controls the entire boat's electrical systems.
While CZone allows the skipper to select operating modes such as Cruising, Dock Attended or Dock Unattended, it also monitors the batteries and links with the inverters and 25kVa genset, resulting in effortless power management, even for the novice yachtie.
So if the batteries run low, the generator switches on automatically. If the dishwasher, barbecue, oven and air conditioning are all switched on at once – no worries – the genset kicks in to provide power.
And if you don't want it switching on at midnight, just set the CZone to run low until 7am when the generator will top up your batteries at around the same time your coffee machine begins winding up.
Pretty sweet, right? It's this sort of systems integration that makes the Elandra an easy boat to spend time on. The living spaces only further this notion. To port of the twin Stidd helm chairs is a plush couch for keeping the captain company while he or she gets on with the serious job of steering. Should the skipper require a snack, the galley is just steps away and along with Siemens appliances, there's an impressive two-drawer fridge, plus the same freezer capacity – that's a lot of snacks (and cold drinks).
ACCOMMODATION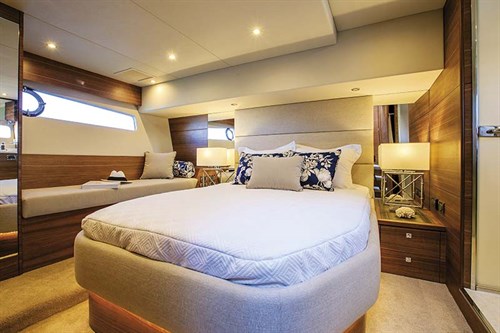 Downstairs you begin to get a true sense of how much living space has been created within the Elandra. In the bow is the VIP, with an offset island bed that could easily serve as a master cabin. There are portlights on both sides and the mattress lifts on gas rams for easy storage beneath.
The VIP shares access to the forward head with a double bunk cabin and on this debut model, there's a washer and dryer fitted in the wardrobe of this starboard side accommodation.
Step down again and you reach the full-beam master, with a generous bed located on the centreline and bathroom to port. A clever 'open vanity' creates a spacious cabin, but with the necessary doors for privacy when required. The seashell mosaic tiles are a highlight here, as are the full-length windows on each side of this lavish space.
Along with the 32in flatscreen TV for passing the time, there's also a 7in Simrad touchscreen for monitoring systems, plus CZone controls to ensure the master retains command of the ship.
ENTERTAINMENT AREA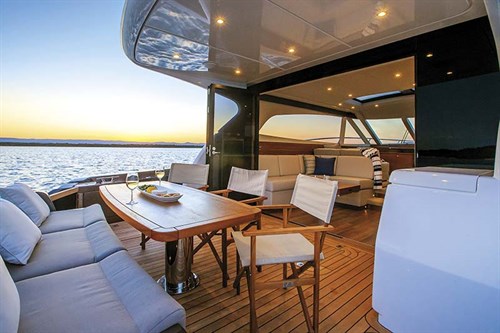 Given Australia's favourable boating climate, it's the outdoor areas that will see the most action and here Elandra has created further memorable spaces.
The extended hardtop provides shade over much of the aft deck, where there's room for six to eight people to enjoy meals at the adjustable teak table.
Tucked into the barbecue station on starboard, there's also an icemaker, sink and bar fridge, making it simple to play host. And a pair of glass cockpit gates keep the kids safe while underway, or during tender launching operations.
Wait – tender? What tender? Yep, below the aft deck is a cavernous garage capable of housing a Williams 285 jetboat or similar. Not too many 60ft luxury sportsyachts offer that handy feature, let alone single-level 55 footers.
It's a real testament to the Elandra's design team that they were able to provide for the convenience of a tender garage and submersible swimplatform and it's a feature that will make life immeasurably easier for owners.
Down on the swimplatform, there's a hot and cold shower, plus a stainless swimladder and the usual freshwater washdown fittings.
But what's really neat is discovering both bow and stern have been plumbed to run a Karcher high-pressure washer. Just keep it a safe distance from that beautiful paint!
THE VERDICT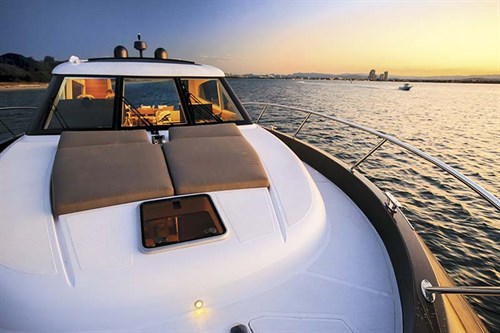 There's been a lot of anticipation surrounding the launch of the Elandra 53 into the marketplace.
As you can see, the results speak for themselves and any discerning buyer looking for a family-sized sedan-style luxury yacht will certainly have to consider this newcomer.
As a luxury boat, the Elandra 53 is clever, modern and elegant, but as a new Australian-made yacht, it's one we can all be proud of.
See the full version of this review in Trade-A-Boat #246, October / November 2014. Why not subscribe today?
HIGHS
• Connection between aft deck and saloon
• Effortless power
• Pony Ultraleather trim
• Tender garage
• Clever cabin designs
• Sea views from the bathroom
LOWS
• Tough climb out of the lazarette (but ladders are coming) 
ELANDRA 53 SEA TRIALS
Twin 800hp MAN R6s, with ZF four-blade NIBRAL propellers, 60 per cent fuel and water load.
| | | |
| --- | --- | --- |
| RPM | SPEED (KTS) | FUEL BURN (LT/H) |
| 900 | 9.6 | 30 |
| 1100 | 11.1 | 55 |
| 1300 | 13.3 | 90 |
| 1500 | 18.3 | 114 |
| 1700 | 21.8 | 145 |
| 1900 | 26.1 | 186 |
| 2100 | 29.6 | 244 |
| 2300 | 32.8 | 294 |
| 2350(WOT) | 33.2 | 309 |
* Sea-trial data supplied by Elandra.
ELANDRA 53 SPECIFICATIONS
Elandra 53 price: $1,870,000 + GST approx price as tested (exchange rate dependent)
OPTIONS FITTED
Engine upgrade, metallic paint upgrade, icemaker and bar fridge to barbecue console, KVH TracVision satellite TV and dummy dome, custom paint to navigation plinth, washer and dryer in bunk cabin, Karcher pressure washer pre-plumbed.
PRICED FROM
$1,800,000 + GST (approx. exchange rate dependent)
GENERAL
MATERIAL Kevlar reinforced GRP
TYPE Deep-vee monohull
LENGTH 16.66m
BEAM 5.19m
DRAFT 1.05m
WEIGHT 18,000kga (dry)
CAPACITIES
PEOPLE (NIGHT) 6
FUEL 3000lt
WATER 1000lt
ENGINE
MAKE/MODEL 2 x MAN R6 diesel engines
TYPE Inline six-cylinder diesel engines
RATED HP 800 (each)
DISPLACEMENT 12.8lt (each)
PROPELLERS ZF four-blade NIBRAL
MANUFACTURED AND SUPPLIED BY
Elandra Yachts
Biggera Waters, QLD, 4216, Australia
PHONE 0414 276 765
EMAIL luke@elandrayachts.com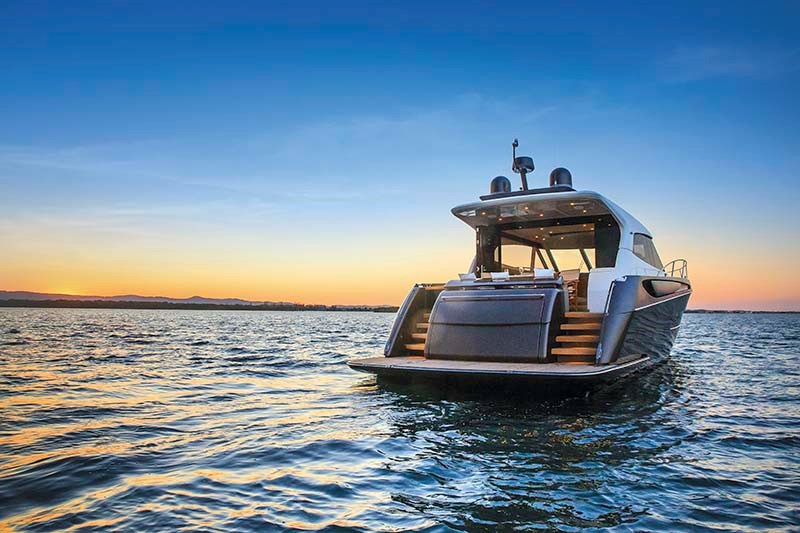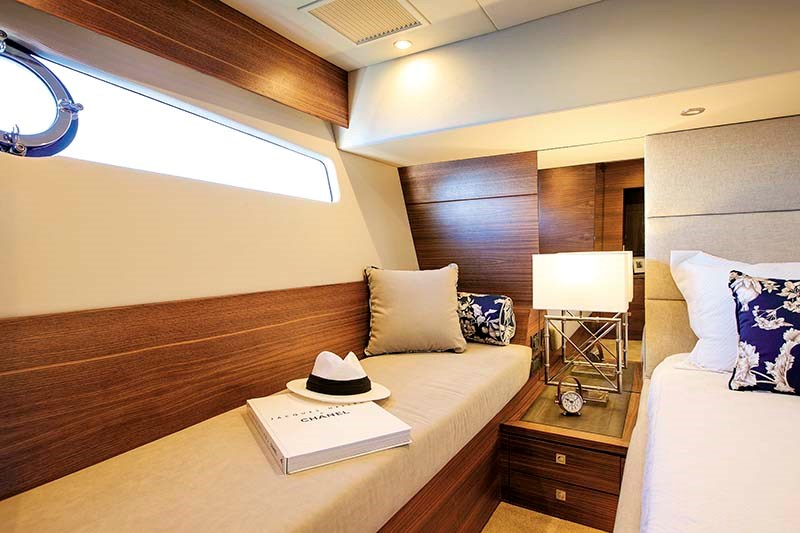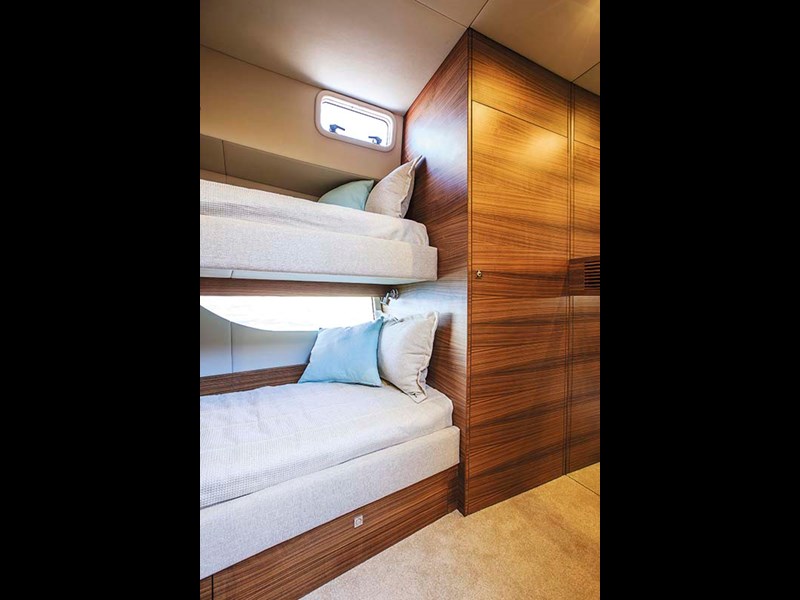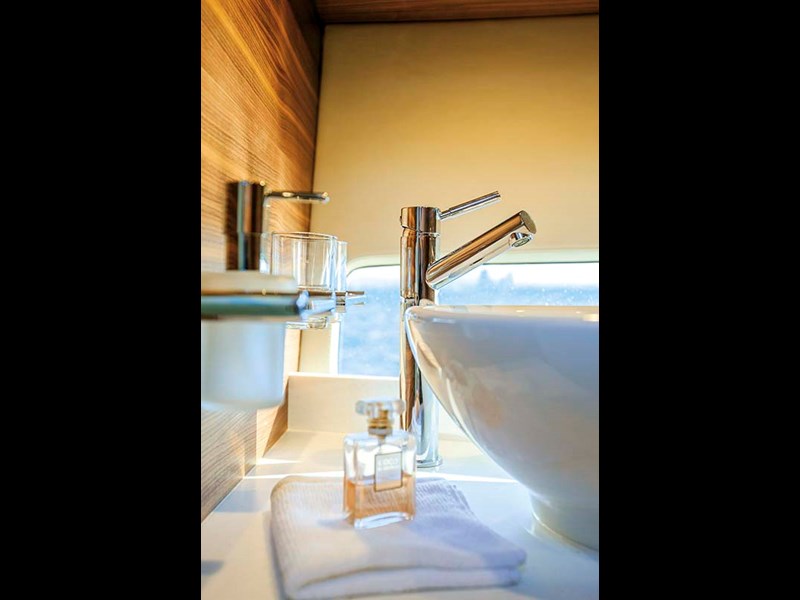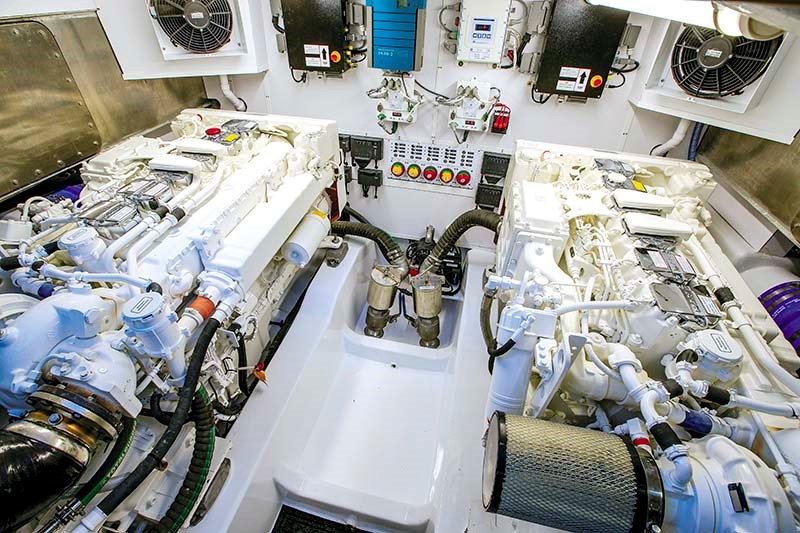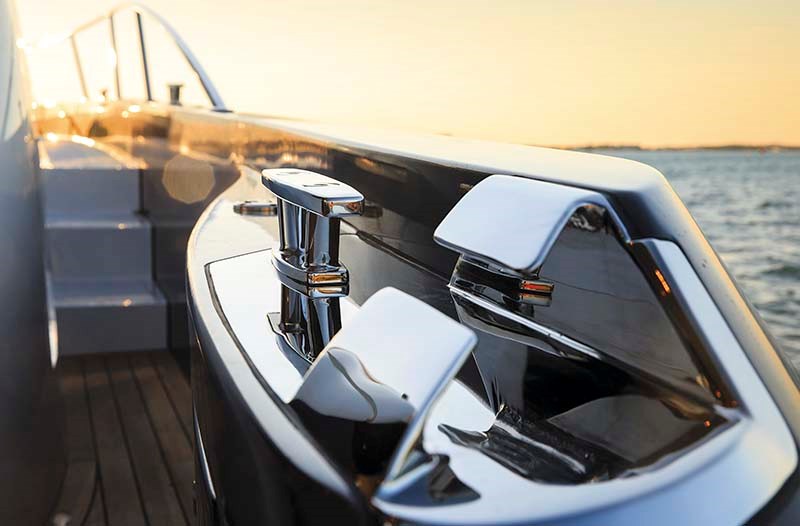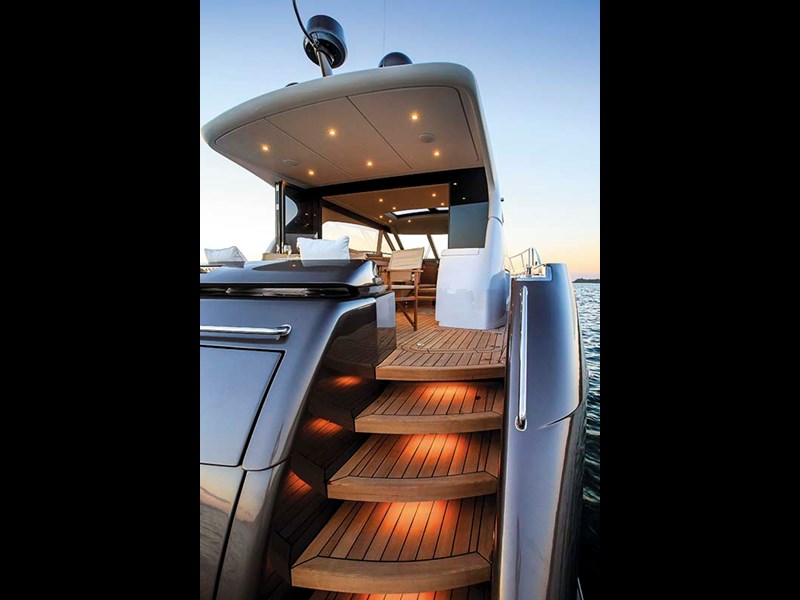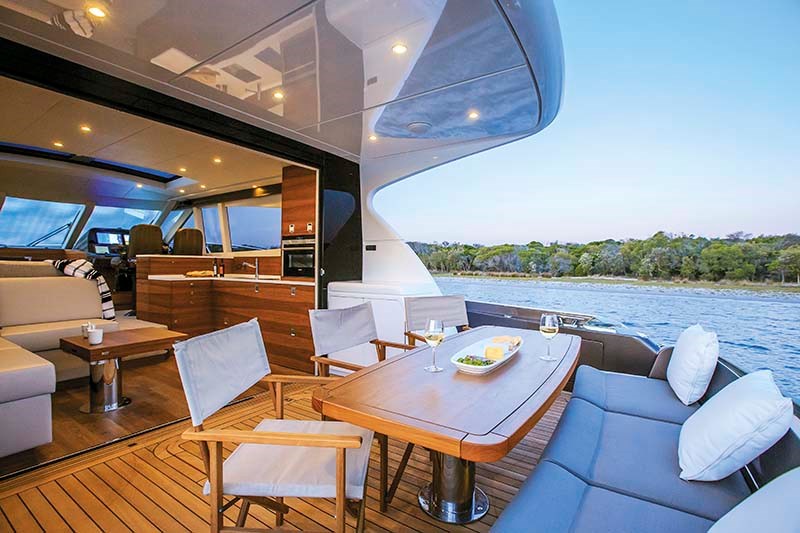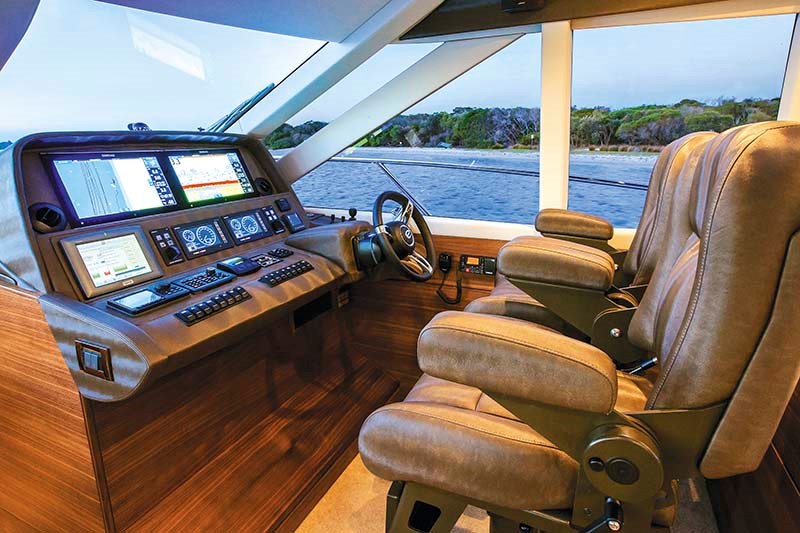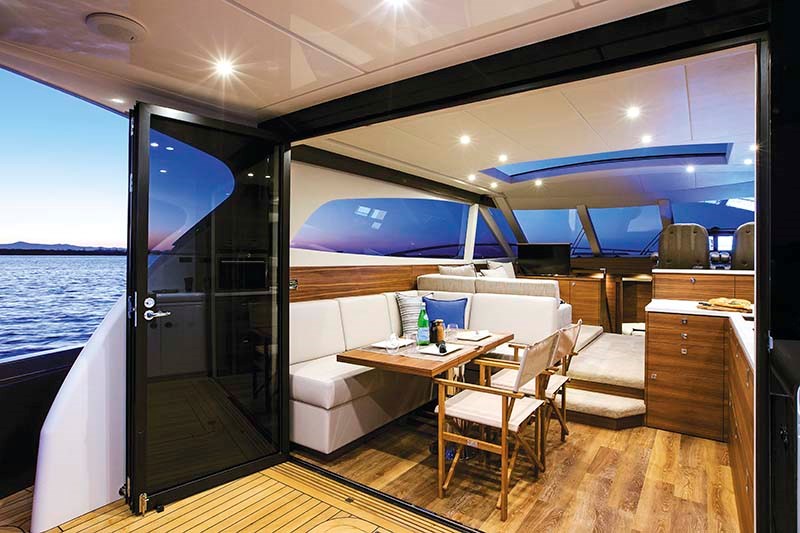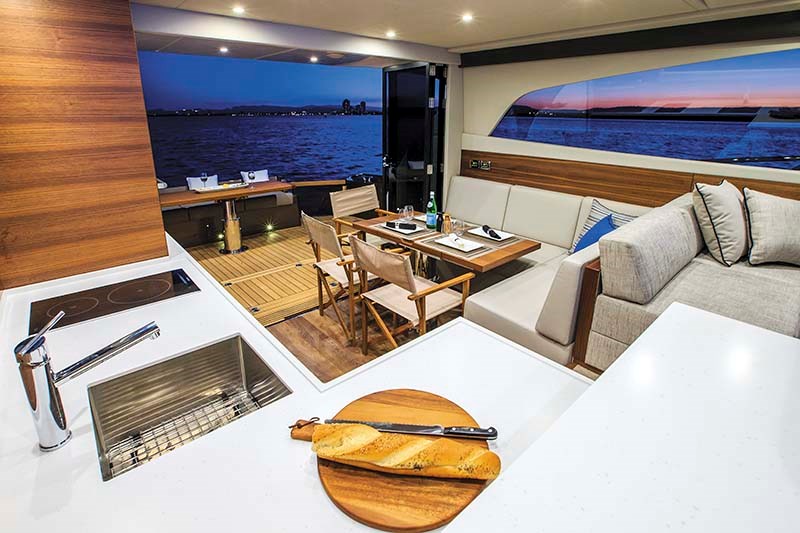 Keep up to date with news from Trade-A-boat or like us on Facebook!