Review: Kadey-Krogen 48
---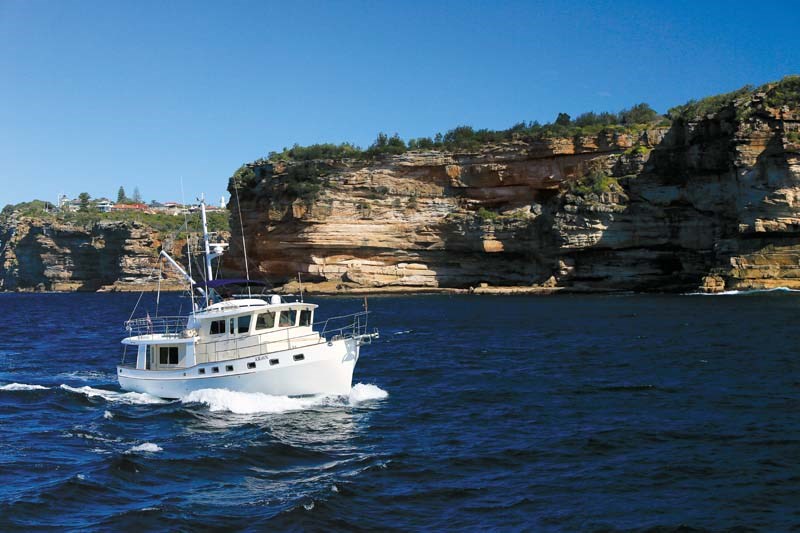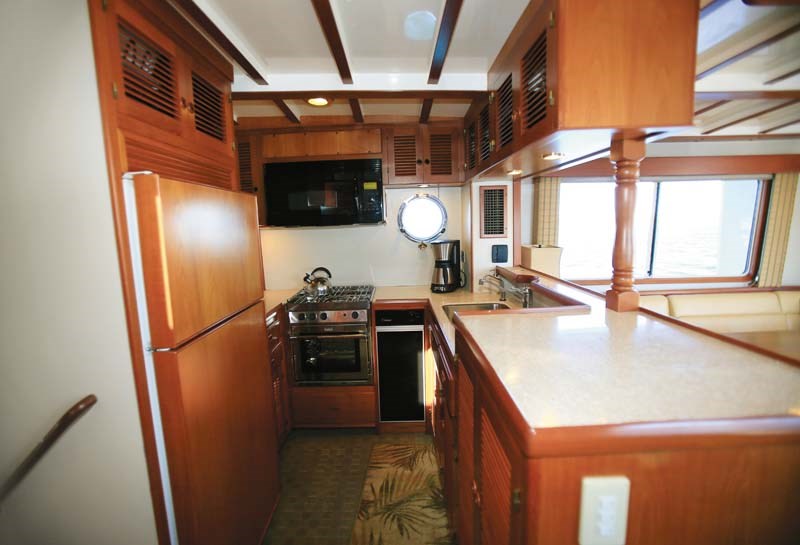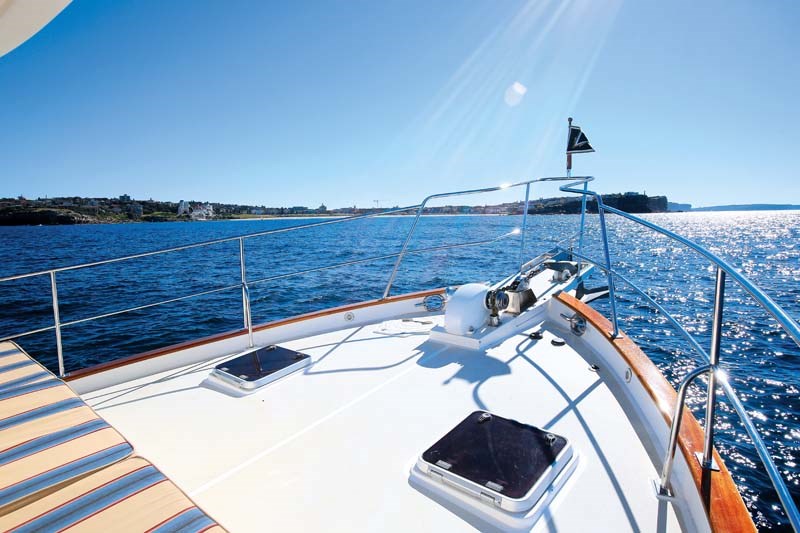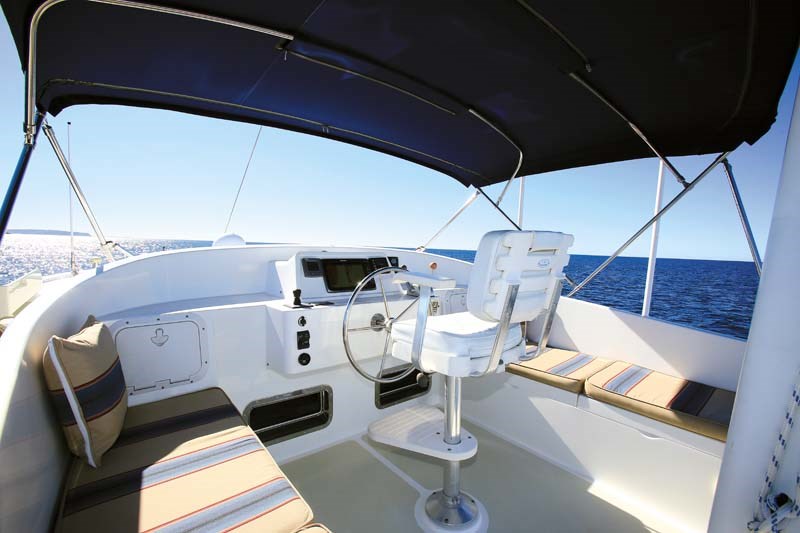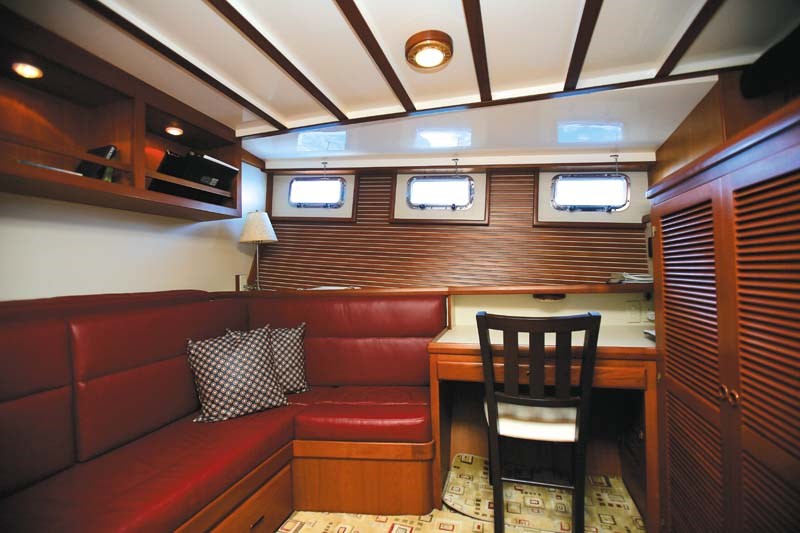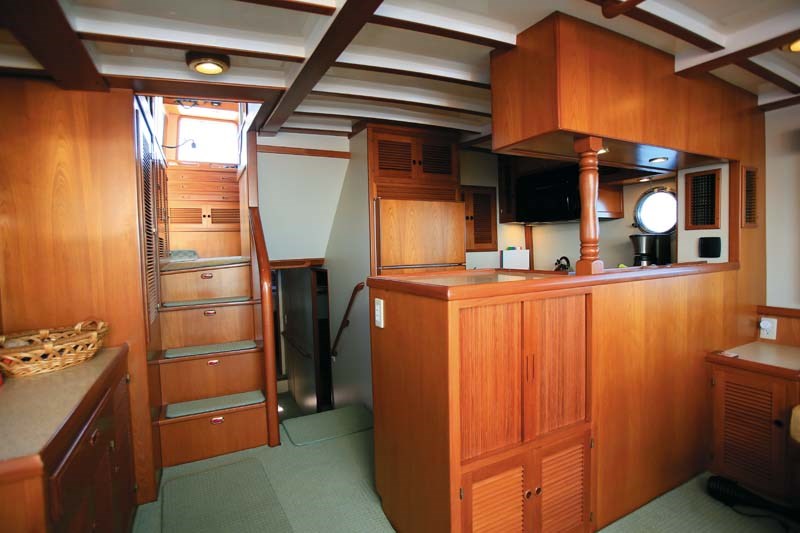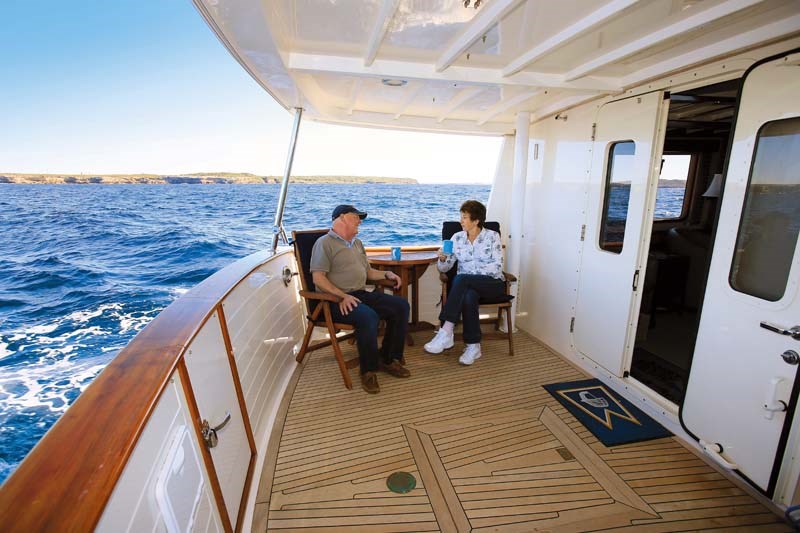 The Kadey-Krogen 48 is a trawler motoryacht made for passagemaking that is finding favour among among cruising couples.
Kadey-Krogen Yachts has been building craft at around the same speed as its motor boats – nice and slowly. In the 36 years of production it has delivered nearly 600 Kadey-Krogen motoryachts in sizes from 39 to 64ft. That's around 16 a year, so the company's value is in quality not quantity.
KADEY-KROGEN YACHTS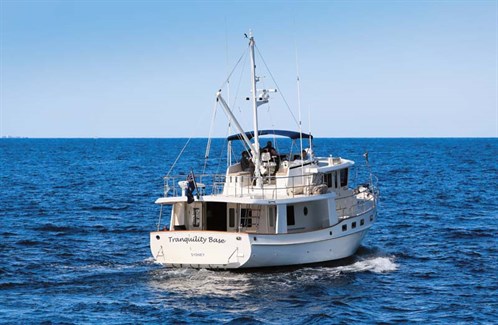 In the world of passagemakers the Kadey-Krogen brand developed from the original design concepts of naval architect, the late James Kadey. He drew the lines to embody his theory of a Pure Full Displacement hull, with individually engineered displacement to waterline length ratios for every model in the range.
The design combines a sharp entry, deep keel and a wineglass shaped transom to maximise stability and ride, while reducing rolling action in a swell. By producing an easily-driven hull less power is needed, thus saving weight and allowing a larger fuel capacity for extended voyaging.
According to factory specifications, at 7kts the Kadey-Krogen 48 has a range of 3020nm but drop it back a bit to 6kts and that extends out to 4730nm – both figures having 10 per cent in reserve from the 3785lt tanks.
Construction is undertaken in the company's Taiwan yard, with solid 'glass below the waterline reinforced with Kevlar and Knytex and using vinylester resins for strength and durability. More than 2000kg of lead ballast is encapsulated in the keel for stability.
LAYOUT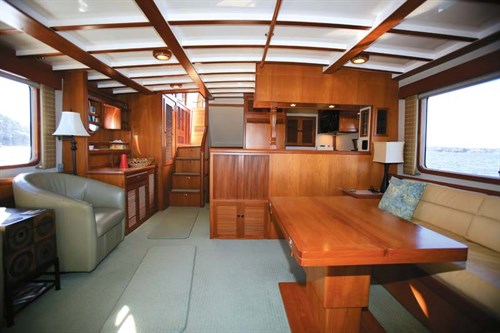 At the transom a fibreglass boarding platform leads to a substantial central gate into the covered cockpit. High sides give a safe feeling, while the hot and cold shower will be welcome after a swim. A wide bulwark to starboard leads to the pilothouse, with the asymmetric layout positioning the saloon to port to give it a larger footprint.
Heavy-duty sliding doors lead into the open saloon and galley where traditional teak timber panelling and silky-soft cream upholstery lend a homely ambience and large windows either side allow light and scenery inside. An L-shaped lounge with an extendable teak table are joined by a pair of movable single lounges to make room for eight or nine guests, plus the 28in television hidden in one of the cupboards.
The galley is on the same level and its open design allows easy interaction with the cook. Arranged in a U-shape to starboard it has all the comforts of home and a good workflow.
CABINS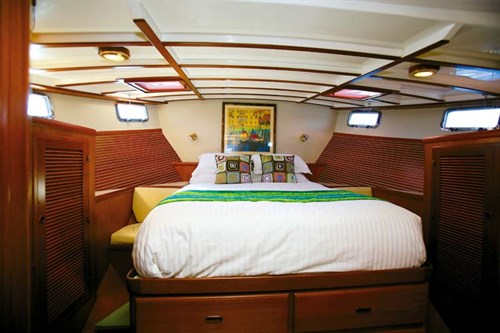 Kadey-Krogen offers a two- or three-cabin version but for me, owners Brian and Christine Harwood twin-cabin layout seems perfectly suited to a cruising couple who welcome occasional visitors.
The master stateroom is located in the bow and nautical-themed teak lining follows the lines of the hull as it narrows forward. A queen island bed has an innerspring mattress and is surrounded by a pair of seats and a wide walkway for easy access. There is his-and-her clothes storage – his portside hanging locker and two for her on the other.
Overhead hatches and four opening ports ventilate the space and allow a flow of natural light but there is also a dedicated air-conditioner for both cabins, as well as the saloon and pilothouse.
This cabin has its own separate en suite and there is a dayhead for the other cabin and day guests.
When I saw the second cabin everything about this boat fell into place for me. What a great idea to have a hideaway office to retreat to when the guest's stories have worn thin, or just for a secluded place to write your memoirs. Business people can escape the office but still have a workspace to submit reports while swinging at anchor in a faraway lagoon.
PILOTHOUSE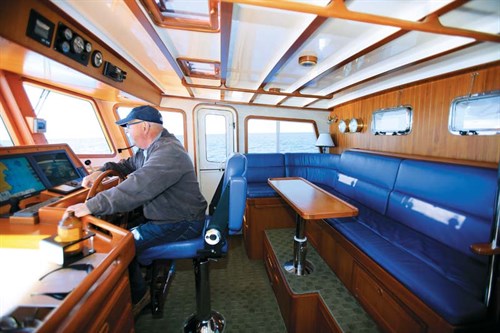 The pilothouse is accessed from either the stairway from the galley or from the starboardside bulwark. Just as the saloon is the perfect space to relax, the pilothouse is the perfect place to travel. An L-shaped lounge at the rear overlooks the helm and out through the windows to give clear vision to the front and sides.
A long table at the lounge lends the space to eating or simply working out a complicated crossword as the miles slip by. It's a roomy place for a full complement of crew, keeping everyone together to give the skipper some company in comfortable, protected surroundings.
The helm is professional looking, well laid out and fully equipped. The wide dash has ample room to lay out charts and lots of drawers and lockers, one of which houses a valise-style six-man liferaft. The blue Stidd captain's chair is designed for comfortable hours at the helm and has adjustments to suit most shapes and sizes.
Two different navigation systems – Furuno and SeaMap – are installed and displayed on two 15in Nauticomp screens that can also show a rear camera, radar and a fishfinder, while a separate digital display shows depth. There are the usual engine gauges as well as one for the rudder angle that is ideal for manoeuvring in close quarters.
A Simrad AP25 autopilot and an American bowthruster help make life easier and 7.5ft² ABT TRAC stabilisers along the sides reduce roll. VHF radio is common on most boats but the inclusion of HF communication marks the boat as something more serious.
The flybridge helm station has most of this technology to hand as well as a Raymarine C125 chartplotter. Anyone liking a bit of fresh air will be happy – for most of the trip to Sydney this was the place to be on a mild winter's day, shaded by the bimini and making the most of the view.
ENGINES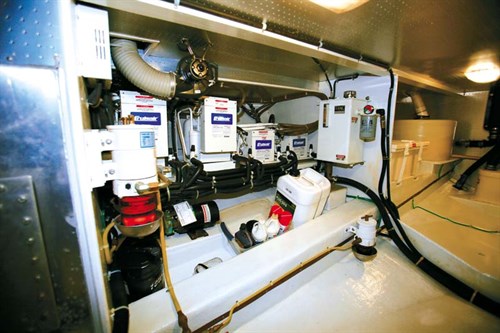 Entry to the engineroom is through a hatch in the saloon floor and like everything on the boat it's immaculately clean and very functional. Along with the 225hp John Deere diesel engine I found a Spectra watermaker, 12kVa Northern Lights generator, four house batteries, two start batteries, another for the bowthruster, four air-conditioner motors, Avco fire suppression system, a 2000W inverter and a fuel polishing system.
The John Deere hits its maximum at 2800rpm but after 2000rpm we were at maximum hull speed, the extra revs making more noise for no discernable increase in speed. Idle of 700rpm is around 3.4kts, 1000 sees 4.5kts and 1500 equals 6.5kts. Brian likes to cruise at 1600rpm which gives 8kts for a good balance between speed and fuel use.
THE VERDICT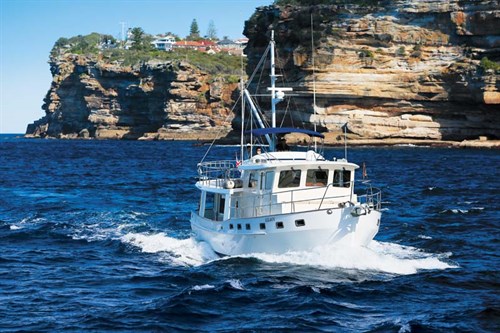 For those with the time to do it the Kadey-Krogen 48 is the ideal vehicle for going places frugally and in style. A new Kadey-Krogen 48 will cost around $1.5m landed in Australia through the Andrew Coffey brokerage. For that you get a lot of very capable boat in a style that will age well and still look the part in 30 years. 
See the full version of this review in Trade-A-Boat #244, August / September 2014. Why not subscribe today?
HIGHS
• Capable of covering huge distances
• High quality of finish
• Very comfortable liveaboard
• Economical
LOWS
• Not everyone will like life in the slow lane
KADEY-KROGEN48 SEA TRIALS
Single 225hp John Deere 6068TFM turbo-diesel engine with 22in four-blade propeller
| | |
| --- | --- |
| RPM | SPEED (KTS) |
| 700 | 3.4 |
| 1000 | 4.5 |
| 1500 | 6.5 |
| 1800 | 8 |
| 2000 | 9 |
| 2500 | 9.5 |
| 2800 (WOT) | 9.8 |
*Sea-trial data supplied by author.
KADEY-KROGEN 48 SPECIFICATIONS
PRICED FROM
$US1,250,000 ex-factory
GENERAL
MATERIAL Composite
TYPE Monohull
LENGTH 16.15m
BEAM 5.08m
WEIGHT 25,605kg
CAPACITIES
PEOPLE 7
REC. HP 205 to 225
FUEL 3785lt
WATER 1500lt
ENGINE
MAKE/MODEL John Deere 6068TFM diesel engine
TYPE Inline six-cylinder turbo-diesel engine
RATED HP 225
DISPLACEMENT 6800cc
WEIGHT 730kg  
PROPELLER 22in four-blade
GEARBOX (MAKE/RATIO) ZF / 3:1
MANUFACTURED BY
KADEY-KROGEN YACHTS
Stuart, Florida, USA
SUPPLIED BY
ANDREW COFFEY'S BROKERAGE
The Quays Marina,
1856 Pittwater Road,
Church Point, NSW, 2105
PHONE +61 416 045 142 or +61 2 9918 3395
EMAIL andrew@outerreefyachts.com
WEB kadeykrogen.com; quaysbrokerage.com.au
Keep up to date with news from Trade-A-boat or like us on Facebook!