Riviera 6000 Sport Yacht review
---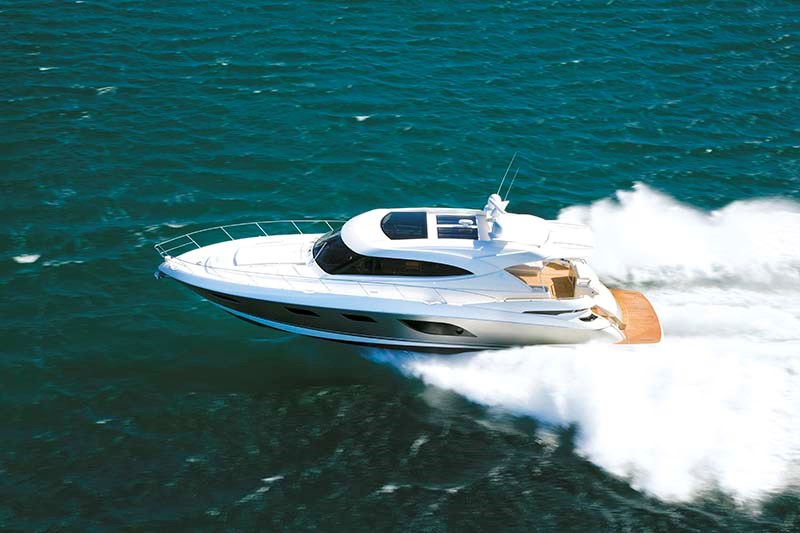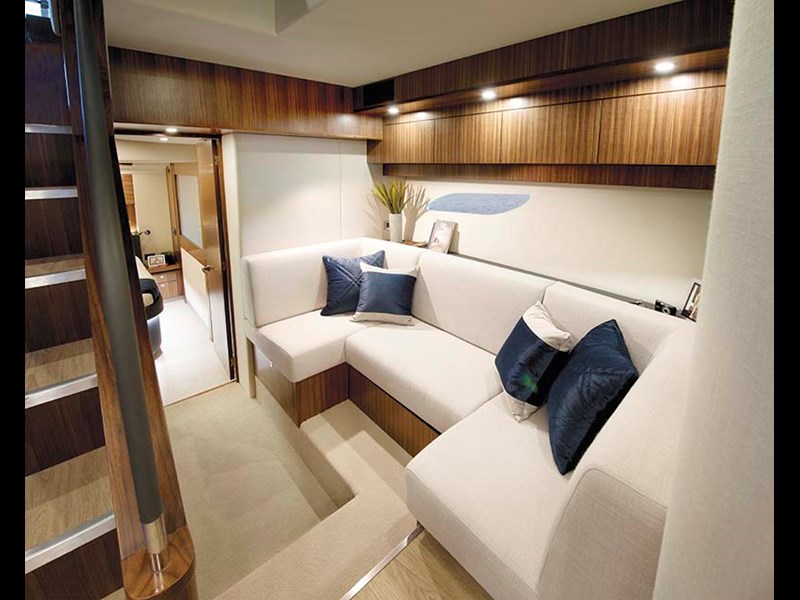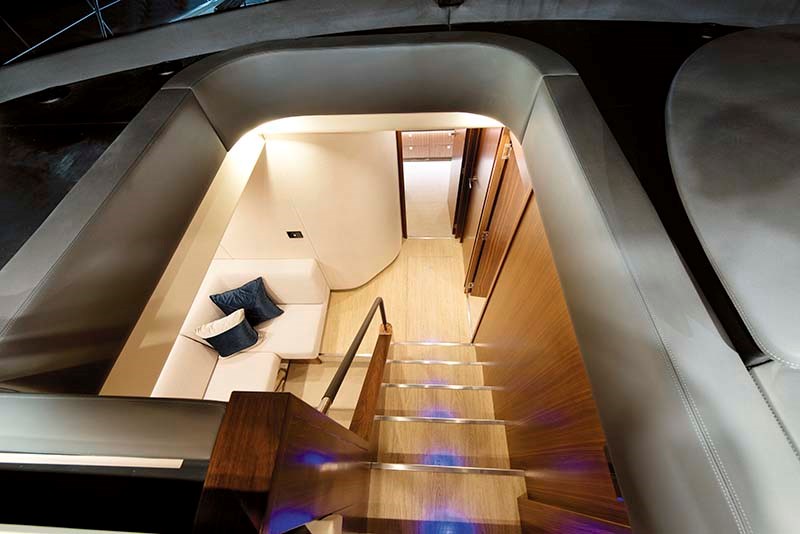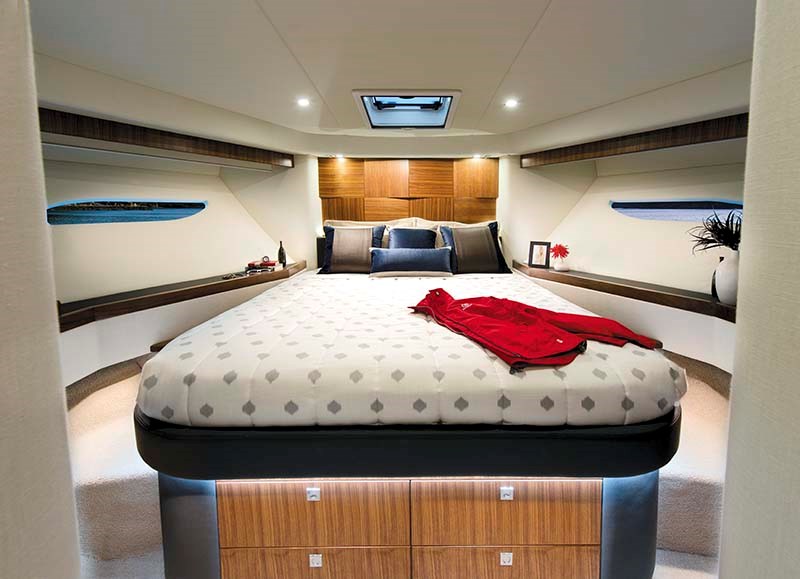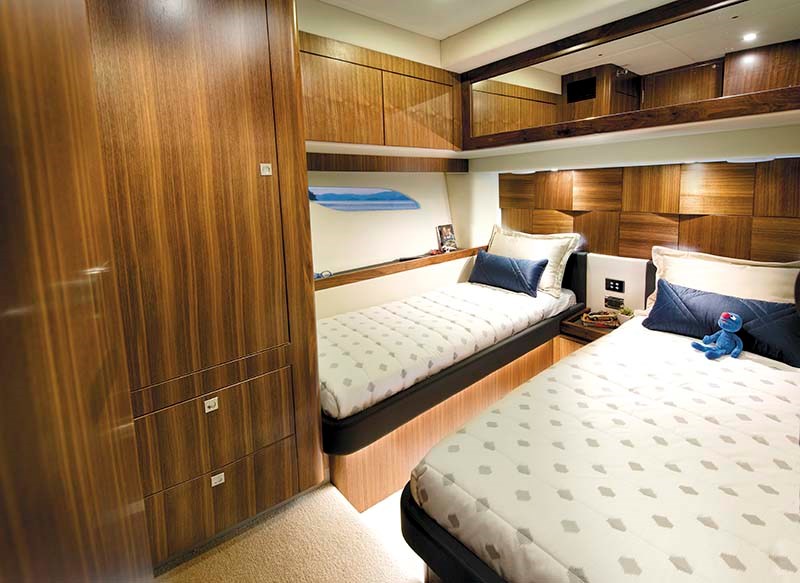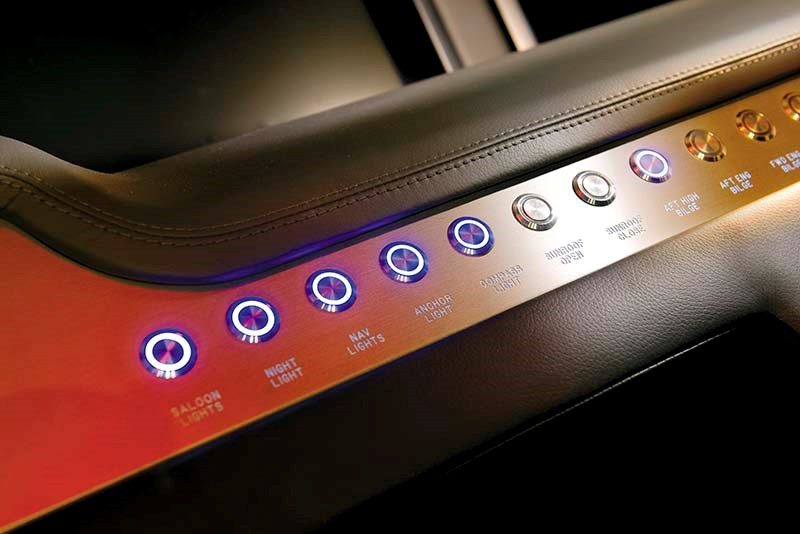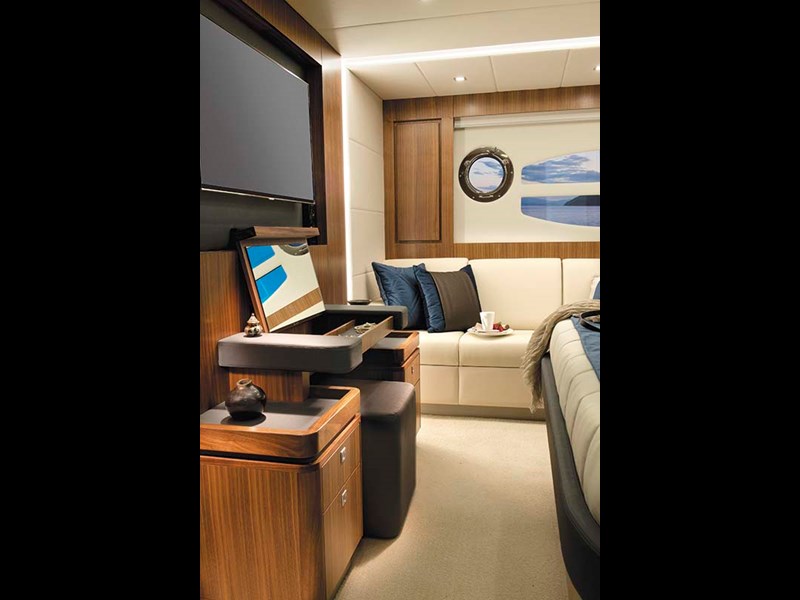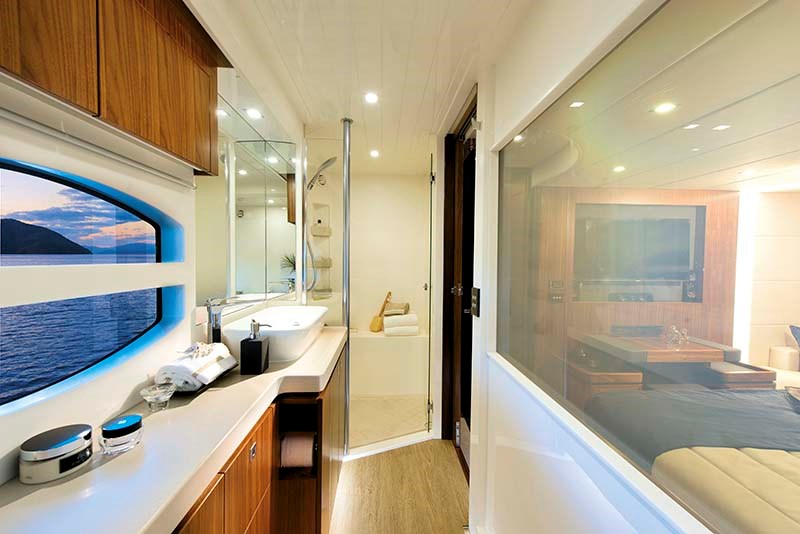 The Riviera 6000 Sport Yacht is the luxurious new flagship of the Riviera Sport Yacht fleet.
Think Monaco, Cannes, St. Tropez, or anywhere else in the world where you're likely to find a gathering of luxurious motoryachts and the all-new Riviera 6000 Sport Yacht will blend right in.
RIVIERA SPORTS YACHT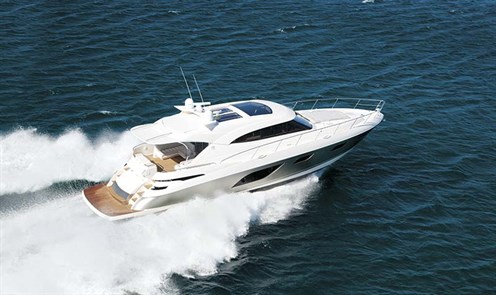 At just over 64ft and with a dry weight of nearly 26t, the Riviera 6000 Sport Yacht can be configured with either three or four staterooms, including a full beam master, three bathrooms and separate crew quarters or utility room. But luxurious accommodation is just the beginning. A well thought out, elegant, spacious and airy saloon and aft galley with a rear bulkhead that opens up to the cockpit all combine to create a seamless and free-flowing, indoor/outdoor living area, just perfect for entertaining.
LAYOUT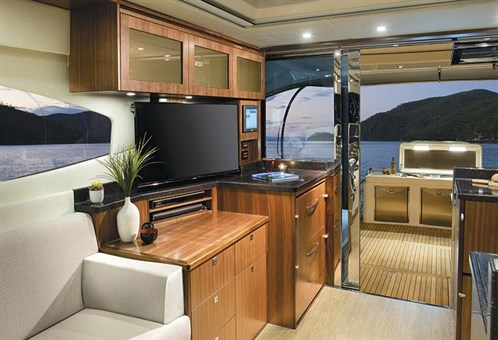 The Riviera 6000 Sport Yacht is a well thought-out boat that works on many levels. The chic and stylish saloon, featuring soft leather upholstery and beautifully crafted satin walnut joinery, is light bright and airy. Large opening side windows and a huge windscreen provide 360° views no matter where you're seated and overhead, a large electrically operated sunroof provides for those times that call for open-top boating. There's plenty of places to get comfortable, with large U-shaped seating and dinette to port and a three-seater settee to starboard with an ottoman that cleverly slides out and becomes a table, creating another small dining or breakfast nook, work, or games area.
The large U-shaped galley aft is practical, functional and perfectly positioned. It's central to any action inside or out and family and guests can move freely between the cockpit and the saloon without disturbing anyone preparing meals or snacks. It's also handy too – refreshments from the fridge or freezer are only ever a couple of steps away whether you're inside or out.
Included is a full complement of name-brand appliances; induction cooktop, convection microwave, dishwasher, rangehood, three fridge and two freezer drawers, pull-out pantry and plenty of bench space and storage. It's also bathed in natural light, enhanced by the two fixed skylights overhead.
Further aft, the fully covered cockpit is in itself a fabulous outdoor room. Spacious and beautifully appointed, it's well set up for outdoor living with seating to port around a table (that drops to form a day bed) and additional seating to starboard. On the transom, a built-in wetbar incorporates a barbecue, sink, fridge and freezer drawers and, overhead, another large sunroof in the cockpit top provides the opportunity to add sunshine to the al fresco experience.
INTERIOR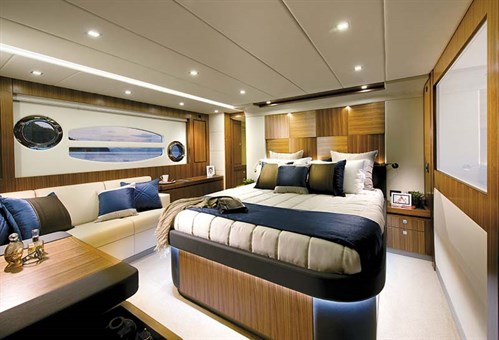 The luxurious accommodation is accessed via a staircase leading down from the saloon. At the foot of the stairs adjacent to the lower landing, a large area can be configured in various ways. On our test boat it was set up as an atrium lounge and opposite on the bulkhead, room for a TV and storage cupboards incorporating a linen press, washing machine and dryer.
Being atrium style and open to the windscreen above, together with a large hull window, means that natural light floods in adding to the sense of light and space below decks. The options for this area include a fourth stateroom, an office/study area, or an en suite, further extending the size of the master suite.
Further aft, the full beam master takes luxury boating to another level. There's a king-sized bed, contemporary timber headboard and side tables, 40in TV and home theatre system, make-up table and ottoman and a three-seater settee. There's plenty of natural light and fresh air here too with large elongated hull windows and opening portholes at either side. The luxuriously appointed en suite located portside features 'transition' glass, allowing a view through to the outside when not in use while the flick of a switch turns the glass opaque for privacy when required.
There are two additional staterooms and the VIP suite forward in the bow could easily serve as the master on lesser boats. It includes a queen-sized bed, plenty of storage and hanging space with an option to add an LCD TV/DVD combo with Fusion stereo with twin speakers.
The third stateroom is roomy and fitted with twin single beds and here too, there's ample storage and hanging space. Both staterooms are bright and airy, thanks to hull windows and overhead opening hatches providing fresh air and crossflow ventilation.
Air conditioning is of course standard throughout.
ENGINES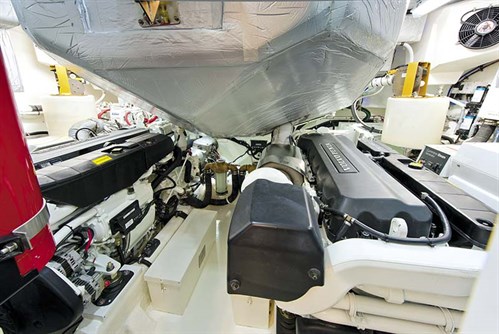 The engineroom, accessed via a hatch in the cockpit sole or through the utility room aft of the master suite, is typical Riviera. Everything is logically laid out, secured and easy to get to. The twin Volvo Penta IPS 950 pod drives (D11 engines) produce 725hp each and are a good match to this hull.
There's plenty of room around both engines and around the 22.5kW Onan generator located here, so getting to all the bits you need to for servicing isn't a problem. Easy-to-get-to things like sea strainers, fuel filter/water-separators that need to be checked regularly and batteries are all housed in vented battery boxes with two separate Mastervolt chargers for house and start batteries. Freshwater tanks are located aft, outside of the pods on either side.
VOLVO PENTA IPS CONTROLS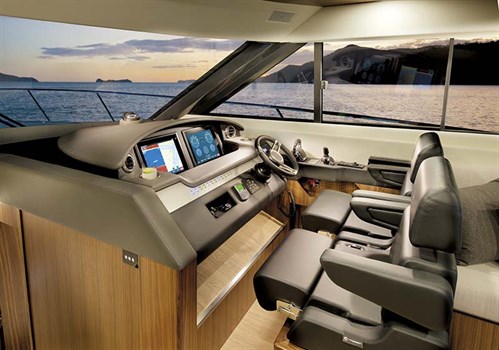 Leaving our berth in Rushcutters Bay and heading out on Sydney Harbour the sun was shining, we had the sunroof open and we were just chatting away normally. When I looked down I could hardly believe we were doing 25kts – everything was so calm, smooth and sedate, and she was quietly powering along like a big limousine.
This is the first hull that Riviera has produced incorporating a keel with IPS. When Volvo Penta first introduced the IPS system, the forward-facing props needed to operate in undisturbed water. Adding a keel has resulted in better handling, more stability, surer tracking (especially in a following sea) and she generally sits better at anchor.
We also had the Volvo Penta Boat Trim system fitted, that automatically trims the boat's attitude and compensates for speed, wind, sea state, or people moving about on board. The system automatically gets the boat up on the plane quicker with pre-defined tab positions when accelerating.
ON THE WATER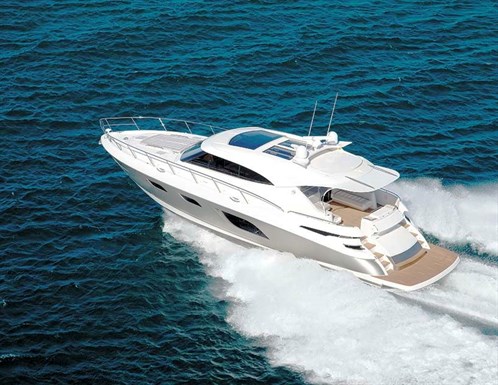 At 25kts I swung her around on full lock and while she had the characteristic slight lean into the turn that pod systems have, the turn was surprisingly tight and un-fussed.
Out through Sydney Heads and with a southeasterly blowing we had around a metre of sea and a slight swell. As a cruising boat she'd work exceptionally well. Loping along, as we were at that stage at 22kts, we turned her into, across and with the sea and she never felt like she was working hard at any stage.  And as the skipper, I was probably working less, with all the fly-by-wire systems, the autotabs, joystick control at cruise speed and that super comfy helm chair … I could have just kept going forever.
At 22kts the engines were purring along at 2100rpm and we were using around 185lt/h. She carries 2650lt of fuel so at that rate you'd have a range of around 280nm with a bit of fuel in reserve. Of course, if you needed to get somewhere in a hurry, or to beat a weather front, she responds when you ask her the question – WOT produced a touch over 31kts.
THE VERDICT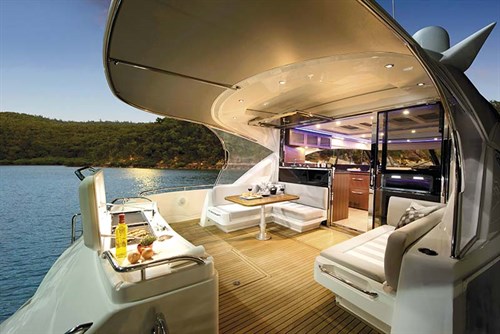 Overall, the Riviera 6000 Sport Yacht is a pleasure to drive and a breeze to handle, even if you're cruising shorthanded, such as a couple or a family. There's even a joystick in the cockpit for when you're berthing.
Add to that the build quality that comes from a committed manufacturer that continually strives for excellence and the result is a very impressive, world-class motoryacht that sets a new benchmark in this class.
See the full version of this review in Trade-A-Boat #245, September / October 2014. Why not subscribe today?
HIGHS
• Great layout
• Top-quality fittings
• State-of-the-art technology
• Superb and easy handling
• Luxury accommodation
• Auto tabs
LOWS
• Would like to see twin fuel filters/water separators for each engine as standard
• 50m of anchor chain for a vessel this size is possibly a bit light
RIVIERA 6000 SPORT YACHT  SEA TRAILS
Twin 725hp Volvo Penta IPS 950 pod drives with two forward-facing counter-rotating propellers
| | | |
| --- | --- | --- |
| RPM | SPEED (KTS) | FUEL BURN (LT/H) |
| 600 | 5.9 | 9 |
| 900 | 8.4 | 21 |
| 1100 | 9.8 | 39 |
| 1300 | 10.9 | 63 |
| 1500 | 11.8 | 97 |
| 1700 | 13.8 | 132 |
| 1900 | 18.7 | 153 |
| 2100 | 22 | 187 |
| 2300 | 26 | 232 |
| 2400 | 28 | 249 |
| 2500 | 30.2 | 273 |
| 2570 | 31 | 286 |
* Sea-trial data supplied by Riviera. Fuel burn is for both motors combined.
RIVIERA 6000 SPORT YACHT SPECIFICATIONS
OPTIONS FITTED
Upper galley/3 stateroom/lower lounge layout: full electronics package, oil change system to main engines and generator, saloon starboard lounge upgrade, starboard stateroom LED TV and AM/FM CD/DVD, painted hull topsides in metallic colour, cockpit awning, and more
PRICED FROM
$2,850,000
GENERAL
MATERIAL Fibreglass
TYPE Monohull
LENGTH 19.3m
BEAM 5.38m
DRAFT 1.36m
WEIGHT 25,750kg
CAPACITIES
PEOPLE (NIGHT) 6+4
FUEL 2650lt
WATER 800lt
HOLDING TANK 500lt
ENGINE
MAKE/MODEL 2 x Volvo Penta IPS 950 pod drive engines
TYPE Inline six-cylinder turbo-diesel engine
RATED HP 725 each
DISPLACEMENT 10.84lt each
PROPELLER Twin forward-facing counter-rotating
FOR MORE INFORMATION
R MARINE NEW ZEALAND
23 Westhaven Drive,
Westhaven Auckland
PHONE +09 302 2511
EMAIL sales@riviera.co.nz
WEB rmarine.co.nz
Keep up to date with news from Trade-A-boat or like us on Facebook!