Review: Robalo Cayman 206
---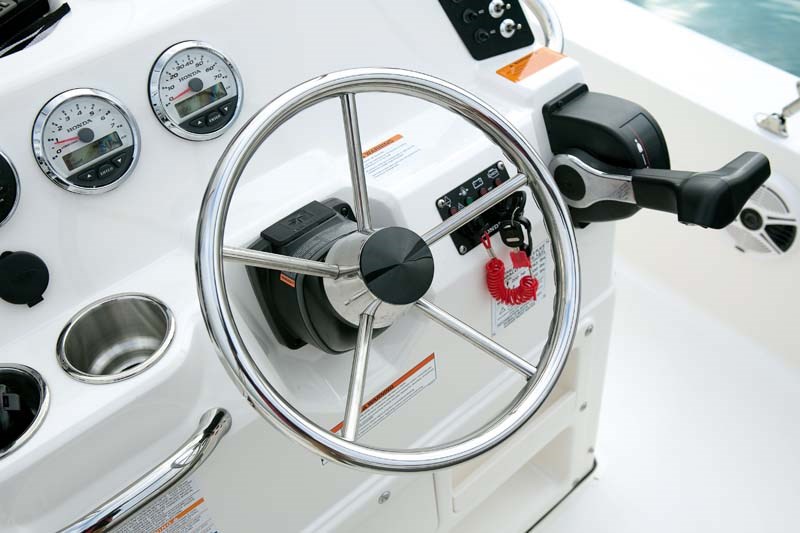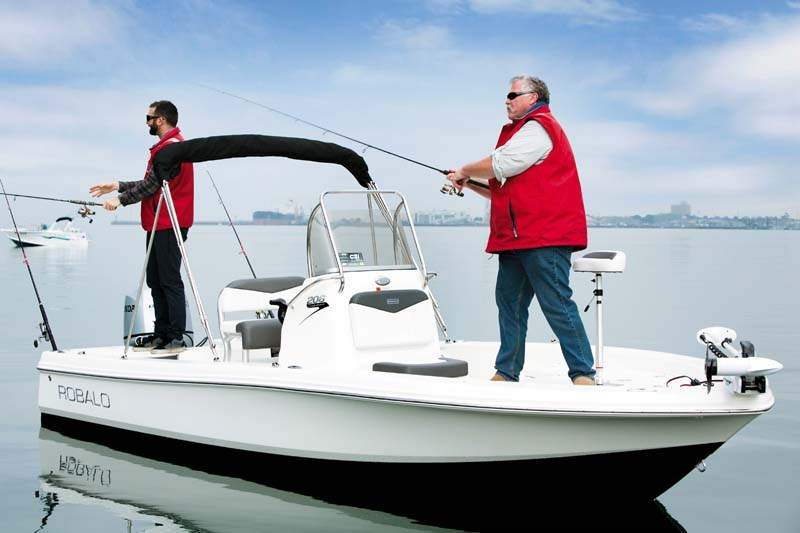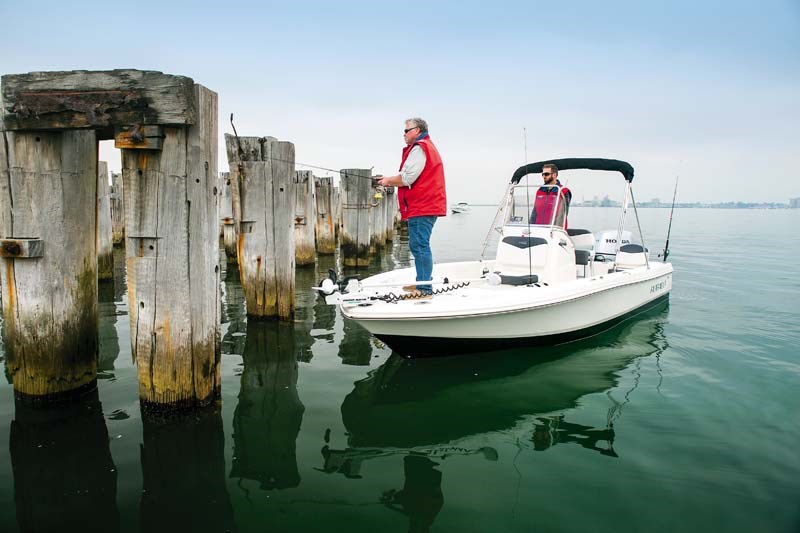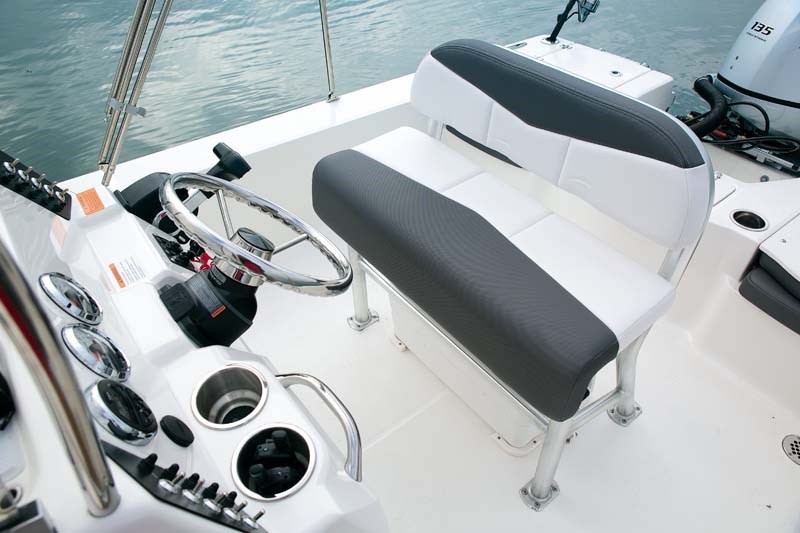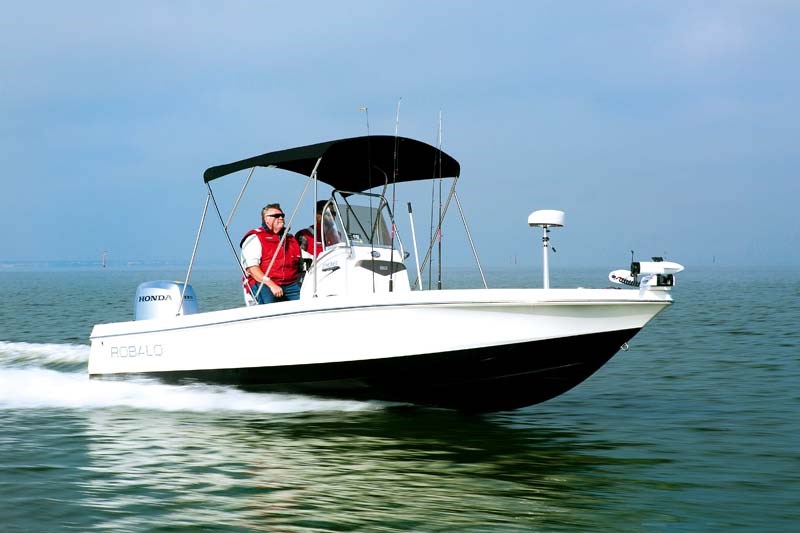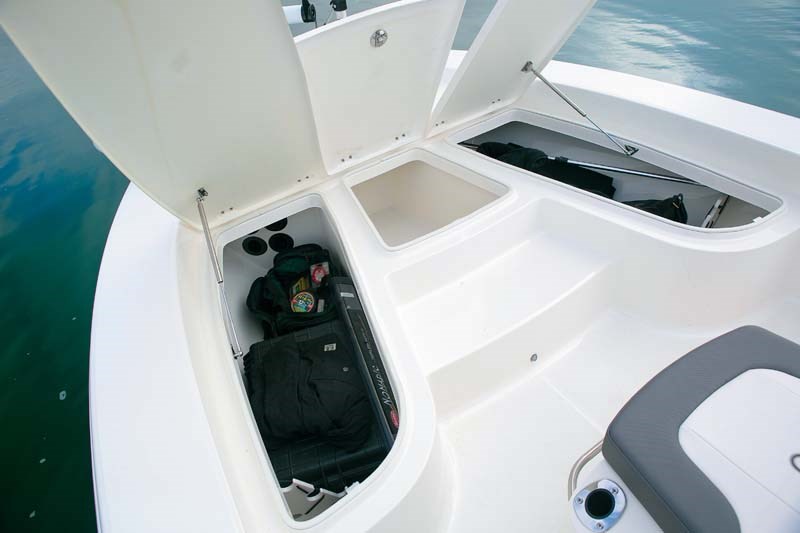 Having spied the Robalo Cayman 206 fishing boat at a boat show, we just had to take it out on the water for a review.
Robalo Boats has been a household name among American fishermen for an impressive 45 years. Part of the huge Chaparral Boats stable, Robalo Boats is famous for its offshore gamefishing boats. Robalo has used its years of experience in that field to develop hulls that are extremely soft riding, capable, stable and quiet canyon-runners with a very high degree of safety and integrity. The new Robalo 206 Cayman.
ROBALO BOATS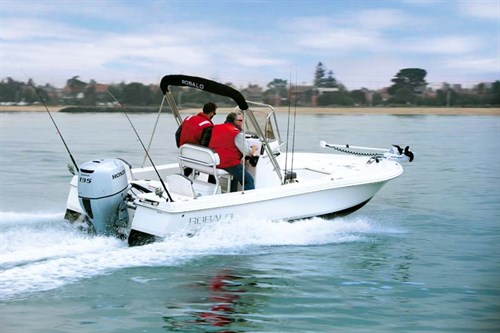 The Robalo Cayman was introduced to the market at the 2014 Melbourne Boat Show. The Robalo Cayman 206 is 21ft of angling utopia, a terrific package for sportsfishing devotees around the country. This is an ideal package for travelling long distances to bash remote barra strongholds up north. The Robalo Cayman will also make a succulent squidder, a bountiful bream buster, a trophy trout hunter, a great goodoo gatherer and is quite capable of limited offshore salmon sojourns. 
The Robalo Cayman 206 hull provides a wonderful mixture of a soft and very quiet 15° 'Extended Vee-plane' bottom with quite large aggressive chines that extend well forward, providing extremely good buoyancy and stability. This fishing boat only draws 10in (25.4cm) for working those highly productive sand flats and crossing shallow bars. She easily carries the weight of an angler, as well as the optional Minn Kota Riptide 70lb SP Saltwater Series 24V electric outboard motor up front.
Our Robalo Cayman 206 was sensibly fitted with a four-stroke Honda BF135 outboard motor which I personally found a very pleasing combination. I can also see the speed demons optioning up to a maximum 200hp for competition and extreme long-range use. Typically the standard engine offered in the States is a lower 115hp which would still take a couple of anglers there and back again with relative ease.
HANDLING AND RIDE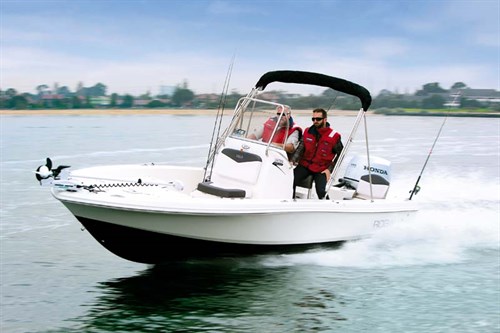 Our test day was shrouded with fog on a cold and frosty Victorian winter's day in Australia. The Robalo Cayman 206 is a terrific trolling boat with very smooth and economical running down low. At a low 1000rpm we found a good slow trawl speed of 3.4kts using a miserly 1.8lt/h. That is a great speed for Ford Fenders and small bibbed lures and it can be slowed even further with a just-in-gear idle at 700rpm.
She jumps up on the plane with minimal bowrise at around 3200rpm and sits nose down and trimmed out at 3400rpm where she travelled at 15.7kts using a low 12.2lt/h. You can cover plenty of miles at a great travelling speed of 24.9kts at 4500rpm where you are still only using a miserly 22lt/h, but open her right up to Wide Open Throttle for some thrills and you'll reach a very speedy (and chilly) 33.3kts at 5850rpm using 47lt/h. All of our speed tests were done with the bimini top open so you can expect even better performance with the big sail closed and when the brand-new engine is run in. You will also have excellent range with the 189lt underfloor fuel tank
LAYOUT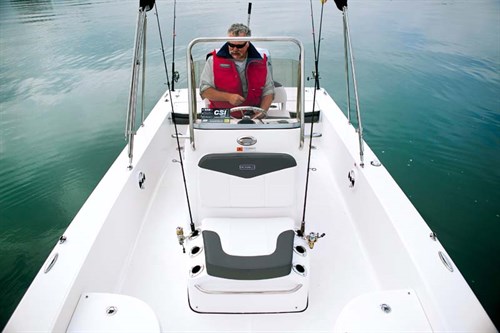 From the bow back we find the Minn Kota trolling motor on a bow mount with a pair of popup cleats behind. This is perhaps ideal for a lure casting rig of this nature, but not ideal if you have extended anchoring in mind as there's no roller or bowsprit. But there is a reasonable anchor locker in the foredeck that is adequate for the limited anchoring this style of boat requires.
The big bow casting platform has a non-skid fibreglass surface with a large locker either side for plenty of storage. They are long enough for rod storage and have stainless steel gas struts to keep them raised. There's also a plumbed livebait tank in the middle. The optional casting seat is stored in the starboard locker and has a plug-in mount in the deck. Our test boat was also fitted with removable platform cushions – a nice touch, but I doubt they would be used too often on a dedicated fishing boat as there is no practical storage container.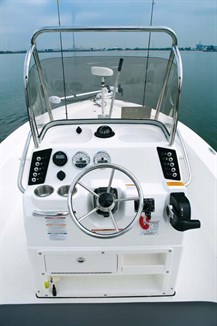 We really liked the centre console. It has an upholstered seat on the front with three rodholders each side and this cavity is also an excellent storage compartment for keeping those casting decks uncluttered. One of three livewells is tucked under the front seat so bait is easily accessible.
There's a ton of room to walk around the console, even with a beam of 2.44m, well under restricted towing width. The Perspex windscreen is at a realistic height and has stainless steel surrounds that extend to form grabrails right down the sides. The console dashboard is good and comfortable and very easy to see and use. It will allow for flush-mounting of medium-sized electronics, but not for the favoured widescreen units optioned by mad keen fishos – dash mounting will be the only option. There are footrests, enclosed glovebox and a nice stainless steel spoked steering wheel with twin switchpanels, cupholders and even a grabrail for the passenger.
Out back we find another large, flat casting deck that fishos will just love. For travelling with a crew there are two convertible rear seats with flip-up backrests that form part of the deck. There's yet another plumbed and lit livebait tank in the centre and a telescopic rear ladder concealed under a flip-up lid to starboard. On the rear port side is yet another enclosed hatch with a moulding that accepts a removable plasterer's-type bucket. It's a simple act of brilliance as it is most convenient to have a removable bucket on hand. The transom is relatively flat and unobstructed, just the way a fishing boat should be.
THE VERDICT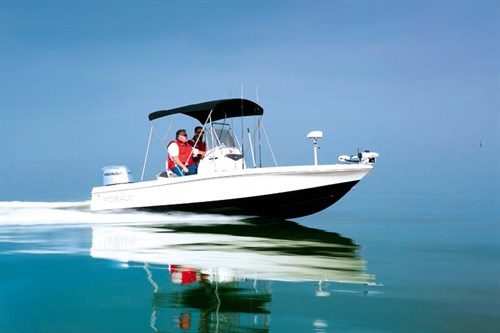 The Robalo Boats Cayman 206 is a high-quality, very fishy machine. It has a blend of Kevlar and Hydropel vinylester resin in its composite, foam-filled hull, along with premium gelcoats and a limited 10-year hull warranty for peace of mind. The Hydro Lift Multi Angle Hull Design (trademarked) seems to work a treat and above all it's a really comfortable and warm boat to fish from, even on a very chilly winter morning. There's a host of extras, features and options to customise the package as every fisho wants something different.
See the full version of this review in Trade-A-Boat #244, August / September 2014. Why not subscribe today?
HIGHS
• Terrific fishing layout
• Soft, warm ride
• Very quiet on the water
• Console structure
• Storage options
• Stability
• Shallow draft
• Premium manufactured quality
• Good bimini and fittings
LOWS
• No bowsprit
• Fixed backrest on driver's seat
• Minimal room on dash for large multi-function displays
• We didn't catch any fish!
ROBALO BOATS CAYMAN 206 SEA TRIALS
Single Honda BF135 outboard motor with four-blade 17in propeller and three passengers
| | | |
| --- | --- | --- |
| RPM | SPEED (KTS) | FUEL BURN(LT/H) |
| 700 | 1.9 | 1.2 |
| 1000 | 3.4 | 1.8 |
| 1500 | 4.9 | 3.5 |
| 2000 | 5.9 | 4.5 |
| 2500 | 7.3 | 7.7 |
| 3000 | 15.7 | 12.2 |
| 3500 | 16.6 | 13.2 |
| 4000 | 17.1 | 21.5 |
| 4500 | 24.9 | 22.5 |
| 5000 | 27.7 | 32 |
| 5500 | 31 | 39 |
| 5850 (WOT) | 33.3 | 47 |
* Sea-trial data supplied by the author.
ROBALO CAYMAN 206 SPECIFICATIONS
PRICED FROM
Robalo Cayman 206 price: $NZ61,000 with 115hp Mercury outboard motor
OPTIONS FITTED
Magic Tilt trailer, Sea Star hydraulic steering, Sound system (USB, MP3 with 2 speakers), bimini top with boot, removable bow cushions, bow fishing chair with dedicated storage, console cover, leaning post cover, deepwater black gelcoat under chines, dual batteries with switches and voltage regulation system (VRS), and Minn Kota Riptide 70lb SP Saltwater Series 24V electric outboard
GENERAL
MATERIAL Fibreglass
TYPE Monohull
LENGTH 6.25m
BEAM 2.44m
WEIGHT (BMT) 1700kg (dry)
DEADRISE 15° (variable)
CAPACITIES
PEOPLE 8
REC. HP 150
REC. MAX HP 200
FUEL 189lt
ENGINE
MAKE/MODEL Honda BF135 outboard motor
TYPE Four-cylinder DOHC 16-valve four-stroke petrol outboard motor
RATED HP 135
DISPLACEMENT 2354cc
WEIGHT 220kg
GEAR RATIO 2.14:1
PROPELLER Four-blade 17in
MANUFACTURED BY
ROBALO BOATS
Nashville, GA 31639, USA
WEB robalo.com
FOR MORE INFORMATION
Chaparral Australia & Aussie Boat Sales
34 The Strand,
Williamstown, VIC, 3016
PHONE +61 3 9397 6977
EMAIL info@aussieboatsales.com.au
WEB robalo.com
Keep up to date with news from Trade-A-boat or like us on Facebook!