Review: Ocean Alexander 72 Pilothouse
---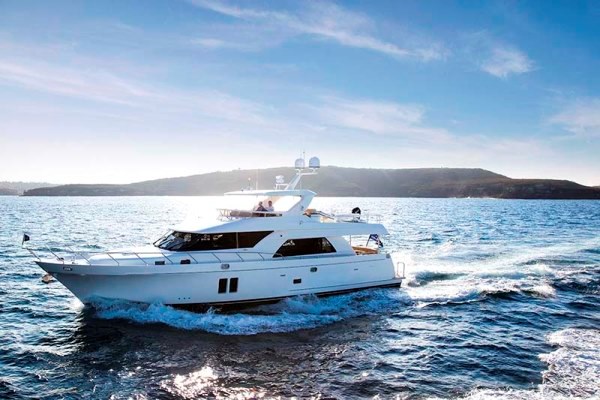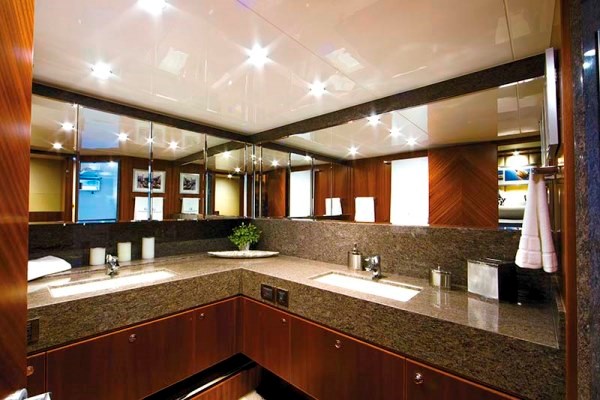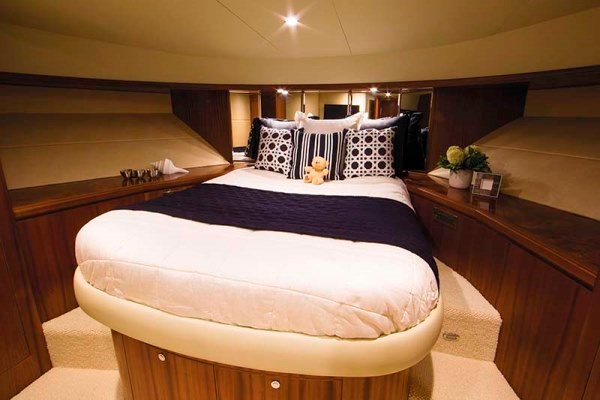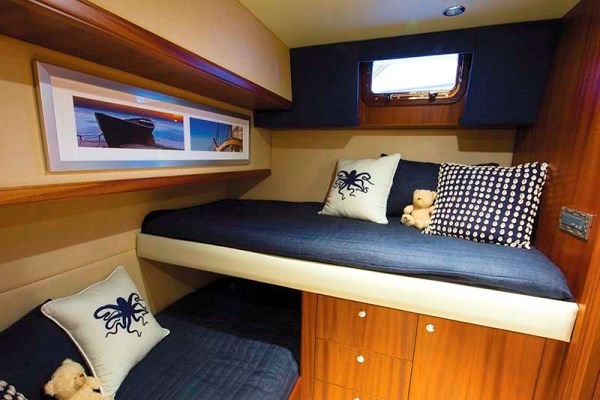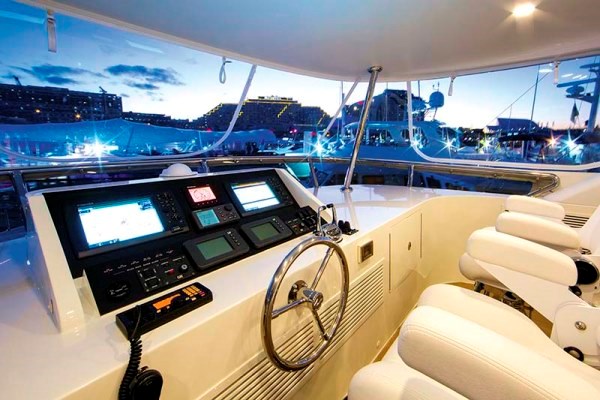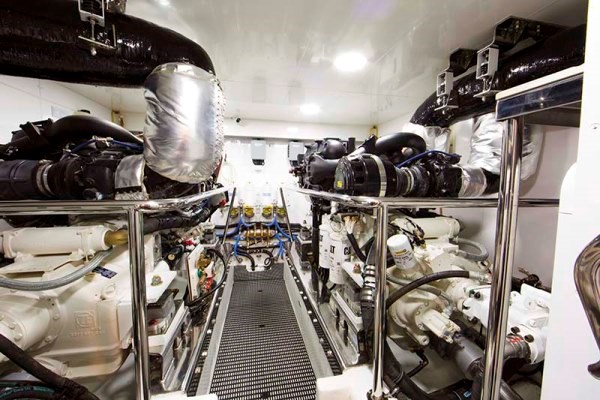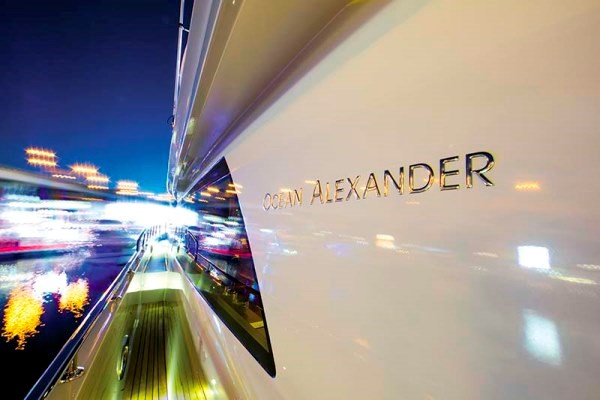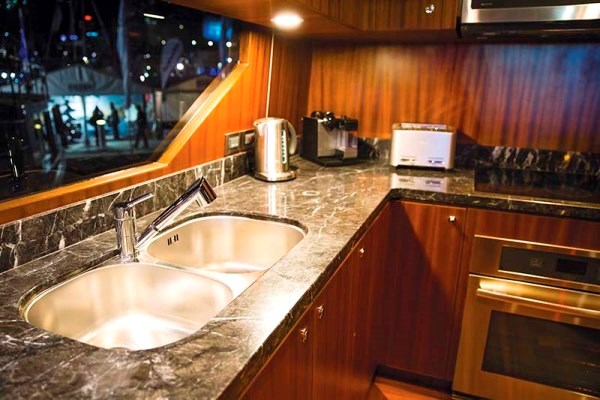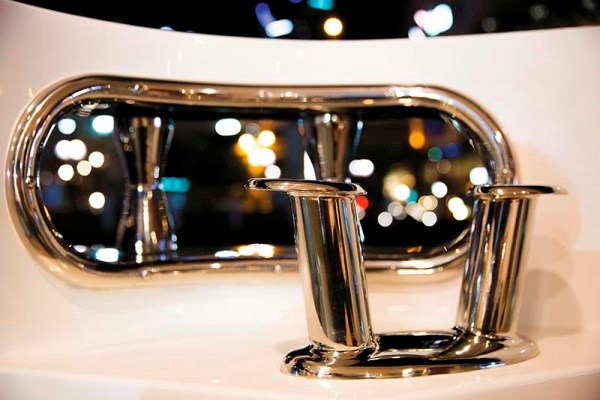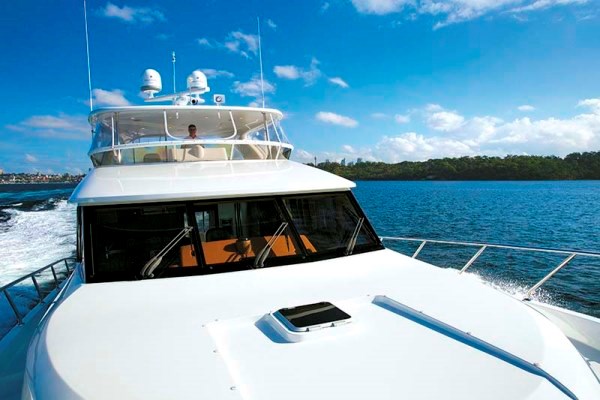 Our reviewer goes for an unforgettable ride aboard the Ocean Alexander 72 Pilothouse.
Ocean Alexander was the top-selling luxury boat above 70ft in the United States in 2013. At close to $4m, you expect a lot of any 20-metre cruiser and its quality and ability to get places quickly if necessary will find its niche in Australia. Especially with luxury boats like the Ocean Alexander 72 Pilothouse.
OCEAN ALEXANDER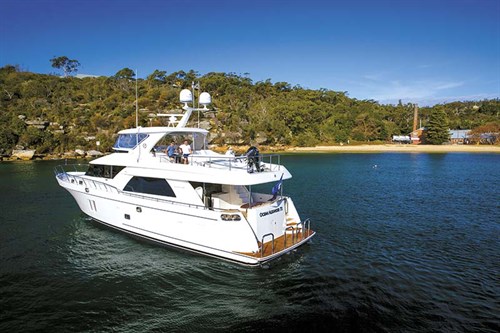 Our trip south had coincided with the annual humpback migration and as we charged onward toward Sydney (dodging the ever-graceful whales) it quickly became apparent just how well this particular animal – the elegant Ocean Alexander 72 Pilothouse – was well-suited to its own bluewater journey.
This is a vessel born for ocean passages. You could argue there are dozens of luxury cruisers which could take on an extended offshore passage and endure it, but sadly few vessels are created to relish such a task.
This particular journey on the largest Ocean Alexander in the country was at the time a delivery south from the Gold Coast in time for the Sydney International Boat Show. There, dealer principal Todd Holzapfel and his team were expecting to win a few.
On board were myself and Todd, plus delivery captain Graeme Mellor, Navigator Marine's Martin Hills and Trevor Holzapfel, Todd's father. The trip was broken up into three manageable legs – Coomera to Coffs Harbour; Coffs to Port Stephens and Port Stephens to Sydney, with overnight berths and fuel stops in between. Realistically, that cruising range of 1200nm means the trip could be completed at a steady pace of around 9 to 10kts allowing us to arrive in Sydney with fuel to spare. But with five busy people on board and a rare window of favourable winter weather, it made more sense to put the hammer down and head south at pace.
LUXURY YACHT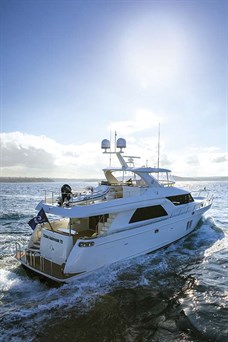 The flybridge on the Ocean Alexander 72 provides a commanding view, although without the recently-fitted clears, there's little doubt we would have been driving from the pilothouse below. Spray belted across the cabin top from go to whoa as the south-westerly whipped the tops off waves. Day vision was perfectly fine, although there was some discussion regarding who would invent decent wipers for clears.
A persistent leak crept in where the lower join of the clears met the low-profile screen, but given the volume of water hitting the flybridge, this was inevitable. And who could complain when you had that heater warming your toes?
For marine electronics at the flybridge helm, there's twin Furuno 12in multifunction screens plus a 12kW Furuno radar and various engine monitoring controls all laid out neatly. This is repeated in the pilot house, albeit with one less MFD. The captain and mate cop two white Stidd helm seats which are exceptionally comfy on watch and there's another downstairs, but it's this flybridge deck that will see most of the driving, if for no other reason than its very social layout.
Directly behind the mate's chair on starboard is an L-shaped lounge and table – perfect for involving guests in the journey as they take in the view. But the highlight is on port – a glossy marble-topped bar, complete with four pivoting bar stools. Okay, maybe not appropriate while on passage, but what a place to prop yourself at anchor. There's a barbecue up here, too.
On the aft sun deck is the tender and davit, in this case a 3.8m AB RIB with a 30hp four-stroke Merc and accompanying 1500lb Steelhead crane.
LAYOUT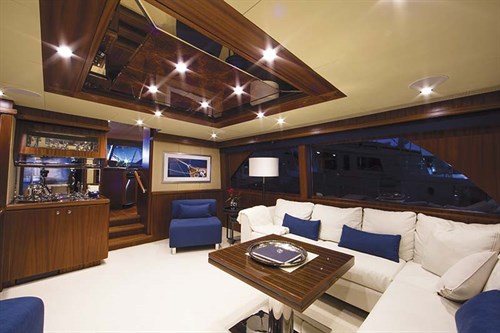 Part of the solid feel to this 22m Ocean Alexander motorboat can be attributed to its not insignificant 46-tonne displacement. When tackling swells offshore, it feels solid and reliable, just as an ocean-going yacht should. We adjusted speed and revs throughout the day as the southerly breeze fluctuated, but the pace was fairly steady at 18 to 19kts and hydraulic Keypower stabilisers ensured a smooth motion. Zero-speed stabilisers are also available as an option. The only perceptible movement of the hull was a purposeful pitch as we drove through the swells, with little or no roll, despite helming from high on the flybridge.
Downstairs in the lower helm station, a quick snack while on passage is made easy with the galley just steps away. Or you can just lean across to the chef to advise which condiments you want on your sandwich. The galley area includes a marble-topped island bench hiding a garbage compactor within, and to port of the helm station is a dining table and lounge, all lined with dark sapele wood.
The Ocean Alexander 72 reviewed was optioned with a 'casual' layout of single-level saloon, comprising a plush lounge, bar station and coffee table on starboard opposite a pop-up 40in TV. Alternate options include an open galley with a window through the bulkhead, a formal dining table, or even an enclosed skylounge on the flybridge, with no downstairs helm and more galley space.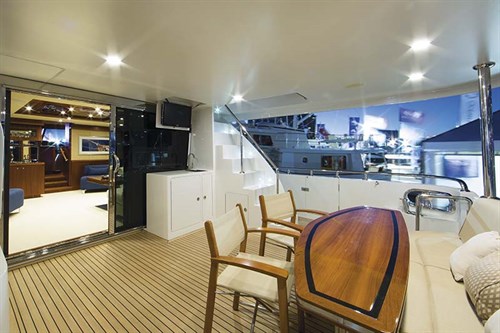 In the present configuration, most meals will likely be taken al fresco on the aft deck, where the glossy table seats six in comfort. Down a couple of teak steps is the swimplatform and lazarette door, which opens into the crew quarters – a decent-sized bed and separate bathroom (always an option for housing unsociable teenagers, too). Other Ocean Alexander 72 owners have turned this area into a fully-kitted dive station, with compressors and gear storage.
From this lazarette cabin, there's crew access to the engineroom. And make no mistake, this is a proper room, not some little cavity to crawl into. It needs to be, to house two hulking 1150hp Cat ACERTs and all their related equipment. Having spent quite a few of my formative years jammed into tiny engine spaces on sailing yachts, it was a relief to wander freely about an engineroom that handily accommodated 188cm of headroom with space to spare. As mentioned, there's two Kohler 23kW gensets for offshore redundancy and a Sea Recovery watermaker that can pump out up to 3400lt/day for use during extended trips. Stabilisers, thrusters and windlass all run off a hydraulic PTO for power on tap, while the dinghy crane has its own independent electric hydraulic power supply.
CABINS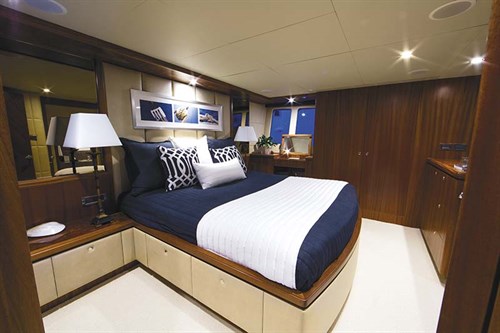 When it's time to call it a night, your choices on the Ocean Alexander are appropriately decadent. Up forward is the VIP double. This allowed me to revel in the spacious island double with its mirrored headboard and twin hanging lockers, with easy access to the marble-lined en suite. A double-bunk cabin next door shares access to this en suite and from here it's just a couple of steps up to the galley.
One feature that sets this yacht apart from many on the market is the separate entrance to the owners' cabin. A private stairway from the saloon passes a cleverly hidden washer and dryer in cupboards on port before you enter the full-beam master. And what a cabin. Deep carpets caress your feet, while light floods in through big vertical windows on either side.
Here, the lucky owners can enjoy some peace and quiet in their private retreat with a desk area, acres of storage (including full-height cedar lined cupboards) and a bathroom bigger than the cabins of many boats. There's more marble here, his-and-hers basins, and a cavernous shower area that runs half the beam of the boat.
THE VERDICT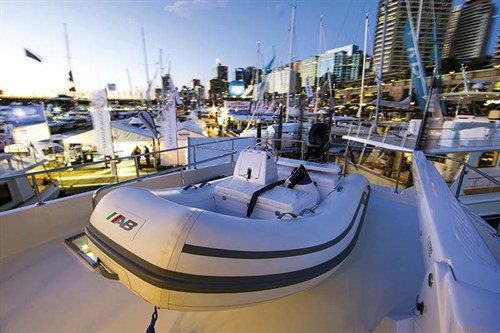 The hefty price tag on the Ocean Alexander 72 Pilothouse won't suit everyone, but for those lucky few with the dollars and the need to travel quickly between ports, this yacht has few peers.
They get bigger, too. There's a 100ft model premiering in Florida this year and I could definitely see a market for Ocean Alexander vessels in the 70 to 80ft range in areas like West Australia, where cruising requires long range capability and self-sufficiency once you arrive.
See the full version of this review in Trade-A-Boat #244, August / September 2014. Why not subscribe today?
OCEAN ALEXANDER 72 PILOTHOUSE SEA TRIALS
Twin Cat 1150hp ACERTs, 5680lt of fuel, 51.5 tonne load
| | | |
| --- | --- | --- |
| RPM | SPEED (KTS) | FUEL BURN (LT/H) |
| 600 | 5.6 | 7.6 |
| 800 | 7.5 | 15.1 |
| 1000 | 9.1 | 30.3 |
| 1200 | 10.6 | 60.6 |
| 1400 | 11.6 | 106 |
| 1600 | 12.4 | 156 |
| 1800 | 14.1 | 242.3 |
| 2000 | 18 | 280.1 |
| 2200 | 21 | 348.3 |
| 2362 (WOT) | 23 | 439.1 |
* Sea-trial data supplied by Ocean Alexander. Fuel burn figures are for both engines combined.
HIGHS
• Flybridge heating
• Luxury finish
• Long range capability
• Private entrance to master
• Flybridge bar area
LOWS
• Sharp clips on hatch to flybridge
• Only 110V (US) outlets throughout
OCEAN ALEXANDER 72 PILOTHOUSE SPECIFICATIONS
PRICE AS TESTED
Ocean Alexander 72 Pilothouse price: $A3,950,000 ex-Australia
PRICED FROM
$A3,650,000 ex-Australia
GENERAL
MATERIAL Handlaid fibreglass
TYPE Semi-displacement monohull
LENGTH 21.74m
BEAM 5.77m
DRAFT 1.65m
WEIGHT 45,903kg (light ship)
CAPACITIES
PEOPLE (NIGHT) 6
FUEL 5677lt
WATER 1136lt
ENGINE
MAKE/MODEL 2 x Caterpillar C18 ACERT diesel engines
TYPE Inline six-cylinder diesel
RATED HP 1150 (each)
DISPLACEMENT 18.1lt (each)
GEAR RATIO 2.517:1
PROPELLERS 2 x bronze D38in x 40.5in
SUPPLIED BY
Ocean Alexander Australia
Boat Works Complex, Waterfront Suite 2, Building A, 200 Beattie Road, Coomera, QLD, 4209.
PHONE +61 7 5618 0000 or +61 410 304 850
Keep up to date with news from Trade-A-boat or like us on Facebook!