Review: Outremer 49/51
---
The Outremer 49 and 51 sailing catamarans are performance cruisers that, while not emulating the AC72's performance, can leave most competitors in their wake.
It's not easy to win European Boat of the Year, but that's what the Outremer 49 sailboat did in the 2010 Multihull Class. It also scored SAIL's Best Boat Award in 2012. Clearly, this boat was a cut above the average.
Designers always look for ways to make their boats stand out in crowded moorings and Barreau/Neuman did that on this sailboat by incorporating asymmetric hull ports that encouraged owners to apply curved graphics to break up white-slab hull sides.
However, this quirky French flair may not have found universal approval around the world, because only four years into the Outremer 49's production run the moulds have been subtly changed for 2014. Gone are the asymmetric hull ports, replaced by conventional horizontal ones and the coach house glasses have been enlarged. The dinette and galley layouts are also slightly rearranged. An optional swimplatform extension to the hulls explains the 51 moniker.
OUTREMER 49/51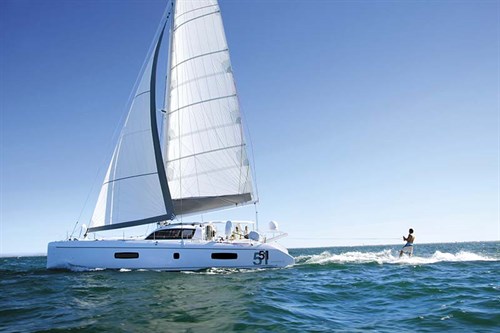 Our review Outremer was a 49 model but apart from the aforementioned changes, was virtually identical to the Outremer 51.
Like all Outremer sailboats, the 49/51 has resin-infused GRP composite construction, with solid laminate below the waterlines and PVC-foam sandwich above. The deck is also resin-infused, foam-sandwich laminate that is hand-bonded to the hulls, making a virtual monocoque structure. The volume resin is polyester, with vinylester skin layers and isophthalic NPG gelcoat.
Unlike those on most cruising catamarans, the Outremer 49/51's hulls are tall and narrow, maximising performance through minimised wetted surface. The hull ends are free of as much weight as possible, to reduce hobby-horsing.
LAYOUT AND ACCOMMODATION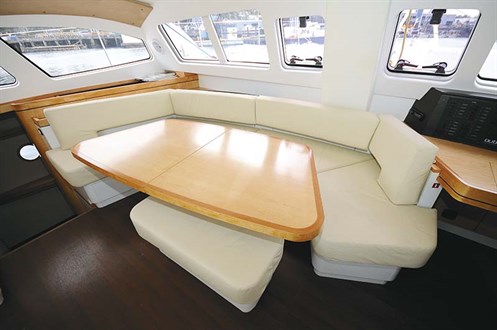 Our review sailboat was ordered with a four-cabin Club layout that has two amidships-located heads and one separate shower room. There are two queen beds in the hull aft sections and two doubles up forward.
The other possible layout is the Owner version in which the port hull has an aft queen bed, a central dressing room/office area and forward head and separate shower. The starboard hull has an aft queen, a forward double and a head and separate shower for guests.
The cabins are noticeably narrower than those in more 'cruisy' cats that have wider hulls. Also, the hull companionways are squeezy, particularly where the dagger board cases impinge.
The Outremer 49/51 emphasis is on performance and that requires narrow, wave-piercing and easily driven hulls. Buyers who aim for 250-mile passagemaking days seem very happy to make the interior space compromise. I actually like the narrow companionways, because in a seaway there's no chance of rattling around like an olive in a bottle.
Unlike earlier Outremers that had hard-surfaced deckheads and walls, the 49/51 boats have suede-look roof panels. The test boat's maple finish was light-coloured and beautifully grained and I liked the curved panelling in the hulls, at the bottom of the saloon stairways.
The Outremer 49/51 saloon features a navigation station, dinette and galley. The area isn't as large as can be found in less performance-oriented cats, because the Outremer mast is set amidships, not forward, shortening saloon length. It's another space trade-off that's necessary to ensure good sailing performance.
DECK AND COCKPIT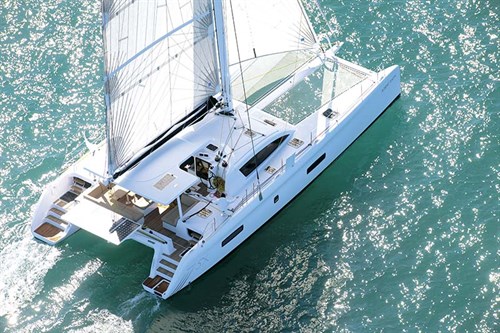 The Outremer 49 and Outremer 51 deck and cockpit mouldings are virtually identical and feature a saloon-level cockpit floor, with U-shaped lounge and outdoor dining table. Access to the saloon is by sliding glass doors, opening a wide entry space.
There's a high-set steering wheel to starboard, optional davits with integrated solar panels – 480 or 560W – and optional twin biminis that can double as rainwater collectors.
For me, the cockpit highlight is an optional pair of carbon fibre tillers, supplied with port and starboard hull bucket seats for the helmsperson. This feature says a lot about the sailing enthusiast rationale of the Outremer design.
A powerful fore-triangle means that the foredeck is huge, with large trampoline areas. There's also ample working space at the mast base for halyard and reefing work. Optionally, all control lines can be led aft to the cockpit, but on the test boat they were standard, at the mast. Given the generous and safe working area at the mast this arrangement seems ideal.
Our review boat was fitted with the standard self-tacking jib, roached main and optional gennaker – an easily-handled package that allowed quick sail area shortening but still with the flexibility to run square, wing-on-wing when required.
PERFORMANCE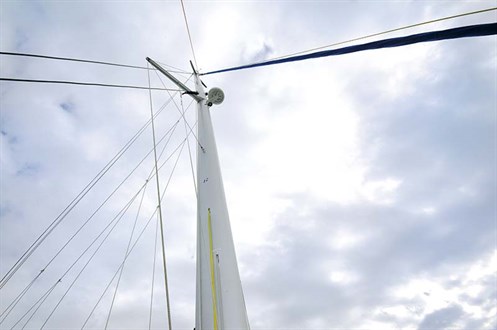 Sydney's weird early-winter weather – very little wind and buckets of rain – made a realistic evaluation of this ocean passagemaker problematic. Fortunately, the sailboat had just arrived in the harbour from the Sanctuary Cove International Boat Show and before that, from Europe via the Med, the Atlantic, the Caribbean and the Pacific.
The Outremer 49's proud owners, Lillian and Mark Mellsop-Melssen, gave us a detailed report on how the boat had handled since they picked it up at La Grand Motte – Outremer's base – two years ago.
"We picked up the boat in France, in August 2012," said Mark. "And we've spent the last two years gradually making our way back home to New Zealand. After a short stay there, we kept sailing over to Queensland and now the boat's in Sydney."
The couple plans a Tasmanian summer aboard before heading back across the Tasman and home.
"We chose the Outremer for its performance, relative simplicity and ease of maintenance and we haven't been disappointed," says Mark.
"Sailing and sail handling have been easy and I don't regret the decision not to power-option the powerful ST46 and ST50 manual winches. The boat has regularly clocked up 200 miles every 24 hours and when reaching in the trade wind zones we saw several 250-mile days," he said.
Impressive statistics from a standard cat with a rod-rigged aluminium mast, but those who want more – and have more to spend – can always opt for a rotating carbon mast, synthetic-fibre standing rigging and square-top mainsail, for additional performance.
"We've been more than happy with the standard-boat performance," Mark continued. "It can tack through 90-degrees on the wind and when reaching, our top recorded speed was 22kts down a wave face. I must admit to some trepidation as we hit the trough but the tall, high floatation bows didn't dig in at all – it felt great!"
THE VERDICT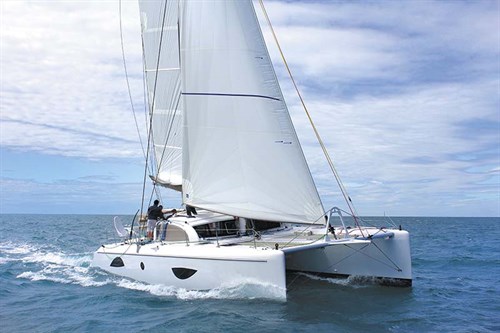 The Outremer 49/51 sailboat is an ideal passagemaking or coastal-cruising catamaran, with ample living and entertaining space. It doesn't have the lifestyle bells and whistles of some multihulls because the design emphasis is on performance and ease of maintenance.
See the full version of this review in Trade-A-Boat #456, August / September 2014. Why not subscribe today?
HIGHS
• Smart and innovative deck layout
• Spacious interior
• Practical overall design
LOWS
• Main hatch saloon doors
• Slightly awkward engine access
OUTREMER 49/51 SPECIFICATIONS
PRICE AS TESTED
Outremer 49/51 price: $1,450,000 (or pick up in France $1.1 million)
OPTIONS FITTED
Hydro-generator, watermaker, davits with solar panels, bimini, washing machine, freezer and gennaker
PRICED FROM
$1,300,000 (or pick up in France, excluding taxes, $960,000)
GENERAL
MATERIAL FRP foam sandwich and solid laminate
TYPE Sailing catamaran
LENGTH 15.27m (14.98m optional)
BEAM 7.45m
DRAFT 0.95m dagger boards up; 2.35m boards down
WEIGHT 10,000kg
CAPACITIES
PEOPLE (NIGHT) 8
FUEL 340lt
WATER 380lt
SAILS
MAINSAIL 86m² fully-battened
HEADSAIL 40m² furling, self-tacking jib
GENNAKER 110m² furling, set flying (optional)
ENGINE
MAKE/MODEL 2 x Volvo Penta D2
TYPE Four-cylinder diesel saildrive
RATED HP 40 (each)
PROPELLERS Folding three-blade
SUPPLIED BY
NEW ZEALAND BOAT SALES
56 Vickerman Street
Port Nelson, Nelson 7010
PHONE 03 546 6987
EMAIL nelson@nzboats.com
WEB nzboatsales.com
Keep up to date with news from Trade-A-boat or like us on Facebook!