Review: Surtees 5.8 GameFisher
---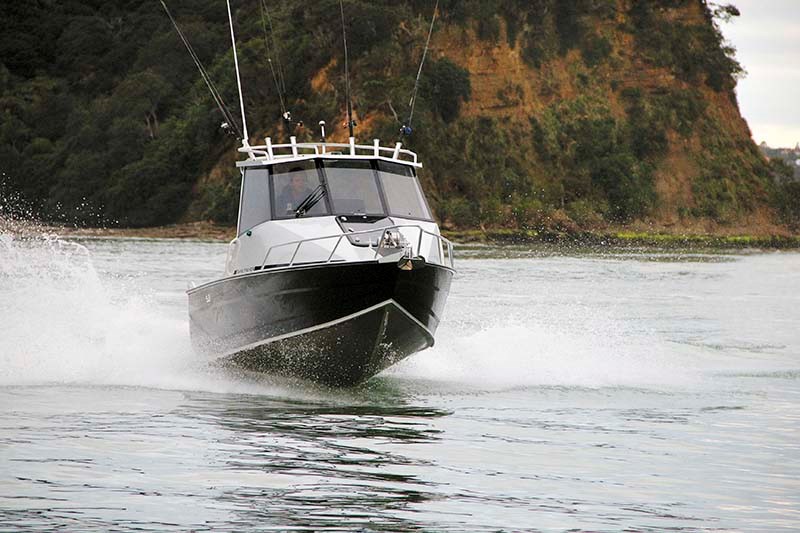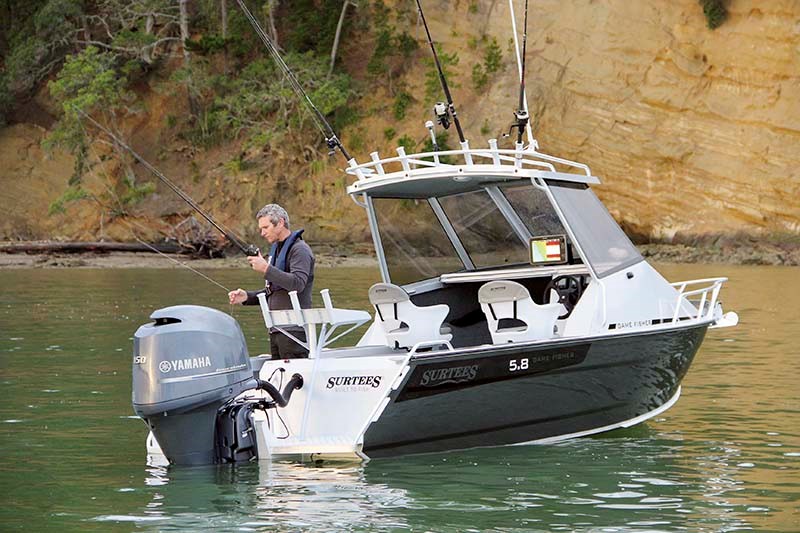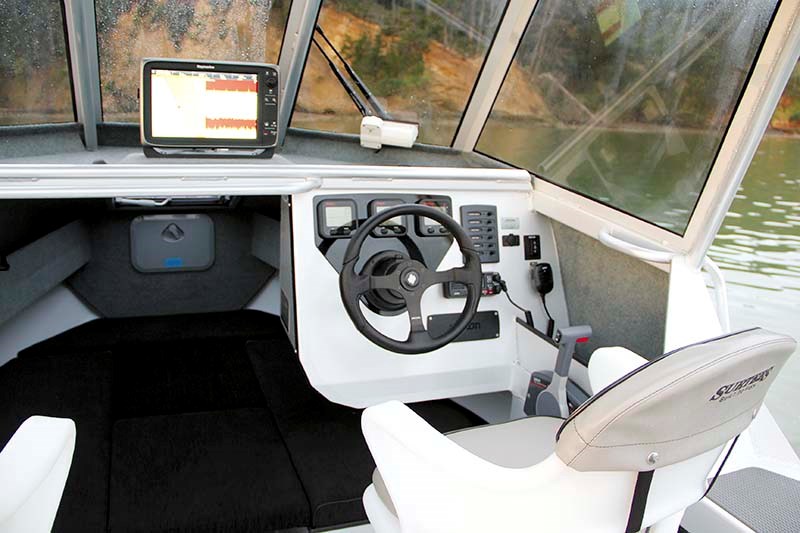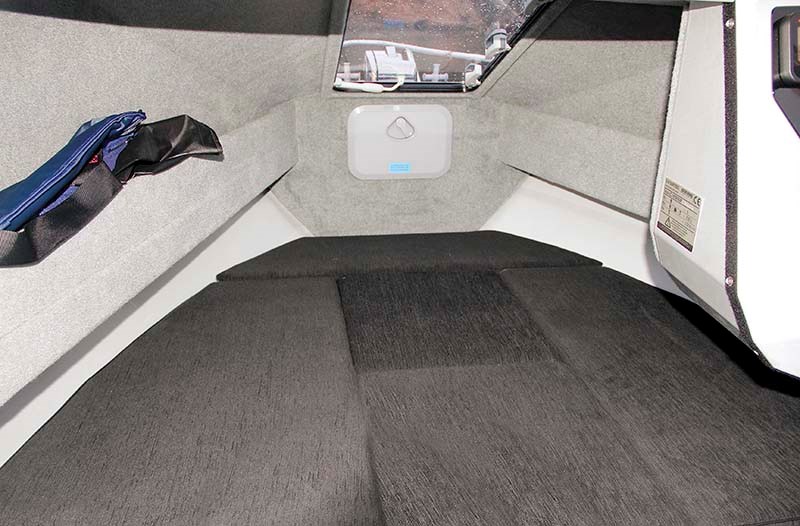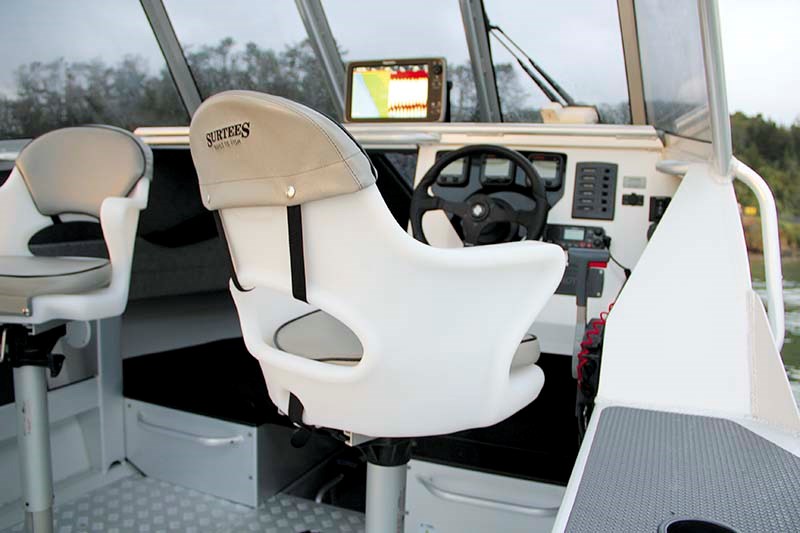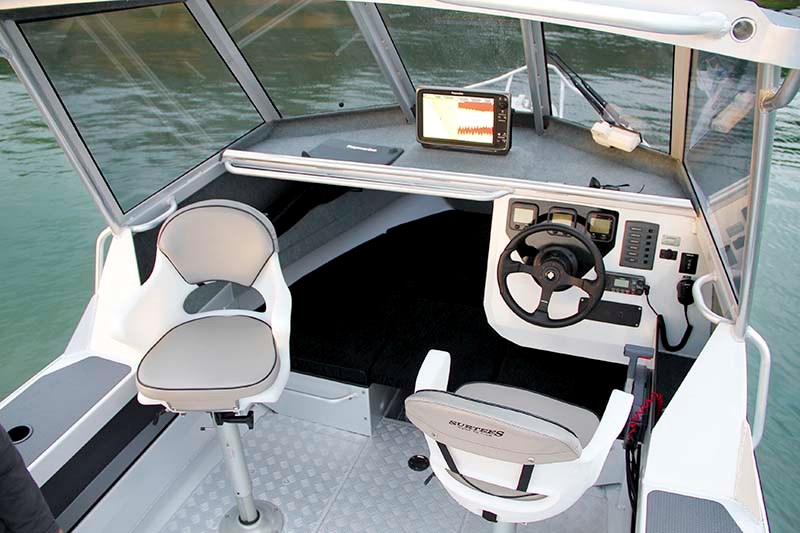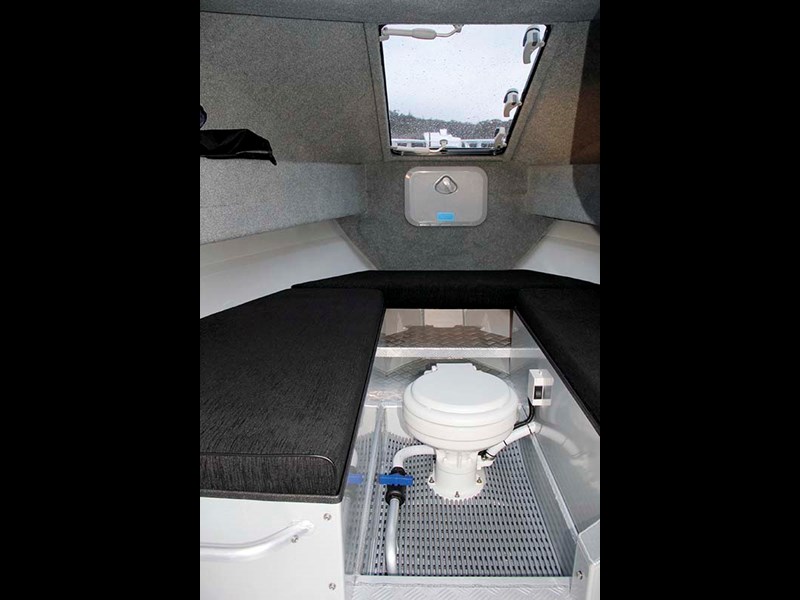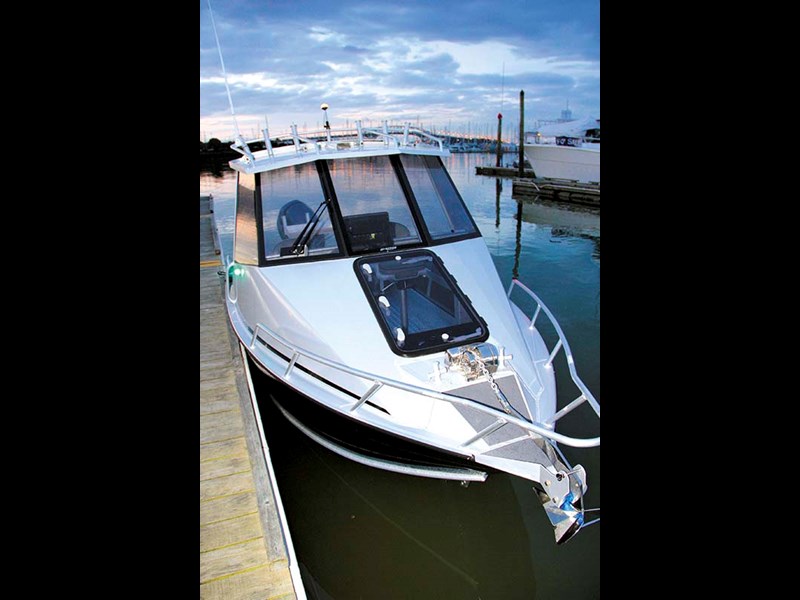 In the Surtees 5.8 GameFisher our reviewer may finally have found a fishing boat that 'does it all'.
The Surtees 5.8m GameFisher is one of those trailerable aluminium boats that feels like a 'big' little boat. This boat also has attitude, lots of guts and a sweet disposition.
While Surtees Boats is ostensibly a producer of aluminium fishing boats, the Surtees philosophy has long been that there is only one place for agricultural boat building and that is on the farm. Surtees subscribes to the notion of 'pride in ownership' and this is written all over its aluminium boats.
---
Find Surtees fishing boats for sale.
---
SURTEES 5.8 GAME FISHER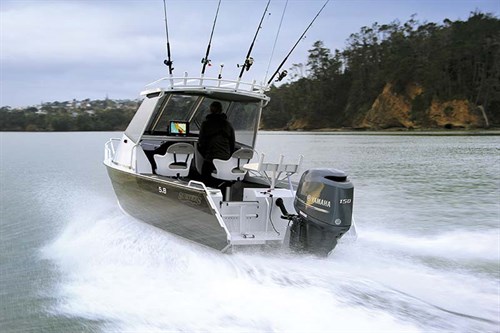 The Surtees 5.8m Game Fisher is a fishing boat that falls between the Surtees 6.1m Game Fisher and the hugely popular Surtees 5.5m Surtees Work Mate. It is the smallest in its class to offer full hardtop protection and thus, the premise of all-season boating.
At 2.26m across, the Surtees 5.8 is a beamy little fishing boat and it presents as fairly squat on the water, but has proven to be both hugely capable and robust – key reasons for a production demand that shows no sign of waning.
Released in 2008 at the Hutchwilco New Zealand Boat Show, the Surtees 5.8 Game Fisher hit a market sweet spot among lovers of aluminium fishing boats. It has grown to become second only to the Work Mate in terms of demand with about 30 of these fishing boats rolling out of the Surtees factory every month.
DESIGN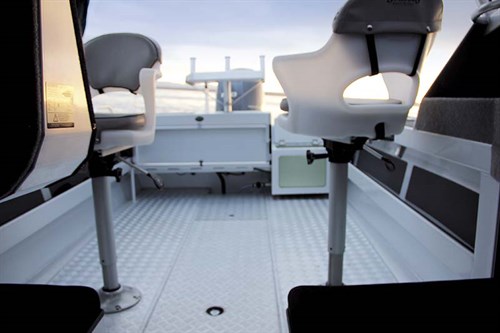 The Surtees 5.8 Game Fisher is comparatively over-built compared to many fishing boats in the sub six-metre class with a confidence-inspiring 5mm aluminium hull, plus 4mm topsides and transom. 
For all of this, the hull is not excessively heavy, tipping the scales at just 550kg.
At the heart of the 5.8's hull construction is Surtees' triangular self-flooding ballast chamber, formed by a flat plate section welded across the top of the vee.
While the primary purpose of the self-flooding chamber is to provide additional stability at rest and promote a more comfortable and measured ride in awkward conditions, it also creates a double skin to protect the boat's most vulnerable asset – its keel.
It is this feature which makes the Surtees 5.8 Game Fisher an ideal contender for beach launching and a further reason why Game Fisher models across the range are considered by many to be among the quietest riding hulls on the water.
Once considered by some as a fad, the effectiveness of this flooding keel is such that Surtees has been able to utilise a relatively deep vee (19.8° at the transom) wave-slicing hull form while mitigating the deep vee tendency to be unstable at rest.
The Game Fisher's hull utilises a variable deadrise and reverse chines while forward tapered spray rails from the bow to amidships do a stellar job at directing wash down and away from the boat.
Rigidity and strength is achieved via the hull's six fully-welded stringers that run the full length of the boat. These are laterally tied into the hull structure with alloy gussets welded at 400mm centres.
FISHING BOAT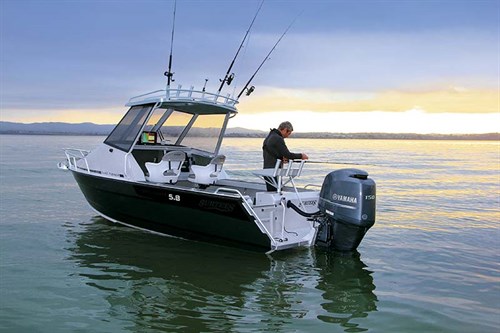 At 5.85 overall, the Surtees Game Fisher packs a lot in for a fishing boat but it does so in a clever way and without limiting the boat's functionality as a family-friendly crossover. While primarily a fishing boat, the cabin is just large enough to be useful with infill squabs creating a reasonable overnight proposition for two.
The helm station serves up a sensibly-sized fascia to accommodate engine instruments, BEP switch breaker panel, flush mounted VHF radio and Fusion stereo, single wiper control, builder's plate and a 12V plug-in socket outlet.
Navigation instruments are mounted on top of the dash, in this case, a new generation C127 12in Raymarine touchscreen plotter/sounder.  The dash has a further stowage tray for smaller personal items and there is another pocket by the engine remote. The hardtop is fitted with five panes of 4mm toughened safety glass, providing excellent weather protection, visibility and ample headroom for those that prefer to stand at the helm.
The 5.8 Game Fisher has a range of seating options available – either a king/queen configuration with stowage underneath (suited for general purpose boating) or a pair of single pedestal soft riders to maximise cockpit space for fishing.
The cockpit is fitted with ample foot and handholds where they're needed, plus a plethora of rod holders and cup holders spread between the six-gang overhead rocket launcher, the custom baitboard at the stern, or recessed into the wide coamings.
Attention to cockpit detail is obvious, with generous use of shaped rubber decktread on the cockpit coamings and forward of the Lewmar stainless steel 12V windlass.
The checkerplate cockpit sole is fitted with rubber tube matting for comfort and cut away to give convenient access to the boat's single underfloor cockpit locker located immediately forward of the 150lt underfloor fuel tank.
The cockpit sole is fully sealed and drains to a 7500lt/h bilge pump fitted to a sump under the transom. An optional cockpit washdown can be installed into the transom and utilises the same 12V pump fitted to the livebait tank on port.
HANDLING AND RIDE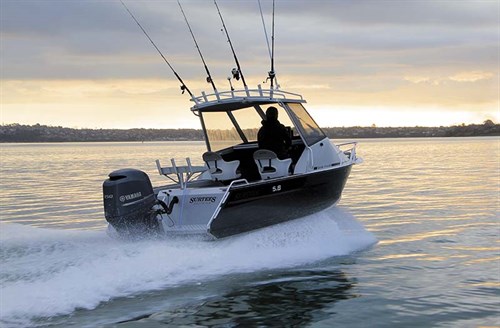 Rated for 100 to 150hp, our 5.8m review boat rig was fitted with a Yamaha 150hp four-stroke outboard motor which sits at the top end of the recommended horsepower range.
Needless to say, performance out of the hole is impressive and at wide open throttle the 5.8 touched 40kts on a flat calm sea and no wind.
But it's not all about speed and at cruising revs (4000rpm at 25 kts), the boat skips along beautifully. There is no annoying backwash and the double-skinned keel very effectively deadens much of the underwater slap.
The Hydrive hydraulic steering is silky smooth and a pleasure at low trolling speeds. Overall, the boat handles very nicely and is sea kindly and predictable.
THE VERDICT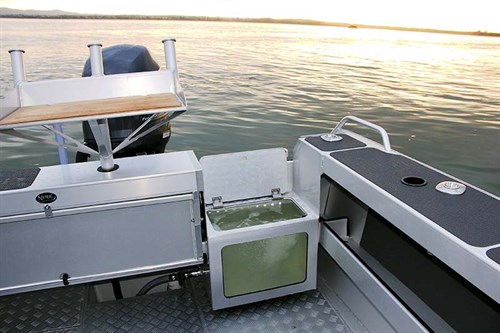 While there are cheaper and lower-spec'd entry-level fishing boats to choose from, the beauty of the Surtees 5.8 Game Fisher is that you're unlikely to outgrow its potential anytime soon. It's ideal for inshore/coastal work but is also capable of getting you offshore in safety and relative comfort.
HIGHS
• Versatility
• Quality finish
• Practical layout
• Silky smooth hydraulic steering
LOWS
• Minimal cockpit stowage
See the full version of this review in Trade-A-Boat #245, September / October 2014. Why not subscribe today?
SURTEES 5.8 GAME FISHER SPECIFICATIONS
PRICED FROM
Surtees 5.8 Game Fisher price: $65,000 with 115hp two-stroke outboard motor
OPTIONS FITTED
Dual batteries, windscreen wiper, livebait tank, C127 Raymarine plotter/sounder, VHF, toilet, infill squabs, soft rider pedestal seats, Lewmar anchor winch and 150hp Yamaha four-stroke outboard.
PRICE AS TESTED
$85,000
GENERAL
MATERIAL Aluminium
TYPE Planing monohull fishing boat
LENGTH 5.88m
BEAM 2.26m
WEIGHT 1265kg (BMT)
DEADRISE 19°
CAPACITIES
PEOPLE 5
RECOMMENDED HP 100-150hp
FUEL 150lt
WATER BALLAST 340lt
ENGINE
MAKE/MODEL Yamaha 150hp outboard motor
TYPE Four-stroke petrol outboard motor
PROPELLER Reliance stainless steel 17in
FOR MORE INFORMATION
Surtees Boats
Whakatane, Bay of Plenty, New Zealand
Phone + 64 7 322 8461
Email boats@surteesboats.com
Web surteesboats.com
SUPPLIED BY
FISHING BOATS NZ
120 Sunnybrae Road
Glenfield, Auckland
PHONE 09 443 0708
EMAIL andrew@fishingboatsnz.co.nz
Keep up to date with news from Trade-A-boat or like us on Facebook!