Review: Chaparral 203 VRX Jetboat
---
New-generation jetboats like the Chaparral 203 VRX Jetboat have wide appeal that goes beyond the safety factor, especially for families.
The best thing about letting the Chaparral Vortex 203 jetboat off the leash on a cold day on Victoria's Port Phillip Bay with no other boats nearby is that you can really get loose and find out exactly what this jetboat can do.
Cue windswept hair, G-forces pressing you back in the seat and childlike squeals of laughter from (supposedly) grown up boat testers. Man, this thing is seriously fun.
With zero marine traffic to avoid (aside from the odd work barge), myself and senior boat tester John Willis traded turns throwing the zippy Chaparral Vortex 203 into dozens of high-speed carves, pushing harder and harder to see just how far the Chaparral would go.
Turns out, you can push pretty damn hard and we quickly discovered the padded bolsters next to the helm seats and rear lounge aren't just there to look pretty.
---
Find Chaparral boats for sale.
---
VORTEX JETBOAT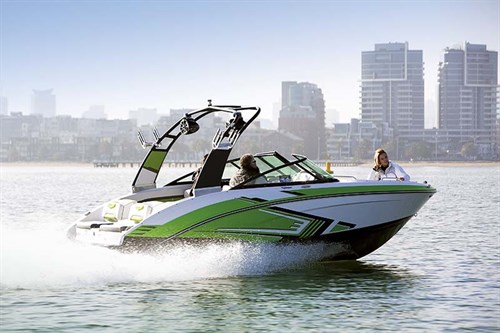 The true source of all this unrestrained delight is tucked into the stern behind several layers of soundproofing, where a freshwater cooled 250hp Rotax engine provides the high-revving punch to propel you across the water at eye-watering speeds.
While jet boats have traditionally been accompanied by high levels of engine whine (music to some), there's none of that on the sophisticated Chaparral Vortex 203, due to twin seals on the engine hatch, plus thick soundproofing.
Refinement like this continues throughout – no surprise to those familiar with the Chaparral brand – and the overall impression is of a boat which is clearly designed for fun, and yet, far too well made to be considered a mere toy.
LAYOUT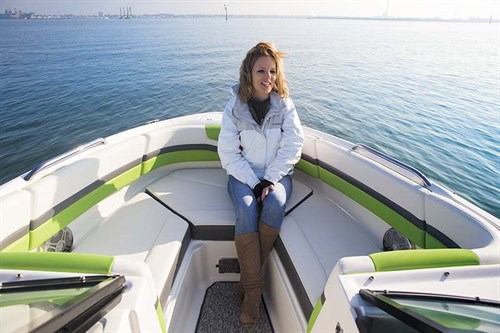 Instead, this is a boat for the whole family to enjoy. There's power on tap for tow sports and the smart-looking foldable wake tower comes standard.
The swimplatform with integrated seats creates a perfect spot for launching watersports from, or just dangling your feet over at anchor.
The safety factor will further appeal to families – jet propulsion means no propellers and absolute peace of mind for kiddies swimming around the boat.
It's the impressive eight person capacity that will really get the party started, however.
Bow seating is complemented by a two large L-shaped lounges at the stern, split by a walkthrough. There's space for the whole gang and storage to swallow up their gear as well.
When you're finished blasting around the bay, a table can be erected in either the bow or stern seating areas while you enjoy a cool drink and critique the on-water performance of your mates.
From the bow it becomes clear this is no ordinary jet boat. There's a proper anchor locker and pop-up cleats. Recessed drinkholders mark this as the spot to chill and there's more of those padded bolsters all 'round, so sunseekers can drape themselves every which way.
Below the walkthrough windscreen, there's a gate to keep wind from the cockpit while underway and either side of this, enormous carpet-lined storage compartments.
Port side houses the amp for the thumping stereo system and on starboard, the portable table stows neatly, while each cupboard is large enough to comfortably house a child during a game of Vortex hide 'n' seek.
The helm is well protected behind the high screen (a good thing given the icy conditions of our test) and the Chaparral dash is something to behold.
HANDLING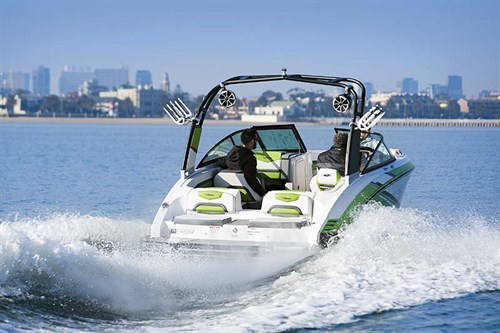 Who needs modes, I hear you ask? I can drive a boat. Sure, but who's driven a jet boat before?
Let's divert for a second. Jet boats operate by drawing water through a hull intake, and then blasting it promptly out the back.
The boat is steered by directing this flow of water, so anytime the engine is running, water is being pushed through the jet. Even at low revs, you're moving forward slightly.
Going astern involves lowering a 'bucket' over the jet and propelling water toward the bow, so steering is reversed. Still sound easy?
It's not difficult, just a matter of becoming used to driving a jet, but Chaparral's various modes – Cruise, Ski, Eco and Docking – tailor the power to your purpose.
While the various modes are fairly self-explanatory, Docking will be of most interest to the novice, as it reduces revs and power for critical manoeuvring next to unforgiving jetties.
It works well too, and after a minute or two experimenting in the open water, I was ready to bring her confidently alongside.
But what about the rest of the boat? Chaparral has included a clever seat arrangement on port for passengers to enjoy both underway and at rest.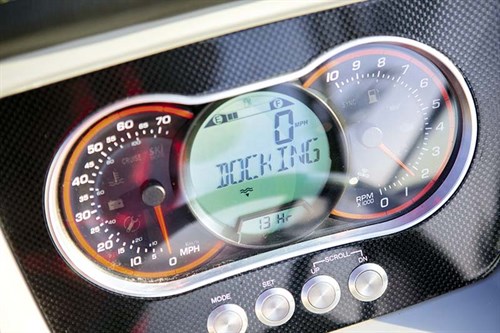 While the 'traditional' helm chair setup is probably recommended for use during high speed turns, the backrest can be flipped forward to create a rear facing lounge and the dash becomes a headrest.
This instant sunlounge is also a top spot for observing tow sports, although the driver has a ski mirror, too. The passenger also gets to play DJ, with the stereo head unit and iPod mount hidden inside the glovebox/headrest.
Under the snap-in carpet, there's a huge ski locker for all your toys, and in the rear of the cockpit, more storage under the lounges. In here you'll find a powerful subwoofer for the stereo, removable Igloo cooler, air pump for toys, plus plenty of space for extra bits and pieces.
At the stern, there's a wide swimplatform with non-skid and two aft-facing seats, but you'd want to be on good terms with the skipper before committing to hanging out here.
THE VERDICT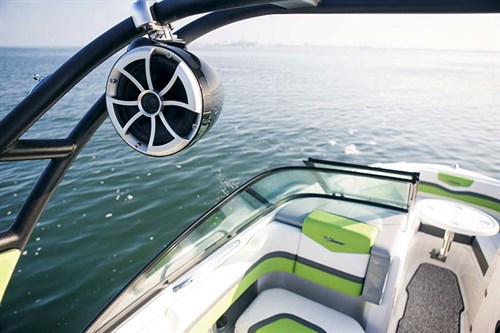 The Chaparral Vortex 203 jetboat suits beginners and could probably be pumped up with some removable ballast sacks, but it's best to view the Vortex 203 as a boat that can accommodate some wakeboarding as part of a fun day on the water, rather than a hardcore wake machine, which she ain't.
What you do have though, is a great-looking and versatile sportsboat which the whole family will love. There's room on board for a big bunch of friends to spend the day playing together and power on tap to make it memorable.
Even if you're a jetboat novice, the Chaparral helm modes make it easy and the hardest choice you'll face is which watersport to do next.
HIGHS
• Versatility
• Thrilling ride
• Classy finish
• Striking looks
• Thumping stereo
• Clever seating
LOWS
• Not much wake produced
• Bow roller would be handy
See the full version of this review in Trade-A-Boat #246, October / November 2014. Why not subscribe today?
CHAPARRAL VORTEX 203 SEA TRIALS
1.5lt 250hp Rotax engine, 2 passengers
| | |
| --- | --- |
| RPM | SPEED (MPH) |
| 2000 | 5 mph |
| 3000 | 7.5 mph |
| 4000 | 9 mph |
| 5000 | 10 mph |
| 6000 planing | 20 mph |
| 7000 | 30 mph |
| 8000 WOT | 40 mph |
* Sea-trial data supplied by the author
CHAPARRAL VORTEX 203 SPECIFICATIONS
PRICED FROM
Chaparral Vortex 203 price: $A55,000 (ex-Australia)
OPTIONS FITTED
Engine upgrade, paint upgrade, fire suppression system, bow walkthrough door, removable cockpit table, stereo upgrade, leather wrapped steering wheel with spinning centre, built-in air pump, board racks on tower, covers..
PRICE AS TESTED
$A74,999
GENERAL
MATERIAL Fibreglass
TYPE Monohull jetboat
LENGTH 6.17m
BEAM 2.44m
WEIGHT 1179kg (dry)
DEADRISE 19°
CAPACITIES
PEOPLE 8
REC HP 150-250
FUEL 132lt
ENGINE
MAKE/MODEL Rotax 4-TEC 250 ECT engine
TYPE Supercharged four-stroke rotary jet engine
RATED HP 250
DISPLACEMENT 1.5lt
MANUFACTURED BY
Chaparral Boats
Nashville, USA
MORE INFORMATION
Aussie Boat Sales
34 The Strand, Williamstown, VIC, 3016
Phone +61 3 9397 6977
Keep up to date with news from Trade-A-boat or like us on Facebook!