Review: Grand Banks 54 Heritage EU
---
The Grand Banks 54 Heritage EU may be based on a classic trawler design, but she was nonetheless far too lovely to take fishing.
The Grand Banks 54 Heritage EU draws its classic styling and design cues from the traditional cruisers of days past, however this boat is also crammed with more technological goodies than a teenager's backpack.
Traditionalists will certainly admire the bold upright trawler lines and semi-displacement hull that promises long days of solid, dependable performance.  And isn't that what trawler owners want – predictable reliability and the knowledge their boat will get them there safely with no surprises?
Judging on looks alone, that's what's been delivered here. There's the large vertical pilothouse windows and moulded clinker sides – she's not exactly streamlined, but there's a certain determined demeanour to the 54 Heritage. You'll go places in rugged, efficient style.
But then you drop the throttle and suddenly, that Grand Banks 'trawler' accelerates much more rapidly than convention might suggest, climbing effortlessly to 22kts.
GRAND BANKS 54 HERITAGE EU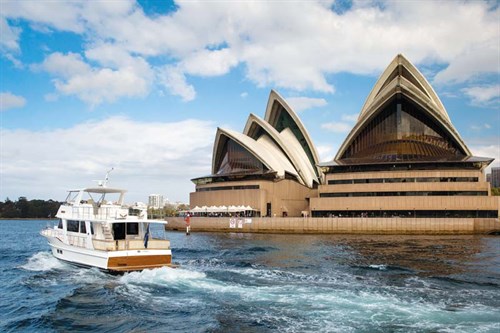 Dealer principal Todd Holzapfel explained, "There's a very strong tradition inherent in this vessel." Locally, these Grand Banks 54 Heritage EU models have already proven popular, hull no.8 currently exploring the waters off Western Australia and its predecessor sent to Palau, but not before being fitted with 8000lt fuel tanks – the Pacific demands serious long-range capability.
The Grand Banks 54 is the largest of the EU models, being also available in 47ft and 43ft lengths and once you've spent a bit of time on board, it becomes apparent why the various forms of these yachts have proven so popular over the years.
The upright coach house hides an impressive interior volume, duplicated below decks and then there's the whole flybridge to consider as well. Beneath a solid fibreglass hardtop – essential in the Australian sun – there's a whole other level to play on. The flybridge houses a 1000lb Steelhead davit, barbecue station, alfresco dining area and an open space that could easily double as a dancefloor when night falls. A wide sunpad is also available as an option here, tucked in behind the starboard lounge and while there's currently no tender, this allows the new owner to choose a model that will best suit their needs. The lack of clears on this flybridge means driving from upstairs is limited to a fair weather proposition (completely off the menu during Sydney's wild August weather). But in the appropriate conditions, it would be a grand thing, pottering along the coast from this elevated position while friends prepare a leisurely barbecue at your back and the kids (or grandkids) play next to the tender, all the while protected by high safety rails which come standard.
HELM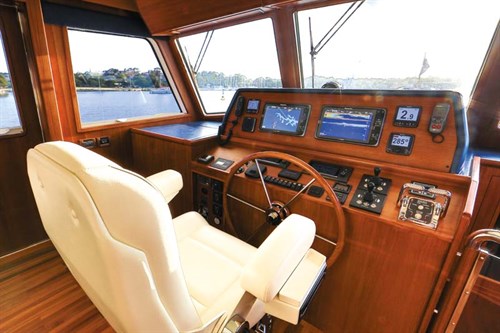 Given this vessel's ocean-going pedigree, there is of course a sensible (and cosy) helming option for when the weather does not cooperate. The pilothouse benefits from expansive glass for a terrific view underway and the windows frame postcard views at rest.
On the dash you find twin 12in Raymarine touchscreens and a Raymarine HD 4kW radar, plus two smart Volvo engine monitors. The  broad wooden wheel reminds you that you're captaining a ship, not a sportscar, and the racy Twin Disc QuickShift throttle is as smooth as one might expect. (Can a throttle be sexy? It is…) Also at the helm are controls for the hydraulic Naiad stabilisers. Essential on any true bluewater vessel, these really got a workout as we poked our bow around the corner from Watsons Bay and felt the force of a storm swell whipped up by winds reaching 75kts apparent.
Beside the throttle, you'll find joysticks for the Naiad bowthruster and sternthruster. Again, these are hydraulic, which means no limits on blasting your thrusters. And no anxiety they'll drop out when you need them most. To demonstrate the available side-power, Todd stopped the 54 completely and leant on both the bow and stern thrusters in opposing directions. Even in a strong breeze, the 40-odd tonnes of trawler whipped around in an instant, spinning in place. Pretty impressive and handy to have at your disposal.
Also handy during docking operations is the aft control station, located on top of the cockpit wetbar. When you're done mixing drinks using the icemaker, sink and bar fridge, the skipper can easily bring the Grand Banks onto the wharf using thrusters and throttles and with a clear view of the starboard side decks.
LAYOUT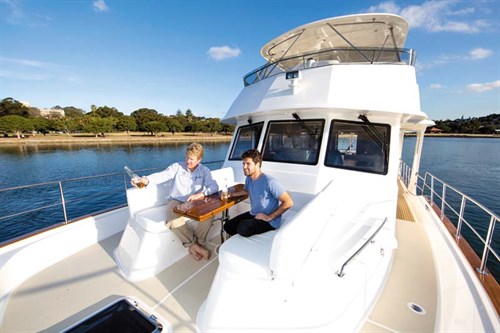 There's no shortage of living areas to choose from on the Grand Banks 54 Heritage EU and each will lend itself to different occasions. Bobbing at anchor, both the flybridge and aft deck tables beckon for alfresco dining and, if there's kids splashing about on the teak swimplatform, the latter will also let you keep an eye on everyone.
There's another decent table adjacent to the pilothouse helm for social dining underway and a hungry skipper could even keep watch from here.
But there's one pretty special spot on this boat that tops them all – at the bow, there's yet another table. This one is extendable, height-adjustable and arguably has the best view of the lot. It's clever use of a space often wasted and the perfect place to take in the sights during a relaxed flatwater passage or for a sunset drink in a secluded anchorage.
Deep lockers beneath these seats and at the bow will swallow lines, fenders and all the cruising paraphernalia boaties love to accumulate, and twin 45kg anchors – assisted by a Muir electric winch – will keep you safe in far-off bays.
Heading back down the sidedecks, there are doors each side of the helm to allow cross-ventilation. These are fitted with rollaway Phantom screens, just as every porthotle on the 54 Heritage also features insect screens – again a nod to predicted voyaging in exotic mosquito-laden climes.
INTERIOR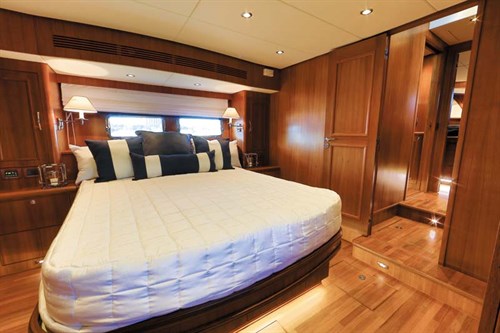 Facilities for extended cruising aboard the Grand Banks 54 Heritage EU continue within the engineroom, where those hulking white Volvos are surrounded by wide, chest-high shelving on two sides – great for spares, provisions or dive equipment.
Each of the D-13 engines is tucked behind solid stainless steel rails to provide a handhold (and to prevent engineers being thrown against hot surfaces in a seaway) and there's full walkaround access in this enormous engine space.
Underfoot, it was a treat to find comfortable teak slats (also ensuring a view to the bilges beneath) and these are a helluva lot more practical than standard checkerplate floor. An Onan 17.5kVa generator provides the juice offshore and the space is plumbed to receive a watermaker of the new owner's choice.
Access to the engine room is via a ladder from the aft deck, or through the 'utility room' off the owners' cabin. This clever space is a great addition to the 54 Heritage, housing a washer and dryer, Waeco fridge/freezer and a workbench, plus dozens of cupboards for storing provisions.
On starboard there's easy access to air handlers, Naiad control equipment, 24V charger and the stabiliser post, with access to the port stabiliser behind a lift-out panel. There's also an option to fit a crew cabin in this space, but for my money the utility room is a pretty clever choice for this long-range cruiser.
The master cabin is located between the utility room and the guest area, boasting a full-beam cabin with the queen bed arranged to provide views through the starboard portlights. The elegant bathroom can be shut off via sliding doors and there are three full-height wardrobes to stow cocktail dresses and/or wet weather gear, destination-dependent.
The interior – including VIP double in the bow and twin bunks on port – is finished in golden teak for a light, contemporary touch and together with the large windows all-round, this contributes to a great open feel in the saloon and galley.
THE VERDICT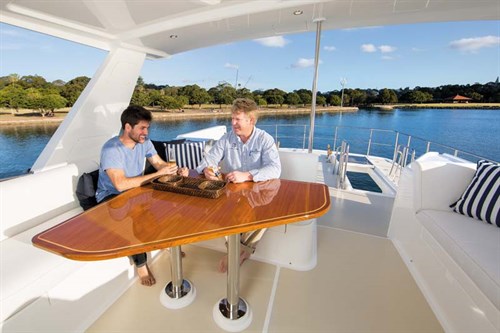 The lasting impression of this charming vessel is a luxury boat which will be enormously reliable, but also perfectly comfortable for living aboard. While the Grand Banks 54 Heritage EU may draw its classic styling and design cues from traditional cruisers, she's also packed full of modern goodies.
GRAND BANKS 54 HERITAGE EU SEA TRIALS
2 x 900hp Volvo Penta D13; 50% fuel and water load.
| | | |
| --- | --- | --- |
| RPM | SPEED (KTS) | FUEL BURN (LT/H) |
| 1000 | 8.8 | 3 |
| 1200 | 9.9 | 56.8 |
| 1400 | 11 | 81 |
| 1600 | 12.4 | 112 |
| 1800 | 14.4 | 149.9 |
| 2000 | 17.3 | 199 |
| 2100 (planing) | 18.4 | 230.2 |
| 2300 | 21.6 | 298.3 |
| 2330 (WOT) | 22.3 | 318 |
* Sea-trial data supplied by Grand Banks. Fuel burn figures are for both engines combined.        
HIGHS
• Front seating
• Utility room
• Holeshot. Yep, on a trawler
• Walkaround engine room
• Roomy hardtop flybridge
LOWS
•Tough to find flaws
See the full version of this review in Trade-A-Boat #245, September / October 2014. Why not subscribe today?
GRAND BANKS 54 HERITAGE EU SPECIFICATIONS
PRICED AS TESTED
Grand Banks 54 Heritage EU price: $A2.89 million
OPTIONS FITTED
Engine upgrade, MGX gears, 3x Twin Disc throttles, hydraulic Naiad stabilisers and thrusters, Sea Fire fire supression, Raymarine electronics, Mastervolt inverter, Ultra Leather helm, Caesarstone galley, Miele washer and dryer, icemaker, extra refrigeration, wine cooler, dishwasher, extended teak side decks, extended swimplatform, teak strip interior flooring, Muir windlass, Muir chain-counter, covers, and fibreglass hardtop.
PRICED FROM
$A2.3 million
GENERAL
MATERIAL GRP hull, foam core decks
TYPE Semi-displacement monohull luxury cruiser
LENGTH 16.55m
BEAM 5.41m
DRAFT 1.54m
WEIGHT 33,000kg (light ship)
CAPACITIES
PEOPLE (NIGHT) 6
FUEL 5678lt
WATER 1136lt
ENGINE
MAKE/MODEL 2 x Volvo Penta D-13
TYPE Four-stroke turbo-diesel
RATED HP 800 (each)
DISPLACEMENT 12.78lt
GEAR RATIO 2.57:1
SUPPLIED BY
GRAND BANKS AUSTRALIA
The Boat Works Complex
Waterfront Suite 2, Building A
200 Beattie Rd, Coomera, QLD, 4209
PHONE +61 7 5618 0000
WEB: grandbanks.com
Keep up to date with news from Trade-A-boat or like us on Facebook!