Review: Jeanneau Merry Fisher 755 Marlin
---
The French Jeanneau Merry Fisher 755 Marlin fishing boat combines style and innovation with practicality and comfort.
When buying a dedicated fibreglass fishing boat, ask yourself: how will the family react if they want to go boating but aren't keen on fishing? And if the family get their way and want something to just have fun in the sun in, then will the angler in the family feel hard done by?
If it's all too hard then maybe it's time to have a look at a boat like the Jeanneau Merry Fisher 755 Marlin. It refuses to be pigeonholed into a specific role. Inspired in design and looks by traditional North Sea fishing boats, it has the credentials of a true crossover boat, blurring the distinction between fishing and cruising.
---
---
JEANNEAU MERRY FISHER 755 MARLIN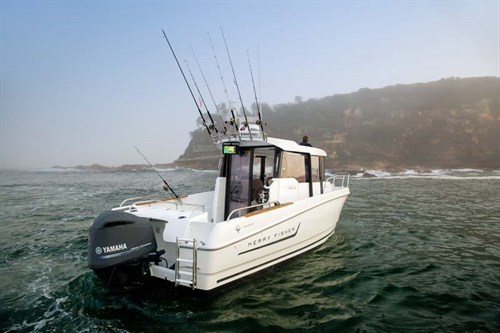 The Jeanneau Merry Fisher 755 Marlin packs accommodation for two, a well-protected wheelhouse, a walkaround deck and a usable cockpit space into 7.25m of hull, and then sticks a modern economical outboard motor on the back t.
The Jeanneau Merry Fisher 755 Marlin is a more fishing-focused version of the cruising-style Jeanneau Merry Fisher 755 and while they share the same hull, each has distinctively different topsides.
Its wide beam is carried well forward and combined with the high decks, the boat creates a bigger impression than its 7.25m length might suggest. From the sides the black window mullions give the sense that the white roof is being supported by the expanse of glass.
LAYOUT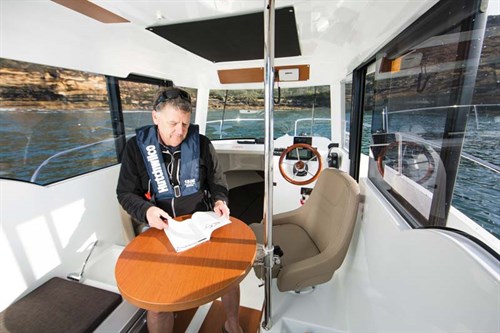 Walkaround decks, an uncluttered rear cockpit and a second bow cockpit add up to loads of fishing room for bottom bouncing and unhindered ability to keep in contact with big fish wanting to drag you around the boat, especially when fishing alone as the owner of our test boat is inclined to do.
For solo fishing trips he has fitted the optional outside helm station and a Simrad NSS12 under the roof overhang where it can be easily seen from anywhere in the cockpit and is out of the weather.
Neatly finished stainless steel grabrails run around the side decks and transom, and a composite timber-look material helps break up the white fibreglass of the decks and non-skid floor.
A panel over the engine well that lifts to allow the motor to be raised has a handy cutting board on top with recessed mouldings either side for tackle and drinkholders. There's a recirculating bait-tank to port and a gate to starboard leading to a permanently fixed stainless steel boarding ladder.
Under the non-skid cockpit sole are a generous starboardside killtank and a central lazarette housing batteries and pumps and leaving some space for storage. I liked the hawsepipes and low cleats that kept the side decks clean for fishing and the generous number of rodholders strategically positioned around the cockpit and in the rocket launcher overhead.
Walkways either side of the wheelhouse are wide enough for fishing and along with the high side rails make it easy accessing the bow. Cushions over the anchor hatch and a forward-facing seat in front of the wheelhouse provide seating for three people up front, creating extra space for the crew to spread out when relaxing. A split in the rail and a timber-look step facilitate boarding from the bow, which is kept neat by mouldings over the Lewmar capstan winch.
INTERIOR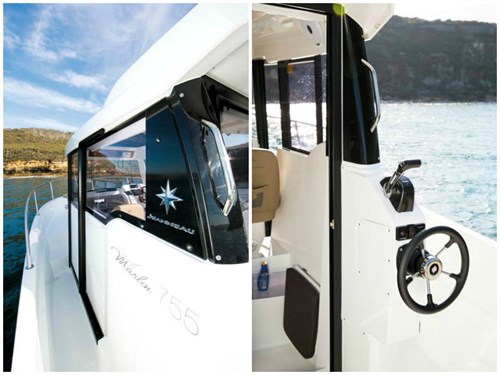 Sliding aluminium doors at the rear and on both sides of the wheelhouse have a solid feel and give the space an open, airy feel enhanced by the windows all around and an opening sunroof overhead. The front glass screen is especially impressive, wrapping around in a single sheet forward of the helm for an unhindered view. Curtains and a cover for the sunroof can be clipped on for privacy when the boat is being used for overnight stays.
While the walkways limit the wheelhouse width there is room for up to five to travel inside. At the helm are two swivelling bucket seats with bolsters, while farther back is a flip-up seat to starboard and a seat cleverly positioned over the galley sink on the other side.
With charming French ingenuity a floor-to-ceiling stainless steel pole makes a great hold for a standing passenger but has a second use that must add points to the innovation score. Attached to it is a round table that slides down the pole from its resting place against the roof making a central occasional table that can be reached from all the seats. Pretty nifty.
Downstairs in the bow is the cabin that gives the Jeanneau Merry Fisher 755 Marlin its versatility thanks to long V-berths that can be converted to a good-sized double for spending the night aboard or snoozing during the day to the sound of water lapping the hull. It's also a safe place for children to entertain themselves on family outings if they get bored with the fishing.
The dash is relatively narrow, so the Simrad NSS7 fitted is as big as the space will take. While it is quite small by today's standards, it certainly does the job and don't forget there is a larger version in the cockpit to closely monitor action under the boat when fishing.
The smaller screen aside, our test boat was kitted out to the max with Simrad electronics that must have added some $25,000 to the final tab. As well as sounder and GPS information, the screens are connected to a 48-mile radar, sonic hub and AC12N autopilot. A digital screen shows what's happening with the Yamaha and a compact panel of Carling switches is close at hand for lights and accessories.
HANDLING AND RIDE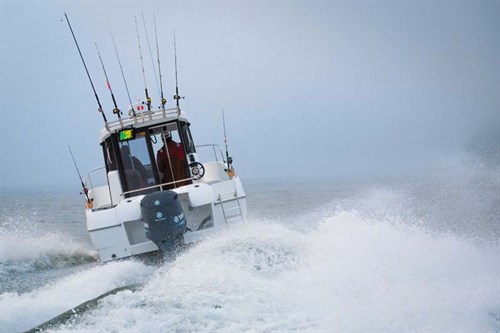 An offshore 2m swell and 18kts of breeze were barrelling into the harbour, so we had ideal conditions to see how North Sea boating translates to the Southern Hemisphere. Before heading into the rough stuff we had room along the protected north shore of Middle Harbour to give the Marlin a good run with the throttle wide.
In Europe the Jeanneau Merry Fisher 755 Marlin is rated in the 150 to 200hp range but local boats have been upgraded an extra 50hp and our review boat was fitted with a Yamaha F250 4.2lt V6 outboard motor.
Overseas reviews with the 150 have recorded a credible 30kts, so the 200 or even a 250 would seem to be a good choice if the extra cost isn't a stalling point. On the review boat we managed 36kts at the 6000rpm wide open throttle and spirited performance in the mid-range and out of the hole.
At trolling speed the boat has a slight nose-down attitude, but feed in the power and the boat leans back and gets underway, liking to ride well back on the hull. Planing speed is 13kts and 3500rpm with the Yamaha showing ample torque and good acceleration through to mid-range cruise of 25kts at 4500rpm.
It feels most happy cruising between there and 28kts and at those speeds it handled the close 0.4m chop in the sheltered bay with ease. Feeling all of its almost 2t weight, the boat is surefooted and very stable. Handling is also impressive with sporty performance in fast turns as the big chines do their job of getting the boat around without any slip or vagueness.
Out past Middle Head we slowed down to respect all the owner's fishing gear on board but were able to push into the larger sea at nearly 20kts reasonably comfortably. The hull is fairly beefy up forward, so there was some banging if the speed was pushed, but it felt safe and predictable in conditions in which most people would not be putting to sea for fishing.
THE VERDICT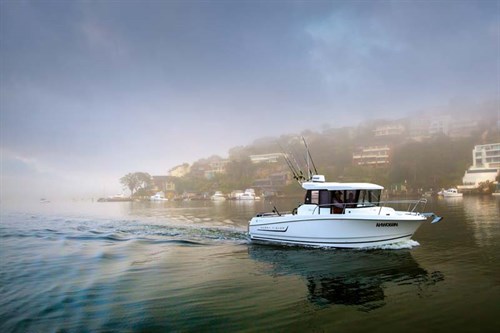 The Jeanneau Merry Fisher 755 Marlin is more than just a fishing boat. Combined with the options of your choice, it can serve just as equally as a happy family runabout, an overnighter, or both.
HIGHS
• Roomy enclosed wheelhouse
• Walkaround deck great for fishing
• Solid, seaworthy feel
LOWS
• Not much room on the dash for large screens
See the full version of this review in Trade-A-Boat #245, September / October 2014. Why not subscribe today?
JEANNEAU MERRY FISHER 755 MARLIN SEA TRIALS
Single 250hp Yamaha outboard motor with 13in x 15.75in three-blade prop
| | |
| --- | --- |
| RPM | SPEED (KTS) |
| 1000 | 4 |
| 1500 | 6 |
| 2000 | 7 |
| 2500 | 8 |
| 3000 | 10 |
| 3500 (on the plane) | 13 |
| 4000 | 20 |
| 4500 | 25 |
| 5000 | 29 |
| 5500 | 34 |
| 6000 (WOT) | 37 |
* Sea-trial data supplied by author.
PRICE AS TESTED
Jeanneau Merry Fisher 755 Marlin price: $146,437 incl. electronics package
OPTIONS FITTED
Aft helm station, windlass, rodholders, cockpit cushions, shower, fridge, toilet and more
PRICED FROM
$110,000 w/ 200hp Yamaha outboard motor
GENERAL
TYPE Monohull fibreglass fishing boat
MATERIAL Fibreglass
LENGTH 7.25m
BEAM 2.81m
WEIGHT 1750kg               
CAPACITIES
PEOPLE 8
REC. HP 200
REC. MAX HP 250
FUEL 285lt
WATER 100lt
ENGINE
MAKE/MODEL Yamaha F250 outboard motor
TYPE Fuel-injected V6 four-stroke petrol outboard motor
WEIGHT 255kg
DISPLACEMENT 4200cc
GEAR RATIO 1.75:1
PROPELLER 13in x 15.75in three-blade stainless steel
FOR MORE INFORMATION
Orakei Yacht Sales
12-14 Tamaki Drive, Orakei, Auckland
Phone 021 929 592
Email sales@orakeimarine.co.nz
Keep up to date with news from Trade-A-boat or like us on Facebook!