Review: Quintrex 690 Trident Hardtop
---
Australia's leading alloy boats maker, Quintrex has added to its range of fishing boats with the Quintrex Trident 690 Hardtop.
Due to popular demand, Quintrex is keeping up and ahead of the times with the introduction of Hard Top versions to a number of its larger offshore aluminium fishing boats.
The pick of the crop for us is definitely the Quintrex Trident 690 Hard Top, the 'luxury liner' of Quintrex boats, dedicated to offshore fishing in a bit more style. A really trendy appearance, decent heavy-duty build quality, a nice fisherman's layout and top finishes throughout make it very attractive upon initial glance.
---
---
QUINTREX 690 TRIDENT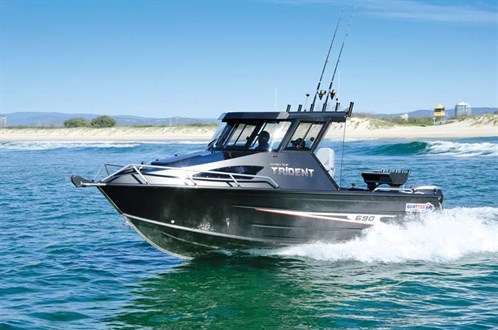 First impression is that the Quintrex Trident 690 HT is definitely an eye-catcher with its new hardtop and matching carbon-fibre coloured metallic paintwork matching the 250hp Evinrude E-TEC High Output outboard motor. Put simply, it's a nice looking boat both on and off the trailer.
As a 690 it's got a bit of size to it in both length and beam. It sits at 7.07m overall in length with a 2.48m beam, so space is no issue.
Purposely designed as an offshore fishing boat, the Quintrex 690 Trident's deck is wide and spacious enough to accommodate a number of fishermen. The boat is rated for as many as eight onboard but realistically, you could quite comfortably fish four at the same time without tangling up.
LAYOUT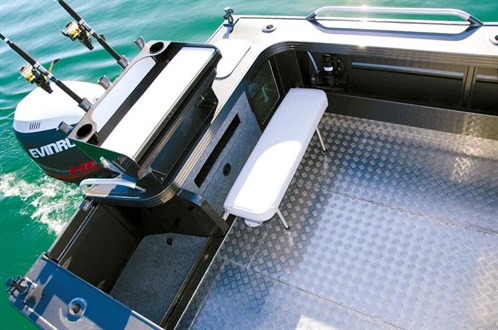 To make that fishing day more pleasurable the Quintrex 690 is loaded with a number of good features, including high gunwales and wide coamings that are quite comfortable to use as seating, and great to lean against when the swell and chop is up. The deck is treadplate and self-draining to make cleaning that much easier, as well as adding to safety for those onboard. A few simple features that also appeal to me are the deckwash pump and fuel filter being mounted below the transom coamings which exposes them for easy access, maintainance or monitoring.
The transom on the Quintrex 690 is set up with a flash-looking baitboard in matching metallic colouring to the boat, as well as having a good-sized bait tank with large viewing window, berley bucket, a bit of storage, a dual-battery compartment that's raised off the deck, transom door with oil reservoir hatch below the step, fold-up rear seat and plenty of cast rodholders.
Up front the new hardtop is the main feature, protecting the entrance to the cab and adding a welcoming and warm touch to chilly days out at sea. Like all hardtops, getting the proportions right to suit the hull in both looks and ride can be quite difficult, but here they have done an awesome job at producing a hardtop that looks modern and in proportion, is sturdy, has the right amount of visibility throughout the screen and side windows and good airflow. As well, there's a plumbed freshwater windscreen wiper washer and removable side clears which make the world of a difference at adding to protection.
It's also loaded with six Quintrex (patent pending) Reel Easy rodholders (which tilt back by simply pulling a pin out) and LED spots, as well as stereo and speakers fitted into the bulkheads above.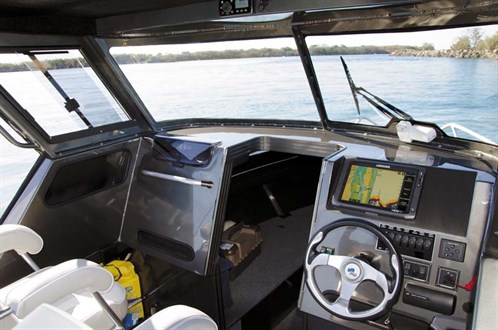 On the seating side you get upgraded from economy to business with Quintrex Ocean Pro swivel seats mounted onto permanently fixed storage boxes as standard. A simple, small footrest adds to comfort while seated and on either side is open storage in the side and front pockets of the hardtop.
The dash is another functional area with plenty of room to mount electronic accessories either side of the steering. It can easily house the larger GPS-sounder units on the flush-mount panel that is also at the perfect angle to view while seated, standing, or even from the stern.
The cab is a fully usable area, considering it is full length and very spacious inside. There's plenty of storage space below the bunks and with the addition of the optional infill cushions, backrests and carpet linings, it looks pretty comfortable for an overnighter, or just a good spot for the kids to hang out when the fishing becomes boring or the weather gets up.
HANDLING AND RIDE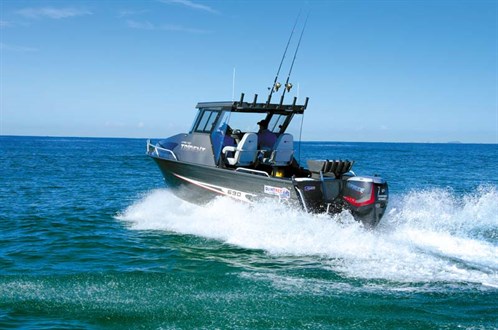 The Quintrex 690 has matching performance and handling to complement its design quality. Long runs offshore and hard days at sea can be punishing on the body if you have a boat that pounds. The 690 is far from one of those boats and thanks to the 5mm plate bottom construction coupled with its Millenium Blade technology hull, you get a very comfortable and soft ride.
Conditions were far from horrendous but there was still enough swell and chop to get a good feel for the ride, which again was most comfortable – it's one of those boats that can be adjusted to suit your taste on ride. Fitted with the 250hp Evinrude E-TEC High Output motor there's definitely no quibbles with power either.
When trimming the bow down the deep-vee Blade hull cut through the chop, maintaining a level profile. Trimming the bow right up gave more lift and enabled higher speeds to be achieved, while still maintaining a soft and stable ride.
Personally, I like being able to give it a bit of stick at higher speed. WOT will give you a generous 47kts, which is pretty quick in my opinion. The maximum rating on the 690 is 250hp, with 150hp being the minimum.
I reckon the 690 would still run pretty well with the lower horsepower motors, as well as saving a few bucks, but if dollars are not an issue then definitely stick with the higher horsepower – the 250hp E-TEC High Output makes an awesome combination.
Dropping the throttle back the ideal cruise speed offshore was between 3500 and 4500rpm, at speeds ranging between 25 and 30kts. Up to 28kts you approximately match the economy in lt/h, while above that it does start to increase. Regardless, the 250 E-TEC is pretty economical considering the size of the boat.
At lower troll speeds, just off idle, the hull still tracks well and protection from the hardtop and cab you could probably stay offshore a lot longer than usual, as you just don't notice the cold and chop.
At rest the hull is again stable, which everyone appreciates when fishing offshore in rough conditions. As mentioned earlier, the big gunwales and wide coamings add to comfort when standing against them. If anything it might be good to add some bolstering to lean into, which is optional.
Overall the Quintrex 690 Trident Hard Top tracks well, maintains good stability underway, has a nice dry ride, and is a boat that is comfortable to drive when seated and standing. I like the fact that you don't have to work at driving the boat, but can sit back and relax while the boat itself does most of the work.
THE VERDICT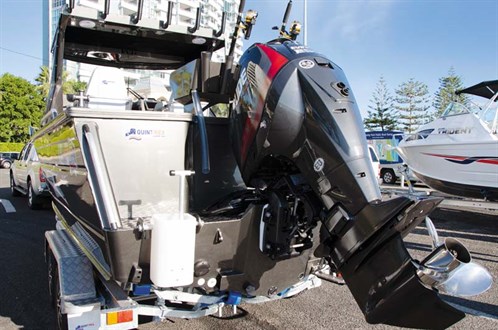 Often boats can be advertised or promoted as the ideal offshore fishing package – and many are close, while some fall short. In this case the Quintrex 690 Trident Hard Top is exactly what it's promoted as.
Boasting a very good ride and handling characteristics, along with an ideal fisherman's layout and accessories, suitability for family boating, wet deck for safety, heavy-duty construction and plenty more as standard, the serious fisherman and family won't go wrong with one of these offshore fishing machines.
Fully loaded with motor and accessories the total package weight will probably come in around the two-tonne mark, or just under – which is not bad considering the size of the boat. On the road a 4WD will probably be the ideal tow vehicle.
HIGHS
• Metallic paint adds a touch of class
• Thick visual external welds
• Hull characteristics at higher speed
• Can take a good pounding if you get a bit of air by mistake
• Side clears
• Simple to launch and retrieve on Quintrex easy-loading trailer
LOWS
• A few flush-mount cast drinkholders on the dash would be good
• Extended grabrail on rear of hardtop would be good too
See the full version of this review in Trade-A-Boat #245, October / November 2014. Why not subscribe today?
QUINTREX 690 TRIDENT HARDTOP SEA TRIALS
Single 250hp Evinrude E-TEC outboard motor with 19in Rebel propeller.
| | | |
| --- | --- | --- |
| RPM | SPEED (KTS) | FUEL BURN (LT/H) |
| 1500 | 7 | 5.1 |
| 2000 | 9 | 13 |
| 2500 | 13 | 20 |
| 3000 | 21 | 23 |
| 4500 | 30 | 51 |
| 6000 (WOT) | 47 | 80 |
* Sea-trial data supplied by the author.
QUINTREX 690 TRIDENT HT SPECIFICATIONS
PRICE AS TESTED
Quintrex 690 Trident HT price: $POA
OPTIONS FITTED
Lowrance HDS-12 Gen2, HT LED light kit, deckwash, rear lounge, and Trident grey metallic paint
PRICED FROM
$100,990 (standard BMT package)
GENERAL
TYPE Monohull fishing boat
MATERIAL Aluminium
LENGTH 7.07m
BEAM 2.48m
WEIGHT 1130kg
DEADRISE 20° variable
CAPACITIES
PEOPLE (DAY) 8
REC. HP 150
REC. MAX HP 250
FUEL 200lt
ENGINE
MAKE/MODEL Evinrude E-TEC 250 HO outboard motor
TYPE Direct injection V6 two-stroke outboard
WEIGHT 250kg
DISPLACEMENT 3441cc
GEAR RATIO 1.71:1
PROPELLER 19in Rebel
MANUFACTURED BY
QUINTREX ALUMINIUM BOATS
WEB quintrex.com.au
MORE INFORMATION
Auckland Marine Centre
247 Ti Rakau Drive,
Pakuranga, Auckland
PHONE 0800 488 847
Keep up to date with news from Trade-A-boat or like us on Facebook!