Review: Scarab 165 Impulse
---
The Scarab 165 Impulse jet boat tachometer registers up to 10,000rpm and it's not classified as a PWC. This jet boat is, quite simply, a rocket.
A deep-vee hull puts the Scarab 165 Impulse jetboat firmly in the general trailerboat camp. Its fun attributes including lack of propeller and significant power-to-weight ratio, making it a serious option for those not expecting to head far out to sea.
SCARAB JET BOATS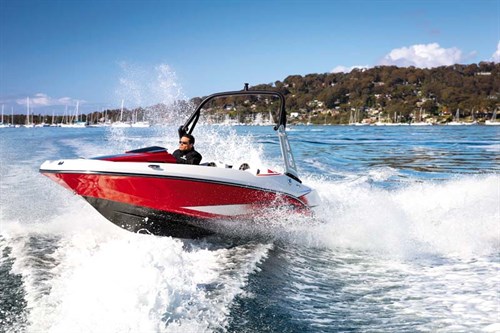 The performance boat craze peaked during the '80s and '90s. Then it waned and jet boat manufacturer Scarab ceased production. The name passed to some Wellcraft offshore fishing boats. When BRP's Sea-Doo division also ceased production during 2013, the sports jetboat market was down a player.
For the giant BRP organisation, the small production run of boats wasn't in keeping with its business model, but Rec Boat Holdings saw an opportunity and made a deal to buy BRP technology and its powerful but lightweight Rotax engines – establishing a new line of fun jetboats.
As well as Scarab, Rec Boats owns Four Winns, Glastron and Wellcraft and to make things even more international, the company was purchased by the Beneteau Group in June this year.
DESIGN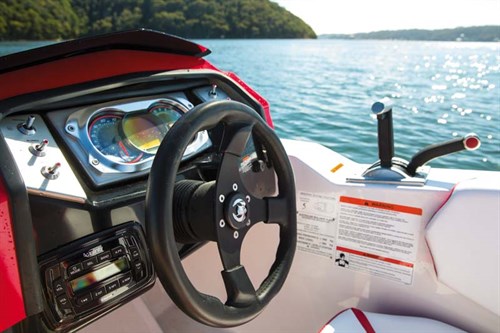 Sydney-based Scarab dealer Steven Arenson had let me loose on Pittwater in the baby of his new fleet and it was more fun than I have had on the water in a long time.
The modern jetboat was born in New Zealand. Early boats had flat hulls so they could spin quickly but it made them unsuitable in rough water. Scarab jet boat hulls have deep-vee sections and planning strakes more in keeping with contemporary boat design, plus strikingly modern topsides.
They might look similar to their Sea-Doo predecessors but Steven told me all mouldings have been completely redesigned. Jetboats like the Scarab 165 Impulse achieve propulsion by sucking water in from under the hull and pumping it out at high speed through a nozzle that also provides steering.
Advantages include the safety of not having a propeller when swimmers are nearby and the ability to traverse shallow water – the Scarab 165 Impulse only draws 30cm.
Also important to Sydneysiders, the boat is not classified as a PWC and therefore does not have the restrictions those craft have on the Harbour, despite having similar drive and performance.
LAYOUT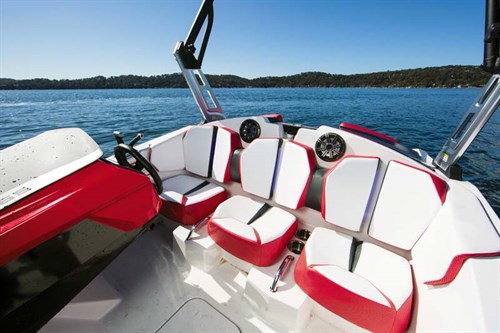 Performance on the Scarab 165 Impulse is simply outstanding. With power from a Rotax 4-TEC 250hp engine and weight of only about 800kg with full tanks, this little 4.8m weapon was made to go fast.
The hi-tech engine was developed specifically for the marine environment and uses a mechanically driven supercharger and electronic fuel injection to make its impressive power from only a 1494cc three cylinder engine.
The open cockpit uses its compact space to the best advantage with a line of bucket seats for skipper and two passengers along the back and an L-shaped lounge in front. For such a small boat, good storage options are found in every available space.
Hatches in the bow have room for anchoring gear and drinks in an insulated cooler. There is additional space under the bow seats, alongside the engine, inside the helm console and dedicated storage for skis under the floor.
The engine is hidden behind the cockpit and lifts on a large moulding that also has a pair of rear facing seats sculpted in.
You would have to assume these are for relaxing in the sun when the boat is at rest, as it would be hard to hang on if seated there when underway.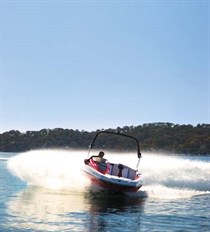 A wide swim platform combines with a wake tower to turn the boat into more than a simple speedster.
It has the power to tow a variety of water toys including skis and without being a specialist wakeboat, the wake at low speed looks like it could deliver a fun ride.
Launching from the Scarab's custom trailer is so straightforward it could be done solo, and I was soon settled into the driver's seat making myself familiar with the boat's operation.
Instruments have been sourced from BRP to match the Rotax engine so there is a similarity in the dash layout to some of those discontinued models.
A 10,000rpm tachometer and a 70mph speed dial surround a smaller circular digital readout that shows GPS speed, depth, engine hours and engine condition.
Separate gear and throttle levers fall naturally to hand on the side deck and steering is adjustable for height while the driver seat has a bolster for better vision when approaching docks and other boats. It takes a while to get used to the different characteristics of driving a jetboat even at slow speeds because there is no neutral as such.
HANDLING AND RIDE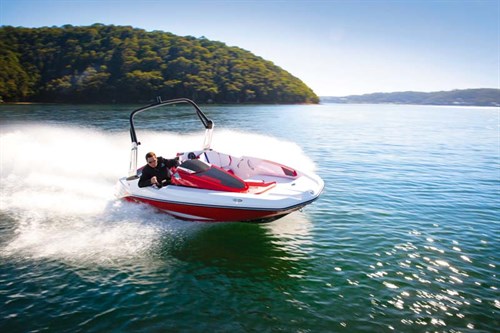 It's a long way from the Bayview boat ramp through the 4kt and 8kt zones to the open area of Pittwater and the Scarab 165 Impulse was straining at the leash to get moving.
Most of Sydney on our review day was windy and with a 15kt breeze blowing from behind we motored towards Barrenjoey. As speed increased, the Scarab 165 Impulse hull skipped across the 40cm chop and felt safe and stable.
Holeshot saw a surge of power and speed with little bow lift and not much of a transition onto plane at 11kts. 
It's then a matter of letting the hull catch up to the revs as speed rapidly increases. 6000rpm is the limit of most normal engines and by then we were travelling at 30kts with another 2000 revs on hand.
The boat kept accelerating until a steady 7900rpm showed on the dial and 44kts clicked over on the GPS. That's getting along in any boat and especially exhilarating in one less than 5m long.
What's interesting about these figures is the engine won't run at full power until it has clocked up eight hours, so we were operating at maybe 80 per cent of potential power.
If it's fun in a straight line, then wait till you grab a handful of wheel at speed. 
You'd better be hanging on because it can turn almost in its own length.
From a standing start it will do donuts in forward or reverse at full throttle, churning up water for acres around you.
Passengers in the rear seats are well secured in the boat due to the hugging nature of the seats and conveniently located grab handles, while crew up front also have grab handles but the sideways seating position is less secure.
In most boats this would not matter so much, but the cornering ability of the Scarab is such that drivers will need to pre-warn the crew if a sharp turn is being anticipated.
THE VERDICT
At this stage, Sydney Powerboat Centre tells us it is the only dealership in Australia and New Zealand distributing the new Scarab jet boats. That means New Zealanders keen on purchasing one of these dashing jetboats will have to import direct from Sydney.
HIGHS
• Incredible performance and handling
• Comfortable seating
• High level of finish
LOWS
• Low-speed manoeuvrability takes some getting used to
See the full version of this review in Trade-A-Boat #245, September / October 2014. Why not subscribe today?
SCARAB 165 IMPULSE JET BOAT SEA TRIALS
With 250hp Rotax 4-TEC engine
| | |
| --- | --- |
| RPM | SPEED (KTS) |
| 1500 | 2 |
| 2000 | 3 |
| 2500 | 5 |
| 53000 | 5.3 |
| 3500 | 6 |
| 4000 | 7.5 |
| 4500 (on the plane) | 11 |
| 5000 | 19 |
| 5500r | 25 |
| 6000 | 30 |
| 6500 | 32 |
| 7000 | 35 |
| 7500 | 39 |
| 7900 (WOT) | 44 |
* Sea-trial data supplied by the author.
SCARAB 165 IMPULSE SPECIFICATIONS
PRICE AS TESTED
Scarab 165 Impulse price: $A56,600
OPTIONS FITTED
Sound system, tower, swimplatform mats, bimini and speed control
PRICED FROM
$A39,990 (standard model with 150hp Rotax)
GENERAL
TYPE Monohull jet boat
MATERIAL Fibreglass     
LENGTH 4.8m    
BEAM 2.16m     
WEIGHT 725kg  
DEADRISE 21°
CAPACITIES
PEOPLE 5
REC. HP 250
REC MAX HP 250
FUEL 76lt             
ENGINE
MAKE/MODEL Rotax 4-TEC engine
TYPE Three-cylinder supercharged four- stroke
RATED HP 250   
DISPLACEMENT 1494cc
MANUFACTURED BY
Scarab Boats
Cadillac, Michigan, USA
Web scarabboats.com
SUPPLIED BY
SYDNEY POWERBOAT CENTRE
D'Albora Marina, The Spit,
Mosman, 2088, NSW
Phone +61 2 9997 7797
Keep up to date with news from Trade-A-boat or like us on Facebook!