Review: Azimut Atlantis 34
---
The new Azimut Atlantis 34 is the builder's first venture into the under-10m. But how does it shape up Down Under?
Looking right at home among the multimillion-dollar apartments around the chic Sydney Wharf development, the Azimut Atlantis 34 strutted its Italian heritage in style. With a hard-won reputation for large luxury yachts, Azimut has spared none of its spirit of adventurous design in the new baby of the fleet.
AZIMUT ATLANTIS 34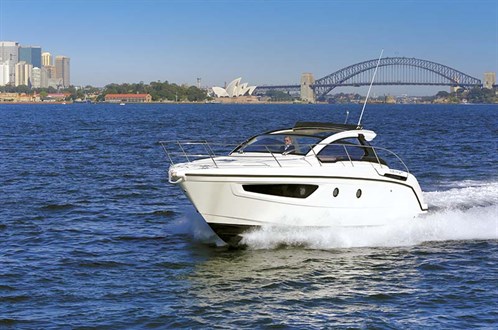 With input from Neo Design, the Atlantis 34 has a contemporary aesthetic not out of keeping with other Azimut offerings. Long, angular windows gracing the forward sides and smaller ports farther back punctuate the clean lines of an all-white hull, while above deck the sharply raked windscreen and roofline accentuate the sporty image. Straight gunwale lines run to the transom and then swoop to meet an oversized swimplatform that is seamlessly blended into the hull. 
This wide platform has room for several guests to mingle and makes boarding straightforward with steps to the cockpit or on the port side along the side to the bow. High side rails and a single lifeline offer protection for casting lines or heading to a spacious sunpad over the cabin.
Swimmers should enjoy the hot and cold transom shower before heading back on deck for afternoon cocktails.
On board it's all about a laid-back lifestyle with a spacious U-shaped lounge along the port side leading to a double chaise lounge towards the front. A large teak table creates a dining area or it can be removed to turn the space into a giant sunbed.
An entertainment module to starboard has a neatly moulded lid over an electric barbecue as well as a small sink with hot and cold water. There is storage below and room here for a small fridge.
LAYOUT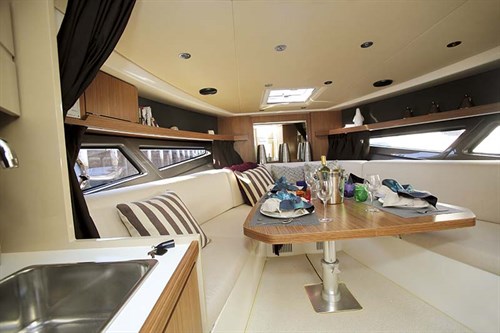 In a class of boat that seems to require everything available at the flick of a switch, the manually operated sunroof might seem somewhat prosaic. Along with other aspects, like limiting colour choices to soft furnishings and a basic list of standard features, it's a cost-saving measure to help make the Azimut Yachts name available to a wider audience.
There's room at the helm for two, with a bit of a squeeze, and the dash seems to go forward forever to the base of the long rake of the windscreen. What looks like a covering of slate over the dash turns out to be a translucent material that introduces muted light to the cabin below. There, a large mirror on the forward wall initially distorts perceptions of space but even so, it feels voluminous considering the size of the boat.
The Azimut Atlantis 34 has a maximum capacity of 10 people and it looks like most of them could sit around the dinette – well, maybe, with a couple of extra chairs. Given the open-air dining upstairs it might only be on a cold and windy night that the space would be used, but it does mean everyone can mix with the cook while a meal is prepared.
To port is a handy galley with a stainless steel sink and a twin-burner 240V cooktop with retainers to keep pans in place in a rocky sea. Overhead are storage cupboards and a small Panasonic microwave, while under the bench is a compact Waeco fridge and more storage. The appliances operate from shorepower as well as a 5kVa Mase generator when anchored in your favourite quiet cove.
CABINS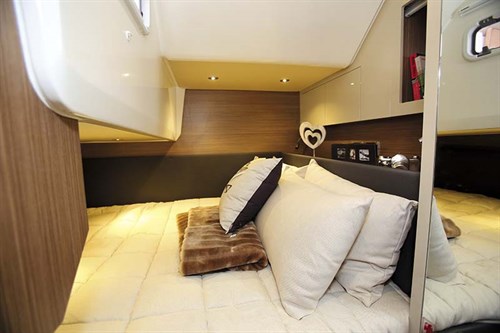 Unlike many such features on boats of this size, the master cabin is a delight. For a start it has a proper doorway and standing space alongside the bed. And while it's a transverse queen with limited height over the lower end, there is decent sitting height at the head of the bed, good lighting, flow-through ventilation, useable shelf space and a small bookshelf.
For extra guests or the children, the dinette converts to a queen by lowering the table and adding an infill. Meanwhile, the sunbed upstairs would also be an option if the weather was warm enough and you wanted to sleep in the open air.
There seemed to be sufficient storage to cover stays on board, with shelves around the cabin for incidentals, drawers and a hanging locker for clothes as well as spaces under the lounges for food and drink.
While the en suite to starboard may not be grand in scale, it retains the luxury finish of more stately Azimut models. Designer door handles add an elegant look, while rubber door seals to stop squeaks speak of a high attention to detail. Upmarket touches include a round china sink resting on a gloss white vanity under mirror-lined bathroom cabinets. There's also a shower on a sliding bracket with a flexible hose and a curtain that rolls into itself so it is neatly stowed out of the way.
With a height of nearly two metres, the en suite will accommodate most people and there is room enough for a comfortable shower.
ENGINES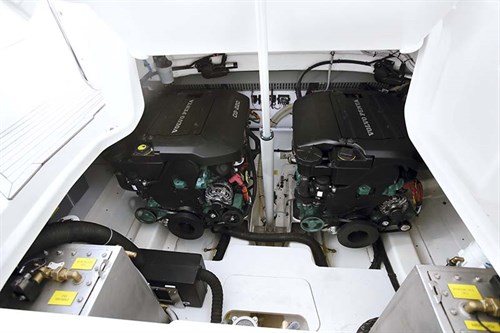 Back upstairs, an electric ram lifts the rear of the cockpit floor to access one of the neatest and efficiently-labelled enginerooms found on this size boat. Daily checks around the twin Volvo Penta D3 engines shouldn't be a chore as access is easy and the area is well lit and as clean as a whistle. There's even a work light on a lead to get into dark corners to find the spanner you just dropped. Raw water and Racor fuel filters are clearly visible and there are sight tubes for the twin fuel tanks for reassurance that the electronic gauge is accurate.
As the Azimut Atlantis 34 has been designed to suit the Volvo Penta D3 engines, it's only natural that they are the only power plants on offer. These five-cylinder, turbo-charged and common rail diesels pump out 220hp apiece and have the advantage of being lightweight and compact. While they are available with IPS, the Azimut Atlantis 34 uses sterndrives with duoprops.
ON THE WATER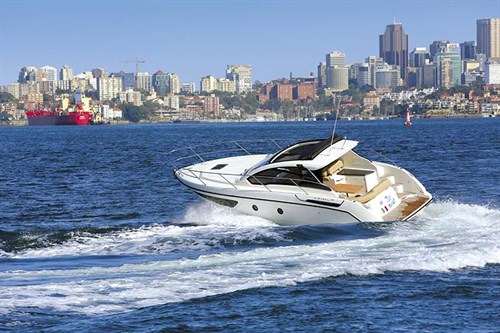 During our photography session, Peter Radford, 5 Star Motor Cruisers MD, appeared to be having a great time as he threw the Atlantis around turns and charged across wake like it was a 17ft bowrider. It looked like fun to drive and I was keen to have a go.
Set into a matt grey moulding to starboard of the white companionway, the helm takes on a life of its own as a futuristic game console dominated by a 12in Raymarine C125 screen. The soft-touch wheel is set low and a pair of digital readouts for the Volvo Penta sits aside the screen. To the left of the panel are controls for the 4.5hp Lenco trim tabs and a joystick for the 4.5hp Side-Power bowthruster. A row of toggle switches run below the screen and to the right is a small Raymarine depthsounder.
These new Volvo Penta engines have a keyless ignition system – they light up by passing a smart card over the ignition panel – but even so, the panel seemed to be in an awkward position, down low under the steering wheel. Digital throttle and shift controls are dash mounted and well positioned and have a light touch. There's a single trim button for both engines and the controls can be changed easily to single or separate throttle use.
At rest I had a clear view forward from the seated position but as the bow lifted during take-off, I felt I needed to stand to see what was going on closer to the boat and behind the window stanchions. For better vision still, a timber platform can fold down to raise the helm floor an extra 125mm making it possible to poke my head out through the sunroof.
We were well on the plane at a modest 14kts and acceleration through to a cruise around 25kts was energetic – these new diesels are willing performers and don't mind a few revs in comparison to older technology motors. Wide-open throttle saw 31kts on the Raymarine with the boat feeling light and spritely.
Handling was sensational and exciting. The hull moves into sharp turns with a fair amount of body roll and responds very quickly to change of direction without any fuss or slip from the hull or the props. For a boat that has the feel of a big boat when it comes to room on board it behaves very much like a little boat in performance. That's not a bad trick, Azimut.
Through harbour turbulence and the wake from passing vessels the ride was smooth and without any banging. Engine noise wasn't annoying, even with an occasional whistle from the turbos on the overrun. Sporty performance, with the added benefit of being easily handled and maintained, compensates for any lack in size the 34 may have in comparison to its larger siblings.
THE VERDICT
Base price on the Azimut Atlantis 34 is $390,000 but our review boat came with a number of options that took the cost to $480,000. Unfortunately, most extras are things it would be hard to forego – the bowthruster, sunbed, bed infill, barbecue, generator and covers.
AZIMUT ATLANTIS 34 SEA TRIALS
Twin 220hp Volvo Penta D3-220 turbo-diesels
| | |
| --- | --- |
| RPM | SPEED (KTS) |
| 1000 | 6 |
| 1500 | 7.5 |
| 2000 | 9 |
| 2500 | 12 |
| 2600 (planing) | 14 |
| 3000 | 18 |
| 3500 | 24 |
| 4000 | 30 |
| 4100 (WOT) | 31 |
HIGHS
• Very high build quality
• Sporty handling and performance
• Soft ride
• Efficient use of available space
LOWS
•Could use more refrigeration
AZIMUT ATLANTIS 34 SPECIFICATIONS
PRICE AS TESTED
Azimut Atlantis 34 price: $540,000 approx.
OPTIONS FITTED
Bowthruster, sunbed, bed infill, barbecue, generator, covers, Raymarine GPS, microwave, and more
PRICED FROM
$450,000
GENERAL
MATERIAL GRP
TYPE Monohull sportscruiser
LENGTH 10.24m overall
BEAM 3.44m
WEIGHT 8000kg               
DEADRISE 17.9°
CAPACITIES
PEOPLE 10
FUEL 650lt
WATER 185lt
ENGINE
MAKE/MODEL 2 x Volvo Penta D3-220
TYPE Five-cylinder common rail turbo-diesel engine
RATED HP 220 (each)
DISPLACEMENT 2400cc (each)
WEIGHT 363kg w/ sterndrive
GEAR RATIO 1.78:1
PROPELLER Duoprop
MANUFACTURED BY
Azimut-Benetti,
Avigliana, Italy
FOR MORE INFORMATION
5 Star Motor Cruisers
84 Pitt Street,
Sydney, NSW, 2000

Tel +61 2 9222 7774
Email info@5starmotorcruisers.com.au
See the full version of this review in Trade-A-Boat #246, October / November 2014. Why not subscribe today?
Keep up to date with news from Trade-A-boat or like us on Facebook!