Review: Fi-Glass 475 Fireball
---
With the Fi-Glass 475 Fireball New Zealand's longest fibreglass boat brand builds an affordable entry-level boat.
Built to meet a price point, the new Fi-Glass 475 Fireball presents what is very likely the most affordable turn-key GRP runabout on the market today. At 4.7m, the Fi-Glass 475 Fireball is big enough to be useful – but there's a catch.
Depending on how you plan to use the boat, you'll potentially need to add items from the six-page list of optional factory extras because in standard trim the Fireball is understandably relatively basic. But at $22,990 in Australia you're on the water in a quality GRP runabout and that in itself is something of a breakthrough.
FI-GLASS 475 FIREBALL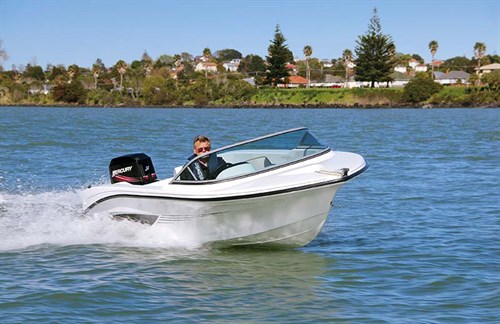 The Fi-Glass Fireball clearly targets those looking for a simple and affordable runabout – a boat that requires nothing more than petrol – and that's grand if you're happy simply pottering from point A to point B. However, if you're keen on a little fishing, water-skiing or towing water toys then you'll lack the basic bolt-on hardware required. There are no rodholders, baitboard or storage options for bait and catch and neither is there a skipole.
You'll need to add navigation lights for twilight angling and engine instruments if you want to know how far you're trimmed out and how hard you're working the 50hp two-stroke Mercury outboard motor (replaced by a Mercury 50 four-stroke for the Australian market).
But these items are all available ex-factory and can be added for a price.
This is not a criticism of Fi-Glass Boats or of the Fireball itself, but it is something that needs to be kept in mind when measuring the Fireball against similar entry-level boats.
In some respects pricing the Fireball at les than 20k is a stroke of marketing genius. It reflects Fi-Glass Boats' knowledge of the entry-level market and what this segment wants – or more so, what it doesn't want.
LAYOUT AND DESIGN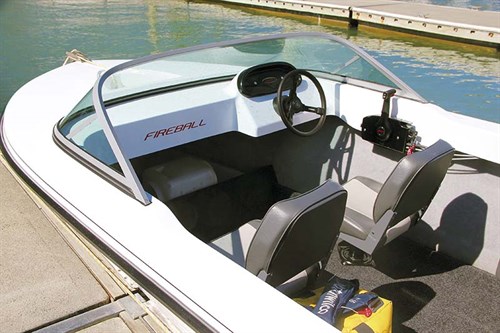 First impressions count and there's no doubt that the Fi-Glass 475 Fireball is a sweet looking boat with her contoured scalloped topsides, variable gullwing chine and a shapely Portofino transom – all set off with smart graphics that accentuate the Fireball's curves.
The Fi-Glass 475 Fireball is broad of beam at 2m for its 4.7m overall hull length but everything looks in proportion thanks in part to the aggressive styling of the wraparound acrylic windscreen. This provides adequate protection without compromising aesthetics but it does fall squarely within the driver's line of sight.
In standard trim the Fireball doesn't run to a stainless steel bowrail but there is an adequate anchor fairlead and a deep open anchor well moulded into the foredeck. A hinged locker lid is an optional extra. Another useful option is a central opening in the windscreen because, without it, you can't physically reach over the windscreen and into the anchor well.
The one-piece deck mould provides a small jump seat each side of the outboard well and a useful flat dash aft of the windscreen for mounting electronics and radio gear. The helm fascia provides a small recessed pod designed for the optional engine instruments.
The entire under-floor is foam filled for reserve buoyancy and lined with UV-stable marine carpet. The engine start battery sits in a well under the transom. This also houses the boat's standard 500gal/h (1900lt/h) bilge pump.
The cockpit sides are similarly lined in marine grade carpet and there are two short parcel shelves at floor level for small items.
There are various seating options offered but in standard trim the boat is fitted with a pair of powder-coated swivelling pedestal seats upholstered in two-tone grey marine vinyl. These are necessarily very low slung into the boat but they're comfortable and snug.
There is a small secure area up under the helm station for personal items and a full width kickback for driver and passenger to brace against.
HANDLING AND RIDE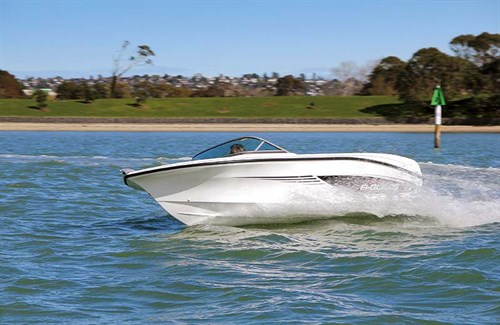 Shimmying behind the wheel of the Fireball took me back to my days of racing karts at Kaitoke near Wellington and the sensation of speed that comes from sitting just inches off the ground – or in the Fireball, just inches above the waterline.
But was this wishful thinking given that the Fireball is mated to a fairly conservative 50hp two-stroke Mercury outboard? The short answer is no. The little boat goes like fury and fairly leaps onto the plane from where she becomes an absolute delight with excellent throttle response through the entire rev range.
With no onboard GPS to check our progress, we nevertheless estimated a top speed of around 35mph (56km/h) which is any amount for a boat of this size.
The mechanical steering is a joy, being firm and positive and without any annoying cable slack. The throttle arm is ideally placed and the kickback under the helm allows you to push back into the pedestal seats for excellent body support.
Correct outboard trim proved the key to keeping the Fireball level in a gusty crosswind but once dialled in correctly the little boat performed brilliantly, muscling its way across a pesky tidal chop without a hint of pounding and minimal wash.
It's been an age since I've sea-trialled a boat that has scored so highly on fun. It is a nimble performer that punches above its weight and yet there is nothing flighty about her. In essence, the Fireball is an excellent proposition for the first time boatie.
THE VERDICT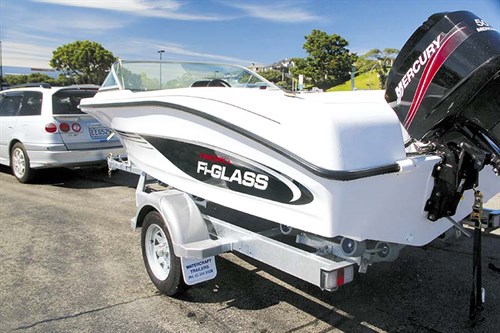 Power upgrade options for the Fireball include a 60hp or 75hp Mercury in two-stroke or a 50hp and 60hp Mercury four-stroke, adding between $1500 and $2840 to the price. The bigger two-strokes might suit water sports a little better but my advice would be to sea trial the 50hp first – you'll be surprised.
Like all Fi-Glass models, the Fireball carries a six-year factory hull warranty and is matched by Mercury's five-year warranty for peace of mind. The boat is delivered on a Fi-Glass single axle, galvanised, multi-roller trailer fitted with LED submersible lights, jockey wheel – just WOF and registration to complete.
Like all Fi-Glass models, the Fireball carries a six-year factory hull warranty and is matched by Mercury's five-year warranty for peace of mind. The boat is delivered on a Fi-Glass single axle, galvanised, multi-roller trailer fitted with LED submersible lights and jockey wheel – with just rego to take care of.
See the full version of this review in Trade-A-Boat #246, October / November 2014. Why not subscribe today?
HIGHS
• Affordability
• Manageability (towing and launching)
• Lots of fun
LOWS
• Windscreen in driver line of sight
• Poor accessibility to anchor well
FI-GLASS 475 FIREBALL SPECIFICATIONS
PRICED AS TESTED
Fi-Glass 475 Fireball price: $19,995
GENERAL
TYPE Monohull
MATERIAL GRP
LENGTH 4.7m
BEAM 2m
WEIGHT 645kg on trailer
DEADRISE 18°
CAPACITIES
PEOPLE 5
REC. HP 50          
REC. MAX. HP 75             
FUEL 25lt
ENGINE AS TESTED
MAKE/MODEL Mercury 50 ELPTO
TYPE Three-cylinder, two-stroke outboard motor
RATED HP 50
DISPLACEMENT 967cc
PROPELLER Spitfire (Mercury) 12in x 22in
MANUFACTURED BY
FI-GLASS BOATS
WEB: Fi-Glass.co.nz
SUPPLIED BY
AUCKLAND MARINE CENTRE
247 Te Rakau Dr, Pakuranga, Auckland
PHONE 09 579 7981
Keep up to date with news from Trade-A-boat or like us on Facebook!