Review: Greenline 48 Hybrid
---
The Greenline 48 Hybrid caters for those among us with green philosophies and the desire to travel quietly and energy-efficiently. Its hybrid electronics add to the cost of what is already a great twin turbo-diesel-powered cruiser, but provides a well-designed eye to the future.
As the cost of diesel steadily spirals, regular sojourns afloat may bite into more important budget items like food. Just when all looks bleak, the Greenline 48 Hybrid steams, well purrs, over the horizon and, like you, it can recharge its own batteries and also ferry you silently to your favourite cove. While there, its integrated free power can run all on-board systems to keep you cool (or warm), do your washing and cook your dinner.
GREENLINE 48 HYBRID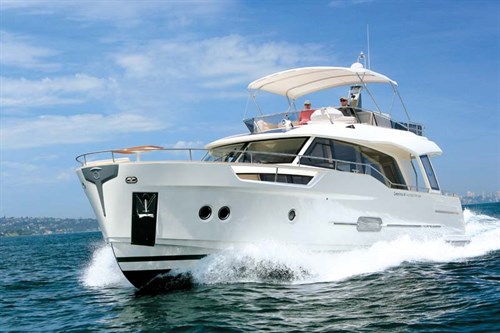 What makes the Greenline 48 Hybrid different from its cruising contemporaries is a pair of auxiliary 14kW electric motors running on power from three lithium polymer batteries that in turn are charged by the sun through photo voltaic cells, unobtrusively mounted forward of the saloon.
Styling on the Greenline 48 Hybrid is a pleasant mix of traditional and modern with no visible clues to its ecologically-aware credentials apart from that solar panel.  Design team J&J have gone all out on stylish presentation and innovative features in a slippery hull with fuel-efficiency and performance from its wide range of power.
Interaction between the galley and the cockpit could have been brainstormed to suit Australian conditions and how we use our boats. Three separate very usable outdoor spaces cater for all seasons – or as we found on the day of the test, various places to hide from the wind.
J&J has penned many award-winning sailing boats for various builders like Bavaria, Beneteau, Jeanneau, Salona and Elan over the last 30 years and have bought this expertise to the powerboat sphere. Cored hull and deck construction and a bow entry very similar to a sailing boat would be familiar territory, but overall the look and performance is all modern powerboat.
LAYOUT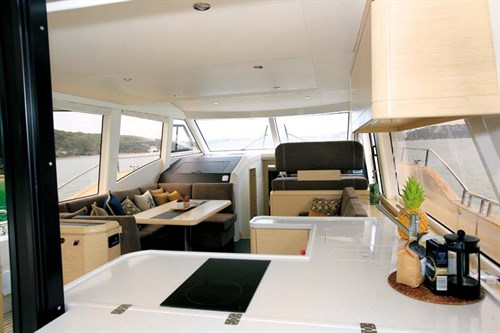 A hatch in the cockpit floor gives access to the engine room and another under the transom lounge opens to an area that can be optioned as crew quarters. On the test boat it has been left bare and with room for twin bunks and an en suite it leaves lots of very usable storage space.
A ladder lets us down into the engine room where a pair of 220hp Volvo Penta D3s shares the pristine space with the electric motors, as well as banks of dedicated batteries – two each for engine cranking, thrusters and house lights, and navigation systems. V-drives run to fixed five-blade propellers of 500mm diameter and twin rudders provide steering.
With both the bifold glass door and a lifting window opened, the cockpit flows through to the saloon on a single level and with a breakfast bar/servery to starboard, the cockpit loungers are at one with the cook.
Standard fitout has a gloss teak finish but the test boat came with an $8900 upgrade to the Oak furniture package. It transforms what would be a traditional nautical interior into a very contemporary apartment feel that is both funky and practical in the way it increases light transition through the space.
GALLEY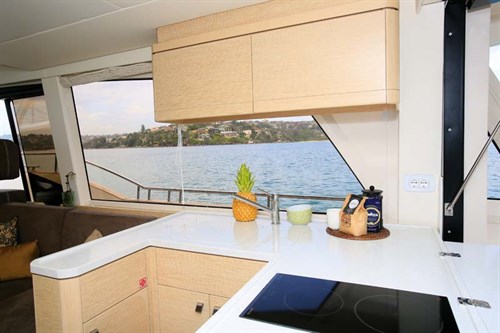 Placing the galley at the rear of the cockpit is not only a good move for easy outside access, it also means it's close to indoor dining. Unwanted assistance over the preparing the broth shouldn't be a problem as its narrow U-shape means there is room for only one cook. There is plenty of room however for pots, crockery and cutlery in various cupboards over and under the bench.
Opposite the galley, and within close reach, is a 214lt Gorenje fridge/freezer that should be enough for extended stays, or a weekend with several guests. Twin electric induction burners and two sinks are built into the thick, white granite-look Kerrok benchtops. There is also a recess for bread to cool when it comes out of the combination Electrolux Micro Bakery that, as its name suggests, is a combination bread maker/microwave.
Views from the saloon are almost uninterrupted through large rectangular windows with roman blinds that add to the apartment-like ambience. A plush U-shaped lounge-dinette to port and a twin lounge opposite create a comfortable dining and relaxing area. Funky features include the leather inlaid teak table and a remote-controlled television that appears on command from the starboard cabinet.
A door and ladder in the saloon sole made it easy to access the utility room where most of the electrical system lives along with a 5kg washer/dryer. The bank of three lithium polymer batteries, with 720amp/h total capacity, is connected to a Victron 8000W inverter, beefy enough to power everything for around 10 hours, including the air conditioners, so there is no need to continually run a generator at anchor. These batteries receive charge from 5kW gensets on the main motors, shore power, or the twin 500W solar panels.
ACCOMMODATION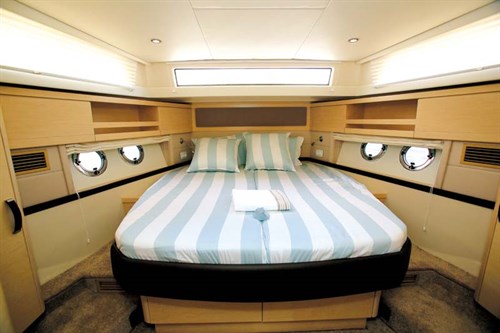 Rather than opt for a full-width amidships stateroom that would reduce guest cabin options, the Greenline shares space democratically, utilising a forward master and two mirror-image guest cabins with total accommodation for six. It's an eminently liveable arrangement and an ideal layout for a family or entertaining a group of friends. The roomy guest cabins have twin beds with infills to convert to queen size and their long windows provide loads of light and wide views.
The starboard cabin shares its en suite with day guests through a second door from the hallway, while the port cabin has its own dedicated bathroom. Both come with an electric flush toilet and a shower that drains to a 400lt grey water tank.
Outside entertaining areas in the bow and on the flybridge add further versatility to the Greenline's layout. Lounging and sitting areas up front are particularly interesting with comfortable seating around a teak table. Along with a huge sunpad it transforms the bow into a worthwhile option rather than a little used area as on many boats.
ON THE WATER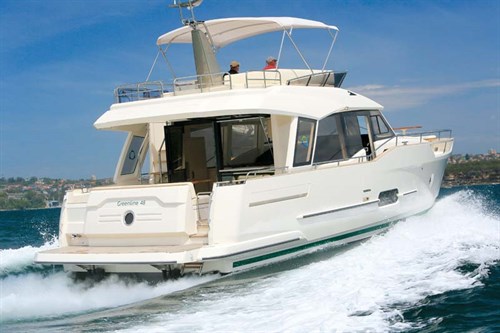 Our trip north to Pittwater was into a nor-easterly breeze that strengthened to 20kts as we approached Barrenjoey. And while there are some who would expect an enclosed hardtop on a boat of this size, we never found conditions unpleasant, with most of the wind deflected by the screens, keeping us cool in the warm conditions.
The Greenline 48 Hybrid averaged 14kts on our short trip up the coast with occasional bursts to full revs. The ride through the windblown chop was superb and the boat was stable and easy to walk around when underway.
Both helms have similar layouts and with the fly set to port and the main station to starboard there are options for better visibility for docking on either side with bow and sternthrusters to take most of the worry about manoeuvring.
Controls for the Volvos and the electric motor are on the same electronic shifter with a switch on the dash to select either option. Volvo Penta gauges give full information about the diesel motors and small dials inform of battery power use, while hybrid touch Raymarine E125 screens show input from GPS, sounder and radar and the Raymarine Autopilot works with both drive systems.
Along with the normal array of switches our test boat was fitted with controls for an impressive list of options including Barnett trim tabs, remote control searchlight, chain counter and anchor washdown.
Naturally enough, the upper helm has all round visibility but it's almost as good downstairs with only a small blind spot in the rear quarters but great vision forward and to the sides.
With a choice of power, the Greenline 48 Hybrid really has a twin personality because the turbocharged diesels would push it along to 17kts if needed. On the other hand, full speed under sun power is a more sedate 6.5kts flat out or a 4kt cruise for longer range. It's silent progress, akin to moseying along in a sailing boat without the annoying rattling of the rigging.
Expect to get around two hours running under battery power, enough for a day on the harbour or cruising the canals on the Gold Coast where recharge from the sun is abundant.
THE VERDICT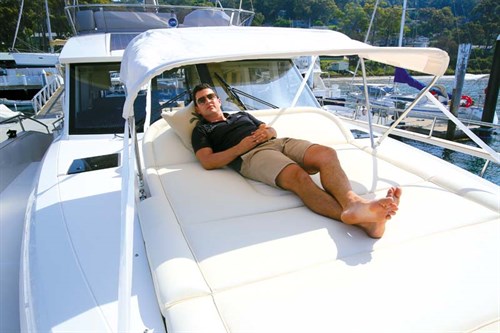 Greenline calls its hull a 'super displacement' design, to run efficiently at both displacement and planing speed. Pottering along at 1500rpm with the Volvos we achieved 6kts for a claimed range of around 1500nm with 10 per cent reserve. At 3000rpm and 11kts the hull lifts clear and starts to plane but fuel usage increases to 37lt/h with an expected range of 400nm.
Our Greenline 48 Hybrid review boat was loaded with desirable options, but these do add to the ticket price. The base model comes in at just over the magic million without electric motors, and that hybrid option will add upwards of $150,000, proving it's not always easy being green.
But everyone would probably agree that being able to run such a classy act for free is pretty damned cool.
HIGHS
• Very stylish and contemporary design
• Versatile power options
• Galley layout is great for entertaining
LOWS
• Need some protection inside the bulwark cutouts
GREENLINE 48 HYBRID SEA TRIALS
Twin Volvo Penta D3-220 common-rail turbo-diesel engines, with b500mm five-blade propellers
| | |
| --- | --- |
| RPM | SPEED (KTS) |
| 1000 | 4.5 |
| 1500 | 6 |
| 2000 | 7.8 |
| 2500 | 9.5 |
| 3000 | 11 |
| 3500 | 14 |
| 4000 (WOT) | 17 |
With electric power
| | |
| --- | --- |
| Max speed | 6.5 |
| Cruising speed | 4 |
*Sea-trial data supplied by author.
GREENLINE 48 HYBRID SPECIFICATIONS
PRICE AS TESTED
Greenline 48 Hybrid price: $POA
OPTIONS FITTED
Hybrid system, furniture upgrade, bow sunpad and seating, teak decking, air-conditioning, sternthruster, flybridge galley, hydraulic swimplatform and more
PRICED FROM
$1,150,000
GENERAL
MATERIAL Composite
TYPE Hybrid power cruising monohull
LENGTH 14.99m
BEAM 4.8m
DRAFT 0.98m
WEIGHT 13,200kg            
CAPACITIES
PEOPLE (NIGHT) 6 + 1
REC. MAX HP 2 x 380
HYBRID BATTERY 46kWh              
FUEL 1500lt
WATER 660lt
ENGINE
MAKE/MODEL 2 x Volvo Penta D3-220 engines
TYPE Five-cylinder in-line common-rail turbo-diesel engines
WEIGHT 363kg (each)
DISPLACEMENT 2400cc (each)
GEARBOX ZF 63 IV
GEAR RATIO 2.48:1         
SUPPLIED BY
Eyachts
1 Westhaven Drive, Westhaven
Phone 09 4139 465
Email boats@windcraft.co.nz
Web eyachts.co.nz
See the full version of this review in Trade-A-Boat #247, November / December 2014. Why not subscribe today?
Keep up to date with news from Trade-A-boat or like us on Facebook!