Compared: the best Grand prix yachts for 2015
---
The 2007-launched GP42 is one of the most successful designs in this category.
The H&H42 has a basic galley for sustenance offshore.
The JV42 Elena Nova prepares for her maiden regatta at Airlie Beach.
Twin-drum Harken halyard winches can also double as spinnaker sheet winches on the JV42 Elena Nova.
The saloon in the Archambault A13.
Sailboat expert Kevin Green reviews several 42ft Grand prix yachts.
Grand prix yachts are at the lofty top of the racing yacht pyramid and to get there most skippers have to climb hard. This is usually through the production boat ranks of cruiser-racers where teeth are cut on improving the rig, graduating to laminated sails and gathering an experienced retinue of specialist trimmers, fast foredeckies and wise afterguard.
But the magical thing about this mid-sized raceboat category is that you don't need an inordinate amount of crew, unlike a TP52 campaign for instance. For the 42-footers I'm looking at, you require about 10 or 11 of these loyal souls that are willing to give up family time to follow the East Coast circuit, do the various winter series and maybe some offshore events.
CHOOSE YOUR GRAND PRIX YACHT
Buying the boat is the biggest deal of course and the choices are considerable. Production-built boats like the H&H42 and the Archambault A13 included here are proven designs but of course, others can then get the same weaponry as you.
Alternatively, a semi-custom build like the JV42 could mean you're in for some serious tuning before you reap the benefits. Another approach is to buy an older proved design such as the hugely successful GP42 that I've watched with admiration over the last seven years since its inception. In fact this 42-foot story began with a GP42 last summer, just before Victoria's Festival of Sails (formerly Geelong Week), when I looked over Black Betty. She had been trailered across the Nullabor to shock the East Coasters by winning the event ahead of larger and much fancier opposition – the brand-new Ker 46 Patrice and the equally new 60-foot Ichi Ban.
These Botin & Carkeek designed GP42s are one of the most successful designs in the last decade, dominating the MedCup circuit and beyond. Therefore it was ironic that one of Shaun Carkeek's 2007 designs should beat his brand-new Carkeek 60, but that's the racing game and more importantly, how handicapping can play a crucial part.
In Asia, I'd also sailed against the GP42 Wan Ma Rang which has proved a real weapon in the light airs of Thailand where big sail areas are needed. On the Australian circuit the GP42 Alegria has been a successful boat and I've just noticed Ensign Ship Brokers are selling her for $299,000. For this you're getting a 2007-built carbon racer optimised to IRC rating, fitted-out to offshore Category 2 requirements and fully equipped with race gear.
GP42 GRAND PRIX YACHT SPECIFICATIONS
| | |
| --- | --- |
| MATERIAL | Carbon composite |
| LENGTH | OVERALL 12.8m |
| BEAM | 3.9m |
| WEIGHT | 4200kg (light ship); ballast 2700kg (with bulb) |
| TCC | 1.239 (Wan Ma Rang) |
| DRAFT | 2.6m |
| SAIL AREA | 107m2 upwind; 240m2 downwind |
| PRICE | $A417,661 (complete, used price) |
| WEB | |
H&H42 GRAND PRIX YACHT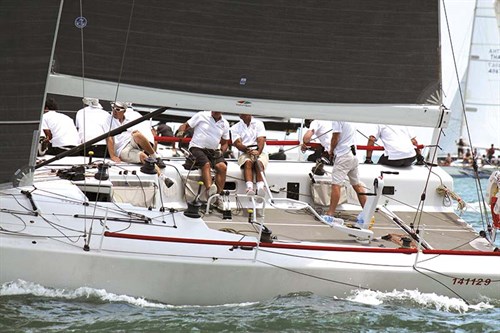 The sweet lines and good boat speed of Paul Winkelmann's latest raceboat caught my attention at the recent Top of the Gulf Regatta in Thailand, so I was keen to find out more about the 2013-built Judel/Vrolijk design. It was of special interest as its sister ship, Simply Fun, was already winning a few races in Melbourne and Australian dealer David Eickmeyer was keen to supply more of these carbon racers.
The low-volume and beamy carbon hull with plumb ends and soft chines is the fashionable form factor for most IRC raceboats right now. But it's not the only game in town, so versatility has been inbuilt to the H&H42 as it also intends to rate well under ORCi and have a 500kg lighter keel for the American HPR system as well, said designer Rolf Vrolijk.
The build has been carried out by a joint venture between China's Hudson Yacht & Marine (HYM) and experienced raceboat builder Paul Hakes of Hakes Marine in New Zealand. Owner Hudson Wang already had successful partnerships building Gunboats and J Boats, so the establishment of a high-performance division was the next logical step for HYM.
The H&H42 is intended to be versatile racer for both inshore and offshore but has been optimised for lighter conditions of 8 to 16kts, so is ideally suited to the Asia-Pacific circuit.
"We intend the boat to be a regatta winner, especially under IRC, as 80 per cent of the world's races are under this rule, so let's ensure she sails well to her handicap, as winning a regatta is about consistently high results in all points of sail, not necessarily a strong upwind boat or vice versa," explained Hakes.
As I noted during the Gulf Regatta, her flat decks allow fast crew work, although with no elevation in the coachroof she will be wet offshore. The cockpit is maximised to allow good work space for 11 crew with the main track aft behind the Spinlock tiller, while the mainsheet runs to the mid cockpit, allowing both trimmers to communicate easily.
To minimise water ingress most lines are above the decks, including halyards. Deck gear is from Harken including a Performa three-speed, self-tailing pedestal winch. The mast is a two-piece (for easy transportation) Southern Spar carbon rig with engineered high modulus fibre for increased stiffness and weight saving. The keel-stepped two-spreader rig is supported by Nitronic 50 rod rigging, gas vang, Kevlar backstays and carbon aerofoil spreaders. The North Sail's wardrobe includes a big topped carbon 3DL main and downwind sails are asymmetric, flying off the carbon bowsprit.
Below decks are eight berths made up of two fixed in the saloon, a forward V-berth and six retracting pipe cots. Unlike some competitors, including Ker and Carkeek designs, the crew have the luxury of an enclosed head. Adjoining it is the chart table, so there's bulkhead space for instruments. For those offshore legs there's a single-burner stove for heating rehydrated meals.
The hull build uses the latest carbon prepreg layup from a carbon mould to ensure a high consistency of construction for what H&H intend to be an "affordable" 42-footer at $US500,000. So far they are up to hull #5, which has just shipped to Europe. For strength a keel flange is built into the hull to hold the 2.2-ton bulb in place. Interestingly, the hull form is designed to handle 500kg less displacement to future-proof the boat for performance optimisation and make it compatible for the HPR rule.
On the racetracks there have been notable wins for hull #1 Oystercatcher in Europe, hull #3 Simply Fun in Melbourne, and similarly with Island Fling as skipper Steve Dodd told me over a beer at Thailand's Ocean Marina Yacht Club. His professional crew won the bumpy Hong Kong to Vietnam Race but they were still in development mode with the boat he said, explaining, "After the Rolex China Sea Race, we've lightened the bulb and recut some sails to shorten the J-triangle, so we're making progress and we've got our TCC down to 1.230."
Owner Paul Winkelmann has a full year's regatta racing planned, so this new Chinese-built boat is in for a tough workout.
H&H42 GRAND PRIX YACHT SPECIFICATIONS
| | |
| --- | --- |
| MATERIAL | Carbon composite |
| DESIGN | Judel/Vrolijk |
| BUILDER | Hakes Marine China |
| LENGTH | 12.6m overall; 11.58m waterline |
| BEAM | 4.35m |
| WEIGHT | 4950kg; 2900kg ballast |
| FUEL | 42lt |
| WATER | 50lt |
| ENGINE | 30hp Yanmar |
| IRC TCC | 1.218 (1.226 Island Fling) |
| PRICE | $A530,000 (base boat) |
| WEB | |
JV42 GRAND PRIX YACHT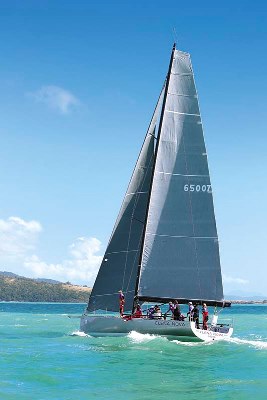 Another 42-footer I enjoyed taking the tiller of was the JV42 Elena Nova, a Judel/Vrolijk design with similarities to the higher-spec full-carbon H&H42 that J/V also penned. Elena Nova's owner Craig Neil had been looking at the best way into competitive racing but told me he wanted to stand out from the fleet and enlisted the help of some mates already on the grand prix circuit. After an extensive search their best option turned out to be the 2011 Polish-built JV42.
More interesting is the fact that this is Neil's first yacht, he told me as we bashed our way to windward at Airlie Beach Race Week. "For many guys, the JV42 would be their second or third boat, so I've jumped in at the deep end but really enjoying racing with the big guys," laughed the Sydney businessman.
The metallic silver hull had received some local modifications with the keel bulb weight increased and the rudder remodelled. Par for the course with semi-custom boats is the setting-up and so it was with Elena Nova.
"Getting a race certificate proved to be a real bugger," laughed sailing master Andrew Pearson. "So it's something new owners importing used raceboats should be aware of," he warned.
The GRP-hulled 42-footer is optimised for ORCi handicap racing but like many semi-custom designs, has taken the crew some effort in tuning.
"Windward speed wasn't good enough and the tiller was very heavy, so we took the rudder off and found that it was misshapen, so had it remodelled," explained Pearson.
JV42 GRAND PRIX YACHT SPECIFICATIONS
| | |
| --- | --- |
| MATERIAL | GRP |
| DESIGN | Judel/Vrolijk |
| BUILDER | Algro Yachting, Poland |
| LENGTH OVERALL | 12.8m |
| BEAM | 3.82m |
| DRAFT | 2.73m |
| DISPLACEMENT | 5516kg |
| FUEL | 42lt |
| ENGINE | 28hp Yanmar saildrive |
| IRC TCC | 1.210 |
| PRICE | $A417,661 (complete, used price) |
ARCHAMBAULT A13 GRAND PRIX YACHT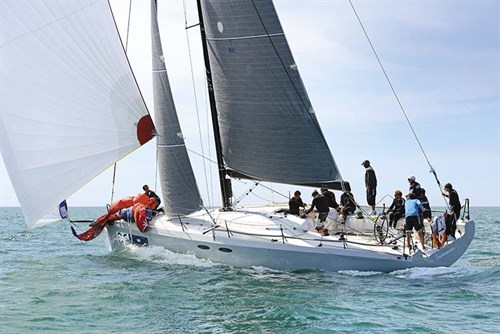 The relatively small number of Archambaults in Australia have had some big wins over the years, which says a lot for this boutique French yard that excels at building competitive cruiser-racers with the emphasis heavily on the performance side of that equation. Rohan Veal from Melbourne's 38 South Boat Sales tells me he has high expectations for the newly designed A13 that will arrive to contest the 2015 Rolex Sydney Hobart.
Designers Joubert-Nivelt have penned four versions of this 42-foot GRP hull: the A13 Cruiser, A13 IRC comfort racer, A13 IRC racer and the stripped-down A13 Racer – so pick your weapon and expect a favourable IRC TCC, as Archambault usually know how to work the numbers.
Veal tells me the already competitive TCC of 1.174 for hull #1 Teasing Machine has room to come down even more. The A13 standard rig is high modulus Axxon carbon fibre with both masthead spinnaker types used, while the jib cars are transverse. A13 construction is epoxy with foam core and a carbon deck is an option, while the recommended keel is a deep fin. The deck layout can be either tiller or twin wheels.
Hull #1 has a pedestal aft but not something that Bernard Nivelt favours, however, as an owner you can get what you pay for of course. Another area of contention on IRC boats is accommodation warns Nivelt, and on Teasing Machine there was none initially but it has just been fitted with a saloon table, chart table and a fridge, which is intended to bring its rating under 1.170. First build slots are available in 2015 for the A13 that sells for $570,000 landed in Australia.
ARCHAMBAULT A13 GRAND PRIX YACHT SPECIFICATIONS
| | |
| --- | --- |
| MATERIAL | Epoxy foam core |
| DESIGNER | Joubert-Nivelt |
| LENGTH OVERALL | 13.1m |
| BEAM | 4.15m |
| DRAFT | 2.6m |
| WEIGHT | 6450kg |
| IRC TCC | 1.174 (Teasing Machine) |
| SAIL AREA | 57m2 mainsail; 180m2 spinnaker; 44.5m2 jib |
| ENGINE | 30hp Volvo Penta |
| NEW ZEALAND PRICE | $500,000 (base price) |
| WEB | |
See the full version of this review in Trade-A-Boat #246, October / November 2014. Why not subscribe today?
Keep up to date with news from Trade-A-boat or like us on Facebook!