Review: Caribbean Reef Runner HT MkII
---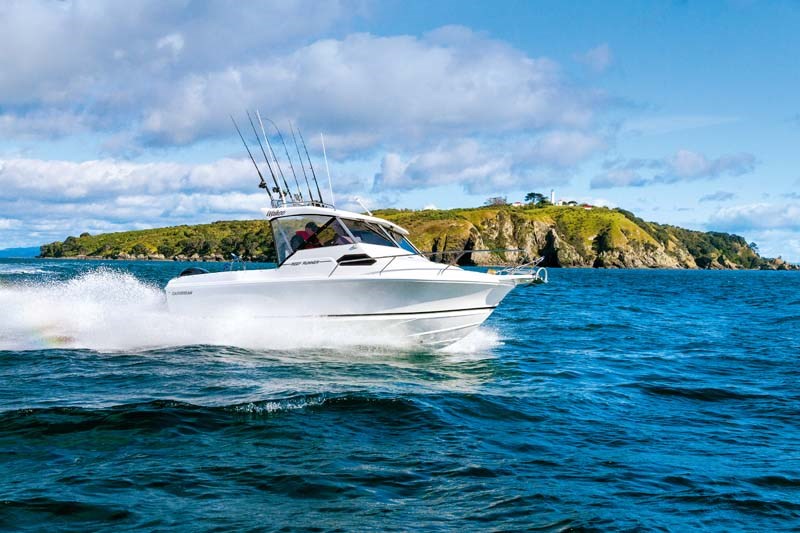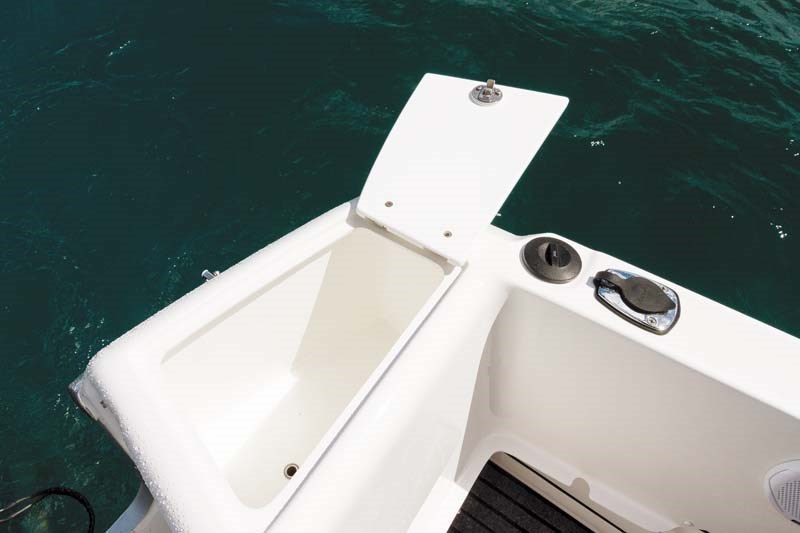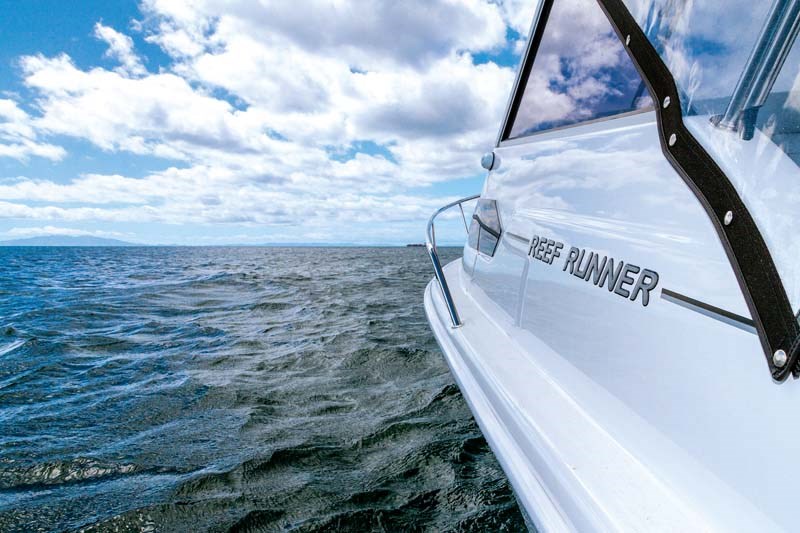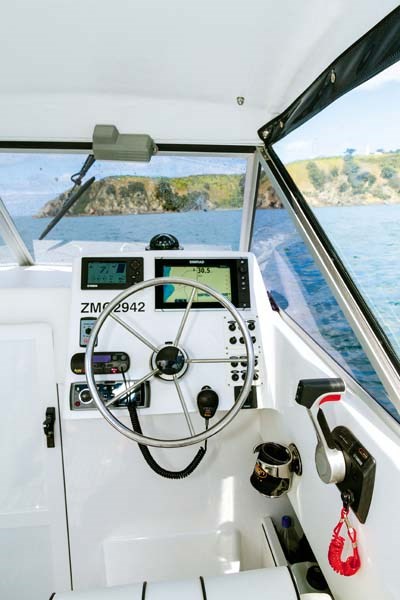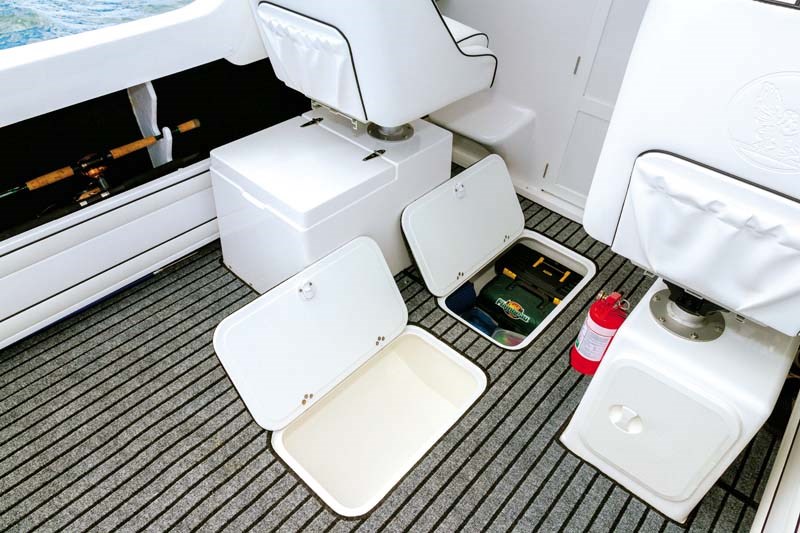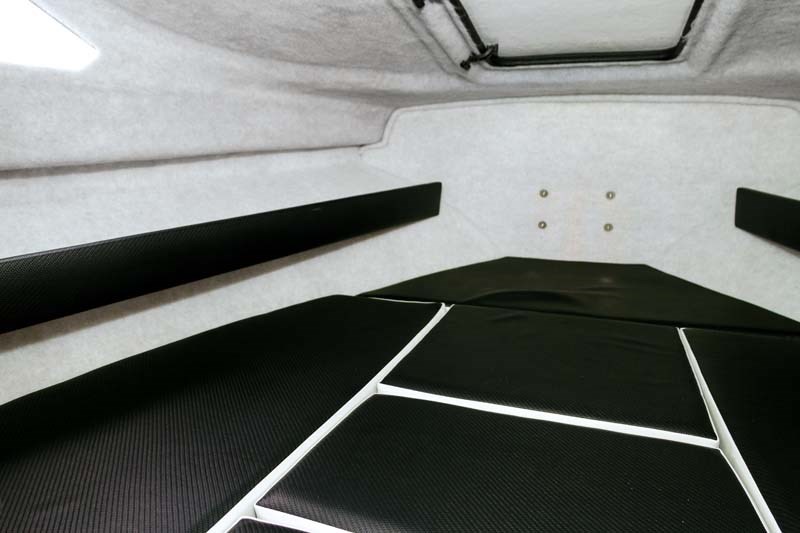 Legendary fishing boats come and go, but a select few stand the test of time. But why? We lined up a Reef Runner HT MkII to see if Caribbean Boats was deserving of its reputation.
Looking for a serious fibreglass fishing boat with a bluewater and that's not onerous to tow around? Then the Caribbean Reef Runner HT MkII should be on your shortlist. The Reef Runner's no fuss nature will prove hard to resist, especially for those who enjoy a good drive and a comfortable, well-equipped fishing boat.
CARIBBEAN REEF RUNNER HARDTOP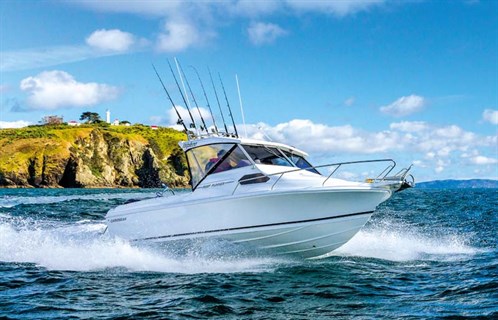 Hailing from Bertram roots, Caribbean boats are known to possess mythical characteristics when it comes to sea-keeping and bluewater performance; so as many Caribbean owners know, the weather doesn't have to be ideal to go boating on one. With its 21° deep-vee yet impressive stability, protective hardtop, a top speed of 42kts and a comfortable cruise of 23 to 30kts the Reef Runner is well-suited to take advantage of the slightest fishing opportunity that might arise.
First released by Melbourne manufacturer International Marine in March 1995 (to replace the Bertram 20), the Caribbean Reef Runner quickly established a cult-like following. While there have been numerous tweaks over the years, Caribbean Boats labels the new MKII version as "by far the best and most stylish Reef Runner we have ever built." Unveiled at the 2014 Melbourne Boat Show the MKII features a new solid FRP cabin bulkhead with a lockable cabin door, moulded footrests and FRP side-panels as standard. A seating redesign sees the pedestal seats replaced with an insulated ice box to port and a storage box base to starboard to stash the drinks and tackle, without selling out on cockpit real estate.
OFFSHORE FISHING BOAT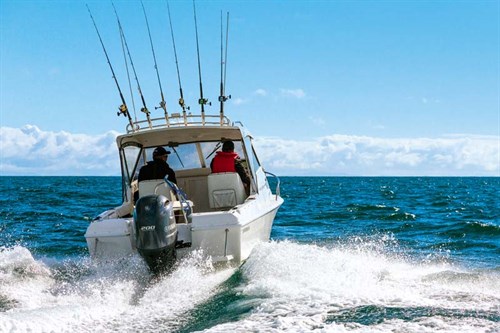 The blustery day on Auckland's Hauraki Gulf seemed determined to foil our best laid plans to review the Caribbean Reef Runner HT MkII. Nevertheless the Caribbean Reef Runner was released from its trailer and we pushed on with Plan A, making the 20-odd nautical mile run out to the back of Tiri (Tiritiri Matangi) for a quick photoshoot before the ominous grey clouds made their presence known. With the photos obtained, I wasted no time jumping ship to sample the Reef Runner's tantalising fishability first hand.
The building chop meant conditions weren't conducive to fishing, but the impressive stability sure was. This was further boosted by the footholds beneath the full length side pockets (with rod storage racks) and the handy stainless steel handrail along each gunwale. The removable rear seats also allowed the cockpit space to be fully utilised.
Twin livewells mean there's no arguing over whose livie is whose, while the stainless steel baitboard frame also doubles as a skipole in case the fish don't show.
While we didn't catch anything of enough length to test the underfloor killtanks, the overall impression was one of a seriously capable trailerable fishing boat.
LAYOUT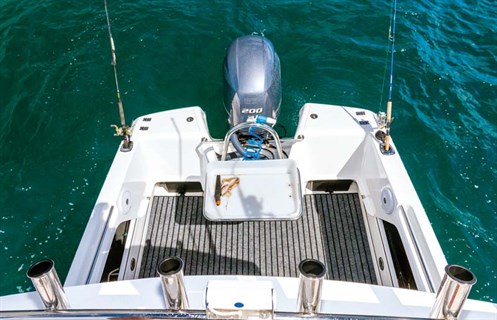 While the new cabin door entry on the Caribbean Reef Runner HT MkI is tight, it offers a cosy fully lined cabin with some time to yourself when visiting the through-hull toilet. Optional infills create a full length double for overnight adventures, while clip-in carpets in the cockpit offer versatility with comfort underfoot. The generous 2.41m beam also offers enough cockpit space to comfortably cater for four anglers out back.
At the helm of the Caribbean Reef Runner, the stainless steel wheel provides some old-school class backed up by a well laid-out and spacious dash. Marine electronics include the Simrad NSS 9 Evo2, which is both intuitive and a pleasure to use. It also integrates with the FUSION iPod dock stereo system so all your favourite tracks can be easily selected from the touchscreen and cranked through the high-quality sound system.
HANDLING AND RIDE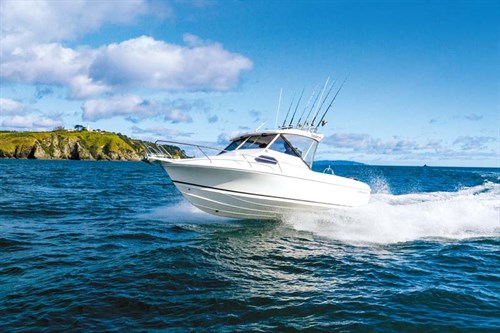 Sliding into a comfortable helm seat and igniting the audibly pleasing Yamaha F200 outboard motor will never get old, especially with the electronic throttle and digital gauge providing precise control.
WOT on the Caribbean Reef Runner HT MkII was comfortably possible with both a head and following sea and the soft-riding hull reduced the near metre-high chop to insignificant bumps which we skipped across at 42kts. Easing back on the throttle allowed a more leisurely 16kts to be maintained while holding the plane.
The planing strakes and bow flare made for a dry ride and the only time we needed the wipers was when I got over zealous with the trim – which this predictable hull simply doesn't need much of. Set and forget, so to speak. Its 6.4m hull length carries the 21-degree deadrise right through, to slice through chop with minimal fuss with its impressive 2.41m beam offering both space and balance.
With its armour-plated glass windows, wipers with freshwater wash and side clears the hardtop offers good protection from the elements while allowing the side view to be opened up on a hot day. At 6ft1in (1.8m), I was able to stand at the helm while going flat out without getting a headache, but you wouldn't want to be too much taller due to the brow and forward-sloping hardtop (to reduce windage and preserve the traditional lines). Relaxing back into the helm seat should suit everyone however, thanks to the adjustable seat sliders and footrests.
Facing a 20nm run home with a metre of chop on the front quarter it sure was tempting to put the hammer down. However my helpful crew members (Steve and Anthony) whom I'd kicked off onto the support boat had suffered enough. Once back on board the photo boat, I copped a drenching and had to tack my way back closer to the coast, all the while watching on with envy as the Caribbean Reef Runner held its course and disappeared into the distance…
This wave-defying rig is supplied on a MacKay tandem-axle trailer with LED lights, spare wheel, hydraulic brakes and a handy mesh walkway to keep your feet dry when hooking up the cable. At a dry towing weight of 1750kg (around 2t with gear and fuel) many family wagons will make the grade.
THE VERDICT
After spending a few hours onboard the Caribbean Reef Runner HT MkII in challenging conditions I'm convinced the Reef Runner's no fuss nature will prove hard to resist. And then there's that excellent ride on the water. The Caribbean Reef Runner is truly deserving of its reputation.
CARIBBEAN REEF RUNNER HT MKII SEA TRIALS
200hp Yamaha F200 outboard motor with Reliance 18in propeller
| | | |
| --- | --- | --- |
| RPM | SPEED (KTS) | FUEL BURN (LT/H) |
| 600 | 3.0 | 1.5 |
| 1000 | 5.0 | 2.5 |
| 1500 | 6.0 | 8.3 |
| 2000 | 9.0 | 9.4 |
| 2500 | 11.0 | 14 |
| 3000 | 17.0 | 18 |
| 3500 | 23.0 | 22 |
| 4000 | 27.5 | 30 |
| 4500 | 30.0 | 35 |
| 5000 | 35.0 | 59 |
| 5500 | 41.0 | 60 |
| 5600 | 42.0 | 63 |
*Sea-trial data supplied by Caribbean Boats NZ.
HIGHS
• Quiet and comfortable
• Well-appointed
• Great ride coupled with solid stability
• Functional fishing weapon
• Generous cockpit with toe-holds, killtanks, ice bin, livewells and grabrails
LOWS
• Batteries at floor level
• Hardtop roof height and cabin door won't suit XL blokes
• I had to drive the photo boat home!
CARIBBEAN REEF RUNNER HT MKII SPECIFICATIONS
Caribbean Reef Runner HT MkII price: $138,000 (as tested; subject to exchange rate)
OPTIONS FITTED
Side clears, road cover, through-hull manual toilet, bunk infills, swimplatform and ladder, cockpit carpet, seat sliders, bilge pump, ice box, stainless steel rod rack, auto anchoring system, Manson Supreme anchor, Fusion iPod dock sound system, Simrad NSS Evo 9, VHF, 4 x Tallon stainless steel receivers with drinkholders, LED cockpit floodlight, window washer system, saltwater washdown and baitstation/skipole.
GENERAL
MATERIAL Fibreglass
TYPE Deep-vee monohull
LENGTH 6.96m (including swimplatform and bowsprit)
BEAM 2.41m
WEIGHT 1750kg approx. dry towing weight
DEADRISE 21-degrees
CAPACITIES
PEOPLE (DAY) 6 (NIGHT) 2
REC. HP 115 to 200
FUEL 225lt
ENGINE
MAKE/MODEL Yamaha F200 outboard motor
TYPE Four-cylinder, inline, 16-valve, four-stroke outboard motor
WEIGHT 227kg
DISPLACEMENT 2785cc
RATED HP 200
GEAR RATIO 1.86:1
PROPELLER Reliance 18in
MANUFACTURED BY
International Marine
1278, Ferntree Gully Road
Scoresby, Victoria, 3179, Australia
SUPPLIED BY
Caribbean Boats Nz
9 Clow Place, Hamilton
Phone 027 279 6664 or 027 487 4226
Email scott@caribbeanboats.co.nz
See the full version of this review in Trade-A-Boat #248, December 2014 / January 2015. Why not subscribe today?
Keep up to date with news from Trade-A-boat or like us on Facebook!