Review: Integrity 320 Express Sedan
---
It's always a risk when a luxury cruiser manufacturer modernises a long-standing model. The Integrity 320 Express Sedan showed it to be a risk worth taking.
When the Trade-a-Boat magazine editor returned from the Gold Coast Marine Expo with tales of a new-look luxury sedan cruiser from Integrity Motor Yachts, my hand shot up for the job. Not only would a Gold Coast review mean I could escape the rubbish Victorian weather, but the description of the Integrity 320 Express Sedan being "completely different from anything Integrity have done before", sounded intriguing.
INTEGRITY 320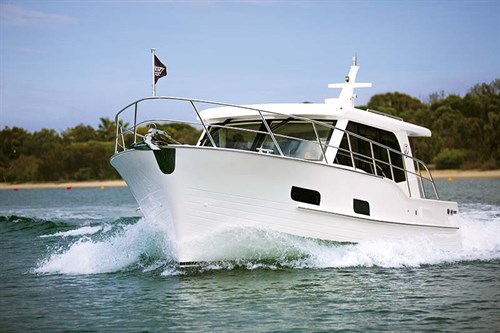 I'd heard about sunrises, but hadn't seen one in years and was disappointed to learn they take place at 4:45am in Queensland. After a 3am start, photographer Jack Murphy and I stumbled through the gloom onto the Sanctuary Cove dock and found ourselves onboard the Integrity 320 Express Sedan: an Integrity yacht like no other.
Pushing off from the dock was made simple by Quick thrusters at the bow and stern (an included option on this debut model).
At 9.75m, the Integrity 320 Express Sedan isn't an enormous vessel to manoeuvre, but given the shaftdrive setup, thrusters certainly assist during operations in close-quarters.
As we headed for Jumpinpin and its photogenic sand dunes, it soon became apparent there was something wrong with the sunrise.
Missing was that warm golden glow, so beloved of photographers and in its place was a bank of grey cloud. Dammit!
Ever the versatile professionals, we abandoned the long trek north and settled instead for parading the new Integrity 320 in front of South Stradbroke's tree-lined shores.
When the almost-sun did finally rise, it cast a diffused light on the familiar sturdy lines of Integrity's characteristic trawler-style hull, but in this case with a commanding, upswept bow, the result of adding around 300mm to the mould at the forward gunwales.
This has created increased headroom belowdecks in the forward cabin, adding to an overall feel of space and light, in line with the modern feel of this latest vessel.
NEW DESIGN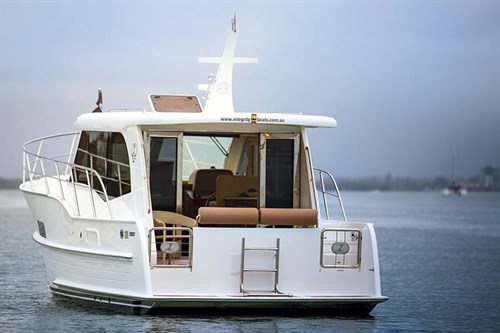 To truly appreciate what a departure the Integrity 320 Express Sedan is from previous Integrity boats, you need merely to compare this boat with its predecessor, the Integrity 320 Explorer.
While also billed as an entry-level yacht, the Integrity Explorer was upright and boxy where the Express is curved, the cabin sweeping back from that imposing bow.
But it's on the inside where the changes really hit home. Gone is the dark, traditional teak fitout. In its place, bleached American oak and Caesarstone benchtops combine for a look that's more beach house chic than grandfather's study. It's lighter, brighter and unquestionably modern. And that's no bad thing.
While the move away from Integrity's customary styling must have seemed a risky decision, national sales manager Peter Hill tells us they already have four orders on the books for the 320 Express.
An appealing price point of $299,000 has much to do with this. The thinking behind this latest Integrity yacht was always to create an affordable family-sized vessel, suitable for overnighting and coastal exploring.
Of course to some, $300,000 might still sound like a lot of money, but in this case it buys you a lot of yacht, and a cleverly designed one at that.
PERFORMANCE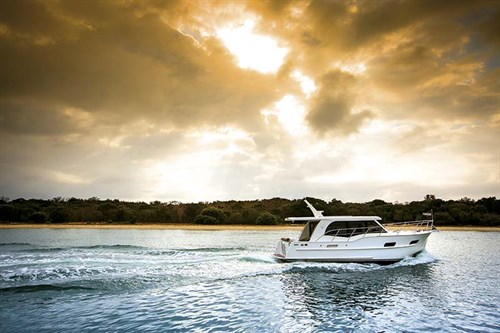 The trick to creating a 32-footer (9.75m) that works both as a stylish dayboat and a comfortable weekender is a delicate balancing act of space and spaces – the aft deck needs room for relaxing at sundown; the galley must be well-equipped for knocking up a casual feast; the saloon requires scope to chill during inclement weather and the cabin should be welcoming, while hopefully offering alternative beds for unexpected guests.
I'm happy to say that Integrity Motor Yachts squeezed all these criteria onboard. Weighing in at some 7500kg displacement, this sedan is no lightweight. Thankfully, that over-engineered construction translates to a certain poise in an unruly ocean.
The raised gunwales and walkways to the bow mean access around the boat is safe for owners and kids alike and it's comforting to know that down below, a full keel protects the shaft and prop on every Integrity boat.
Cruising down the Broadwater, the Integrity 320 Express Sedan felt assured and unhurried, although the high-revving Steyr diesel occasionally gave the impression of a boat that should be travelling faster than the engine noise would account for.
The 230hp Steyer is an upgraded option on this debut boat and this slick powerhouse delivers exceptional efficiency, burning a meagre 8.3lt/h at an optimum cruise speed of 7kts. At this rate, the 980lt tank will deliver in excess of an 800nm cruise range and that brings a wealth of destinations within reach.
The standard engine fitout on the 320 Express is Integrity favourite, the 225hp John Deere, and while the Steyr does add to the price, it sure is a sweet piece of kit.
Engine noise did encroach on the saloon as we crept up toward 12kts at Wide Open Throttle, but some additional engine room soundproofing would likely quell this distraction.
LAYOUT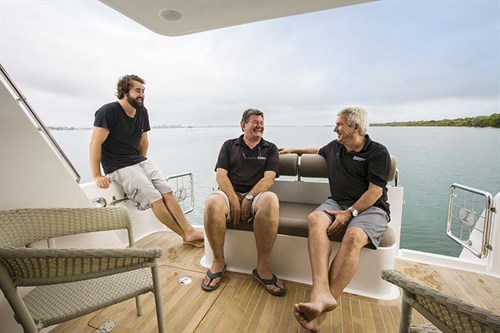 Aft of the engineroom (and beneath an attractive teak deck sealed with white Sikaflex) there is a wide storage area for fenders, lines and other bulky goodies.
The aft deck is a comfortable spot to relax with a central lounge and access to the teak-slat swimplatform through lockable gates. The hardtop extends over much of this area and camper covers could be added to enclose it for winter boating, but when the sun shines, there's a flip-down swimladder plus a hot and cold shower for rinsing off.
Step through the wide glass doors to the saloon and there's acres of bench space, with a sink on port and a two-burner hob still to be fitted. The light Caesarstone benches make cleaning easy and there are drawers everywhere for stashing crockery, cutlery, glassware and more.
Interestingly, while Integrity Yachts are built in China, appliances such as the 140lt Waeco fridge/freezer are all fitted locally to ensure both compliance and a lack of warranty issues.
Underfoot, the modern colour palette continues courtesy of Amtico wood-look vinyl, this time in a pale, aged timber pattern which works well with the oak cabinetry.
Opposite the helm, there's a three-seater L-shaped lounge and the adjoining table can be doubled in size as required. Should your dinner guests need a nap, the table drops down to meet the cushions and form an extra bed – also perfect for kids.
This entire saloon area enjoys wide open views from every angle thanks to the huge windows and this also benefits the captain while berthing or underway.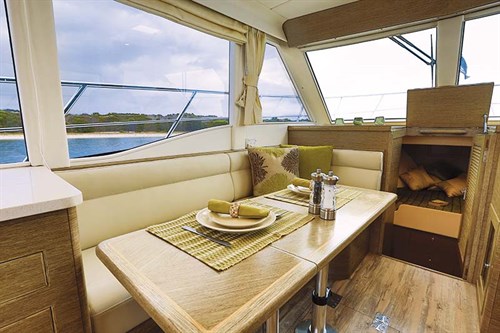 The helm is beautifully simple, with a handful of analogue gauges, throttle, electronic engine monitoring, thruster controls and not much else.
A large upright dash will easily accommodate modern widescreen electronics – just pick your brand and whack it in.
Overhead, there's a hatch for fresh air and Brett tells us he'll also be installing sliding windows on both sides of the saloon in upcoming builds. It's an easy, social position to steer from, in keeping with the current approach of a connection between galley, helm and saloon.
Down four steps from the saloon and you're into the forward cabin. The extra head height and a crafty design combine to make this space feel bigger than it really is, assisted by dual portlights and another glass hatch overhead.
What first catches your eye is the semi-island bed in an unusual pentagon shape. This means owners can sleep facing the bow with an aft headboard to contain your collection of pillows.
While the shape seems odd, it works well to provide extra space on either side of the occupants and means the bed can still be fitted right up in the bow.
Storage is once more in abundance, with lockers and drawers in every corner, while twin wardrobes are lined with cedar to repel critters that might chew holes in your navy blazer.
THE VERDICT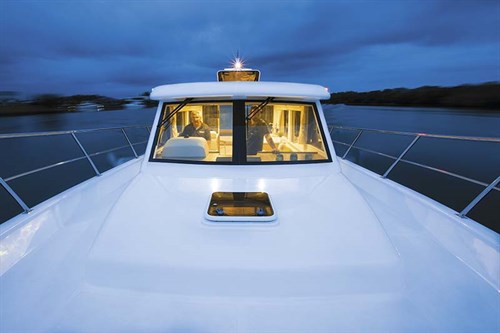 While Integrity has successfully modernised one of its popular traditional designs with the 320 Express, the revamp has also created an appealing entry-level boat that will draw new buyers to the brand.
Bringing it to market at $350,000 for the standard model does see this Integrity miss out on a few luxuries such as air-conditioning and generator, but it's also not designed as a long-range superyacht. It's a dayboat you can overnight on, but with the build pedigree to handle trips further afield in comfort and safety, and as such, the Integrity 320 Express Sedan does its job very well.
HIGHS
• Walkaround access
• Coastal cruising capacity
• Nice entertaining flow
• Separate shower and toilet
LOWS
• Internal engine noise
• Shallow helm seat (does my bum look big in this?)
INTEGRITY320 EXPRESS SEDAN SEA TRIALS
Steyr 230hp with ZF gearbox; 570mm five-bladed prop
| | | |
| --- | --- | --- |
| RPM | SPEED (KTS) | FUEL BURN (LT/H) |
| 1000 | 3.3 | 1.5 |
| 1500 | 4.3 | 3.4 |
| 2000 | 6.2 | 5.6 |
| 2250 | 6.9 | 8.3 |
| 2500 | 7.3 | 11.7 |
| 3000 | 8.1 | 20.8 |
| 3500 | 9.2 | 32.5 |
| 3950 (WOT) | 12.4 | 49.8 |
* Sea-trial data supplied by the Integrity
INTEGRITY320 EXPRESS SEDAN SPECIFICATIONS
PRICE AS TESTED
Integrity 320 Express Sedan price: $350,000
OPTIONS FITTED
Steyr engine upgrade, Quick thrusters to bow and stern, aft teak deck
GENERAL
MATERIAL GRP
TYPE Displacement sedan luxury cruiser
LENGTH 9.75m
BEAM 3.72m
DRAFT 1.1m
CAPACITIES
PEOPLE (NIGHT) 4
FUEL 980lt
WATER 500lt
ENGINE
MAKE/MODEL Steyr SE236E40 engine
TYPE Six-cylinder monoblock diesel
RATED HP 230
DISPLACEMENT 3.2lt
PROPELLER 570mm five-blade
MORE INFORMATION
Laurie Collins Westhaven
103-115 Westhaven Drive, Westhaven
Auckland
Phone 09 376 6331
See the full version of this review in Trade-A-Boat #248, December 2014 / January 2015. Why not subscribe today?
Keep up to date with news from Trade-A-boat or like us on Facebook!