Review: Jeanneau Merry Fisher Marlin 695
---
The Jeanneau Merry Fisher range is a strong seller in the sub-30ft Euro market. The Marlin 695 demonstrates its practicalities as both a fishing boat and a recreational craft.
Like all Jeanneau Merry Fisher boats, which range from 20 to 28ft, the 23-foot (7m) Marlin 695 comes in two versions, with one or two wheelhouse doors available. It replaces the Jeanneau 645 and Sydney dealer Matthew Willett tells me he has high expectations for it. "We think the Jeanneau Merry Fisher Marlin 695 will be the best seller in the range, especially with the toilet option. It's an all-rounder, (and) a great compromise between fishing and family which keeps everyone happy!" he tells me.
JEANNEAU MERRY FISHER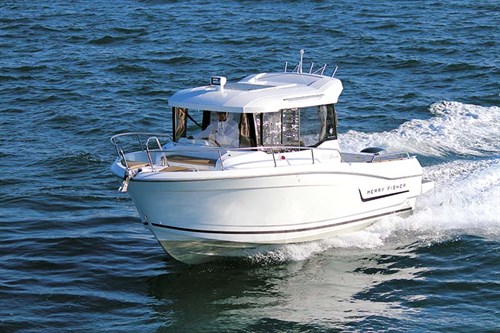 The single-door version of the Jeanneau Merry Fisher Marlin 695 has more seating inside and out with benches in both locations. The inside bench along the rear bulkhead of the wheelhouse is slightly cramped by the two forward bucket seats, but these do a great job for the steerer and co-pilot who can swivel round to keep an eye on navigation.
Both versions of the Jeanneau Merry Fisher Marlin 695 use a cleverly designed pole to slide a round wooden table down for dining, with the single-door model seating four around it which is impressive, given the space available. The area also turns into a berth, ideal for kids to bunk down while the adults snuggle in the cuddy below.
There's even a small 42lt fridge for the coldies, a sink and recess for a removable gas stove. So it's understandable why these boats have sold well in cold climates but for us in milder climes, simply slide back the roof hatch above the helm station for air.
The helm station is dominated by a Lowrance Combo HDS-7 touch plotter with Yamaha gauges either side and throttle outboard beside the door (so I was able to steer from outside during the sea trial). The small steering wheel felt comfortable seated or standing and a footrest braces you as well. For overnighting the small cuddy should fit most average-sized blokes and their partners, with an optional toilet cubicle fitted to the single-door version (and chemical toilet in a locker on the double door).
LAYOUT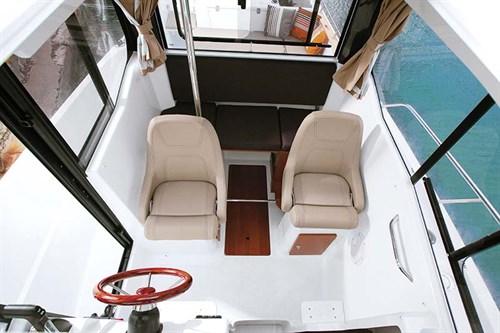 Boarding the Jeanneau Merry Fisher Marlin 695 is comfortably done via the swimplatforms on either side and a small door secures the aft deck once boarded, while high gunwales secure you well in a seaway.
The aft deck is furnished with a table and benches which fold away and there's a wraparound module allowing a group to be seated. Just pull over the optional awning and you are set for a cosy afternoon. Alternatively, in sports mode, clear it all away (with the table going in the deep bilge locker) to create a spacious gamefishing platform where uncluttered coamings with stainless steel rails allow you to fight a fish as it moves.
There are rodholders on both sides and at the transom, plus five storage holders on the wheelhouse as well. For the solo angler especially, the optional outside helmstation is useful and worked well on the test boat.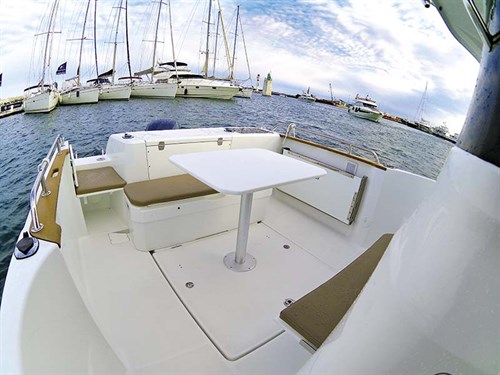 Jeanneau's pledge to include all the features from the larger Jeanneau Merry Fisher 755 in the 695 looks to have been kept, including a cutting board above the outboard well and kill locker, making the entire area eminently practical. General locker space is also good with a big footwell and a small bulkhead locker.
The port offset wheelhouse creates a wide walkway to starboard and leads you, using a waist-height safety rail and wheelhouse grabrails, to the bow area where you'll find a quiet, relaxing spot with benches and fold-out sunpad. The tall topsides allow for a deep footwell, giving the relaxing couple a feeling of safety, even underway.
HANDLING AND RIDE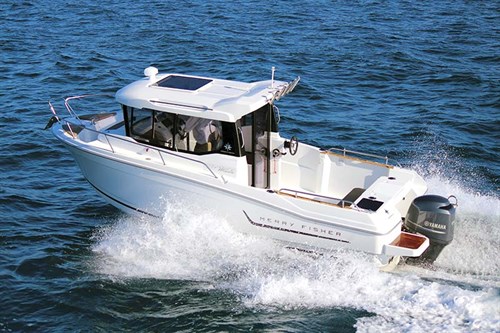 In the small but steep swell the Jeanneau Merry Fisher Marlin 695 cut through the seas without undue slamming. Talking above the noise of the 150hp Yamaha outboard motor was comfortably done with the side door shut. The smooth power band from the inline four-cylinder outboard engine has made this F150 motor Yamaha's best seller, with double overhead camshafts and four-valve heads letting the motor breath easily and quietly.
At the helm my view all-round was fine, with enough sun protection from the front wheelhouse overhang to avoid too much glare across the wide, front window. The upright and slightly raked forward wheelhouse design maximises the inside volume and even with three in the cab, it didn't feel stifling.
The hydraulic steering requires minimum effort to turn, as did the mechanical throttle, with good acceleration as we leapt onto the plane then skipped across the chop, reaching a cruising speed of 17.5kts with fuel consumption a moderate 28.3lt/h. But this drastically changed when I pushed on, nearly doubling consumption as we touched 28kts.
Heeling into turns gave no surprises as the sharp chine directed us forward and the deep-vee drove us through the steeper swells, with few splashes aboard and no shudders from the furnishings.
At sea on the twin-door version (above photo) it was handy to avoid any spray by nipping out the back sliding door – this version gives easy access to outside diners from the small galley.
Slow handling was again predictable and going astern was best done using the outside helm; the tall transom deflecting the chop from coming aboard.
THE VERDICT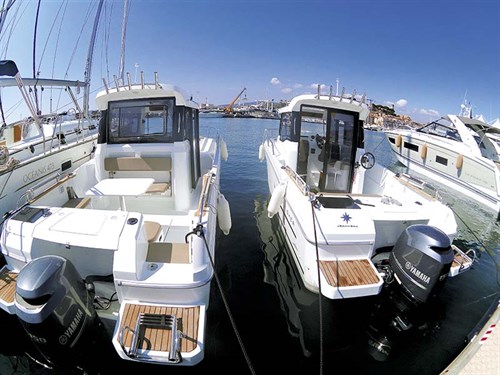 The Jeanneau Merry Fisher Marlin 695 is undoubtedly a great runabout for summer and Matthew Willet at MW Marine tells me he's expecting the first boat in stock soon – so it's definitely worth a look, especialyl as it's available in single-door and twin-door versions.
HIGHS
• Versatile recreational boat or fishing boat
• Trailerable size
• Practical deck layout
LOWS
• Requires options to reach spec
• Saloon seating cramped when dining
• Limited console space for additional electronics
JEANNEAU MERRY FISHER MARLIN 695 SEA TRIALS
Single 150hp Yamaha four-stroke outboard motor
| | | |
| --- | --- | --- |
| RPM | SPEED (KTS) | FUEL BURN (LT/H) |
| 2000 | 6.1 | 6.6 |
| 2500 | 7.1 | 10.3 |
| 3000 | 11.1 | 16.4 |
| 3500 | 12 | 21.5 |
| 4000 | 13.7 | 24.6 |
| 4500 | 17.5 | 28.3 |
| 5000 | 27.8 | 51 |
| 5500 | 30 | 53 |
* Sea-trial data supplied by author
JEANNEAU MERRY FISHER MARLIN 695 SPECIFICATIONS
PRICE AS TESTED
Jeanneau Merry Fisher Marlin 695 price: $109,000
OPTIONS FITTED
Lowrance electronics pack, swimplatforms, toilet, sun hatch, saloon berth conversion, sunpads, cockpit shower, cockpit table and anchor kit
PRICED FROM
$96,000
GENERAL
MATERIAL GRP
TYPE Monohull fishing boat
LENGTH 7.24m
BEAM 2.54m
WEIGHT 1300kg (sans engine)
CAPACITIES
PEOPLE (Day) 8
PEOPLE (Night) 4
REC. MAX HP175
FUEL 170lt
WATER 50lt
ENGINE
MAKE/MODEL Yamaha F150 outboard motor
TYPE Four-cylinder four-stroke outboard
RATED HP 150
DISPLACEMENT 2670cc
WEIGHT 228kg
PROPELLER Three-blade alloy
FOR MORE INFORMATION
Orakei Yacht Sales
Orakei Marina, Auckland
Phone 021 929 592
See the full version of this review in Trade-A-Boat #247, November / December 2014. Why not subscribe today?
Keep up to date with news from Trade-A-boat or like us on Facebook!