Review: McLay 521 Fortress Centre Console
---
The perfect opportunity to review the McLay 521 Fortress Centre Console presented itself when the crew awoke to a sunny morning in Whakatane's Bay Of Plenty.
After living it up in New York, my cousin Nick was back in town with a hankering for a fishing trip. It just so happened that Gareth Flowerday from Whakatane's Oceansports Marine had taken delivery of a McLay 521 Fortress Centre Console aluminium fishing boat — and a small but favourable weather window was forecast.
MCLAY 521 FORTRESS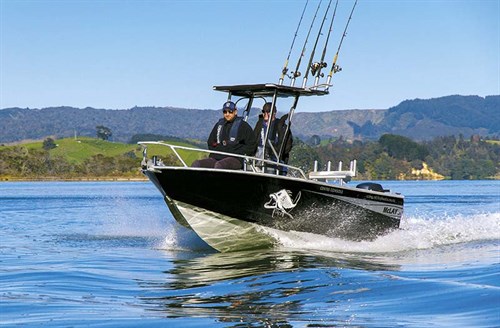 Once we arrived at Oceansports Marine, Gareth wasn't fazed when we made multiple trips to unload the boot, but it quickly became apparent why. The McLay 521 Fortress Centre Console has a 105lt Icey-Tek chilly-bin seat that took care of the bait and ice. The two 25lt tote tanks were also safely stored in the underfloor locker, helping to keep the weight forward and protect them from the sun. This meant the tackle boxes and camera cases could be safely tucked away beneath the transom, keeping the tread-plate floor clear. In the interests of safety large compartments above housed the battery (with room for another) and inflatable lifejackets.
Excess clothing and our banquet lunch was stashed beneath the cushioned bow seat, while anything left over found its way into the large side-storage pockets and centre console shelves. With our weapon well and truly armed, we headed for the picturesque Ohiwa Harbour with clear blue skies on the horizon.
The McLay 521 Fortress Centre Console now a loaded weapon, it tipped the towing scales at an easy-going 800kg which made the Toyota LandCruiser we were rolling in seem like overkill. A corresponding full tide at the ramp offered a photogenic launching spot and a chance to showcase the quality paintjob, contrasting brushed Nyalic finish and eye-catching graphics.
FISHABILITY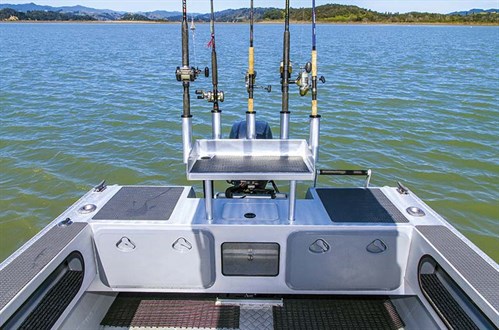 Given we were going out on a 5m aluminium fishing boat I felt two rods each was probably pushing it, but with the five-shot rocket launcher, four-shot side rod rack, two fully welded rodholders per gunwale, handy four-round stand-up rod rack in the bow, five more holsters in the baitboard and a couple more on the bowrails, I was left feeling somewhat under-gunned.
Food phobias aside, my cousin Nick is also a clumsy bugger and at 6ft3in can cause a bit of damage, but we didn't have to worry on board the McLay 521 Fortress Centre Console as every fitting is rock-solid and fully welded to boot. Speaking of solid, the baitboard is a heavyweight, at a good working height and lacks a front lip for easy filleting. Not forgetting that it's also self-draining with fish TV directly below for hassle-free rigging of live or dead baits.  
Once at fishing spot-F (for failure) the easy-access anchor was deployed.  Nick and Gareth stray-lined baits out the stern perched on the thigh-height gunwales while I made a beeline for the raised casting platform in the bow with my soft-bait rod in hand. Despite the lack of fish action we all enjoyed the view, fishability, company and benefit of all-round non-skid and plentiful rodholders.
At the centre of operations on the McLay 521 Fortress Centre Console the large upright dash meant the Lowrance HDS-9 was easily viewed while fishing from the stern, with plenty of space to upsize the display if required. Optional spotlights and standard nav lights on the T-top also offer change of light-surprise attacks on unsuspecting targets. By simply unscrewing a few knobs the T-top can be laid back for garage storage.
HANDLING AND RIDE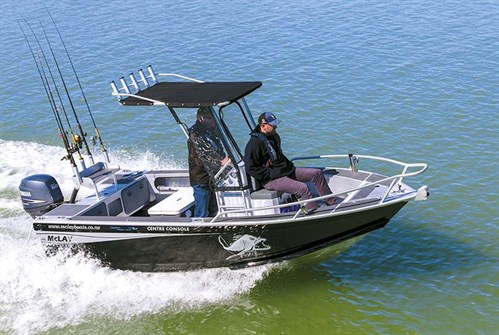 Like all McLay boats I've been on, the McLay 521 Fortress Centre Console had a build quality that is commendable and inspires confidence on the water. So much so, that when the fish refused to bite we took it for a scenic joyride out through the relatively calm Ohiwa bar and into open water. A sloppy, brown-coloured half-metre swell provided an ideal opportunity to test the ride.  
We nudged WOT in both directions, with the hydraulic steering and good response from the 60hp Yamaha four-stoke outboard motor making for a responsive and enjoyable drive.
The large spray chine and flared bow kept us completely dry on board no matter which direction we ran – although there was only a slight breeze blowing and it is still an open boat. Front and side clears provide good protection for the skipper at the helm.
The large T-top offers plenty of handholds around the helm which, like all fixtures on board, is extremely solid. The icebin seat affords a cushy perch to take a load off, while the front seat provides an ideal spot to watch the action or the world going by.
THE VERDICT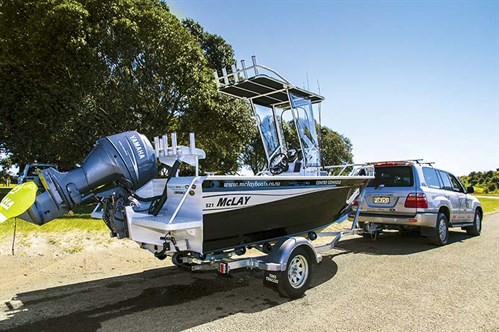 While we had to settle for roast takeaways for dinner, this didn't detract from the fishability and angling appeal of the McLay 521 Fortress Centre Console. It possesses a feeling of space that's bigger than its size suggests and means this loaded weapon of a fishing boat is capable of showing up to four fishos a good time – when you split the likely fuel bill four ways, it's cheap entertainment too. Given the build quality and wide-open firing range, the Fortress part of the McLay 521 Fortress Centre Console is a fitting model name.
HIGHS
• 360 degrees of fishing potential
• Plenty of storage
• Quality features and excellent build quality
• Good ride for its size
• Easy to tow and launch
• Good quality clears and T-top fitted to offer some protection from the elements
LOWS
• Can lean a bit with three big blokes on one side
MCLAY 521 FORTRESS CENTRE CONSOLE SEA TRIALS
Single 60hp Yamaha four-stroke outboard motor with 11 x 13in prop and two people on board
| | |
| --- | --- |
| RPM | SPEED (KTS) |
| 500 | 1.6 |
| 1000 | 2.4 |
| 1500 | 3.8 |
| 2000 | 5.4 |
| 2500 | 7 |
| 3000 | 9.7 |
| 3500 | 16.7 |
| 4000 | 20 |
| 4500 | 22.1 |
| 5000 | 25.4 |
| 5500 | 28.6 |
| 6000 | 31.3 |
* Sea-trial data supplied by the author.
MCLAY 521 FORTRESS CENTRE CONSOLE SPECIFICATIONS
PRICE AS TESTED (EX. FREIGHT)
McLay 521 Fortress Centre Console price: $41,995
OPTIONS FITTED
Half bait board, removable tee top with canvas roof, rocket launcher, paint (sides only), Yamaha 60hp four-stroke outboard motor, 105 litre Iceytek bin, Lowance HDS9, cockpit lighting, hydraulic steering, 2 x 25 litre tote tanks and single axle Toko trailer.
PRICED FROM (ex. freight)
$18,100 (hull package only)
GENERAL
TYPE Monohull
MATERIAL Aluminium
LENGTH 5m
BEAM 2m
WEIGHT 800kg; (boat-motor-trailer)
HULL WEIGHT 420kg
DEADRISE 17°
CAPACITIES
PEOPLE 4
REC. MAX. HP 70
FUEL 2 x 25lt tote tanks
ENGINE               
MAKE/MODEL Yamaha 60 outboard motor
TYPE Inline four-cylinder four-stroke outboard motor
RATED HP 60
DISPLACEMENT 996cc
WEIGHT 113kg
GEAR RATIO 2.33:1
PROPELLER 11 x 13in
SUPPLIED BY
Ocean Sports Marine
32 McAlister Steet,
Whakatane, 3120
Phone (07) 308 4241
Email sales@oceansportsmarine.co.nz
See the full version of this review in Trade-A-Boat #247, November / December 2014. Why not subscribe today?
Keep up to date with news from Trade-A-boat or like us on Facebook!