Review: McLay 611 CrossXover Hardtop
---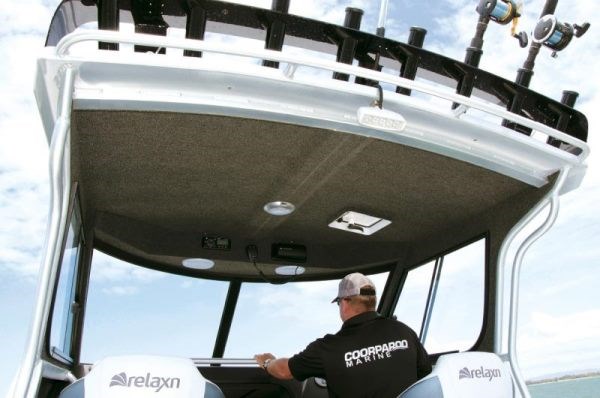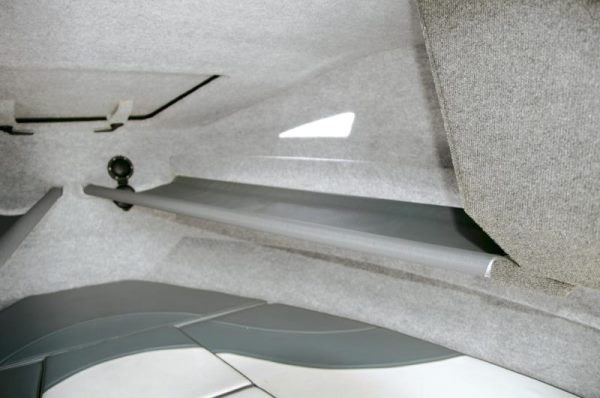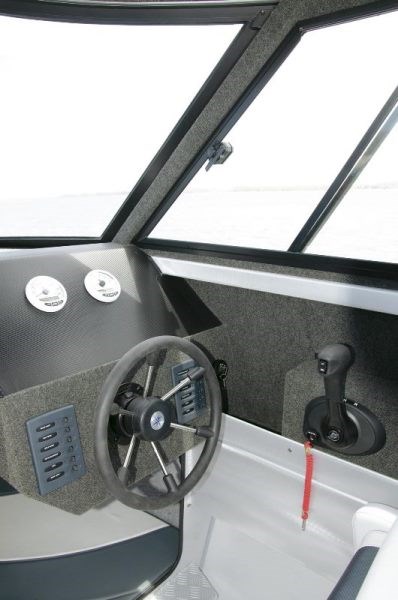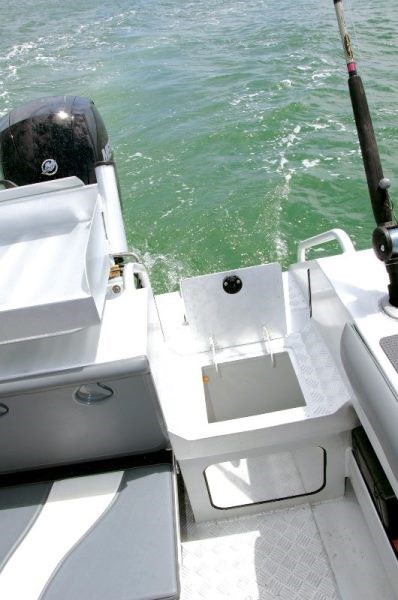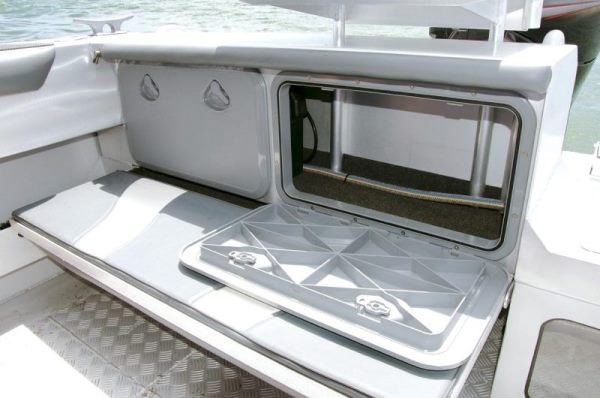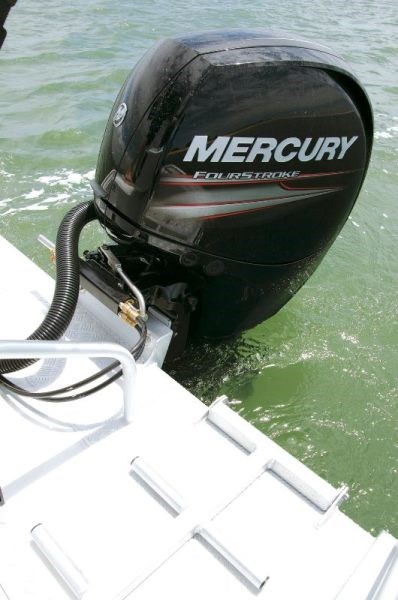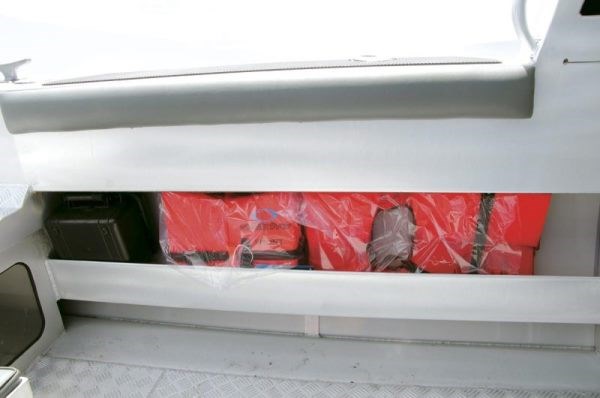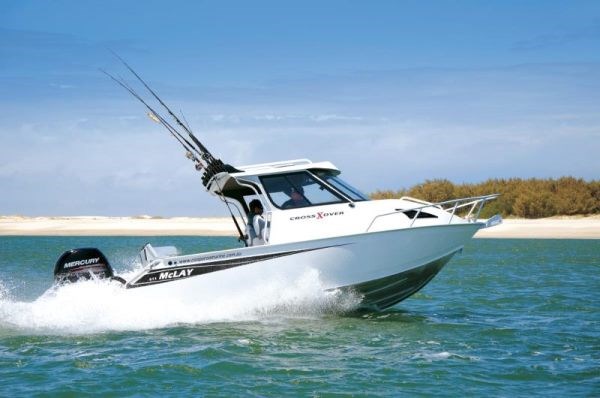 In a howling 30kt south-easter, the McLay 611 CrossXover Hardtop came through with flying colours.
When it comes to reviewing boats, more often than not we have to take what we can get. We'd already postponed the review day on our McLay 611 CrossXover Hardtop aluminium fishing boat, so when we finally came down to it, we had a 25 to 30kt south-easter howling its way through Gold Coast seaway channels.
MCLAY BOATS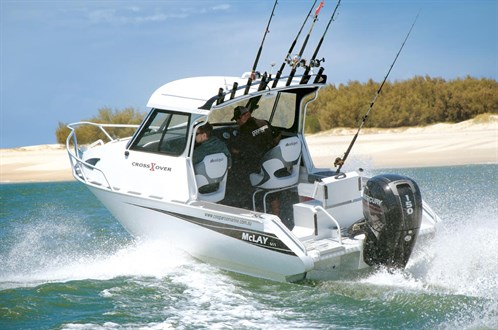 McLay aluminium boats are made to handle some pretty gruesome conditions. So when we launched, our first obstacle was launching our McLay 611 CrossXover Hardtop as the wind was gusting side-on to the ramp. Once unhooked and reversed off the trailer the wind shot the bow around 90-degrees making it look like a bow thruster had been installed.
The next trick was boarding the boat. One option was via the pontoon, but this was abruptly aborted due to the wind. So the next trick was via the beach which, which worked out a bit better.
LAYOUT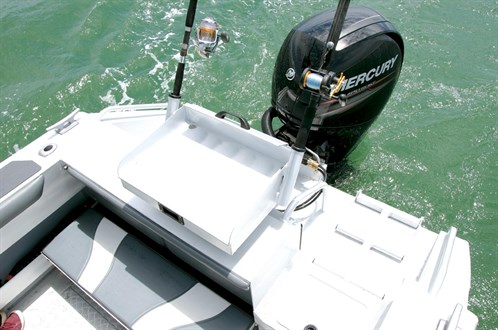 Internally, the McLay 611 CrossXover Hardtop is nothing out of the ordinary, boasting a Portofino-styled transom with good boarding access and full grabrails off the rear platform, a walkthrough transom section, baitboard, livewell below the boarding step with viewing glass, a rear lounger and a couple of rodholders.
Although a fairly standard design this style of transom gives you a larger area off the back suited to diving and fishing, although it does encroach a bit into the rear deck. Regardless, it's a tried-and-trusted design, suited to a number of purposes, and I quite like it. Another smart idea was having the raised and sealed hatches behind the rear bench, rather than just open hatches.
The deck on the McLay 611 CrossXover Hardtop is non-slip treadplate finished with a Nyalic paint surface. The Nyalic paint is a crystal clear polymeric resin coating that provides years of protection against chemical, environmental and ultraviolet corrosion on ferrous and non-ferrous metals, galvanised, anodised, powder-coated and painted surfaces. It also takes away the nasty reflection found on standard aluminium surfaces and is far cooler to the touch.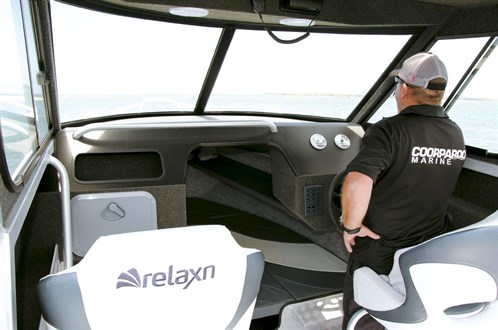 The gunwales are full-length, have nice wide coamings with bolstered padding to lean into when fishing, as well as an abundance of non-slip pads on top that run right through to the bow. The seating is side-mount on frames that can take good sized icebox below (instead of having a fixed killtank) and are set at a good height for seated and standing driving.
Being a hardtop the cockpit area is well protected with large wide screens, side windows, and plenty of grabrails.
What I did like was the attention to detail with the finishes. The carpeting job is really neat, I liked the small hatch above the captain's seating for light and extra ventilation, and also thought the wrapped carbon-fibre matt finish to the spacious dash added a cool look to the aesthetics as well as eliminating glare from the screen.
The open-plan cabin comprises neat trimmings and finishes throughout, a reasonably sized full bunk with good storage space below, and two very innovative additional small single bunks fitted to either side of the cabin. These simply have a pole-mount system with vinyl base which enables them to be folded away, used as bunks for the kids, or just extra storage space.
HANDLING AND RIDE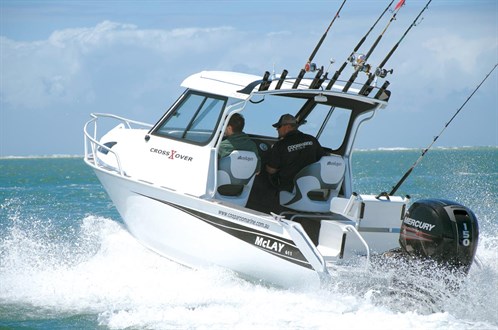 Getting back to the foul conditions and the ride, the heavy-duty entry on the bow flaring out to a moderate transom deadrise had caught my attention. Designed to suit harsh NZ conditions I predicted a good, solid and soft ride out of the McLay 611 CrossXover Hardtop, but before putting it through a bit of pain, I still wondered just how soft the ride would actually be considering that the deadrise is only 18°.
Knocking the McLay 611 CrossXover Hardtop onto the plane the latest 150hp Mercury three-litre four-stroke outboard motor packed a powerhouse holeshot, and when accelerating up to high speeds it had no issues in getting the 611 up to WOT pretty quickly.
Heading into a quartering chop off a 25 to 30kt south easterly at a speed of 30kts the 611 gouged into the chop and produced a ride well above my expectations. It was surprisingly soft and comfortable and the kind of ride that would leave you feeling refreshed after a long day on the water, rather than totally shattered and in need of a spinal adjustment. This kind of ride is normally found on hulls with far greater deadrise running through to the transom, so it is clear that McLay Boat has its designs well in tune.
The downside to an ultra-comfortable rides is often a compromise in stability which, when underway and at rest, you can feel a bit on the 611, but from my point of view it's a small price to pay especially when it comes to long distance rides. Being able to take on rough conditions, as we did, and not come out feeling battered and bruised at the end of the day is priceless.
THE VERDICT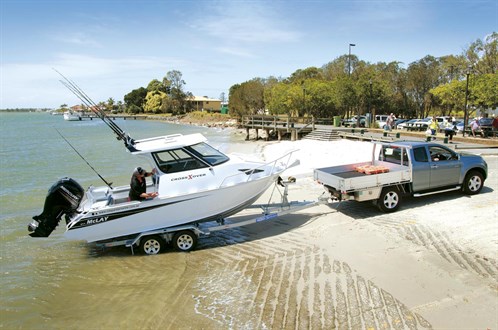 The McLay 611 CrossXover Hardtop was totally abused on the water for our boat review. To be quite frank, it has a bloody good ride to it. Like any boat, you can't please all, but I definitely had more likes than dislikes on the McLay 611.
A good ride, an impressive build quality – comprising 5mm plate bottom with a mother of a double keel system, 3mm sides and tops – a number of separately sealed buoyancy chambers built into the hull and gunwales for added safety, and some very impressive craftsmanship and finishes throughout pretty much sum up this boat.
HIGHS
• Impressive rough water capabilities
• Impressive finishes
• Build quality
• Additional bunks
LOWS
• Killtank as standard would be good to have
• A bit more beam would be good although that could spoil the ride characteristics
MCLAY 611 CROSSXOVER HARDTOP SPECIFICATIONS
PRICED FROM
McLay 611 CrossXover Hardtop price: $78,995 w/ 150hp Yamaha four-stroke and tandem-axle braked trailer
OPTIONS FITTED
Capstan Winch, VHF Radio, Fusion stereo, deckwash, two hammocks, navigation lights, stern light, switch panel, bilge pump.
GENERAL
MATERIAL Plate aluminium
TYPE Monohull  aluminium fishing boat
LENGTH 6.1m
BEAM 2.30m
WEIGHT 780kg
DEADRISE 18°
CAPACITIES
PEOPLE 6 (max 475kg)
REC. HP 150
REC. MAX HP 200
FUEL 150lt
ENGINE
MAKE/MODEL Mercury 150 FourStroke outboard motor
TYPE Four-cylinder inline, eight-valve SOHC four-stroke outboard motor
WEIGHT 206kg
DISPLACEMENT 3000cc
GEAR RATIO 1.92:1
PROPELLER 17p
MANUFACTURED BY
McLay Boats
299A Union Street, Milton, Otago
Phone 03 417 8135
Email info@mclayboats.co.nz
Web mclayboats.co.nz
See the full version of this review in Trade-A-Boat #249, January / February 2015. Why not subscribe today?
Keep up to date with news from Trade-A-boat or like us on Facebook!