Review: Nanni Diesel N4.38 engine
---
The Nanni Diesel N4.38 is an ideal marine engine for keelboats to 11m or (as twins) powercats up to 13m.
Three-cylinder marine engines are a world away from twins, just as twins are on another planet from singles. But is the additional complication of four cylinders over three worth it?
Yes, not so much for the power and torque increases, but the little additional weight for these gains.
The N4.38 Nanni Diesel marine engine is a good example. It has the same basic design as the Kubota-based N3.30 but for five per cent higher weight develops 30 per cent more power and 54 per cent greater torque.
Vibration levels are slightly lower too, due to the better balance of two pistons up and two down at any one time.
NANNI DIESEL N4.38
Again another tractor engine, the Nanni Diesel N4.38 has indirect injection to meet all European and US exhaust emission requirements, achieved through simple, relatively low-pressure injection (140bar or 2060psi). As injection timing is fixed the engine should not be run continuously below 1800rpm or cylinder bore glazing could result.
Glow plugs are fitted for cold-starting and as with all multi-cylinder Nanni Diesel engines there's no provision for hand starting. In any case the starter motor and alternator are well above the engine bed level for sloppy boat owners who don't check their bilges for leaks.
The all cast iron engine has pushrod operation of the overhead valves and gear-driven seawater cooling pump for the heat exchanger. The exhaust manifold is freshwater cooled for reliability and to prevent saltwater from reaching the engine. A single vee-belt from the crankshaft pulley drives the freshwater circulating pump and the 100amp voltage regulated alternator.
Standard on the Nanni Diesel N4.38 is the A4 instrument panel which includes an analogue tachometer with digital hour meter inset, plus an ignition key switch and warning lights for low oil pressure and battery charge rate, engine overheat and water in the fuel filter (one of the joys of using a hygroscopic fuel like diesel). At 205 x 120mm the panel ain't exactly bulky.
Complete with the mechanical straight-line TMC60 gearbox the Nanni Diesel N4.38 is 891.5mm long (146.7mm more than the N3.30), with its 464.2mm width being the same. But at 605.2mm the height is 16mm more. The total dry weight is only 7kg more than the N3.30.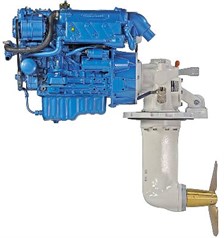 Opting for the Technodrive SP60 saildrive leg (at left) brings the total weight to 185kg, but still only 7kg more or a mere four per cent heavier. On its fibreglass bed the saildrive model is 1101.5mm long and 741.6mm high from hull to engine oil filler cap.
As with all of its naturally aspirated Kubota diesels Nanni Diesel recommends using an API (American Petroleum Institute) CD or higher SAE 15W40 diesel oil, with oil and filter changes every 200 hours or annually, but if used infrequently I suggest oil/filter changes every six months.
As with the water pumps and water-separating fuel filter the oil filter is at the forward end of the engine and mounted horizontally so replacing it won't dribble oil down the block. But although the oil sump has a reasonable capacity of 4 to 5lt depending on installation angle, being at the forward end of the sump pan the oil evacuation pump won't remove every last drop unless the engine is a saildrive model with parallel installation to the waterline. Why Nanni Diesel does this is a mystery!
No hydraulic lifters are fitted so occasional valve clearance adjustment is needed but at least accessing the rocker arms is straightforward.
TORQUE
Apart from the slight increases in weight and bulk the biggest difference between the Nanni Diesel N4.38 and Nanni N3.30 is the torque gain.
Whereas the Nanni Diesel N3.30 has a peak torque of 65Nm at 2600rpm the N4.38 torque peak of 100Nm is at 2000 to 2200rpm. Torque output at 1600rpm is 92Nm compared to 59 for the N3.30, so manoeuvring in marinas will be way easier. The N4.38 also develops max power of 37bhp at 3000rpm compared to 28.6bhp at a much higher 3600rpm.
Of course the N4.38 is designed for larger hulls and would suit keelboats to 11m or as twins in cats to 13m.
It would also be a good repower option for displacement cruisers like the 6.4m Roberts 21 or the old Halvorsen 21 with the optional keel cooling and dry exhaust package fitted. Naturally aspirated diesels have lower exhaust gas temperatures than petrol engines, so a repower in a Halvo wouldn't create any exhaust pipe lagging issues.
THE TRADE-A-BOAT VERDICT
I haven't tested an N4.38 in a boat but I have experienced other makes of similar-displacement four-cylinder diesels in yachts, so this engine should provide quiet, low-vibration power with inherent Kubota reliability.
In my opinion it's one of the best models in the naturally aspirated Nanni Diesel range because it has plenty of torque and power for little weight gain over its three-cylinder counterparts.
And like all Nanni Diesel engines, support is by an NZ and Australia-wide dealer network.
For more information, visit nannidiesel.co.nz.
NANNI DIESEL N4.38 PERFORMANCE
Single 37hp Nanni Diesel N4.38 marine engine
| | | | |
| --- | --- | --- | --- |
| RPM | MAX TORQUE (NM) | BHP (ABSORBED BY PROP) | FUEL BURN (LT/H) |
| 1400 | 85 | 2 | 1.5 |
| 1600 | 92 | 3 | 1.9 |
| 1800* | 99 | 5 | 2.1 |
| 2000 | 100 | 8 | 2.7 |
| 2200 | 100 | 12.5 | 3.1 |
| 2400 | 99 | 17 | 3.8 |
| 2600* | 97 | 23 | 5 |
| 2800 | 91 | 30 | 6.3 |
| 3000 | 88 | 37 | 8 |
* Minimum and maximum continuous cruising rpm
NANNI DIESEL N4.38 SPECIFICATIONS
TYPE Four-cylinder naturally aspirated diesel marine engine
RATED BHP 37 at 3000rpm
MAX TORQUE 100Nm at 2200rpm
DISPLACEMENT 1498cc
BORE x STROKE 78 x 78.4mm
WEIGHT 152kg (dry w/ gearbox)
---
---
See the full version of this review in Trade-A-Boat #250, February / March 2015. Why not subscribe today?
Keep up to date with news from Trade-A-boat or like us on Facebook!