Review: Rinker 260 EC
---
The Rinker 260 EC is the latest from this iconic brand of American boats.
I was bobbing around in the water near Toronto, NSW, Australia, to check out the Rinker 260 EC, an Express Cruiser imported from America by Lifestyle Marine.
Lifestyle Marine has been on the same site for the last 68 years and Damien is the third generation of the Hurt family at the helm. Direct importing gives them a price advantage in the local market with the well-established Rinker brand, whose history dates back to the 1930s. Rinker claims to be the oldest in continuous production in America and now exports to 40 countries.
Our review boat makes no pretentions about being anything other than a vehicle for frivolous but ultimately rewarding experiences. It's built for enjoyment of life, having fun and just mucking around, with friends and family.
RINKER EXPRESS CRUISERS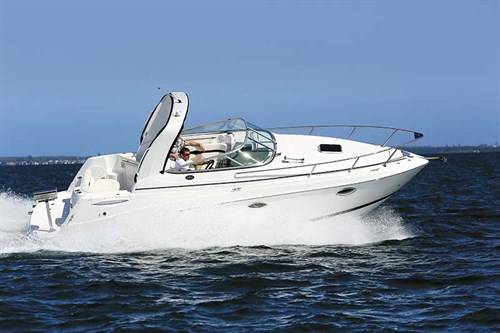 The Rinker Express Cruisers range from the 260 at 27ft (8.2m) through to a 36-footer (11m), made our review boat the smallest in the range. But with a wet weight close to 4t, it's essentially a moored proposition here in Australia rather than trailerable as it is in the USA where towing rules are more relaxed.
Damien told me that Rinker sits in the higher end of the crowded American market and while it may not have the bling of some other brands it surpasses on build quality and its value proposition.
It looks sleek and sporty, and even with a high bridge and targa arch the 27ft boat retains pleasing proportions. And looks are important in a sporty day boat. A boat like this also needs to be just as roomy and accommodating as it is exciting when underway and the Rinker 260 EC is set up so that access to the water is easy and there is loads of room to relax at anchor.
LAYOUT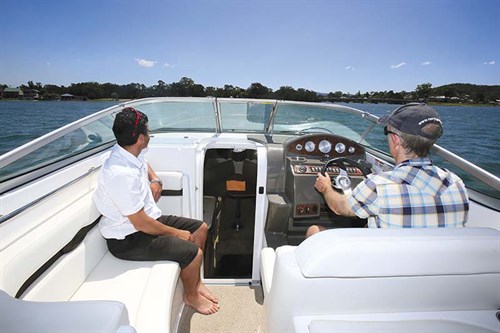 Downstairs there's a cabin that can sleep two couples or a small family, as well as offering shelter from the weather or simply a place to get some privacy and snore the afternoon away.
The wide sternplatform is seamlessly moulded into the hull and sits at a height convenient for boarding or dangling legs in the water. It has an effective non-skid finish, while the swimladder is moulded in and covered by a hatch flush with the platform. It folds deep into the water for easy boarding where swimmers will also find a welcoming hot fresh water shower.
Our review Rinker 260 Express Cruise came with a marine barbecue that slotted into the starboard of the swimplatform. I was impressed with how it stayed in place during the photo shoot, although most owners will store it out of harm's way in its dedicated place under the cockpit lounge.
For those seeking more comfort, versatile seating allows the transom moulding to fold down to form a two-person rumble seat that can also fold flat to a sunpad.
INTERIOR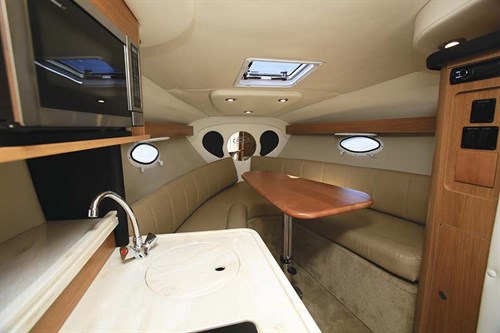 A gate to port leads onto the Rinker 260 EC's single-level cockpit where an entertainment zone has a moulded sink with hot and cold water set into a Corian benchtop. A cooler slides in below. I was impressed by details like rubber seals on the doors, sturdy metal locks, an easily removable garbage bin built into the benchtop and a neat fiddle rail around the edge.
Placing battery switches in a hatch near the door makes a lot of sense for ease of access when boarding. I also liked the grabhandles that are located strategically everywhere around the boat. It might seem obvious that they are an essential safety feature, but manufacturers still neglect them. Also handy was a step moulded into the side and a wide non-skid side deck.
Lounges at the back wrap around the stern and starboard side to face each other for socialising while, to the front, the skipper gets company on a twin helm seat and a side facing lounge opposite. Cupholders seem to be everywhere and the under-seat spaces all open up for storage.
Getting to the engine is simply a matter of pushing a button for the electric ram to lift the rear section of the cockpit. There resides a healthy MerCruiser 350 MAG engine with 350 cubic inches (5.7lt) of fuel-injected V8, punching out 300hp. Our review boat came with the Sea Core option that runs coolant instead of saltwater, allowing Mercury to extend the warranty to three years.
Rather than have the steps to the bow moulded into the cabin door as is often seen on this style of boat, they are set to the right of the door and moulded into the bulkhead as part of the helm moulding. This necessitates them being rather narrow but it makes forward access quicker if the door is open, even if a little more awkward than wider steps. Access is through the split screen to the bow where a low rail offers some security around the Quick electric winch and boarding step.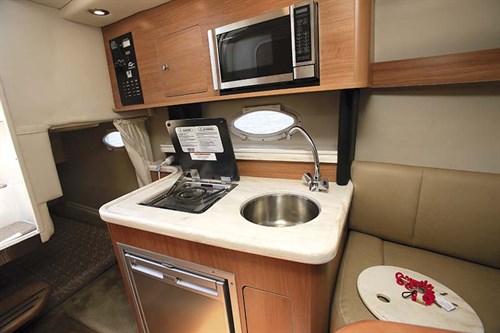 A large roof hatch, as well as ports either side, allows a good flow of light and air into the cabin which is finished in friendly shades of khaki vinyl, creamy Corian and mid-toned Brazilwood. And while this is the only basic option, you can choose nautically themed striped fabric or continue the muted tones with natural fabric for the bedcovers and soft furnishings.
There's a high shelf around the bow section for smaller items and more storage room behind the lounge, under the seat bases and even behind the 22in television but not much by the way of hanging space.
I'd imagine much of the cooking would be done at the barbecue but the small galley is a useful alternative out of the weather. It's tucked in to the port side at the base of the stairs and comes equipped with a single metho or 240V burner, a stainless steel Contour microwave and a 12/240v Dometic 65lt fridge.
Set into a Corian benchtop, the stove and stainless steel sink have covers to augment preparation space and a port over the sink will help eliminate cooking smells. LED downlights set into a vinyl-covered bulkhead add extra bling.
The galley isn't over-suppled with cupboard space with only one overhead and another below the bench. However, they are neatly finished and have sturdy stainless steel piano hinges and sturdy self-closing latches.
Amidships cabins on this style of boat can be a bit awkward to access as they are squeezed in under the cockpit floor and can be a somewhat claustrophobic. Rinker has done a good job of making the head of the full queen bed as open as possible with good sitting room and a port for fresh air.
HANDLING AND RIDE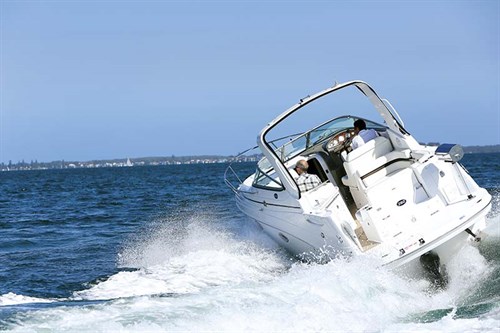 For our review of the Rinker 260 EC the vast expanse of Lake Macquarie proved the perfect venue. Against a backdrop of suburban sprawl on the eastern shore and tree lined peninsulas to the north there is plenty of room to play and put the 300hp MerCruiser through its paces.
Resting high (and even in its normal lower position) on the bolster seat provides all round vision through the screen to the front and over it as it slopes down at the sides. Instruments are clearly visible, despite being white dials on a white background. A central cluster shows engine conditions with a tachometer and speedo on either side, with a digital depth gauge and trim gauge further out. Set into a walnut dash it's sort of 60s retro mixed with a high-tech panel of multiple switches.
Grab the grippy Italian Isotta wheel and you get the feeling it's a going to be fun. The controls are side-mounted with a small arm rest for comfort and a light touch of the throttle. Plant it and the 300hp inboard hooks up quickly to get the nearly 4-tonnes on the plane at a very slippery 12kts.
Once it's moving the hull sits up high on the water in a smooth bow-up stance and we soon saw 36kts on my GPS. Cruising can be whatever you like but it feels happiest at around 26kts and 4000rpm where things are quiet and relaxed.
Wide corners can be executed  in smooth arcs without much lean but treat it like a small sportsboat and it will lean as far as you like in sharp corners, always predictable and without pitching or banging, and moving smoothly through any change of direction. The Bravo 3 leg runs 20in Duoprops that hang on in turns so much that it's rare to see any cavitation, while the auto trim tabs keep things steady on the run.
It's a fun boat to drive and there's plenty of power to cover ground quickly if you need to get to that favourite anchorage before the crowd.
THE VERDICT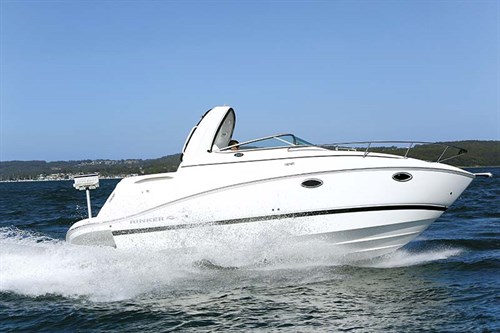 The Rinker 260 Express Cruiser will appeal to those looking to get on the water in a boat that is simple and easy to handle, that can entertain a group of friends, or take the family away for a few nights.
Included in the price as tested are features including automatic trim tabs, Sony sound system and the electric anchor winch, as well as bimini and camping covers, which make the Rinker 260 EC price of $A152,000 seem very reasonable.  
RINKER 260 EC SEA TRIALS
350hp V8 MerCruiser 350 MAG engine with 20in Duoprop
| | |
| --- | --- |
| RPM | SPEED (kts) |
| 1000 | 2 |
| 1500 | 5 |
| 2000 | 6 |
| 2500 | 9 |
| 2900(ontheplane) | 12 |
| 3000 | 13 |
| 3500 | 20 |
| 4000 | 26 |
| 4500 | 29 |
| 5000 | 34 |
| 5400 (WOT) | 36 |
* Sea-trial data supplied by the author.
HIGHS
• Soft ride and spritely handling
• Good list of standard features and well optioned for family cruising
• Solid build and quality finish
LOWS
• Narrow bow steps
RINKER 260 EC SPECIFICATIONS
PRICED FROM
Rinker 260 EC price: $A152,990
OPTIONS FITTED
Automatic trim tabs, Sony sound system, electric anchor winch, bimini and camping covers
GENERAL
MATERIAL GRP                
TYPE Monohull
LENGTH 8.79m
BEAM 2.59m
WEIGHT 3217kg
DEADRISE 18°
CAPACITIES
PEOPLE 9
REC. HP 260 to 300
FUEL 277lt
WATER 125lt
ENGINE
MAKE/MODEL MerCruiser 350 MAG engine
TYPE V8 fuel-injected petrol inboard
WEIGHT 460kg with Bravo 3 leg
RATED HP 350
DISPLACEMENT 5.7lt
PROPELLER 20in Duoprop
SUPPLIED BY
Lifestyle Marine
1 Wharf Road, Toronto, NSW, 2283, Australia
Phone +61 2 4959 1444
Email info@lifestylemarine.com.au
See the full version of this review in Trade-A-Boat #248, December 2014 / January 2015. Why not subscribe today?
Keep up to date with news from Trade-A-boat or like us on Facebook!