Review: Scarab 215 HO Impulse
---
Exactly how fast would a Scarab 215 HO Impulse with twin engines and 500hp be? Particularly after we'd so recently tested a Scarab 165 with a 250hp engine?
For those that weren't paying attention, Scarab Boats has taken over the mantle of mega-cool jetboat builder from Sea-Doo which decided the boats did not suit its business model and quit production in 2012 to concentrate on its jetski division.
SCARAB JET BOATS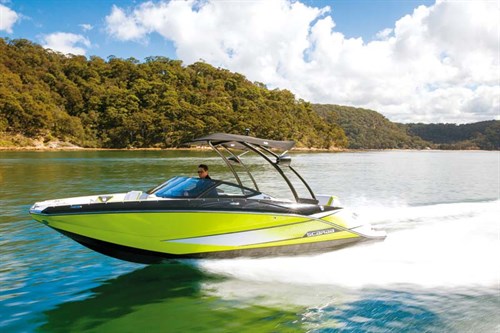 The Scarab name had itself gone into hibernation when the '80s fascination with over-the-top, fuel guzzling cigarette-style speedsters went the way of the Discman and shoulder pads. Scarabs had been the stars of the Miami Vice television series and the movie Face Off which has one of the best boat chases ever portrayed on screen.
For this Scarab jetboat the manufacturer went back to the drawing board to completely redesign the hulls, although there are similarities between the new boats and comparably-sized Sea-Doo models.
ROTAX ENGINES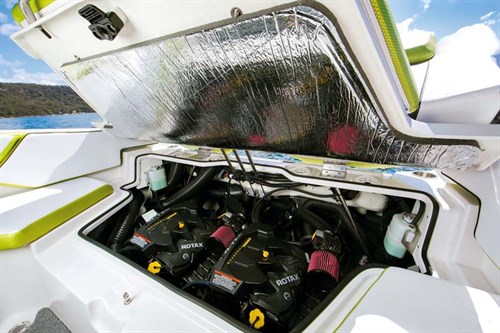 These Rotax 4-TEC 1503 motors are a sophisticated three-cylinder design and the BRP technology includes the fuel and waterjet pumps, exhaust and closed-circuit cooling system. In standard form they produce 150hp but that is boosted with the addition of a supercharger to 200 or 250hp in the premium models, depending on computer mapping, boost and different cooling systems.
Reliability should be a given, BRP claiming to have produced in excess of 450,000 Rotax units over a number of different platforms since its introduction in 2001.
Three different Scarab 215 models have a variety of trim and power options. The basic Scarab 215 has a pair of 150hp engines, the Scarab 215 HO sports twin 200hp engines and the top-of-the-line Scarab 215 HO Impulse (our review boat) slots two of the 250hp donks into the engine bay. That's impressive power for a 6m boat.
DESIGN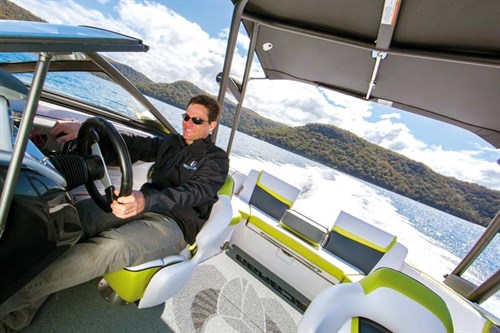 Scarab's bad boy image has been reinvented in the jetboat's style – all edges, extreme colour and youthful graphics. Side-on they look as fast and sporty as any of the current crop of high-end watersports boats. The windscreen line follows through to the receding transom, while the forward-raked black tower exudes attitude.
Beefy chines stand out in black gelcoat against the Vivid Green, with Laser Red and Sunburst Orange also available. Pronounced tunnels either side of the keel run back to a flatter midsection that kicked down at the stern. With black also defining the gunwales the hull colour takes on a flying wedge appearance when underway.
Seats are covered in a rich weave patterned vinyl material, stitched perfectly and shaped in body hugging contours. Just as well – this boat can turn with passenger-ejecting speed when pushed hard.
LAYOUT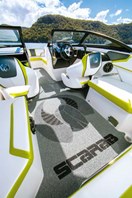 Rather than coming to a narrow angle, the bowrider forepeak is broadened over the bow to create more room up front. You could fit three adults up here and like the rear lounge, the corners of the bow seats are recessed to allow more legroom and better grip into radical turns.
The extra width also allows an anchor locker – unusual for American sportsboats – and a snazzy hidden ladder for boarding over the bow from the beach or water.
Wherever an opportunity exists there is some sort of storage or a place for a cupholder or grabrail.
It's neatly accomplished and unobtrusive, showing smart design and recognising the needs of a big crew on the water. Spaces under seats are neatly lined and hatches in the walkthrough bulkhead house an icebox and lots of dry places for clothes and towels, while two below-floor lockers at either end of the boat will fit the biggest of wake board and skis.
A 2cm-thick Smart Mat covering the cockpit sole is comfortable to stand on (and as a $1648 option it would want to be) and lets any water through so it stays dry underfoot. Overhead, the tower has an integrated bimini which shaded much of the cockpit and was almost unnoticeable underway, even at speed.
The Scarab's three-way transom Versa Lounge is a real feature providing forward and rear-facing seats for up to five and converts into a roomy sunbed adjacent to the large swimplatform.
HANDLING AND RIDE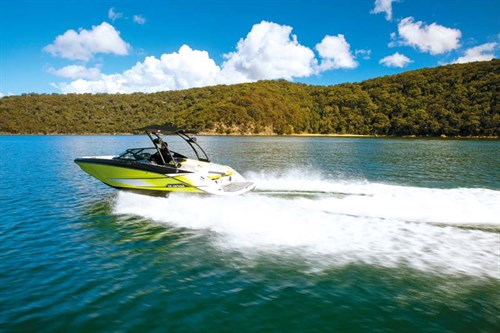 Okay, let's light this thing up and see what it can do. Downer alert! The boat was fresh out of the container and it was limited to 80 per cent power for its first ten hours. This allows both the jet engines to bed in and the new owner to get a handle on the performance before being let loose with the full 500hp snarling neddies.
The skipper's seat is a wraparound sporty item with bolster and 180-degree swivel and as I settled in, it felt suitably secure and sporty behind the sharply raked screen. The wheel is a grippy, small-diameter, three-spoked alloy number that has ample adjustment to let most people feel at home.
Twin ignition keys lit the starter and the twin engines rumbled happily behind, with the boat starting to move forward before I got it into gear. Strewth it's keen and I'm heading for the dock. Back into reverse and now it's going the wrong way. Oh yeah, the jet wants to be told to go right in reverse when you want to go left. So back into neutral, except it's not stopping! I better find a quiet place to practice this before I wreck something.
After five minutes I had things sorted enough to be able to proceed without mishap and head out into Pittwater for a run. Down the long, slow lane to the open water was all it took to feel confident about slow manoeuvring and when I found the computer control for docking that reduces power it was even easier.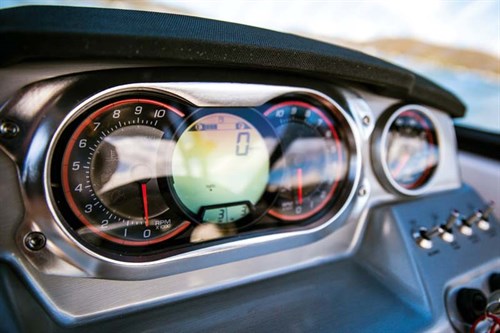 Out of the speed limit I had a play for a while at sane speeds until I got the hang of things before giving it the berries and charging up the bay. From rest to plane is almost immediate with no sensation of transition and no bow rise that might create a blind spot ahead.
As speed increased the Rotax twins started to make a fair bit of noise, which was unexpected given the amount of insulation I had seen around the engine bay. It's certainly not an objectionable sound, some may even say it's pleasing, as its wails away at up to 8000 turns per second. It certainly lets you know it's there. Our power-restricted top speed was a still thrilling 45kts, probably about 5kts short of its potential with the bimini fitted and enough for a very enjoyable ride.
THE VERDICT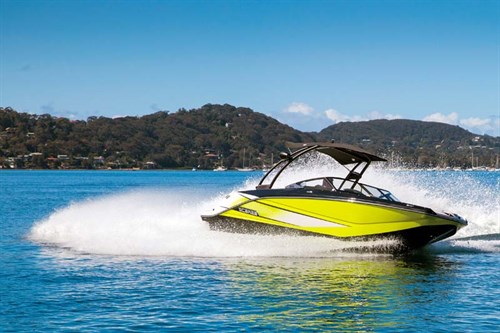 Handling is sensational. In wide or sharp cornering it goes exactly where the steering wheel is set and will turn in its own length at surprisingly quick speeds because the jet stream is what gives it its directional input. No cavitation from a prop and heaps of power.
In calm water behind the headlands the ride was as soft as silk, but what surprised me was how smooth the hull was back up the bay into the half-metre, wind-driven chop at speeds up to 40kts.
The Scarab 215 is a hell of a fun boat. It's a poser, a box ticker and an arse kicker and even with the power muzzled it goes like stink. At around $110,000 as tested it flies with the upper echelon of well-appointed and fast craft. But that's what it is, so expect a premium. If you can do without the Full Monty you can get into a base Scarab 215SC with twin 150hp power for around $85,000. Now that's still a lot of fun for you dollar.
HIGHS
•             Fast and furious with matching handling
•             High level of finish
•             Striking colour scheme and style
LOWS
•             Engines are noisy at revs (but you can turn the sound system up to 11)
SCARAB 215 HO IMPULSE SEA TRIALS
Twin 250hp Rotax 4-TEC engines
| | |
| --- | --- |
| RPM | SPEED (KTS) |
| 2000 | 4.5 |
| 2500 | 5 |
| 3000 | 6 |
| 3500 | 7 |
| 4000 | 10 |
| 4500 (on the plane) | 14 |
| 5000 | 25 |
| 5500 | 27 |
| 6000 | 33 |
| 6500 | 36 |
| 7000 | 41 |
| 7500 | 43 |
| 7800 | 45 |
* Sea-trial data supplied by the author.
SCARAB 215 HO IMPULSE SPECIFICATIONS
PRICE AS TESTED
Scarab 215 HO Impulse price: $110,000 approx.
OPTIONS FITTED
Speed control, sound system, carpet, bow cushions, table, Smart Mat, board rack, trailer cover and more
PRICED FROM
$85,000 approx. w/ 2 x 150hp engines
GENERAL
MATERIAL GRP
TYPE Monohull jetboat 
LENGTH 6.4m    
BEAM 2.56m
WEIGHT 1406kg               
DEADRISE 21°
CAPACITIES
PEOPLE 10
REC. HP RANGE 300 to 500
REC. MAX HP 2 x 250
FUEL 155lt
ENGINE
MAKE/MODEL 2 x Rotax 4-TEC motor
TYPE Supercharged three-cylinder four-stroke motor
RATED HP 250 (each)
ENGINE DISPLACEMENT 1494cc (each)
SUPPLIED BY
Sydney Powerboat Centre
d'Albora Marinas, The Spit,
Mosman, 2088, NSW
Phone +61 2 9997 7797
Fax +61 2 9999 1368
Email steven@sydneypowerboat.com.au
See the full version of this review in Trade-A-Boat #247, November / December 2014. Why not subscribe today?
Keep up to date with news from Trade-A-boat or like us on Facebook!