Review: Suzuki DF200 outboard motor
---
The Suzuki DF200 was one of Suzuki's first V6 outboards. Thanks to its relative simplicity, it's been around for some time now, reports Andrew Norton.
I'm a big believer in chain-driven camshafts. My two cars have them and providing the engine oil is kept fresh drive chains should last the lifetime of an engine, unlike belts that occasionally need replacing or can break when not replaced.
Suzuki has long favoured chains for all its four-stroke outboard motors of 40hp and above. Operating in oil at the bottom of the powerhead, they are generally trouble free, although checking valve clearance can be a pain. Pity Suzuki hasn't opted for roller cam followers, but at least using chains to drive camshafts is a step in the right direction.
The DF200 was one of the first Suzuki V6 outboard motors and has been around a long time now. It's relatively simple and misses out on variable intake valve timing found in the Suzuki DF250, but for hefty offshore trailerboats where top-end performance is less important, this isn't a drawback.
SUZUKI DF200
Unusually the Suzuki DF200 has a 55-degree V6 DOHC powerhead compared to the 60 degrees favoured by other outboard motor manufacturers. The engine is oversquare with a cylinder bore way larger than the piston stroke to reduce piston speeds at higher rpm and the 54amp voltage regulated alternator is under the flywheel eliminating the need for any belts.
To reduce gearcase torpedo diameter but still retain a reasonably deep reduction ratio, Suzuki opted for reduction gearing at the crankshaft in addition to the gearcase, pushing the powerhead weight farther forward and raising the combined ratio to a deep 2.29:1. This effectively converts engine torque to thrust at the prop and enables efficient coarse-pitch props to be swung without creating unnecessary hydrodynamic drag.
Powerhead access is good, with the fuel and engine oil filters easily reached and all wiring is neatly laid out as expected of a Japanese outboard. Valve clearance adjustment is needed only every 400 hours but requires removing the camshafts to set the shims, not an easy task. Surely the feeler gauge and spanner system adjustment of valve clearances would have been the better route, but all engine manufacturers have their own ideas of what works.
To reduce sump oil dilution that occurs with all four-stroke outboards during extended trolling periods, the sump capacity is a massive 8lt, 30 to 40 per cent larger than some of the competition. The Suzuki DF200 may have an SUV engine but it has been marinised well. Suzuki recommends its own Motul-made FCW (Four Cycle Watercooled) SAE 10W40 oil intended for all ambient temperatures.
Engine oil and filter changes are recommended every 100 hours or annually after the first 20 hours and providing this is done by an authorised Suzuki Outboards dealer, the recreational warranty is five years.
PERFORMANCE ON THE WATER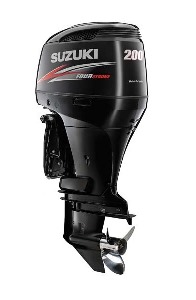 Mounted on a Cruise Craft Outsider 625 and pushing a total of 1800kg, including three adults, the demo Suzuki DF200 outboard provided plenty of top-end speed with relaxed and frugal midrange cruising. It started instantly hot or cold with no oil smoke appearing and providing the antiventilation plate was kept at least three-quarters immersed, power astern with the massive 16 x 20in Suzuki stainless steel prop was very good. The remote-control box had a positive yet smooth shifting operation.
Idling along, only a slight tremor ran through the Cruise Craft Outsider 625 and above 1000rpm there was absolutely no vibration, so if you want flab reduction the Suzuki DF200 definitely isn't the way to go. Holeshot was good but the engine really came alive over 3000rpm. When I floored the throttle lever from these revs my unsuspecting co-tester Richard Ardizzone was thrown clear across the cockpit to the stern lounge. Thank God there was one!
Running at 3000rpm the hull was fully planing and this rpm would be ideal for long offshore runs returning excellent midrange fuel efficiency. The forte of any four-stroke engine is midrange rpm efficiency and the Suzy didn't disappoint.
Through tight turns at 4000rpm with the leg trimmed in there was no prop ventilation, just steep hull banking common to all deep-vee hulls. At or near wide open throttle the Suzy was so quiet we could all talk normally at the helm.
THE VERDICT
Valve clearance complications aside, the V6 Suzuki DF200 outboard motor is well designed and engineered and with scheduled maintenance and regular freshwater flushing should provide years of trouble-free enjoyment. Its massive piston displacement is the largest of all the 200hp outboards, so the engine is completely under-stressed. It won't reduce flab but neither will it encourage tinnitus!
As of November 2014 the extra-long-shaft Suzuki DF200 had a price of $A24,475 including prop (RRP in Australia), with a spare prop costing around $A1500. The V6 engine is scheduled to be replaced with a new inline four-cylinder 200 in early 2015, but this won't have as much grunt and there should be some good run-out deals of the existing model.
For more on the Suzuki DF200 outboard talk to your nearest dealer or contact SuzukiMarine.
COMPETING OUTBOARDS
| | | | |
| --- | --- | --- | --- |
|   | Honda BF200 | Tohatsu BFT200A | Yamaha F200 |
| WEIGHT (XL) | 270kg | 270kg | 219kg |
| CYL/BHP/RPM | V6/197.2/5500 | V6/197.3/5500 | 4/197/5500 |
| DISPLACEMENT | 3471cc | 3471cc | 2785cc |
| Price | A$23,354*A | $24650* | A$24,000* |
| Warranty | 5 years | 3 years | 4 years |
| OEDA stars | 3 | 3 | 3 |
* Includes stainless steel prop
SUZUKI DF200 OUTBOARD SEA TRIALS
Cruise Craft Outsider 625 with single 197.1bhp Suzuki V6 DF200 outboard motor. Average of two-way runs using GPS and fuel-flow gear.
| | | | |
| --- | --- | --- | --- |
| RPM | SPEED (KTS) | FUEL BURN (LT/H) | RANGE (NM/L) |
| 600 (trolling) | 2.8 | 2.4 | 1.2 |
| 2000 (offshore troll) | 6.8 | 9 | 0.8 |
| 2900 (planing) | 15.1 | 17 | 0.9 |
| 3000 (offshore cruise) | 16.9 | 17.5 | 1 |
| 4000 (cruise) | 26.4 | 28.5 | 0.9 |
| 5000 (max cruise) | 33.6 | 42 | 0.8 |
| 6100 (WOT) | 42.5 | 72 | 0.6 |
SUZUKI DF200 SPECIFICATIONS
SUZUKI DF200 PRICE $A24,475 RRP
TYPE V6 four-stroke petrol outboard motor
RATED BHP 197.1
REC. RPM RANGE 5000 to 6000
DISPLACEMENT 3614cc
BORE x STROKE 95 x 85mm
WEIGHT 263kg (XL)
GEAR RATIO 2.29:1 total reduction
WARRANTY 5 years
OEDA STARS 3
See the full version of this review in Trade-A-Boat #249, January / February 2015. Why not subscribe today?
Keep up to date with news from Trade-A-boat or like us on Facebook!