Review: Yamaha F25D outboard motor
---
The Yamaha F25D outboard motor is a throwback to older technology.
I love the simplicity of carbie outboard engines. Stripping a carbie to clean jets of dirt and grit is way easier than disassembling electronic fuel injection and for this reason I've never owned an EFI outboard motor.
The Yamaha F25D is one such outboard engine. Released on the Aussie market way back in 1998 in its original Yamaha F25A form, at a time when Yamaha didn't make an EFI four-stroke outboard, the F25D has a single carbie with accelerator pump feeding its two big cylinders. But unlike its less powerful counterparts this engine has an unusual third balancing piston that virtually eliminates the out-of-balance characteristics of a big twin. It's like having a counter-rotating harmonic balancing weight.
This piston reduces vibration to little higher than comparable-output three-cylinder engines, all of which need either three carbies (complex to balance) or EFI to perform well.
---
---
YAMAHA F25D
When released the Yamaha F25A was pretty sophisticated for a four-stroke 25. The CD ignition had electronic timing advance that also slightly advanced the timing for easier cold starting. Combined with a fuel primer system instead of a manual or electric choke, the engine started instantly hot or cold.
Manual-start models also had decompression starting, where the exhaust valves are kept open until minimum cranking speed had been reached. Unfortunately the manual overhead recoil starter was omitted in electric-start models, but at least these had a 15 amp voltage regulated alternator instead of the piddling 6 amp unregulated unit of manual models.
The Yamaha F25A was available in two models, one having a 2.08:1 gear ratio strictly for planing hulls and the FT25B with 2.42:1 ratio for displacement and semi-planing hulls. These are now known as the Yamaha F25D and FT25F, both OEDA 3 Star engines with only minor changes since the original release. They're now the only twin-cylinder four-stroke 25s on the Aussie market.
Both outboard motors have a crossflow 498cc powerhead with a belt driven SOHC design and four valves. Both develop 24.8 brake horsepower (1bhp equalling 746 Watts) at 5500rpm, with a Wide Open Throttle range of 5000 to 6000rpm and a rev limiter set at 6500. The Yamaha F25D has a 90-degree steering angle for better manoeuvrability, with power trim and tilt optional. All tiller-steer models have an upfront gearshift.
Powerhead access is good with the sump oil dipstick, oil filler cap and canister oil filter easily reached. The 1.7lt sump has adequate capacity to absorb oil sludging during extended trolling periods, always a problem with four-stroke outboards. I recommend using Yamaha's own FCW (Four Cycle Watercooled) SAE10W30 oil for temperate climates.
The carbie is easily serviced but providing it's always fed with clean fuel it should rarely need adjusting. Yamaha recommends servicing the engines every 100 hours or annually after the first 20 hours, with timing belt replacement at 1000 hours.
The manual short-shaft F25D weighs 62kg, the electric long-shaft with PT&T 71kg and the FT25F 82.5kg. All have a four-year recreational usage warranty.
PERFORMANCE
Both demo outboards had electric start, so I didn't have to get physical and embarrass myself in front of the Yamaha dealer. The engines started instantly hot or cold with no oil smoke appearing at any time and warmed quickly from cold. Providing the antiventilation plates were kept immersed power astern was good and the remote-control model had a smooth but positive shifting action. The tiller steer engine had sufficient vibration to gently massage away arm flab.
One engine was correctly propped on a Quintrex 420 Hornet Trophy, while the other on a Quintrex 420 Getaway runabout had a prop intended for an extended family of aunts and uncles.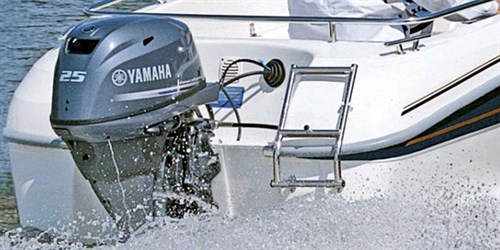 Swinging a 10.5in pitch alloy prop and pushing a total of 500kg, including two adults and fishing tackle, the Hornet-mounted engine needed a burst of WOT to get out of the hole but once up averaged some pretty good speeds for a four-stroke 25.
Not so the Getaway-mounted engine that swinging a 9in alloy prop and pushing a total of 560kg almost reached the rev limiter. Through tight turns at 5000rpm some prop ventilation occurred with the Getaway but on the Hornet the Yammie just kept biting. Way more fun.
THE VERDICT
It's very considerate of Yamaha to keep making this engine for old farts like me. As it has the same pistons and valve train gear as the three-cylinder F40F and four-cylinder F60C, spare parts are easily available across Aus. The Yamaha F25D outboard motor through to F25D have been very reliable and both gear case versions of this engine have excellent saltwater corrosion resistance.
Both the long shaft PT&T tiller and remote-control Yamaha F25D retailed for around $9000 in May 2014, with spare alloy props for around $300. Visit yamaha-motor.co.nz for more information..  
YAMAHA F25D OUTBOARD MOTOR SEA TRIALS
Average of two-way runs on Williams River, NSW, using fuel-flow gear and handheld GPS
BOAT

Quintrex 420 Hornet Trophy

Quintrex 420 Getaway

TROLLING (KTS)

2

1.7

RPM

830

830

FUEL BURN (LT/H)

0.5

0.5

 

MIN. PLANE AND CRUISE (KTS)

15.7

16.6

RPM

4210

5180

FUEL BURN (LT/H)

5

5.9

 

MAX CRUISE (KTS)

18.9

-

RPM

5000

-

FUEL BURN (LT/H)

6.9

-

 

WOT (KTS)

23.7

21.2

RPM

6010

6280

FUEL BURN (LT/H)

9.6

9.8
YAMAHA F25D OUTBOARD MOTOR SPECIFICATIONS
TYPE Two-cylinder petrol four-stroke outboard motor
RATED HP 24.8
REC. RPM RANGE 5000 to 6000
DISPLACEMENT 498cc
WEIGHT 71kg
GEAR RATIO 2.08:1
PRICE $9300 approx.
WARRANTY 4 years
OEDA STARS 3 
Originally published in Trade-A-Boat #248, December 2014 / January 2015. Why not subscribe today?
Keep up to date with news from Trade-A-boat or like us on Facebook!