Review: Yamaha WaveRunner FX SVHO
---
The 2015 Yamaha WaveRunner FX SVHO PWC (ok, jetski) is the one you've been waiting for.
In the personal water craft (PWC) department — jetskis to many people — Yamaha has always produced the high-end, reliable, top-quality and top-performing WaveRunner from day one. Every year Yamaha comes out with a new WaveRunner model, with improvements in design and features to keep up with ever-demanding consumers who want more in performance, design and features on their PWCs.
Over all the years I've thrashed the new-model WaveRunners around, the recent release of the 2015 WaveRunners has been by far the most impressive and exciting when it comes to the Yamaha brand.
2015 YAMAHA WAVERUNNER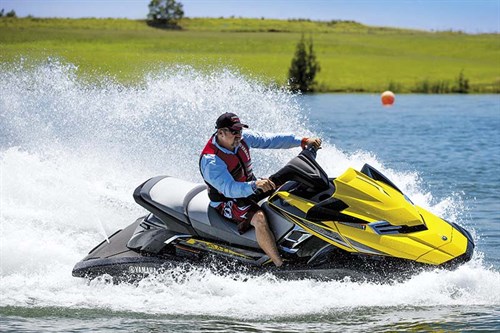 We cracked an invitation to the recent unveiling of the new 2015 WaveRunner line-up and man, if you are into or want to get into PWCs, jetskis, skis – whatever you want to call them – you had better take a look at these.
They are super-hot and loaded with some really exciting new features, including higher performance and handling hulls from the Yamaha NanoXcel 2 hull design, the new RiDE de-acceleration system, electronic trim system and new Command Link information centre to mention a few – as if that's not enough as it is.
NEW FEATURES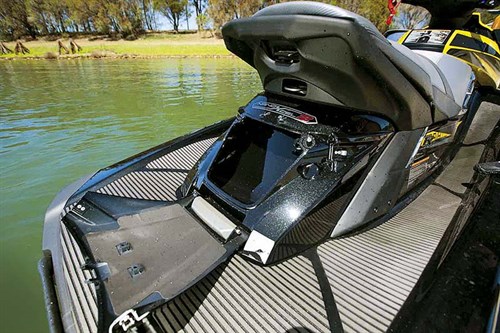 Always chasing a bit of wow factor, the top-of-the-range WaveRunners are again first pick for me, the new Yamaha WaveRunner FX SVHO being one of the standouts. As per the norm, the FX SVHO is a hot looker, especially in the new black and Laser Yellow – a bit different to the normal colours but it makes a change and I think it looks awesome.
Looks aside, the new high-tech features are the 'big bang' for Yamaha this year, the FX SVHO sporting the new RiDE system (Reverse with Intuitive Deceleration Electronics) which alone is a welcome addition to the PWC.
So what is RiDE? Gone are the days of operating the bulky standard Yamaha gearshift system below the handle bar – it's gone and only found on a few other WaveRunner models. The RiDE system is a throttle on the left bar controlling forward, neutral and reverse functions. Start-up and the PWC sits in neutral, accelerate and it automatically kicks into forward; jam the left throttle in while in forward gear and the PWC will decelerate up to 40 per cent faster than before, in my opinion, while maintaining a level attitude.
RiDE is a throttle system controlled by an electronic Boat Control Unit, or BCU, that is specifically tuned at the factory to account for the power and weight of each specific model. This is to ensure optimum performance across the range, delivering a completely smooth experience when docking or slowing down. The BCU is also programmed to understand driver input and intention when both levers are pulled simultaneously, applying the appropriate level of acceleration or deceleration to maximize control
RiDE is absolutely remarkable – it works and well at that too, and is one of the best features added to the WaveRunner in years.
The next top feature for me is no doubt the electronic trim assist function – something long overdue as the original cable trim function was quite tricky to adjust. Now it's simply a matter of a few flicks on the switch at any speed to adjust the trim.
PERFORMANCE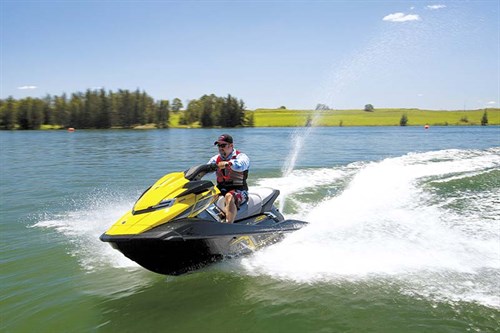 But that's not all, as there are still a number of other new features added to make the PWCs far better than before, including a redesigned NanoXcel 2 hull that reduces the overall weight by 20.8kg on the FX SVHO models, a new SVHO motor that produces 20 per cent more power than before, forged pistons, open-loop cooling system, a new top loader intake grate and a larger 160mm eight-vane pump for greater thrust and instantaneous water displacement.
Other nifty features on the PWC include the Multifunction Information Centre, remote transmitter, larger swimplatform with fast-access stern storage, double grabhandles, a redesigned reboarding step that sits at more of an angle in the water for easier reboarding, hydro-turf mats, tow-hook, docking cleats on cruiser models and adjustable steering –basically everything you need to make your PWC riding a most pleasurable experience.
Performance wise? It's exhilarating, including free facial expression adjustment, instant free hair blow-wave, mind-blowing, adrenalin overload and more pretty much sums it up. Being the supercharged model the FX SVHO provides high-end performance from G-force holeshot acceleration to a seriously quick top end. That, combined with the new RiDE, takes the standard high-performance to a new level, providing better ride stability and safety on the water.
Coupled with the new hull design the FX SVHO can carry three persons with ease – I really do like their cruiser-styled seats for added comfort and back support. I also noted a substantial difference in the turning capabilities at speed, thanks to the new hull design. Rather than being direct in the turns the new hulls pull more of a 'slalom carve' at an angle, which is not only smoother but also feels really good, being at more of an angle.
THE VERDICT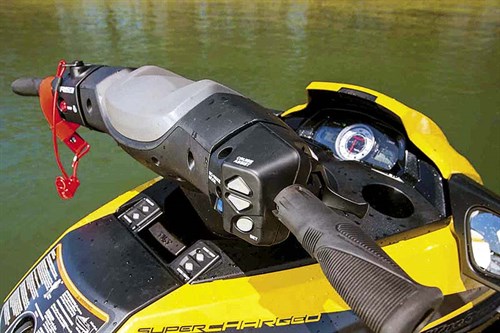 The WaveRunners just get better and better each year and in my opinion Yamaha has now gone over the edge with higher performance PWCs, while maintaining better safety in the ride. Heaps of new features, outstanding ride capabilities and of course, a quality build with refined finishes is what you get from the new range.
If the big boys are not on your bucket list and you prefer something a bit tamer and economical, don't worry – Yamaha has a number of other models in the range to suit in performance, style and budget.
HIGHS
• New RiDE system
• New electronic trim system
• New NanoXcel 2 hull
• Unrivalled power
• Performance and handling
• Top speed in excess of 115kmh
LOWS
• Didn't get to keep it for a few months!
• Personally, I would prefer the start/stop buttons next to each other
YAMAHA WAVERUNNER FX SVHO SPECIFICATIONS
PRICE AS TESTED
2015 Yamaha WaveRunner FX SVHO price: $25,999
GENERAL
MATERIAL NanoXcel 2 composite
TYPE PWC (jetski)
LENGTH 3.56m 
BEAM 1.23m
HEIGHT 1.23m
WEIGHT 378kg
CAPACITIES
PEOPLE 3
FUEL 70lt
ENGINE
MAKE/MODEL Yamaha SVHO engine
TYPE Superchaged four-cylinder petrol four-stroke motor
RATED HP Approx 250hp
DISPLACEMENT 1812cc
MORE INFORMATION
Yamaha New Zealand
See the full version of this review in Trade-A-Boat #248, December 2014 / January 2015. Why not subscribe today?
Keep up to date with news from Trade-A-boat or like us on Facebook!