The liveaboard life on an Integrity 350 Flybridge
---
This Integrity 350 Flybridge cruiser is the perfect liveaboard for this owner, who just happens to already own an 11.5m motorhome.
More than five decades on the water will teach you a thing or two about boats. You learn what works at sea and what does not and more importantly, why things function well.
Eventually, you'll also discover exactly what it is you need in a vessel.
For Trevor Godfredson, the path was clear. Trev had grown up on boats, from a little bondwood rowboat at 18 years of age, through a range of skiboats and alloy fishing boats, right up to the fancy end of the scale –  part-owner of 50ft gamefisher Kanahoee and even a 60ft Conquest.
So when it came time to choose a boat to see him through retirement and one which would facilitate extended coastal cruising, Trev knew just what he wanted – something around 45ft and with the security of twin engines.
He began stalking marinas and brokerages up and down the coast, driving from port to port in his motorhome and examining the options.
LIVEABOARD INTEGRITY 350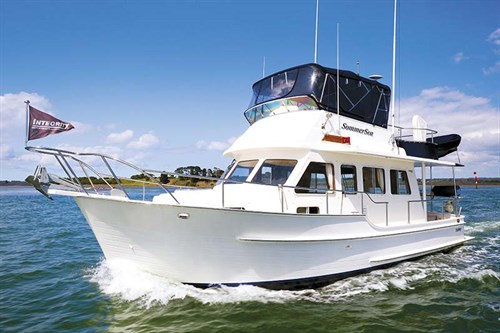 One of the boats Trev inspected along the way was an Integrity 350 flybridge but after 12 months of searching, he was still set on something larger and preferably with two diesels.
But sitting in his 11.5m Denning motorhome one day, surrounded by brochures and options lists for large pricey cruisers, he was struck by inspiration.
"I live full-time in a 38ft motorhome, but a 35ft boat with two decks isn't big enough?" he wondered. Time to consider something smaller.
Of course, operating costs of his new on-water home were another concern.
"With twin engines, all your costs are doubled, along with all the charges that relate to boats when you pull it out of the water," he said. "Everything is charged on a per-foot basis – anti-fouling, painting, polishing, even the lifting fees and the berthing fees."
He headed back to the Integrity office to speak to managing director Brett Flanagan and national sales manager Peter Hill again. Before long, the keys to a used 2009 model 350 flybridge were jangling in Trev's pocket.
This was no stock boat, however. SommerSea had been heavily modified by her first owner, but for the new skipper whose sights were set on cruising the east coast of Aus and beyond, this suited Trev just fine.
"There were a number of things which attracted me to this particular boat in the first place," he told us when we visited him at Hastings marina in Victoria.
"For one thing, the standard Integrity 350 comes with a 4kVa genset, but this one is a 7kVa Onan.
"This boat also has full reverse-cycle air-conditioning, but the upgraded generator allows you to run everything at once and the genset can handle it. You don't want to be switching the air-con off if you want to make some toast. Now, you just don't have to worry about it," he said.
The previous owner also paid to have the hardtop over the aft deck extended and strengthened to support a dinghy. This permits a rugged Polycraft tender and Mariner outboard to be stored safely out of the way on the flybridge deck. And this hardtop is more than strong enough to support a person's weight while the tie-downs are secured.
ECONOMY AND PERFORMANCE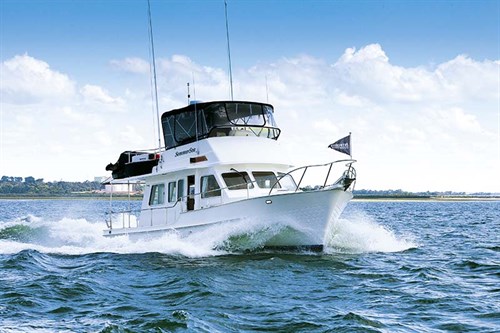 When we jumped onboard at Hastings, Trev and a friend had just completed the motoryacht's first significant blue-water test, a 600nm run from Broken Bay, NSW, to Melbourne. Just less than 90 hours of steaming south produced impressive fuel figures from the thrifty Cummins, sipping a mere 9lt/h at 7kts – economical cruising indeed. Given the displacement hull, attempting to push these stately trawlers too fast only sees the fuel rate rise quickly.
"I tend to stick around 1450rpm," Trev explained. "I can certainly rev it harder but it tends not to go that much faster!"
This leisurely journey allowed Trev to test old and new systems at sea, while also taking the skipper and his motoryacht toward their next destination, Hobart, where he's stopping in at the Australian Wooden Boat Festival.
Not as an exhibitor, though. Nope, this Integrity 350 is solid handlaid fibreglass, despite the carvel-look hull. And while that full-displacement trawler design might hark back to the good ol' days of wooden shipbuilding, it's only the predictable handling that could be called traditional.
Below the waterline, every Integrity motoryacht features a conventional shaft and propeller, but with the added protection of a full keel and a shoe running under the prop to support a large rudder.
It's this sort of thoughtful and reliable engineering that convinced Trev his Integrity would see him safely around Australia's coastline. Having now run all the way down from Sydney to Tassie, he's well chuffed with the choice.
FISHING BOAT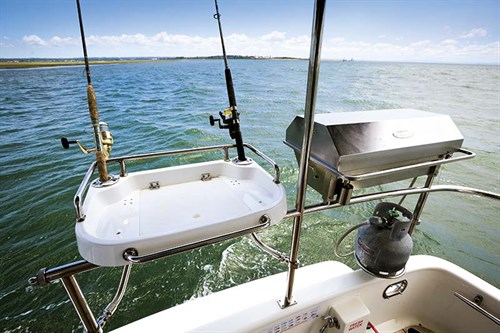 Since purchasing SommerSea one year ago, Trev's been busy further customising his Integrity to meet his personal requirements for extended cruising.
First in was a Sea Recovery watermaker – essential on any blue-water boat and also handy for reducing unnecessary marina visits just for the purpose of topping up tanks.
Out came the microwave from its overhead locker too, replaced with additional bulkhead storage in the saloon, and a touch-lamp was added over the electric stove to reduce fumbling around in the dark.
An infrared camera was installed in the engineroom for no-fuss monitoring while underway and this links to a Garmin GPSMAP 4010 unit at the helm. A second camera is also setup to cover the aft deck so the skipper can see what's going on while his shipmates are gamefishing.
Which bring us to the fishing. One of the first things that stands out about SommerSea is the pair of Reelax outriggers rising proudly from this jaunty little vessel.
The next is when you step inside to find the deckhead simply bristling with rod racks, holding everything from a light spinning outfits to no-nonsense Penn game reels.
This is a bloke who likes his fishing, so why not covert your dream cruiser into a part-time gameboat as well? While there's no gamechair, rest assured anglers are well-catered for with a bait station hanging over the stern and rod racks all-round.
Trev even installed a saltwater washdown, so cleaning up is no problem once you've hauled a few fish onboard.
And of course you need to cook those fish somehow, so there's a Cookout stainless steel barbecue hanging over the rail, which can also be used for roasting.
INSIDE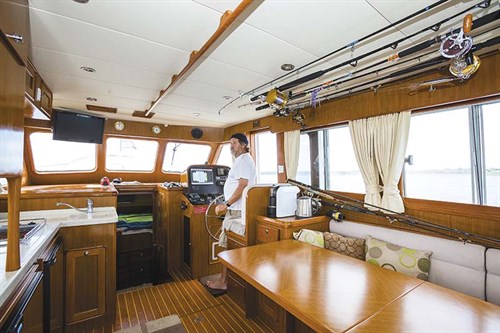 Inside, the layout remains the same as most Integrity motoryachts under 40ft, with a master cabin in the bow, twin bunks on port and a shared bathroom on starboard, all reached down a couple of stairs from the saloon/galley.
While the bunk cabin seems tight, it comfortably houses the captain's 6ft-plus sons during fishing trips to the shelf.
But this Integrity 350 Flybridge is essentially one man's palace and as such, there's plenty of room. An L-shaped lounge seats four around the saloon table opposite a three-seater couch, so there's space to entertain.
The simple galley features a Schott two-burner cooktop above a 130lt Isotherm fridge and a freezer of the same size. Upstairs, there's another Waeco unit for cold drinks on the flybridge.
Down in the master, the cabin is well-lit by large portholes and an overhead hatch (all with insect screens).
Trev's also just installed gas-assisted struts under the double mattress for easy access to the under-bed storage.
The downstairs helm is clean and uncluttered with all the essentials for long-range voyaging.
WHAT NEXT?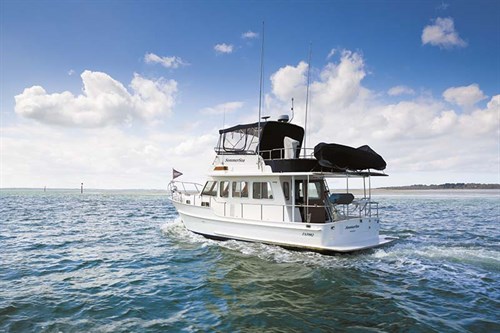 Trev's future plans for his Integrity 350 Flybridge include voyaging north as far as Thursday Island in the Torres Strait, and he's recently installed a hookah system for diving the tropics.
Even with delivery crew on board, or when family come to visit, there's no chance of the team feeling cramped on this big-little motoryacht.
The enjoyable spaces of his new home have already led the captain to question how he could have ever considered a much larger boat than his beloved Integrity 350 Flybridge.
INTEGRITY 350 FLYBRIDGE SPECIFICATIONS
PRICE AS TESTED
Integrity 350 Flybridge price: POA
OPTIONS FITTED
Cummins engine upgrade, Onan genset upgrade, Sea Recovery watermaker, Lewmar bowthruster, video monitoring, teak to aft deck, Reelax outriggers, PB Marine baitboard, Cookout barbecue, various electronics and more
GENERAL
MATERIAL GRP
TYPE Displacement monohull
LENGTH 10.5m
BEAM 4.11m
DRAFT 1.16m
WEIGHT 10,000kg (dry)
CAPACITIES
PEOPLE (night) 6
FUEL 1150lt
WATER 520lt
ENGINE
MAKE/MODEL Cummins QSB 5.9 diesel engine
TYPE Six-cylinder turbo-diesel
RATED HP 330
DISPLACEMENT 5.9lt
MANUFACTURED BY
Integrity Motor Yachts NZ
Laurie Collins Marine, K Pier, 103-115 Westhaven Drive, Westhaven
Tel 09 376 6331
Email wayne@lcw.co.nz
See the full version of this story in Trade-A-Boat #250, February / March 2015. Why not subscribe today?
Keep up to date with news from Trade-A-boat or like us on Facebook!