Review: Regal 27 FasDeck RX
---
The Regal 27 FasDeck RX is a great wakeboat. Like so many American boats, the overall quality is great while the number of additional features mean it easily serves as a family funboat.
Regal Boats held a dealer and media conference in Key Largo, USA toward the end of last year that created a lot of buzz thanks to its jaw-dropping array of top quality luxury Regal sportsboats.
Although impossible, or at best tricky, to pick a personal favourite, a few of the Regals boats caught my attention – one in particular being the Regal 27 FasDeck RX wakeboat.
REGAL FASDECK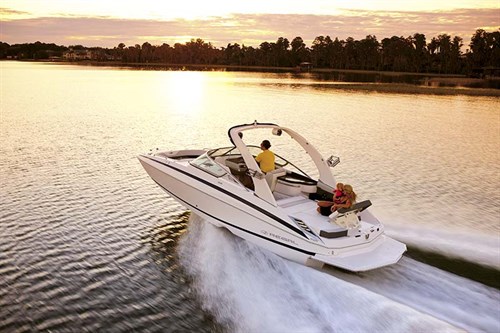 Regal Boats in the USA does a fantastic job at blending sportsboating, cruising, luxury and lifestyle into a family boating experience. The Regal 27 FasDeck RX is the perfect example of this and, at a glimpse, it's easy to see that this boat has it all and more when it comes to on-water fun and entertainment. The Regal 27 FasDeck RX is one of the larger Regal sportsboats and is designed as a spacious deckboat.
The vast amount of space onboard really appealed to me straight away – evident from the length and 2.6m beam. On that note, yes, the 2.6m beam does mean it encounters a few towing restrictions here, but regardless, it's totally worth it once you dig deeper into what the 27 has to offer.
LAYOUT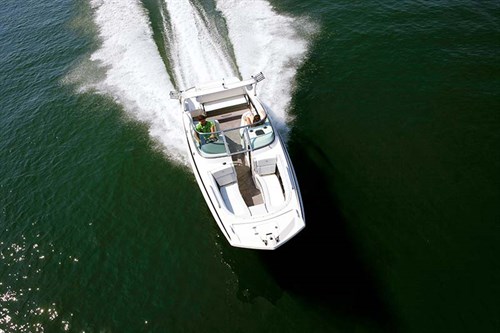 Like all Regal boats, it's impossible to touch on every last feature and accessory. Again, space is the key feature on the Regal 27 FasDeck RX, especially when it comes to the seating arrangements.
For instance, due to the wider pickle-fork bow design, the beam is maintained through to the bow, enabling full-sized, dual bowloungers and armrests to be fitted, as well as comfortably taking an insert table.
Arena seating off to the port side seats a number of passengers or serves as a laid-back sun lounger, while in the stern, the fully convertible Ultralounge, with six position backrest and multi-position reverse lounge, can be converted to suit internal and external seating, or even transformed into a huge day/tanning bed. Plenty of seating also requires storage galore and there is no shortage in that department on the 27 RX, ranging from below-seat compartments to ski and wakeboard lockers, and all on quality gas-struts for ease of access.
The cockpit has an oversized captain's seat with ergonomic and stylish dash setup that's hand-wrapped in vinyl, and features a number of digital and analogue gauges to assist with operating the craft, as well as a cracking Fusion sound system integrated into the RegalVue display.
Adding to the social nature of the layout, Regal has added some important creature comforts such as the drop-down head, with a few flush options available.
EVEN MORE OTIONS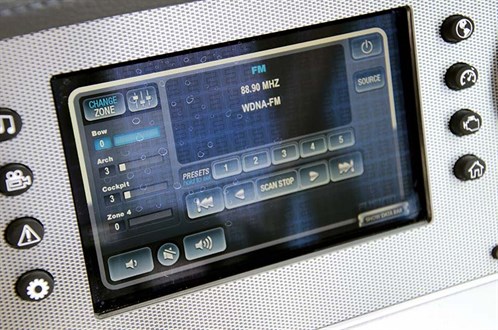 Another feature worthy of mention on the Regal 27 FasDeck RX is the conspicuous PowerTower, which serves as a wake/ski tower, as well as storage rack for boards. It extends out to a fore and aft bimini shade, and is simply lowered or raised at the flick of a switch.
Like every Regal boat, the list is endless when it comes to the layout, features and accessories fitted. There's a telescopic ladder on the bow, table insert options for entertaining in the bow and stern, a massive boarding/swimplatform off the stern, side walkthrough on the transom, lighting throughout, transom shower … even a dedicated trash bin.
Throughout the craft, the quality is second to none when it comes to the external and internal finishes.
PERFORMANCE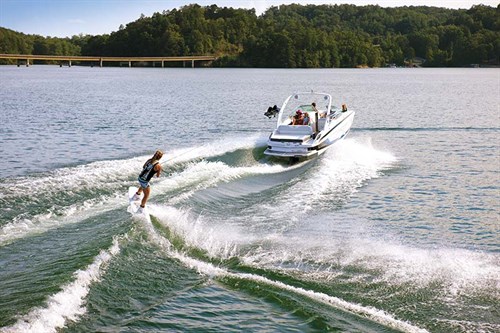 With a dry weight of approximately 2.5 tonnes, the Regal 27 FasDeck RX has a few different options when it comes to motors including 300 to 380hp Merc and Volvo sterndrives in a number of models to suit. As tested, the Regal 27 FasDeck RX had a 300hp Volvo V8 Sterndrive fitted which as expected had no issues in pushing it around. Low down, the holeshot torque is good and, combined with Regal's FasTrac hull design, the 27 FasDeck RX gets onto the plane with ease.
The FasTrac hull design is quite interesting. It incorporates a full-beam step engineered into the hull to create less friction and drag, which results in increased speed, aids control, and consumes up to 30 per cent less fuel.
But does it really make a difference? It certainly seems that way. These are incredible boats to drive in every sense, especially so the 27 FasDeck RX. It's soft and smooth on the water and locks into turns while keeping you in the seat rather than tossing you out.
Plus it has solid stability throughout, and is most certainly is one hell of blast to drive when in hooning mode!
Regardless of its 27ft (8.3m) length, the electronically assisted steering, smooth control system and limited bowrise make it a simple and comfortable boat to drive.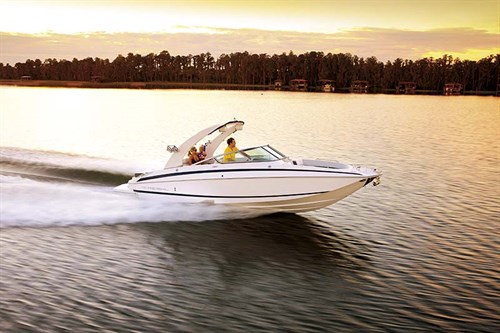 I particularly like the safe feel to the ride, a great characteristic to have on any boat, especially when it comes to family boating.
From a skier and wakeboarder's perspective I would be more than happy to have the 27 as an ideal crossover-style boat suited to family boating and sport on the water.
The 27's PowerTower with adjustable wakeboard racks, large swimplatform and on-water performance definitely contributes to a comfortable day out skiing, wakeboarding or just having family fun on the tubes.
If anything, I would probably opt for the larger 380hp boat motor if skiing was the number one priority.
THE TRADE-A-BOAT VERDICT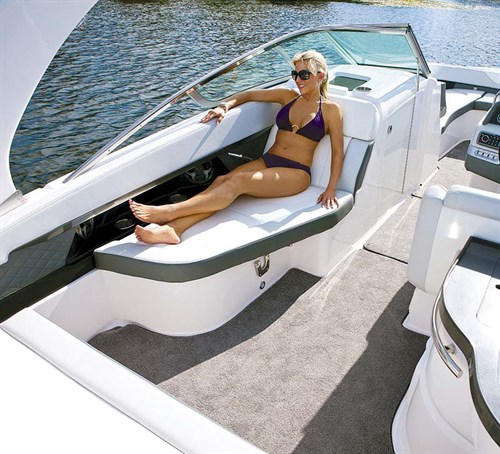 In New Zealand waters I can see the Regal 27 FasDeck RX as being suitable for not only freshwater use, but also quite capable for exploring the stunning bays and estuary systems that we have. Add the table inserts, a few platters of seafood, your favourite tranquil tunes, a few cold glasses of chardonnay, then cue the sun dropping over the water, and you have an ideal entertainer and mellow cruiser.
Base price on the Regal 27 FasDeck RX is around $189,000 and, like any boat, the worthwhile options will load the price up a bit. Fully loaded, with virtually every last option you can get (and there are many fancy ones at that), you would be looking at somewhere around a $200,000 price.
HIGHS
• Massive load capacity
• Stylish layout and design
• Quality finishes
• Interior and exterior build quality
• Exceptional handling
LOWS
• Be good to see a ballast system fitted for wakeboarding
• Towing laws need to be relaxed
REGAL 27 FASDECK RX SPECIFICATIONS
Regal 27 FasDeck RX price: $189,000 (priced from)
GENERAL
MATERIAL GRP
TYPE Monohull
LENGTH 8.3m
BEAM 2.6m
WEIGHT 2476kg (dry)
DEADRISE 21°
CAPACITIES
PEOPLE 12 (1091kg maximum)
REC. MAX HP 380
FUEL 286lt
WATER 45lt
ENGINE
MAKE/MODEL Volvo Penta V8-300-C boat engine
TYPE V8 four-stroke, sterndrive
DISPLACEMENT 348cu.in (5702cc)
RATED HP 300
WEIGHT 485kg
MANUFACTURED BY
Regal Boats USA
Web regalboats.com
MORE INFORMATION
Integrity marine
McLaren Drive, Stoke, Nelson, 7011, NZ
Phone +64 27 544 3408
Email tony@integritymarine.co.nz
See the full version of this review in Trade-A-Boat #250, February / March 2015. Why not subscribe today?
Keep up to date with news from Trade-A-boat or like us on Facebook!