Review: Key West Boats 189FS
---
Key West Boats may be a new player in the game, but these American boats are winning over customers with models like the Key West 189FS.
Key West Boats has taken a different approach to selling its boats into Australia compared to the what happens with most American boats. Rather than have an importer and a network of distributors, Key West Boats sells to its clients direct.
KEY WEST BOATS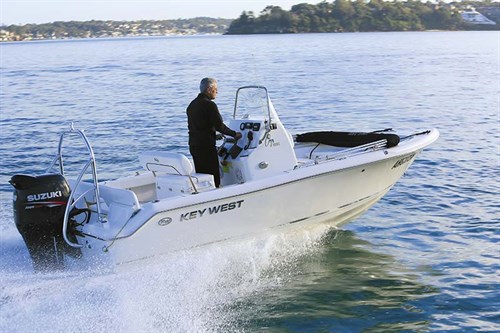 Operating from its factory in South Carolina, Key West Boats is a significant player in the US boats scene and employs traditional construction methods with high-tech materials. Hulls are handlaid in the old school style, but since 1992 the builder's motto has been 'No Wood/No Rot'.
When Steve Quigley, head of a successful Sydney naval architectural business, went looking for a new boat for his growing family, he had a fairly specific list of features in mind. His credentials include redesigning the hull of Sydney Hobart winning super maxi Wild Oats, so he is well-versed in how a boat should be designed and built. The Quigleys decided on a sporty 17ft (5.2m) centre console fishing boat and so his wife Tarnia set about searching the Australian market for the new toy, without success. As is often the case, it was the wife who tracked down the boat of their dreams when she found Key West Boats Direct and a sporty little centre console.
KEY WEST 189FS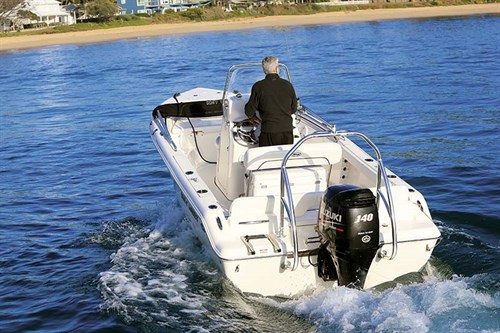 Take one look at the low lines and sculptured styling of the Key West Boats 189FS and its American heritage is obvious. Right through the Key West Boats 189FS are innovative touches that leave quite an impression.
In the bow, for example, is a covered locker that has a slot for the anchor to sit in, making it easy to deploy and stopping it from banging around. Without a lot of spare room at the transom lounge, cupholders are placed into the sidedeck along with the rodholders.
The anchor locker sits in a wide forepeak that would be helpful when boarding from the front. There's no roller for the anchor, just a popup cleat to tie to, which keeps thing neat and the area  clutter-free. Also forward is a raised deck covered in a neatly upholstered cushion with seating for two. Steps moulded into the sides here assist boarding or for when it's used as a casting platform, while a hatch in the deck swings open to reveal a large storage bin.
LAYOUT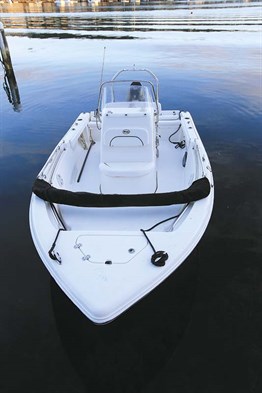 Forward of the console is a twin forward-facing seat over an insulated well that serves as a killtank, another cooler or just general storage. Centre consoles are popular for their efficient use of space and easy movement around the cockpit, but they also provide good waterproof storage options. This one has stowage accessed through a door on the port side and there's an option for a larger console big enough for an optional chemical toilet – a much-wanted feature when the family tags along.
With the console moulding reaching to chest height, the screen above is high enough to offer protection from the breeze when standing. A stainless steel bar around the top section protects the screen and offers security for passengers when the boat is underway.
The dash's sloping panel is fitted with an Icom VHF radio, a Harmon Karden Bluetooth sound system and a small digital but analogue-look gauge for the 140hp Suzuki four-stroke outboard. A GPS aerial connects to the Suzuki smart gauges for accurate readouts of speed and distances travelled. The digital throttle and shift control are dash mounted to the side of a stainless steel wheel and I found both well positioned and light to operate.
Flip-over helm seating delivers more versatility. In its forward-facing layout it offers either a comfortable seated position or a solid leaning post for standing. Faced backwards, it combines with the full-width transom lounge to form a handy conversation nook or a great place for a couple of quiet drinks at anchor. Lucky there's a giant icebox under the helm seat, and it should be big enough to cater for the family for a full day on the water.
FAMILY SPORTSMAN OR FISH AND SKI?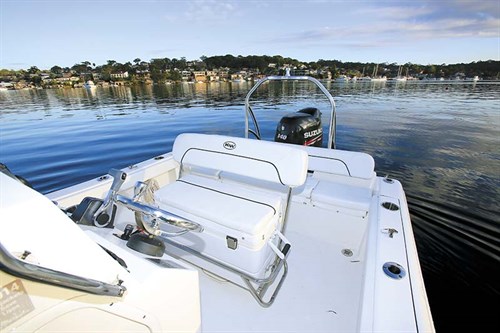 I'm led to believe the "FS" identifier in Key West 189FS comes from its Family Sportsman style, but it could just as easily be for its Fish and Ski capability. The transom is probably the place its crossover versatility is most recognisable. Transom lounge seat cushions can be removed to reveal a casting deck for fishing or stay in place for partying. For fishing, a central livebait tank finished in fish-calming blue is located centrally on the deck, while another insulated storage hatch to port could be for dry stowage or a second killtank.
There's no missing the unusual stainless steel wake and ski pole riding over the transom. It attaches in four places and looks well-braced and strong enough to withstand the stresses of a large boarder. An extending ladder is moulded into a small boarding step so along with a grab handle, climbing back on board should be easy.
HANDLING AND RIDE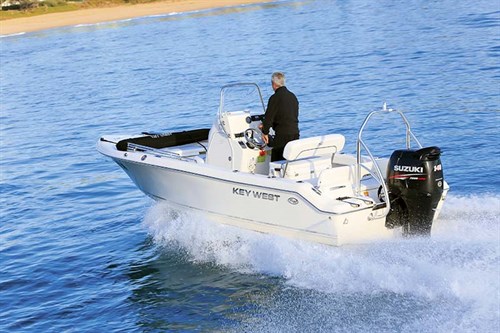 The bow section is quite sharp and well raked for a smooth entry, but the hull flattens stern of amidships and utilises a pad bottom flat keel at the aft extremity to improve planing and increase top-end speeds. The result should be a hull that planes easily, is stable at rest and have reasonably good performance in a seaway.
In practice I found all of this played out like a book. Stability at rest is exemplary, the Key West planed at 13kts and once there the Suzuki 140 performed extremely well, driving us to more than 35kts in flat water. We didn't encounter anything too challenging in the way of big seas, but over wake and small swell the boat's ride was forgiving and the absence of creaks, groans and flex was testament to the hull's build quality. Handling was sporty and precise and I could find no vices at speed or in manoeuvring slowly to the dock.
THE TRADE-A-BOAT VERDICT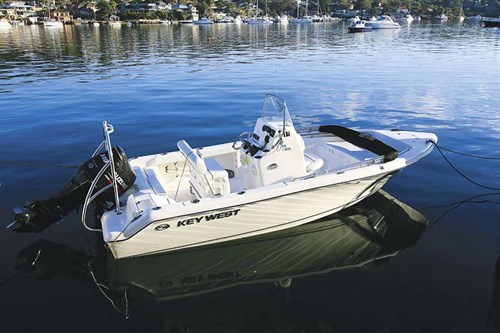 With a base price of $A52,450 landed and ready to register, the Key West 189FS is good value boat. As tested, the price with options like the sound system, smart gauges, ski tower and bimini took the bill to $A56,750 with an Australian-specified trailer. For NZ prices, contact Key West Direct.
KEY WEST 189FS SEA TRIALS
Single 140hp Suzuki four-stroke outboard motor.
| | |
| --- | --- |
| RPM | SPEED (KTS) |
| 1000 | 3 |
| 1500 | 4 |
| 2000 | 5 |
| 2500 | 6 |
| 3000 | 9 |
| 3300 on the plane | 13 |
| 3500 | 17 |
| 4000 | 21 |
| 4500 | 25 |
| 5000 | 28 |
| 5500 | 31 |
| 5800 WOT | 35.5 |
* Sea-trial data supplied by the author.
KEY WEST 189FS SPECIFICATIONS
Key West 189FS price: $A56,750 w/ Australian spec trailer (price as tested)
OPTIONS FITTED
Sound system, smart gauges, ski tower and bimini
PRICED FROM
$A52,450
GENERAL
MATERIAL GRP
TYPE Monohull
LENGTH 5.72m
BEAM 2.43m
WEIGHT 784kg (hull)
DEADRISE 19°
CAPACITIES
PEOPLE 7
REC. HP RANGE 115 to 150
FUEL 151lt
ENGINE
MAKE/MODEL Suzuki DF140A outboard motor
TYPE Four-cylinder fuel-injected four-stroke petrol outboard motor
RATED HP 140
DISPLACEMENT 2044cc
WEIGHT 185kg
GEAR RATIO 2.59:1
SUPPLIED BY
Key West Direct
Japan
Phone +81 90 8983 4061
See the full version of this review in Trade-A-Boat #251, April / May 2015. Why not subscribe today?
Keep up to date with news from Trade-A-boat or like us on Facebook!