Review: Sea-Doo Spark
---
Looking for a PWC under $10,000? Check out the Sea-Doo Spark range for an entry-level jetski that's full of surprises.
BRP introduced its new 60 to 90hp Sea-Doo Spark PWCs (jetskis) to the market early last year (fact: everyone knows what a "jetski" is, so much so that the term is widely used to describe PWCs — but did you know that the name "Jet Ski" is a trademarked brand name owned by Kawasaki?). With techno colours, Lego Ninjago looks and what seemed to me quite an odd price of around the $7000 mark, I thought, "Come on, that is ridiculously cheap and unheard of in the PWC world." However, if ever there was a time not to judge a book by its cover, then this was it.
BUDGET PWC
As an entry-level PWC, and especially considering the starting price of under $10,000, one would (or I would) have expected something with a simple hull, basic motor and not too much going on in the way of fancy accessories. This is not the case with the baby Spark, as there is actually quite a bit going on when it comes to its design, layout and accessories.
Up close the Sea-Doo Spark comes in two models: the Spark 2up and Spark 3up. Yes, they can actually handle two average-sized adults quite easily and when it comes to 3up, I would say two adults and one kid without a problem.
STANDARD FEATURES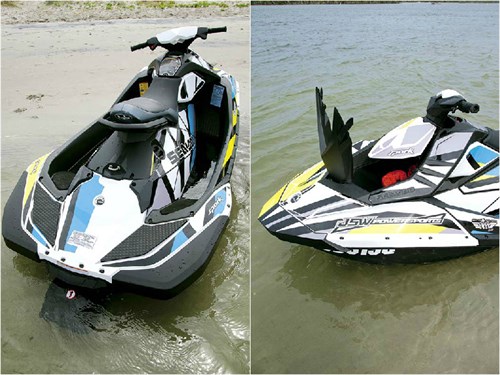 As standard the Sea-Doo Spark includes a wet-grip footboard, towhook, reboarding handles on rear platform, emergency floating lanyard, operator's guide, single drain plug, kneepad, a flushing kit and of course, a super-hot look all-round. Like any craft there are heaps of optional accessories available to bling it up, such as the graphics kits, motor upgrades from 60 to 90hp, trim system, Tow Pro for wakeboarding, storage bin, deflector lid kits, funky little chill shade bimini, and…the list
is endless.
I was pleasantly surprised as to just how technical the Sea-Doo Spark PWCs are as standard, as well as what's on offer in the options department. They have iTC (intelligent throttle control) which is an electronic fly-by-wire system on the throttle, as well as iBR (an optional brake/reverse system). Then there is the D-SEA-BEL system for noise reduction – and they are far from noisy on the water – as well as handlebar-mounted start/stop, Interactive Multifunction Digital Information Centre with up to 15 key operating functions, and more.
HANDLING AND RIDE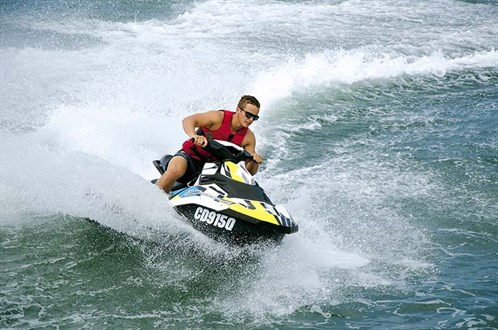 When it comes to ride and handling characteristics the Sea-Doo Spark PWCs have two motor options. One is a naturally-aspirated 60hp Rotax 900 ACE, the other the 90hp Rotax 900 ACE HO which we had on the review Spark PWCs.
Climbing aboard I was pleasantly surprised as to just how stable the Sea-Doo Spark is, from either side and rear entry points. Once on the seat the closest thing I can relate it to would be like sitting astride a Supercross dirt bike, with its comfy slimline and rigid seating.
Firing up, you have two options on the 90hp HO model: Touring mode and Sport mode. These are really good functions to have, especially when it comes to novice riders and youngsters as the Touring mode tones down the acceleration curve. Not expecting much I left it in Touring to start with, just to see how it performs. Naturally I thrashed the throttle, only to find a pleasant, moderate acceleration out of the hole and a fairly quick acceleration to the top end around the 38kt mark, which is quite impressive for the size of the craft.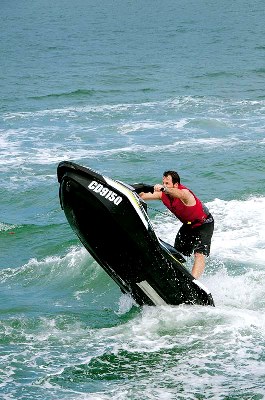 Low down at full wide open throttle bashing it forcefully into full-lock turns, ramping wakes, just doing whatever you want and however you want, I found these little machines to be absolutely amazing on the water. It's like riding a motocross bike on water and probably far safer as you are not biting dirt if you fall off (which by the way never happened to me or any other riders on the day). Again, they are incredibly stable and responsive on the water and most of all, the Sea-Doo Spark is a PWC that you feel really in control of.
Regardless of experience the optional iBR electronic braking and reverse system is one of Sea-Doo's most valuable features. Tap the brake on the Sea-Doo Spark and man, you come to a grinding halt while still being in full control of the stop. Personally, I feel this kind of feature should be standard on all recreational PWCs. The iBR also serves as a reverse system and is controlled through the left-hand throttle. It's easy to use, makes stopping, manoeuvring and docking simple and of course,
is safer.
Another impressive feature of the Spark is the economy. A much lighter hull, deck and motor contribute to the economy which is quoted at 7.3lt/h on the 60hp and 9lt/h on the 90hp. These figures are based on average speeds and considering the tank size of 30lt, you would probably get a good few hours of riding, which is not bad.
A while later I realised that I had actually forgotten to switch over to the Sport mode on the Sea-Doo Spark. Sport mode makes a massive difference in holeshot and acceleration to top end which on the high-output motor can be up to 41.5kts.
THE TRADE-A-BOAT VERDICT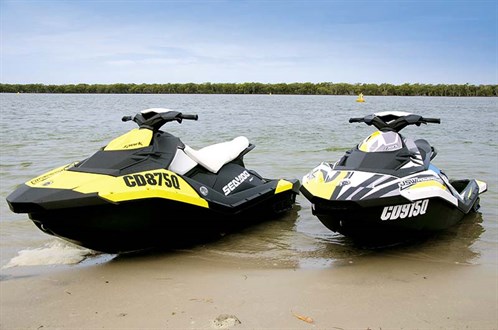 The Sea-Doo Spark is an entry-level PWC with a price of $9499 for the 60hp Spark 2up. This includes the trailer and registration. The Sea-Doo Spark price is around $12,599 for the Spark 3up and includes High Output 90hp with iBR, front storage bin, trailer and registration.
It's not only a blast to drive but won't cost the earth to run and due to its size and weight, can be towed by a standard small vehicle. 
HIGHS
• Nonstop fun
• Safe handling characteristics
• Sparky performance
• Hot designs and looks
• Good entry-level pricing
• Reasonable running costs
• Great for mum, dad and the kids
LOWS
• Be good to have iBR and front storage bin as standard
SEA-DOO SPARK SPECIFICATIONS
Sea-Doo Spark price: $11,999 Spark 2up; $12,599 Spark 3up (price as tested)
OPTIONS INCLUDED
High Output 90hp marine engine with iBR, front storage bin, trailer and rego, and graphics
PRICED FROM
$9,499 Spark 2up 60hp inc. trailer and rego
GENERAL
MATERIAL Polytec composite
TYPE PWC
LENGTH 279cm 2up; 305cm 3up
WIDTH 118cm (both)
WEIGHT 159kg 2up; 205kg 3up
CAPACITIES
PEOPLE 2 or 3
REC. HP 60 to 90
FUEL 30lt
ENGINE
MAKE/MODEL Rotax 900 ACE (2up); Rotax 900 HO ACE (2up/3up)
TYPE Inline three-cylinder four-stroke
WEIGHT 184kg 2up; 190kg 3up
DISPLACEMENT 899cc
REVERSE Optional manual or iBR kit
MANUFACTURED BY
Bombardier Recreational Products
Web brp.com
See the full version of this review in Trade-A-Boat #250, February / March 2015. Why not subscribe today?
Keep up to date with news from Trade-A-boat or like us on Facebook!