Review: Senator RH690
---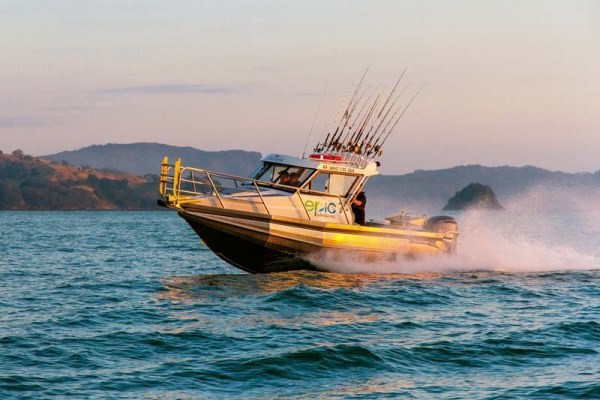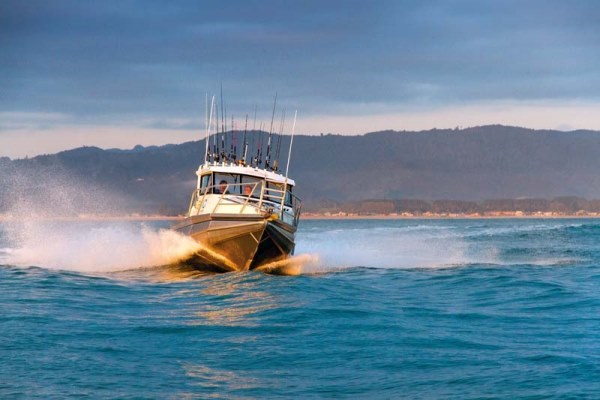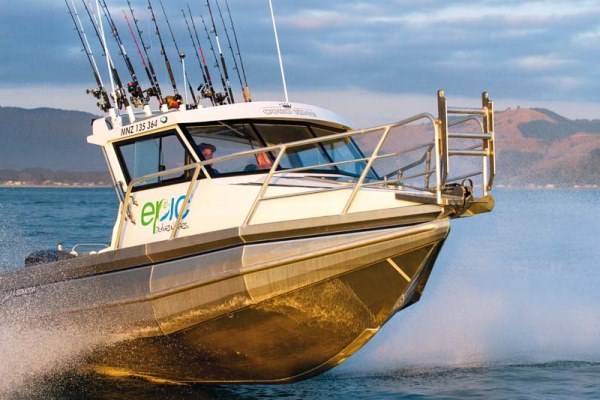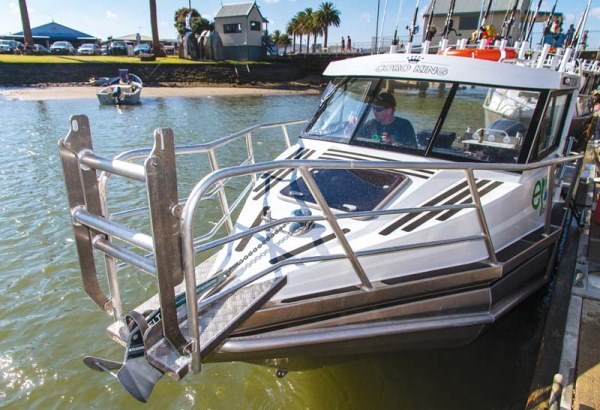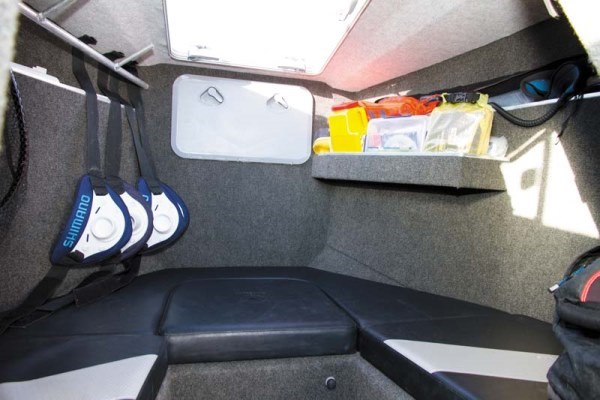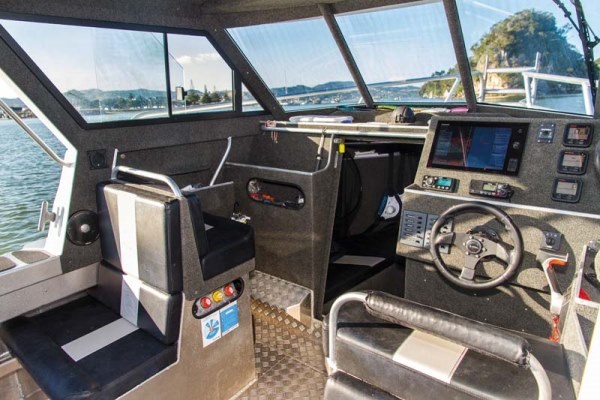 The Senator RH690 aluminium fishing boat is the third vessel for the Epic Adventures Kingfish charter boat crew. Senator Boats pulled out all the stops to create Coro King.
In the competitive world of commercial charter fishing, safety, the fishability and reliability of fishing boats are must-have qualities. But when the target species are large, feisty pelagic fish which lurk on deep offshore pinnacles exposed to wind and swell, stability and ride rank highly on the priority list as well.
---
Matt Jones spent a day with the Epic Adventures charter crew aboard the Coro King, chasing bus-sized Kingfish. See his extensive fishing report here.
---
EPIC ADVENTURES CHARTER BOAT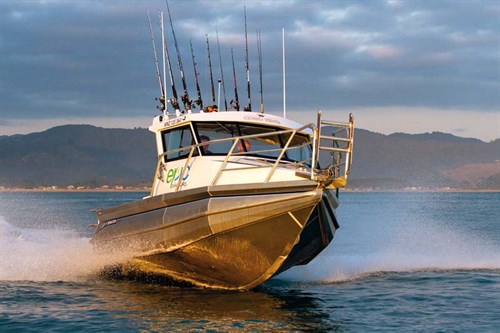 The Epic Adventures charter boat fishing fleet clocks up an impressive 200 days per year, all the while hell-bent on catching giant kingfish for their customers.
Such dedication requires a fishing boat that can stand up to the rigours of commercial use, excited anglers and stroppy green fish on a regular basis.
"All our boats are Senator boats, and that's for a very good reason," Epic Adventures managing director Roy Veal explained.
"We think Senators are a tried, trusted and tested type of boat. They've done us well and they look after us well." Of course, the hull only makes up part of a successful equation – there's also the driving forces at work.
"All three boats run identical 250hp four-stroke Yamaha outboard motor and they've really done us proud," says Veal.
"Reliability is key as it's Epic's livelihood. You can't have these things break down when you're out there and ring the Coastguard – that doesn't work for us. We have the regular servicing done and they are just so reliable."
COMMERCIAL BOAT DESIGN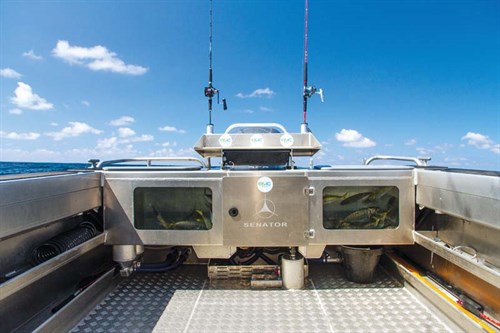 Senator boats uses computer-aided design (CAD) expertise to accommodate elaborate custom builds such as Coro King.
In this case, the options list was long and distinguished, but the clever blokes from Napier have managed to integrate all these features in an ergonomic, functional and fishable feast.
The most notable change from the standard plan was shortening the front cabin to give Coro King the same deck space as the larger Senator RH770.
And customers generally only use the cabin for storing their gear or using the toilet anyway. When combined with the Senator RH690's maximum road legal 2.5m beam, the abundance of rod holders, wide parcel shelves with foot holds below, a plus-sized baitboard and brilliant livebait tank system, you have a spacious cockpit that means business.
Big kingfish are notoriously fussy eaters, so healthy livebaits are extremely important to ongoing success.
Cleverly, Senator custom built a flow-through, dual tank system with twin pumps and integrated tuna tubes. The pumps are externally mounted behind a door for easy cleaning and if one pump fails, the livies will live on.
To cater for all angler types, high bow rails make the pointy end a secure place to fish from, while the bow ladder allows rock and beach drop-offs without fuss.
Bluetooth connectivity allows customers to crank their favourite tunes on the Fusion stereo with pumping 200W speakers to set the mood, and a 1.2m underfloor kill tank is tailor made for icing down the resulting catch.
HANDLING AND RIDE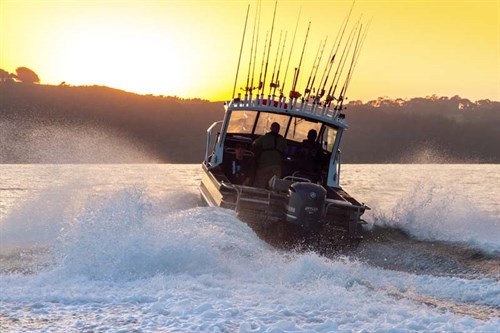 On the Whitianga wharf at dawn, we were met with the sight of Coro King's impressive 17-rod rocket launcher fully stocked with a mouth-watering array of gear. Once on board, skipper Owen Wills and Epic Adventures owner Roy Veal made us feel at home as we effortlessly filled the livebait tanks on our way to Cuvier Island, aka kingfish country.
En-route through a variety of sea conditions, the Senator RH690 robust 6mm hull, pontoon stability and moderate 18° deadrise muscled its way through the swell and chop with ease, while we kicked back on the super-sized seats and enjoyed the view (and building anticipation).
Hovering over the deepwater pinnacles, the Furuno TZ Touch came into its own with the Accu-Fish feature giving an indication of individual fish lengths and effectively determining schools of rats from "proper" kingies.
PERFORMANCE AND ECONOMY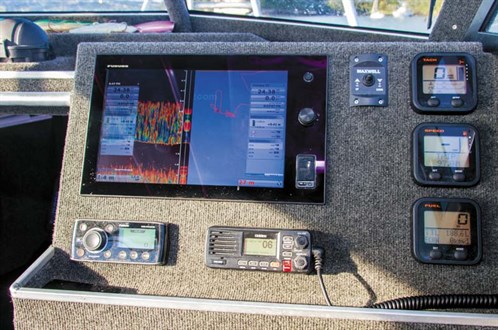 The maximum rated 250hp four-stroke Yamaha felt perfect for the job and resonated refined power as it dished out plenty of push.
Coro King has been specially propped for carrying loads of excited anglers and gear, so economy and top end have been sacrificed for down-low torque.
But to give you an idea, here are a few figures from the trip: 7kts @ 2000rpm used 12.2lt/h; 24kts @ 3800rpm used 41.5lt/h and 28kts @ 4500rpm used 70lt/h.
We covered 96nm in a 12 hour day and used 160lt of fuel, which is admirable considering the impressive stability, ride, build quality, and gear on board.
Not forgetting we spent an hour giving it copious amounts of throttle while chasing down a runaway marlin in both forward and reverse, and the outboard wasn't switched off once.
THE TRADE-A-BOAT VERDICT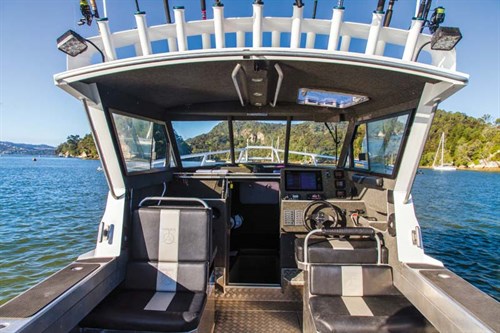 As the sun set on what was a truly Epic Adventure, I stepped off Coro King thoroughly impressed with the functionality, fishability and dependable feel of what is one hell of a good fishing boat.
It's big and seriously strong, with the reassuring stability of a pontoon boat for fishing offshore but also enjoying one of the better rides amongst its rivals. 
HIGHS
• Enjoyable combination of stability and ride
• Seriously tough, yet comfortable
• Extreme customisation available
• So many rod holders, so little time
• Supersized dash
• Brilliant livebait tank system
LOWS
• The striped marlin took one good look at our fishing weapon and bolted!
• Windscreen wiper was temperamental
SENATOR RH690 SPECIFICATIONS
Senator RH690 price: $185,500 (price as tested)
OPTIONS FITTED
Yamaha F250 XCA outboard motor upgrade with electronic shift control and LAN gauges; UM380 Black Solara VHF; Fusion RA200 stereo; Furuno Navnet 14in MFD; Johnson washdown pump and much, much more.
PRICED FROM
$95,000 (Yamaha F200XA outboard motor and trailer)
GENERAL
TYPE Pontoon monohull fishing boat
MATERIAL Aluminium
LENGTH 7.13m
BEAM 2.49m
WEIGHT 2080kg (towed weight)
DEADRISE 18°
CAPACITIES
BERTHS 2
REC. HP RANGE 150-250
FUEL 260lt
ENGINE
MAKE/MODEL Yamaha 250hp four-stroke outboard motor
TYPE Fuel injected 24-valve DOHC V6
WEIGHT 253kg
DISPLACEMENT 4169cc
GEAR RATIO 1.75:1
PROPELLER 19P SDS Saltwater Series
MANUFACTURED BY
Senator Boats
21 Hamilton Place, Napier, NZ
Phone 0800 736 286
Web senatorboats.com
Email factory@senatorboats.com
SUPPLIED BY
Rollos Marine, 554 Te Rapa Road, Hamilton, New Zealand
Phone 0800 804 809
Email rollos@rollosmarine.co.nz
See the full version of this review in Trade-A-Boat #251, March / April 2015. Why not subscribe today?
Keep up to date with news from Trade-A-boat or like us on Facebook!