Review: Ballistic 6.5 RIB
---
South Africans Ballistic recently launched their rigid inflatable boats in the local market. We ask a pair of new owners what's so good about their new Ballistic 6.5 RIB.
Lori Bell and Kim McClintock might not be your archetypical big rigid inflatable boat (RIB) owners, but when I caught up with them recently they were having the time of their lives punting their new 6.5m Ballistic around Sydney Harbour.
The idea of a RIB appealed because of the positive experiences Lori had enjoyed while driving the sailing club rescue boats. Their soft ride and unbeatable stability impressed her and she marvelled at the passenger capacity for the size of the hull.
BALLISTIC RIBs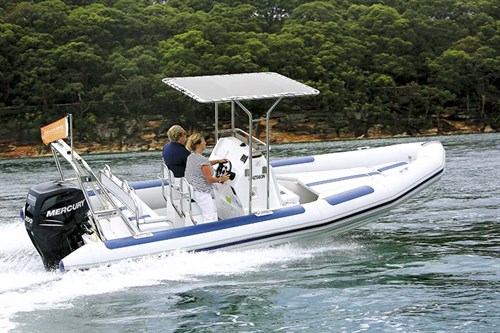 Thinking there would be a good market for second-hand boats Lori went looking but soon became quite disenchanted. It surprised her that the ones she inspected were pretty rough and at the same time unrealistically expensive. By chance one evening she was sitting on a dock near her home when she spied a new RIB on a demonstration run and got talking with Andrew Nevin from Ballistic Australia who happily arranged a test drive.
A few minutes behind the wheel of a 6.5m with a 200hp engine on the back and Lori was smitten. She was on the phone straight away, successfully imploring Kim to go halves in the rig.
The Ballistic brand of rigid inflatable boats was established in South Africa in the mid-1990s when the original owner set out to design a fast and reliable boat for the rough waters around Cape Town. Over time, and with input from English partners, the company developed into a strong force at home as well as in England and America. The British connection may have also influenced Richard Branson's decision to use Ballistic RIBs at his luxury island resorts around the world.
LAYOUT AND DESIGN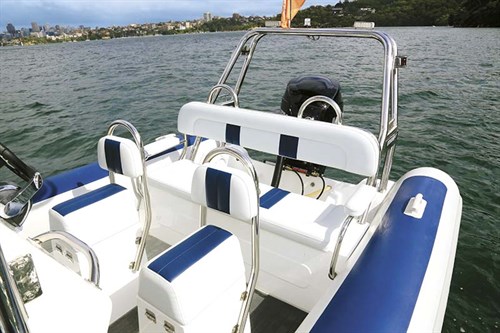 Nevin claimed all materials used in construction are top quality and Lloyds-approved, including an isophthalic gelcoat that resists osmosis. Five compartments in the tubes use class-leading French Orca Hypalon, while all stainless steel fittings are 316 grade for optimum corrosion resistance.
The deep 21° deadrise hull has a sharp bow and prominent reverse chines over a set of four significant running strakes each side. As seen in the photos, the boat runs in typical RIB fashion with the hull well clear of the water up forward leaving only the aft sections of the floatation tubes to kiss the water near the transom.
The stark white of the tubes, upholstery and glossy fibreglass is offset by bright blue side pads and highlights on the seating for a very clean and boatie ambience. The neat upholstery is filled with closed-cell foam to eliminate water and is covered with an antifungal Nautalex marine vinyl that reduces fading from the sun.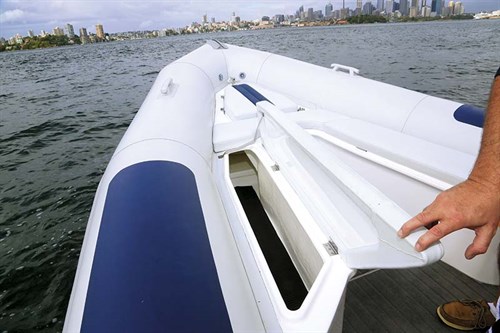 Layout is a mix of sporty seating down the back with an accommodating and versatile foredeck for lounging and lunch. Standard on the Ballistic 6.5 are two jockey seats at the helm and although unusual, they offer great support in turns and over waves when seated and a sturdy leaning post when standing. A twin bench is available if you would prefer a more traditional look and ride.
With the heat of the sun strengthening as it emerged from behind threatening clouds, the optional Sunbrella bimini on a stainless steel T-top gave welcome shade over the helm and rear lounge.
CONSOLE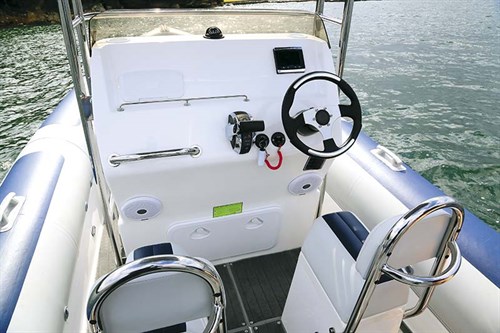 With the console mounted centrally, rather than being offset, access past is fairly tight requiring a couple of sideways steps to get through but it does allow passageway from both sides. Reaching to around chest height when standing I found it did a sterling job of deflecting wind well overhead especially when seated.
Such a big console affords plenty of real estate for instruments and screens if required but Lori and Kim have a basic package of Mercury VesselView screen and SmartCraft gauges. The driving position is to the right of the console and the wheel is well placed but as the digital throttle control is mounted to the left, I found it a bit awkward.
HANDLING AND RIDE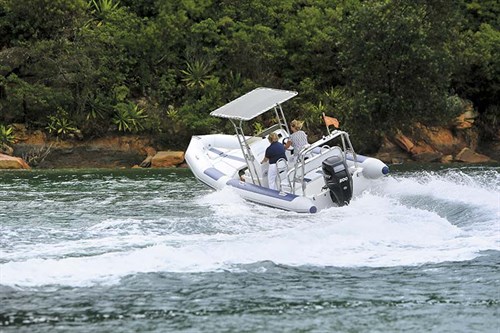 The big, black Mercury 200 four-stroke outboard motor is right on the maximum power rating for the 6.5 version and although there is room for a pair of outboards up to 100hp each, I'm not sure twins would add much to the performance. We achieved a brisk holeshot and more than 38kts from the test boat along with superb handling even without the advantage of two props in the water.
A low 8kts planing speed demonstrated the efficiency of the chines and strakes, and once on the move the hull lifts noticeably above the water for a typical deep-V soft ride and softened even further over jumps by the pontoons compressing on the surface as they came down.
Over a typical short, half-metre harbour chop we held a comfortable 25kts with no spray coming on board, even across the breeze. In turns at speeds up to full noise the boat stayed flat as the outside tube kept things buoyant, while in slower full-power sharp turns it tended to lean in more but stayed flatter than a similar sized monohull.
THE TRADE-A-BOAT VERDICT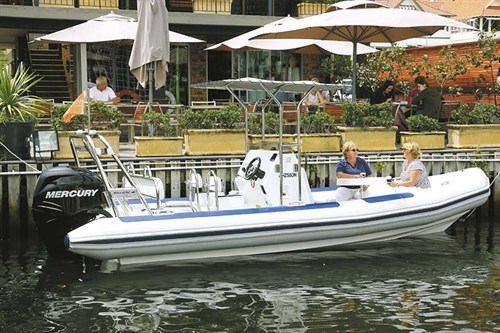 A Ballistic 6.5m RIB is a sensible choice for enhancing city life, as well as for those wanting to seek broader horizons. They are safe and easy to drive, have a huge carrying capacity and will dock or raft up to larger vessels without damage. Set up with the 200hp Mercury, the T-top and bimini, carpet and a full boat cover the price comes to $74,750 plus freight or $71,400 for boat and motor.
Add in $5100 for a single-axle trailer – and note that the 2.5m beam allows the 6.5m Ballistic to be towed without restrictions.
HIGHS
• Spunky styling and quality fittings
• Great ride quality and handling
LOWS
• Awkward throttle position
BALLISTIC 6.5 SEA TRIALS
Single 200hp Mercury Verado outboard motor
| | |
| --- | --- |
| RPM | SPEED (KTS) |
| 1000 | 3 |
| 1500 | 4 |
| 2000 | 5.3 |
| 2500 (on the plane) | 8 |
| 3000 | 14 |
| 3500 | 21 |
| 4000 | 25 |
| 4500 | 30 |
| 5000 | 35 |
| 5500 (WOT) | 38.3 |
* Sea-trial data supplied by the author.
BALLISTIC 6.5 SPECIFICATIONS
Ballistic 6.5 price: $78,750 (exch. rate dependent, plus freight)
OPTIONS FITTED
Engine upgrade, bimini, carpet and boat cover
PRICED FROM
$66,150 w/ 150hp outboard motor
GENERAL
MATERIAL Fibreglass hull and Hypalon tubes
TYPE Rigid inflatable boat
LENGTH 6.5m
BEAM 2.5m
WEIGHT 850kg (dry hull)
DEADRISE 21°
CAPACITIES
PEOPLE 10
REC. HP RANGE 150 to 200
FUEL 150lt
ENGINE
MAKE/MODEL Mercury Verado 200 outboard motor
TYPE Supercharged four-cylinder four-stroke outboard motor
RATED HP 200
DISPLACEMENT 1732cc
WEIGHT 231kg
GEAR RATIO 2.08:1
PROPELLER 19in
MORE INFORMATION
BALLISTIC RIGID INFLATABLE BOATS
3/10 Ponderosa Parade,
Warriewood, NSW, 2102
Phone +61 2 9125 0606
Email info@ballisticribs.com.au
See the full version of this review in Trade-A-Boat #253, May / June 2015. Why not subscribe today?
Keep up to date with news from Trade-A-boat or like us on Facebook!