Review: Fish City FC500 Centre Console
---
The Fish City FC500 CC is a tough, well-equipped and easy-going aluminium fishing boat.
We'd been talking about this trip for years. An extended leave pass to escape the kids, chores, better-halves and the daily grind for the in-laws bach in the hallowed fishing grounds of Doubtless Bay – just the lads. No curfews, no set-plan and certainly no silent treatment if we arrived back late stinking of fish!
FISH CITY FC500 CC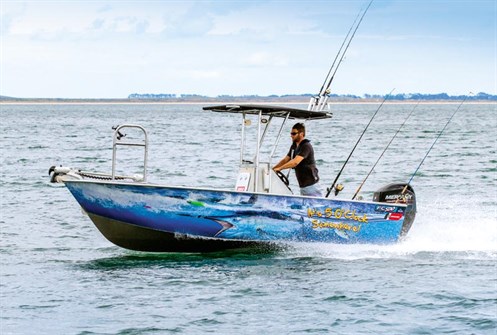 My good mate Travis "Trav" McDonald had moved to Aussie a while back, so once his flights were booked there was no turning back. After a brief reunion we escaped on the 4½-hour marathon tow from Auckland filled with tall stories and scenic vistas, the fully loaded Fish City FC500 Centre Console in tow.
As it turns out the eye-catching rig we were pulling was none other than NZ Fishing Team and Match Fishing League captain Terry Williams-King's personal weapon, which he kindly offered up. Despite the long haul, Terry's Fish City FC500's 750kg tow weight and minimal wind-resistance made for a stress-free drive to reminisce and plot what was to come.
A couple of pies, sausage rolls and coffees later we crossed the Taipa bridge and arrived in paradise. Meanwhile, John (father in-law, bach owner and good bugger) had just finished mowing the lawns. No time was wasted in unloading the bags, while the boat was prepped and we headed off to Matai Bay.
The Fish City FC500 Centre Console's tough alloy hull and low-rider trailer came in rather handy with the low-tide for which my 4WD is eternally grateful. Once on board it was time to peruse all the fishy features on offer while chasing dinner.
LAYOUT AND DESIGN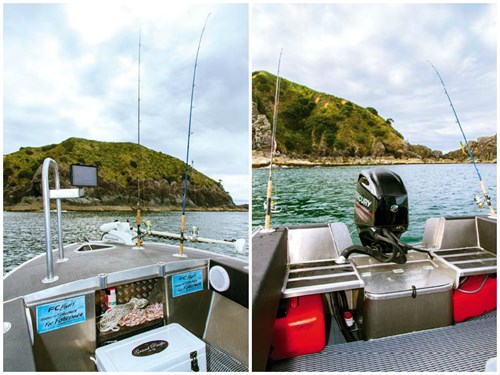 The team at Fish City have gone to great lengths to ensure Terry's weapon had as much firepower and features as possible in a 5m boat. Like my mate Trav, the custom vinyl wrap had come all the way from Aus and was certainly a conversation starter at the gas station, boat ramp and pub.
Terry's personal touches include the reinforced bow casting platform, complete with a removable casting support/tackle tray/Railblaza iPad holder that neatly stows away below when not required. Cleverly the bow-mounted rodholders allow the casting support to be mounted either side. They also come in mighty handy for re-rigging long soft-bait rods when standing on the bow.
To save bloodshed the bollard's been moved inside the open anchor well, which does make it a bit tricky to get to but it's a lot less painful than the alternative. A chilly bin has also been loosely strapped in to stash the catch and reduce the step up from the tube floor matting covering the treadplate floor.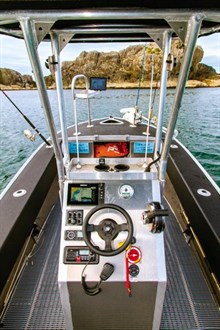 Terry ticked the box for the livebait tank lid to reduce spillage and keep the captive kingfish candy calm while they await their lunch date. And of course big snapper only got that way by being cunning so a MotorGuide Xi5 electric trolling motor has been fitted to the bow for a silent approach. It's also equipped with GPS to hold the boat in the hot spot and can be controlled by either the remote or an iPad app, again from anywhere in the boat.
Being good mates Trav and I were both able to fish from the bow platform and casting in turns without any issues – apart from the lack of takers around. The Mercury four-stroke's easy-starting nature and low-noise were also welcome features when casting soft baits in close proximity to the rocks.
With Simrad's NSS7 evo2 chartplotter-multifunction display on board (and the optional GoFree WiFi connectivity package) the MFD's screen can be mirrored (and controlled) while scanning for fish targets from the bow. Even without the instruction manual it was easy enough to feel around all the handy features like StructureScan and the CHIRP-enabled broadband sonar – which confirmed our worst fears – no fish swimming below. By now the sun was getting low anyway and with the cold sou'wester nudging 20kts the warm surrounds of the Taipa pub were beckoning.
With the maximum rated 60hp Mercury four-stroke bolted behind, we cruised back at 18 to 20kts using only 10lt/h – saving plenty of money for beer. The robust gullwing hull allowed us to skip across the top of the chop, while providing impressive stability coupled with good economy.
The fish won that afternoon, so off to the pub for dinner we went.
FISHABILITY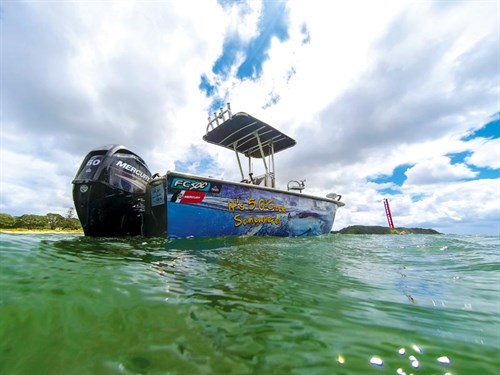 Throughout the four days at Doubtless Bay, the weather played a few dirty tricks. Each day would dawn still with a stunning sunrise but by the time the bacon, eggs and coffees were digesting we were greeted with a soaking of rain at the ramp, while the all-too familiar chilly sou'wester was kicking into gear.
Lucky for us the high-quality removable front and side clears, along with helm station to gunwale clears offer good protection to those behind. The large T-top bimini also provides shelter from the sun and rain while still allowing casting space to the front and rear of the FC500 CC, and removable locking pins allow it to be quickly removed for parking in the garage.
When the heavens opened we had little choice but to huddle under the T-top, crank the Fusion stereo and do a fish dance, while hoping that retrieving our soft plastic lures in time to the music might change our fishing fortunes. The sound quality and music were great but bad dancing never did anyone any favours.
While, according to the locals, we'd missed the hot bite by only a few days, perseverance, many plan Bs and the Fish City FC500 Centre Console's fishability paid dividends and we dined on fresh snapper, blue cod, barbecued garlic butter grayfish, smoked mussels, smoked kahawai and kahawai sashimi – all washed down with a few cold ones and one hell of a good time.
THE TRADE-A-BOAT VERDICT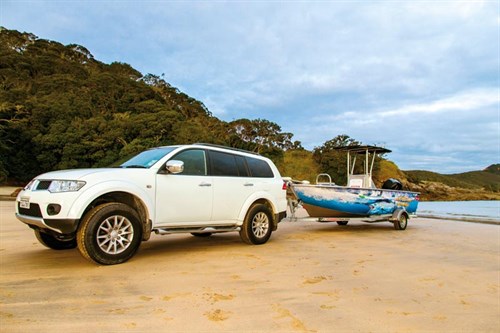 Terry Williams-King's customised Fish City FC500 Centre Console is also a great example of Kiwi ingenuity at work and proves you don't have to have a big boat to have a good time on the water or catch a feed – even if the weather gods throw a few curve balls your way.
Sure the Fish City FC500 Centre Console is not the type of boat you're likely to take your wife out on for a romantic cruise (for some that's a good thing), but when it comes to taking the lads fishing or even escaping for a solo mission it's easy-going nature and 360 degrees of fishability will prove hard to resist.
Couple that with its low tow weight, excellent stability, ample storage, under-floor and under-gunwale buoyancy, full walkaround access and tantalising fishability, and it's not hard to see why Fish City's boats have become so popular since hitting the water. Of course low-maintenance and easy clean-up equates to more time on the water, which is always a good thing.
Cheers to Terry for being such a good bugger and letting us play with his new toys.
HIGHS
• 360 degrees of angling potential
• Size-defying fishability
• Strong and stable
• Low maintenance
• Easy to launch and tow
• Impressive features for a 5m boat
LOWS
• Low-rider trailer could use another set of front rollers for shallow-water retrievals
• By design, centre consoles are exposed to the elements but the clears are a great help
FISH CITY FC500 CC SEA TRIALS
Single 60hp Mercury four-stroke with 13P Trophy four-blade prop
| | | |
| --- | --- | --- |
| RPM | SPEED (KTS) | FUEL BURN (LT/H) |
| 600 | 1.5 | 0.8 |
| 1000 | 2.5 | 1.1 |
| 1500 | 4 | 1.8 |
| 2000 | 5.5 | 2.7 |
| 2500 | 6.1 | 4.4 |
| 3000 | 7.7 | 6.5 |
| 3500 | 11 | 8.6 |
| 4000 | 18 | 9.6 |
| 4500 | 20.5 | 13 |
| 5000 | 23.5 | 17 |
| 5500 (WOT) | 26 | 19.4 |
* Sea-trial data supplied by the author.
FISH CITY FC500 CENTRE CONSOLE SPECIFICATIONS
PRICE AS TESTED
Fish City FC500 Centre Console price: POA
OPTIONS FITTED
Mercury 60ELPT FourStroke, baitboard, Railblaza and removable casting support with tray, deck tread, drinkholders, dual battery setup, custom graphics, boarding platform ladder, LED navigation lights, livebait tank with hinged lid, through-hull pickup and tap, MotorGuide Xi5 GPS-electric trolling/anchoring motor, rod racks, sounder-GPS, Fusion stereo package with iPod input and Wi-Fi, switch panel with accessories plug, removable custom T-top clears and canvas, T-top rocket launcher, tube matting, and VHF and antenna
PRICED FROM
$24,995
GENERAL
MATERIAL Aluminium alloy
TYPE Planing monohull
LENGTH 5.15m
BEAM 2.05m
WEIGHT 750kg BMT; 689kg std BMT
DEADRISE 13°
CAPACITIES
PEOPLE 6
REC. HP RANGE 40 to 60
FUEL 2 x 23lt tote tanks
ENGINE
MAKE/MODEL Mercury 60ELPT FourStroke outboard motor
TYPE Fuel injected inline four-cylinder four-stroke petrol outboard motor
RATED HP 60
DISPLACEMENT 995cc
WEIGHT 112kg
GEAR RATIO 1.83:1
PROPELLER 13P Trophy four-blade
SUPPLIED BY
Fish City Albany
Cnr Rosedale Road & Triton Drive,
Albany, Auckland
Phone (09) 476 4282
Web fishcity.co.nz
See the full version of this review in Trade-A-Boat #251, March / April 2015. Why not subscribe today?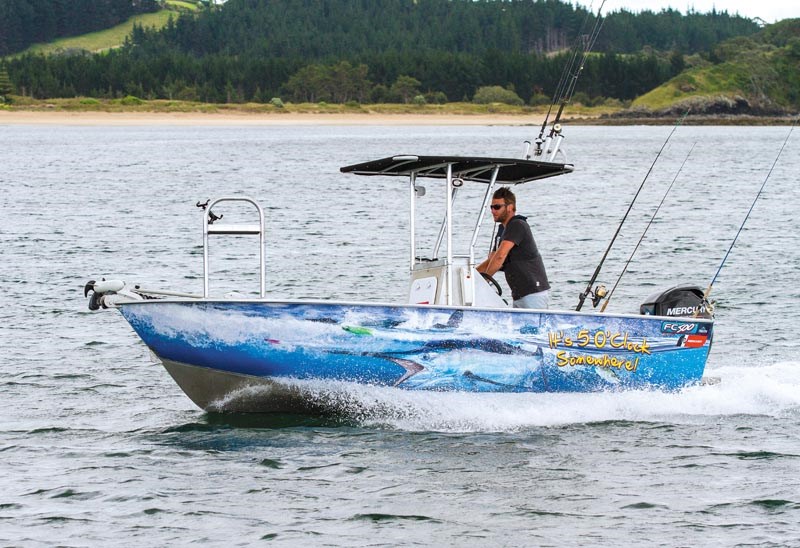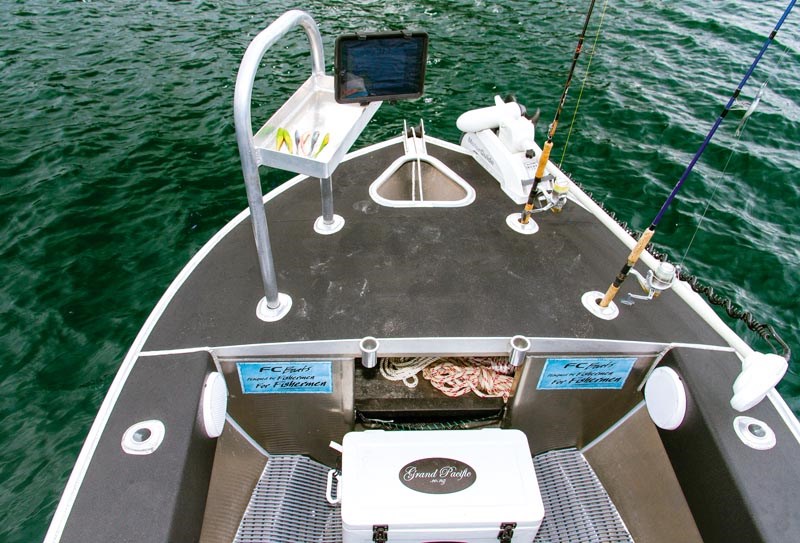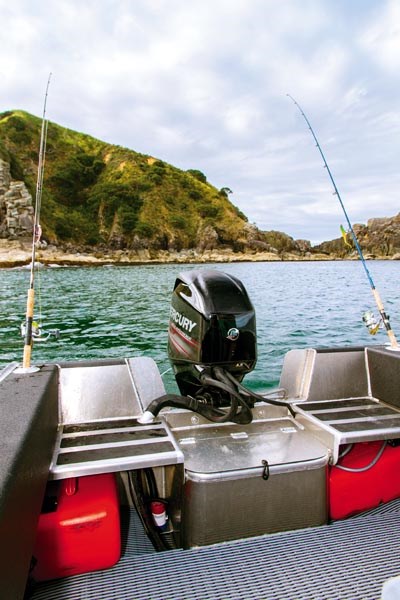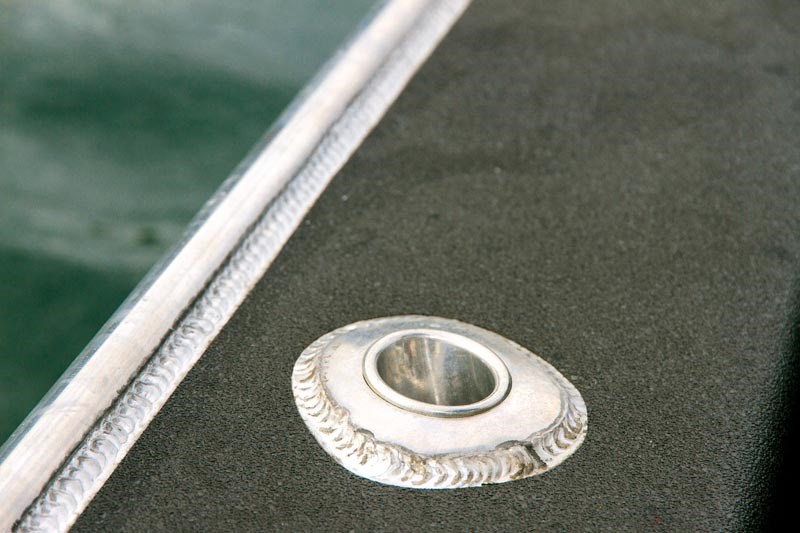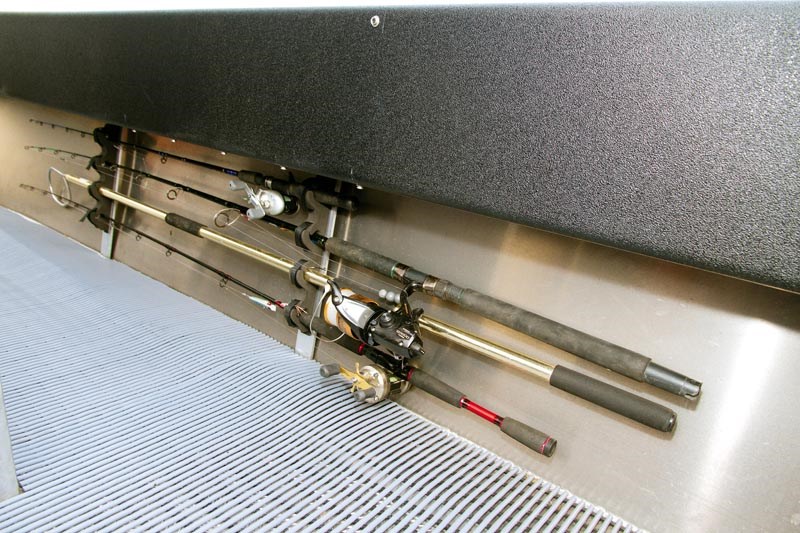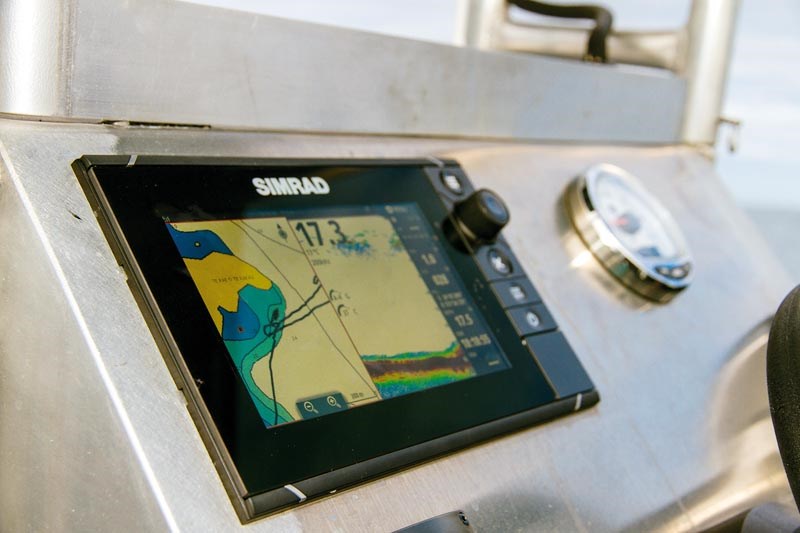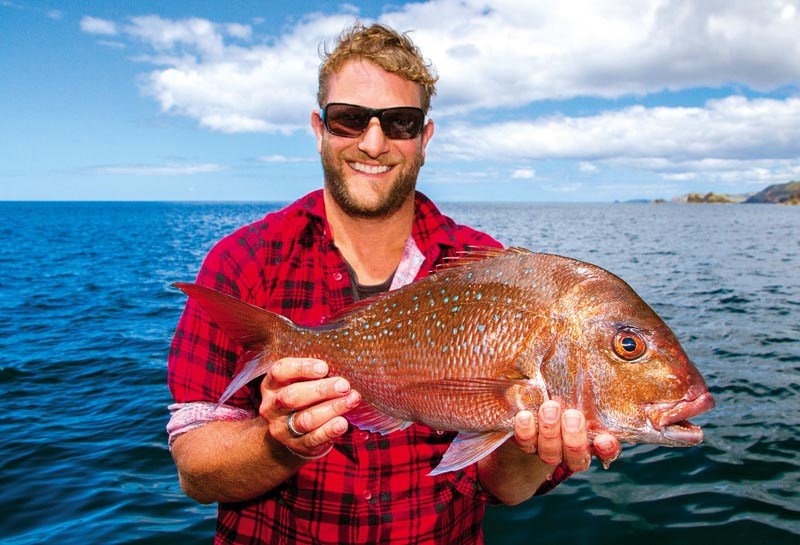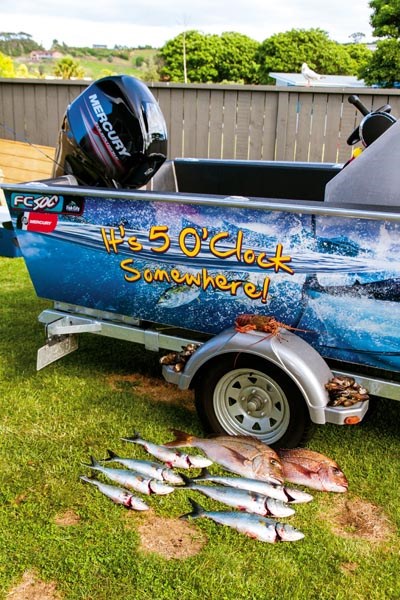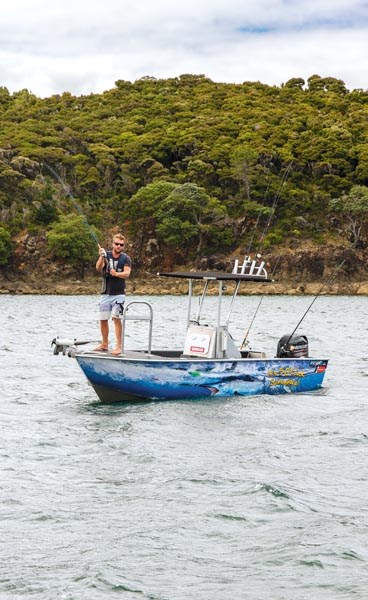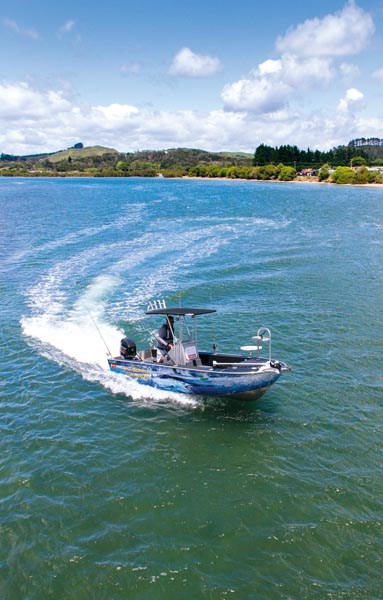 Keep up to date with news from Trade-A-boat or like us on Facebook!