Review: Fish City FC510 Cuddy Cabin
---
Fish City's reputation for constructing budget-priced aluminium fishing boats has moved up a notch with the improved Fish City FC510 Cuddy Cabin.
When Fish City started making aluminium fishing boats, they had one objective in mind – make them the best fishing boats of their size, while keeping them within a very tight budget. The new Fish City FC510 Cuddy Cabin version extends this with fisherman-friendly features inside and out. A ruggedness beyond their size also ensures these vessels will easily withstand heavy use and even heavier sea conditions.
FISH CITY CUDDY CABIN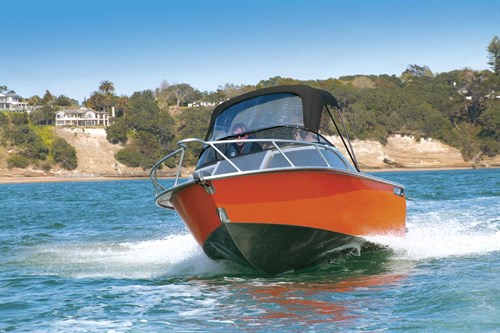 The 5.1m size of the new Fish City FC510 cabin is a good compromise of size and space, providing shelter against the elements and dry storage while remaining small, light and easy to tow. The cuddy cabin layout provides a sturdy barrier against the elements as well as the base for mounting a canopy and clears, and the cockpit remains wide open to maximise fishing space.
As with all Fish City boats, safety was a prime design consideration and the FC510 features positive buoyancy. Much of this is located in a foam-filled collar under the full length of both gunwales. When combined with sealed underfloor compartments this ensures the boat is not only unsinkable but importantly, will also remain upright even if it gets swamped by a wave.
Stability at rest is another common danger point for small boats – when a couple of blokes lean over the side some small vessels can easily heel dangerously over. Fish City has countered this with an automatic stabilising system comprising a water ballast chamber which, uniquely, has separate bow and stern sections. These each have a hidden air inlet under the bowrail, enabling water to fill the keel chamber almost instantly when the boat stops moving. By avoiding an airlock it also dramatically speeds up the process of dumping the ballast once the boat motors forward.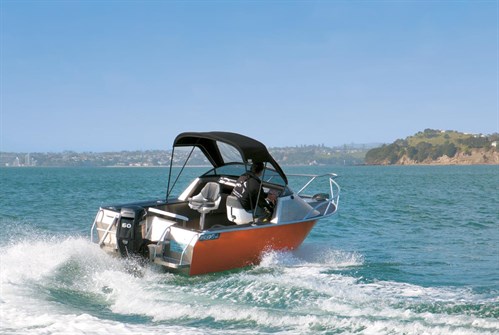 This separate bow chamber is brilliant for using when travelling lightly loaded. Ross Christensen, from Fish City in Albany who provided the boat for review, points out that under acceleration most small hulls will tend to lift their bow, especially when there is not much weight onboard. By allowing the front ballast chamber to fill and then closing it off with a gate valve manually operated from the helm position, the extra weight in the front half of the boat assists in keeping it level when powering up. This translates to safer acceleration and better stability at speed.
LAYOUT AND DESIGN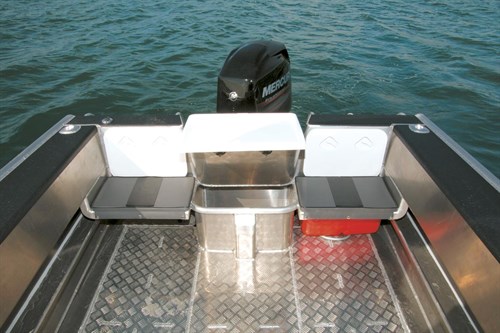 The second design feature of all Fish City boats is comfort, especially while fishing. Many smaller alloy designs have suffered from narrow gunwales that are uncomfortable for use as seating. The Fish City FC510 instead has Fish City's 'dry riding gunwale system' that features a wide gunwale platform with rounded edges. The gunwale overhangs the hulls on all sides and provides a wide bow profile, while not impacting the entry angle of the bow. This overhang not only provides a wide surface for sitting on, it also provides a downturned lip to catch any spray coming up the bow or hull sides and turns that away from the boat.
The small cuddy cabin is open, most suited for stowing bags and gear but nevertheless equipped with a modest vinyl-covered squab. Two plastic pedestal-mounted and swivelling seats either side at the dash have welded footrails to ensure a more comfortable seated position – the footrails also stop items sliding out of the cabin area.
The dash area is deep and provides a large surface to stow loose items. Anchoring is achieved manually through an aluminium hatch in the cabin, with a self-draining anchor well in the wide bow area holding anchor, rode and chain. Both manual and auto capstans are available as options.
On the review boat a Lowrance Elite-7 fishfinder-chartplotter was the only electronic item installed, although there is space on the dash for a larger display unit. The single gauge fitted was for the 60hp Mercury four-stroke outboard, but this was a Mercury SmartCraft digital multifunction unit that provides RPM on the main analogue dial and a range of engine information on a configurable digital display within the same bezel.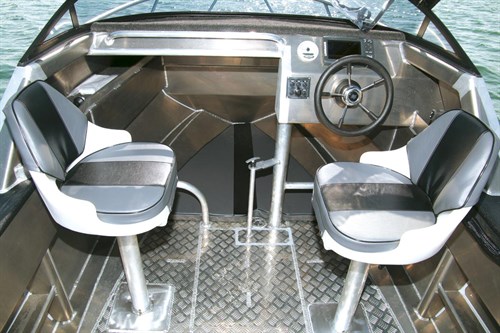 Navigation lights are installed as standard and a switchboard was the only other item on the dash. Steering is by conventional mechanical system.
The cockpit is the main feature of this boat and thanks to the wide bow profile, this is larger than most boats of this size. The test boat had the optional transom seats welded in each corner of the stern. Each seat forms a useful step over the transom as well as hiding a standard tote tank underneath.
The deck is standard aluminium treadplate welded to the crossmembers. A passive livebait
tank is located between the rear seats under the transom, with a bung located on the inside to facilitate draining. A bilge pump is fitted under the transom.
Hanging off the stern is the black 60hp Mercury four-stroke with four-blade stainless steel propeller.
HANDLING AND RIDE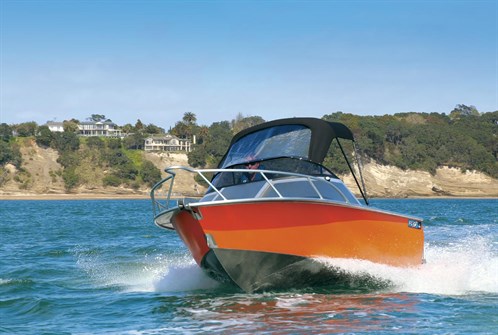 It was a bright but blustery day when we launched the Fish City FC510 off Takapuna Beach and headed out for a play. Skidding out over the short and messy chop showed the benefits of a strakeless hull – the ride was smooth, with the fairly rigid hull absorbing much of the slap noise that one would normally expect from an aluminium boat. The wide gunwales also did their job with virtually no spray finding its way into the cockpit.
Some hard turns produced similarly good performance with a small amount of sideslip but once the chines started to bite, it turned sharply. We had no concerns with running into, across or with the swell at speed and the boat felt in control throughout.
At one point we throttled off just as we dropped into a swell and the overhang around the bows did a great job of keeping most of the slop away from the boat. Christensen did his best to get the boat airborne for the photos but the hull handled the short chop easily with very little airtime.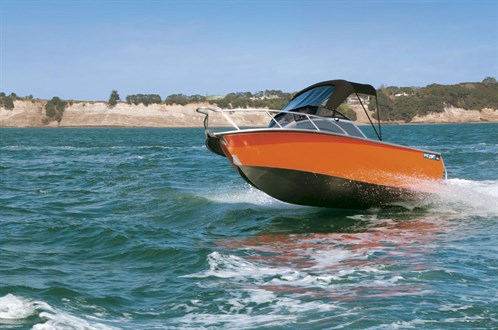 At rest the boat lives up to its stability claims with the water ballast doing its job so efficiently you are not even aware it is there.  At rest we could happily lean over the side without worrying about the boat heeling over, while during acceleration the water emptied out fast enough that it seemed to make little difference to performance. Closing the forward ballast chamber was a simple matter and water could be dumped underway if required.
The cockpit felt roomy and four occupants could fish from it without getting in each other's way.
The 60hp motor proved perfectly capable with two occupants aboard, providing plenty of holeshot performance. In the conditions we were not going to exceed 20kts but the motor seemed to have power to spare. The hull is rated to 75hp which may be required if three or four occupants are going to provide the usual load.
THE TRADE-A-BOAT VERDICT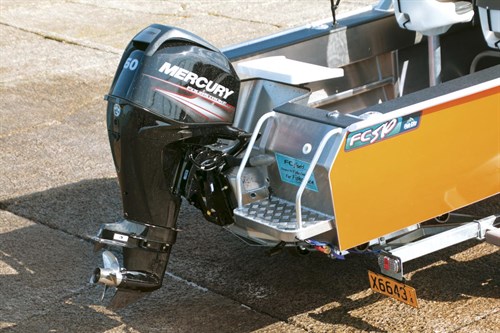 Overall, this is a fun, simple and economical boat, unpretentious but ideally suited to its intended use for fishing. It is light and tough enough to launch just about anywhere, even off the beach, but offers a level of safety to rival a pontoon boat or inflatable. It can be towed by a modest-sized car and easily fits into a garage.
The basic package for a Fish City FC510 CC has a price $34,995 without the extra seats, canopy or electronics.
HIGHS
• The water ballast system
• Bungs accessed from the inside
LOWS
• The lack of a cover for the livebait tank could cause it to slop in rough conditions
FISH CITY FC510 CC SPECIFICATIONS
Fish City FC510 CC price: $35,745 (as tested)
PRICED FROM
$34,995 w/ 5 year warranty
GENERAL
MATERIAL Aluminium (5mm bottom, 4mm sides)
TYPE Monuhull
LENGTH 5.1m
BEAM 2.15m
WEIGHT 815kg BMT
DEADRISE 16°
CAPACITIES
PEOPLE 4
REC. HP 50 to 75
FUEL 25lt tote tanks under rear seats, w/ underfloor tank an option
ENGINE
MAKE/MODEL Mercury 60 FourStroke outboard motor
TYPE Four-cylinder petrol four-stroke outboard motor
RATED HP 60
FOR MORE INFO
Fish City Auckland
Cnr Rosedale Road & Triton Drive, Albany, Auckland
Phone 09 476 4282
Fish City Hamilton
Cnr Kahikatea Dr and Latham Court, Frankton, Hamilton
Phone 07 846 6675
Web fishcity.co.nz
See the full version of this review in Trade-A-Boat #249, January / February 2015. Why not subscribe today?
Keep up to date with news from Trade-A-boat or like us on Facebook!