Review: Horizon RP110 superyacht
---
With the RP110, Horizon Yachts has created a specialised vessel for use in a unique part of Australia. However, this superyacht is also a capable world cruiser.
Superyacht design is littered with examples of glossy floating palaces which can't go to sea in anything more than a stiff breeze and can't carry enough fuel for voyages beyond a weekend getaway.
But Horizon Yachts is no newcomer to this game. The company has been turning out ocean-going yachts from its Taiwanese yard since 1987 and CEO John Lu has led the charge that ensured Horizon Yachts is now counted among the world's best luxury boat producers.
HORIZON RP110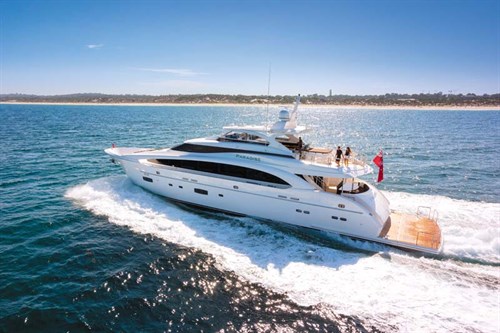 The Horizon RP110 stands for Raised Pilothouse and is an inspired evolution of Horizon's successful P110 Tri-Deck, but featuring a broad hardtop where the Tri-Deck had a targa arch.
This permanently-shaded retreat on the top deck of the aptly-named Paradise is the first hint of what reveals itself to be a carefully considered build, and a real product of her environment; chiefly because successful boating in WA requires a very different mindset.
The far north west of Australia's coast is legitimately one of the last frontiers of wilderness exploration and while there are plenty of charter boats plying those waters these days, you can bet they're not taking the mission lightly.
A journey north will certainly be on the itinerary for next winter, so careful thought must be given to how a yacht can not only get up there safely and return in one piece, but also, how to make the experience enjoyable (dare we say luxurious) for those lucky few who make the trip.
MODIFICATIONS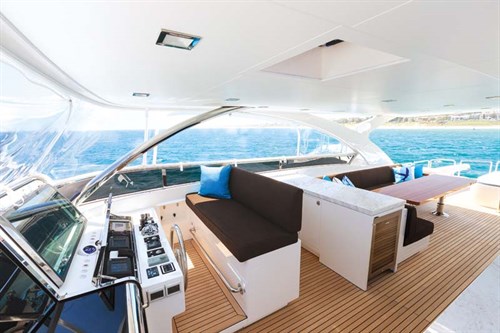 That's where Horizon's team have outdone themselves with this yacht. Our review Horizon RP110, named Paradise, represents a blend of the sublimely luxurious and the eminently practica.
But this didn't just happen overnight. The relative proximity of Taiwan to Australia allowed the new owner and an experienced local team from Oceaneer Marine Brokers (WA-based preferred partner for Horizon Motor Yachts Australia) to make numerous trips to the factory during the two-year build process.
The result is that while Horizon RP110 hull no.3 may look the same as the two RP110s that preceded her, Paradise is very much an Australian superyacht, with a host of changes to better suit local conditions.
One of the most significant modifications is unseen, but has a major payoff. Below the waterline, the yacht's keel has been extended downwards by 30cm along the length of the hull. This deeper keel will prevent the yacht swinging excessively while on anchor, a very real concern, given WA's notorious sea breeze which regularly tops 30kts.
Up forward, a pair of upgraded Muir VRC6000 windlasses paired with hulking 160kg Ultra anchors ensure that Paradise will stay where she's put.
I won't go into the whole list of changes (it runs to 10 pages) but many of them are aimed at increasing the long-range capabilities of.
OWNERS' TOUCH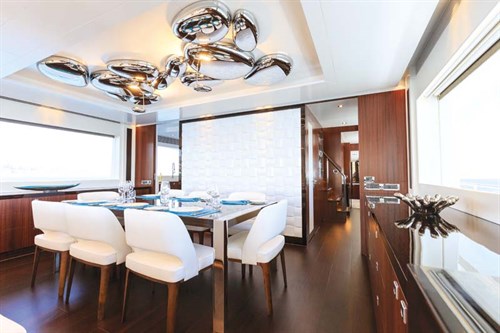 This subtle tweaking of existing Horizon designs is exactly how new HMYA owners Gary Wahlstedt and Matt Yapp aim to increase the brand's appeal among Australian boaters.
On board Paradise for his first look at the company's biggest launch to date, Gary explained that he, Matt and two other HMYA team members had just returned from the Taiwan factory, where they'd looked over a V72, E84, and PC52 – all destined for new Australian display stock at Sanctuary Cove.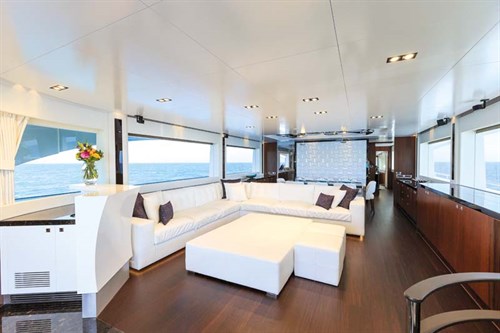 While inspecting the upper decks of the V72 and E84 in build, the team realised the entertaining needs of owners could be better served by removing the existing rear lounge and sunpads. Instead, in went a bar area, including fridges, icemaker, barbecue and bar stools.
It's this type of involvement with boat design at a grass roots level that has Matt and Gary (both Horizon owners themselves) so enthusiastic about their new role.
INTERIOR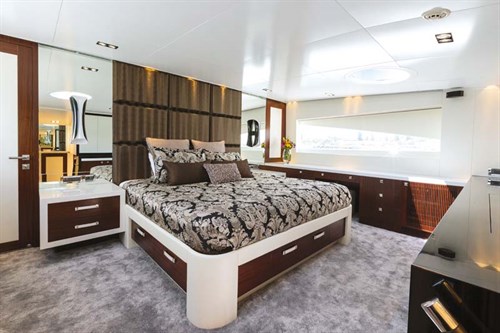 As you walk through Paradise, South American walnut in a satin finish is widely used throughout the yacht, contrasting with white fabrics, and splashes of colour are thoughtfully placed. High gloss ebony shines from countertops and tables, and while these might keep the stewardess busy, a clever result sees the ocean's colours reflected back through the expanse of windows to vibrant effect.
The accommodation stretches over two floors: master stateroom on the main deck, with guests and crew below. Downstairs from the saloon are four guest cabins – two doubles and two twins, meaning Paradise can house 10 guests, plus five crew.
Each guest cabin has its own ensuite, the doubles also gaining walk-in robes and, like the rest of the yacht, the fittings are clean and contemporary.
Notable in the guest level corridor (and on the forward wall of the saloon) is a striking "white coral" feature wall, of glossy textured acrylic. Above the dining table, a series of stainless orbs hang like mercury in zero-gravity to reflect light down onto the place settings, while the enormous master suite is predictably sumptuous.
AT THE HELM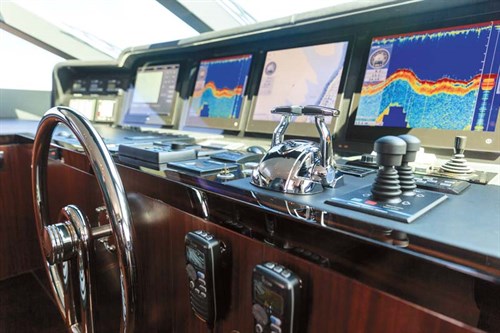 Just about any sailor can pilot a vessel downriver and weave through some channel markers, following the plotter to their favourite fishing spot. But if you're travelling along thousands of miles of remote coastline toward coral-infested waters, some of which remain uncharted and are subject to the biggest tides on earth, well, you'd better know what you're doing.
It's a very good argument for engaging professional crew, but it also doesn't hurt to outfit those crew with every shred of information available to them.
To a newcomer, the expanse of information on can seem confusing, even excessive, but rest assured, each has a specific and vital role. No less than five colour screens stretch across the bridge of Paradise – systems monitoring, radar, navigation, sounder and FLIR thermal imaging.  A new one for me was the colour scanning sonar (usually found on commercial vessels) which uses a 3kW transducer to find schools of fish anywhere around the yacht, or to produce a 3D image of the seabed beneath.
Captain Luke Tompsett also demonstrated an impressive feature of the MaxSea plotter, which allows him to download the latest weather information and overlay an animated display of the forecast wind speed and direction onto selected areas of the map.
PERFORMANCE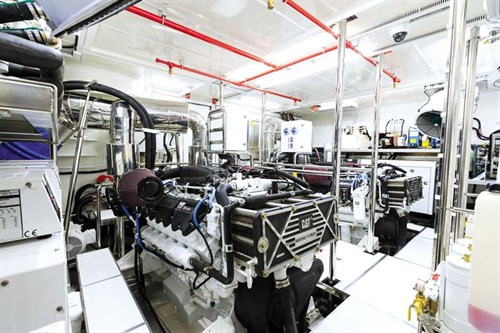 Boasting a displacement of 120 tons (light ship), you'd be forgiven for assuming this Horizon RP110 would be a bit thirsty on fuel. What's interesting is that the sleek hull design, combined with a pair of the latest Cat C32 ACERT engines, delivers surprisingly economical performance.
At a long-range cruise speed of 8.5kts, the twin Cats swallow just 40lt/h for each engine. Top speed for the semi-displacement hull is a swell-crushing 20kts, gurgling a massive 385lt/h per engine, but owners of yachts like this rarely watch the fuel gauge too closely – they're too busy having a ball.
Distributed among three tanks is 21,000lt of fuel; more than enough to run from Fremantle to Bali and back again without visiting a fuel dock.
Fresh water capacity is also impressive – around 3000lt – but this is supplemented by two watermakers which can each crank out more than 5000lt/day to keep the tanks full in remote areas.
THE TRADE-A-BOAT VERDICT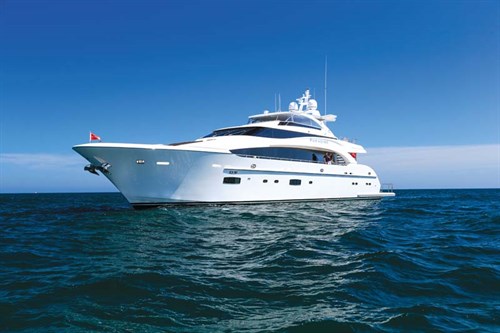 Cocktail parties at anchor in glistening Thompson Bay one night, with the bright lights of Perth providing a sparkling backdrop … and then one week later, you could be anchored in the remote Abrolhos Islands, freediving for crays off the swimplatform or chasing gamefish beyond the reef.
HORIZON RP110 SUPERYACHT SEA TRIALS
2 x CAT 1900hp C32 ACERT V12s
| | | |
| --- | --- | --- |
| RPM | SPEED (KTS) | FUEL BURN (LT/H) |
| 1100 (cruise) | 8.5 | 80 |
| 1350 | 11 | 200 |
| 1800 | 14.5 | 400 |
| 2300(WOT) | 20 | 770 |
*Sea-trial data supplied by Paradise crew. Fuel burn figures are for both engines combined.
HORIZON RP110 SPECIFICATIONS
Horizon RP110 price: $POA
OPTIONS FITTED
Swim platform extension, keel extension, windlass/anchor upgrade, Steelhead davit to flybridge, extra freezers/fridges/wine coolers, teppanyaki barbecue, jacuzzi upgrade, zero-speed stabilisers, 55hp sternthruster, rope cutters on prop, extra 13.5kW night generator, fuel bowser to stern, dive compressor, extra watermaker and much, much more.
GENERAL
MATERIAL GRP
TYPE Semi-displacement monohull superyacht
LENGTH 33.53m
BEAM 7.62m
DRAFT 1.83m
WEIGHT 160 tons
CAPACITIES
PEOPLE (NIGHT) 10+5 crew
FUEL 21,000lt
WATER 3,100lt
ENGINE
MAKE/MODEL 2 x Cat C32 ACERTS engines
TYPE V12 twin-turbo diesel engines
RATED HP 1900 (each)
DISPLACEMENT 32.1lt (each)
WEIGHT 3220kg (each)
SUPPLIED BY
Horizon Motor Yachts Australia
31 Masthead Way, Sanctuary Cove, QLD
Phone +61 7 5577 9009
Web hmya.com.au
NZ Agent Motor Yacht Centre
Phone +64 9 377 6052
See the full version of this review in Trade-A-Boat #252, April / May 2015. Why not subscribe today?
Keep up to date with news from Trade-A-boat or like us on Facebook!