Review: Jeanneau Cap Camarat 5.5 CC Series 2
---
Get your hair blowing in the breeze with the Jeanneau Cap Camarat 5.5 CC Series 2 crossover family / fishing boat.
Tucked in behind the striking centre console of the Jeanneau Cap Camarat 5.5 CC Series 2, I quietly coasted underneath a city bridge. The loud, polluting world of gridlocked traffic only a few metres above my head was juxtaposed with clean, glassy water. The sun poured through the morning fog and baitfish fled from bigger prey as they boiled around the harbour's moored boats.
Clearing the last speed zone I flattened the throttle on the Cap Camarat and launched her onto the plane. Almost completely oblivious to the fact that this was a boat review and not a day's fishing, I had to restrain myself from flying straight to the offshore grounds.
CAP CAMARAT 5.5 CC SERIES 2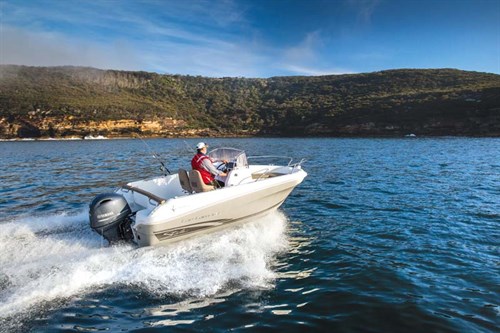 The Cap Camarat 5.5 CC Series 2 has a really nice feel. It's well weighted bow to stern, there's high freeboard throughout and great stability at rest with a wide 2.38m beam. For a 5.5m boat there's also a great feeling of spaciousness, although this may be partly attributed to the lack of sidepockets. Starting from the stern you have a transom capable of taking a 115hp outboard and a swimplatform featuring a tidy dive ladder on the port side.
The deck is self-draining but there's also an in-hull bilge pump that was a little tight to access. Running across the inside of the stern is the luscious aft cockpit seating arrangement with six tan cushions secured by press-studs (straps are also an option depending on customer preference). And once removed they leave a great elevated fishing platform.
But on the topic of fishing I do have to regretfully inform you that there are only two flush-mounted rodholders. That means you might have to get a bit creative with aftermarket rod storage if angling is your vice. Serviceability is good with a sealed hatch in the cockpit floor; below it you'll find access to the 100lt fuel tank, battery box and fuel filter.
LAYOUT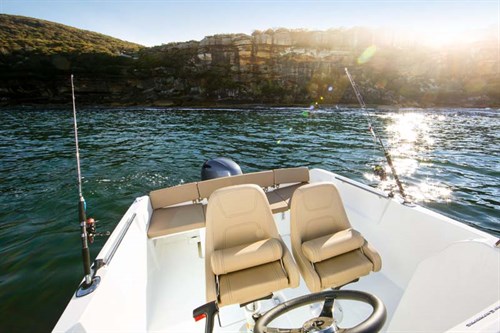 Moving forward, the Cap Camarat 5.5 CC Series 2 centre console is by far its most impressive feature. It's extra large without impeding walkaround access and sits two at the helm. When it comes to shade, there's an option for a bimini but as a centre console it may look out of place – a T-top option would be much sleeker.
Ergonomically the console is excellent, with the driver's position working well in both sitting and standing positions. It's pretty rare you can say this about a 5.5m centre console but the lockable cabin (yep, you read that right) has acres of space for storage and you could even jump inside it if you wanted to. A Porta Potti can also be fitted in this space to make this rig even a little more family-friendly.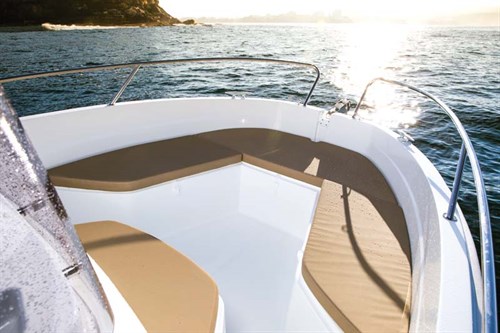 Moving on from the console you have the innovative and versatile forward cockpit seating area that facilitates three setup options. Firstly, you can drop in the infill cushion and make a huge comfy pad for sunbaking. Then when it's time for lunch, stick in the table and you've got room for three or four to dine in luxury and style. Thirdly, simply take out the cushions altogether and catch yourself dinner from the casting platform. Storage wise there's nothing to offer under this cockpit seating, but you do have an anchor locker below the forwardmost seat cushion.
HANDLING AND RIDE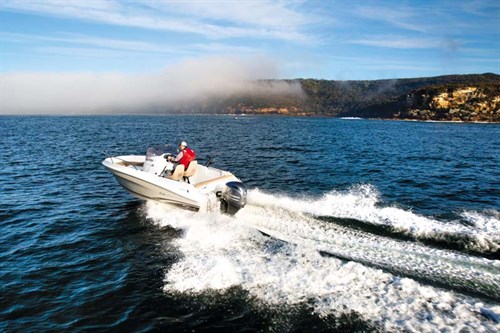 On learning of my review boat's dimensions I was a little dubious about the beam-to-length ratio matched with a centre console configuration – it sounded like a recipe for a wet ride. However, the flared bow and chine configuration actually work well to keep you and your passengers dry, even in steep chop.
The Cap Camarat 5.5 CC Series 2 hull is sporty yet stable and a lot of fun to drive, especially being open to the elements. You go boating to smell the salt and get your hair (and beard in my case) blowing in the wind, not sit inside a stale, old cabin.
The 115hp Yamaha inline four-cylinder four-stroke outboard motor complements the transom of the Cap Camarat. These sleek engines provide powerful and fuel-efficient boating, with reliability still the core focus of the Yamaha brand.
The recommended horsepower for the hull is 100, with a maximum of 115. But when it comes to four-strokes I'd always opt for the maximum horsepower rating – it usually equals better fuel consumption and obviously better performance too. The 115 on the Cap Camarat boasts some impressive figures, only burning 16.2lt/h at a cruising speed of 23kts. At wide open throttle you're still only using 40.2lt/h, despite flying along at a blistering 38kts – now that's affordable boating.
THE TRADE-A-BOAT VERDICT
The Cap Camarat 5.5 CC Series 2 isn't the rig for a bunch of blokey blokes to take out on dedicated freezer-filling fishing missions. Instead, it's for the young family who like comfort and flexibility in their boating. It's perfectly suited to a morning spent casting lures at surface-feeding fish with the kids, then grabbing the boardies, a picnic lunch and anchoring up for a swim and snack at a hidden beach only accessible by water.
HIGHS
• Heaps of deck space
• Wide beam and high freeboard  for family safety
• Jumbo centre console with  lockable cabin
• Killer looks
LOWS
• Cable steering is a bit  restrictive
• Not much storage overall
• Lacking standard features
• Little room on the dash for  flush-mounting electronics
CAP CAMARAT 5.5 CC SERIES 2 SEA TRIALS
Single 115hp Yamaha four-stroke outboard motor.
| | | |
| --- | --- | --- |
| RPM | SPEED (KTS) | FUEL BURN (LT/H) |
| 3000 planing | 13 | 10 |
| 3500  | 20.5 | 12 |
| 4000   | 22.7 | 16.2 |
| 4500  | 26.5 | 19.9 |
| 5000  | 30.2 | 25.5 |
| 5500  | 33.4 | 32 |
| 6000 WOT | 37.8 | 40.2 |
 * Sea-trial data supplied by author.
CAP CAMARAT 5.5 CC SERIES 2 SPECIFICATIONS
Cap Camarat 5.5 CC Series 2 price: $POA
OPTIONS FITTED
Outboard upgrade to 115hp Yamaha outboard motor, plus trailer
PRICED FROM
$63,150
GENERAL
MATERIAL GRP
TYPE Planing monohull
LENGTH 5.48m
BEAM 2.38m
DRY WEIGHT 780kg hull plus 171kg outboard
DRAFT 0.43m
CAPACITIES
PEOPLE 6
REC. HP 100
REC. MAX HP 115
FUEL 100lt
ENGINE               
MAKE/MODEL Yamaha F115 outboard motor
TYPE Inline four-cylinder four-stroke petrol outboard motor
RATED HP 115
DISPLACEMENT 1832cc
WEIGHT 171kg
MORE INFORMATION
ORAKEI YACHT SALES
Orakei Marina, 12-14 Tamaki Drive,
Orakei, Auckland, 1745
Phone +64 21 929 592; +64 21 624 614
Email sales@orakeimarina.co.nz
See the full version of this review in Trade-A-Boat #251, April / May 2015. Why not subscribe today?
Keep up to date with news from Trade-A-boat or like us on Facebook!