Review: Jeanneau Sun Fast 3600
---
We couldn't wait to sail the much anticipated Jeanneau Sun Fast 3600 after the smaller sibling, the Jeanneau 3200, stamped her place in European offshore races.
The Jeanneau Sun Fast 3600 is the larger, more powerful sailing sibling to the innovative Jeanneau Sun Fast 3200. The Sun Fast 3600 should successfully meet the growing global demand for shorthanded cruiser-racers that Jeanneau hopes will also grow locally.
JEANNEAU SUN FAST 3600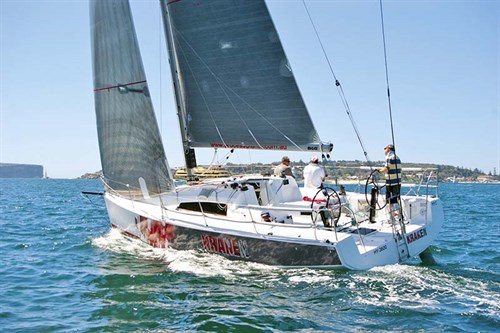 The first Jeanneau Sun Fast 3600 sailboat to reach Australia late last year, was imported by NSW dealer Performance Boating which has successfully campaigned the original Sun Fast 3200 that now numbers about 200 worldwide since production began in 2008. "The 3600 has been designed to be more competitive in crewed IRC events, as well as remaining a good shorthanded racer," Lee Condell from Performance Boating told me.
As before, the Jeanneau Sun Fast 3600 hull has twin rudders, a lead bulbed keel and a fairly high ballast ratio to hold plenty of canvas. The infused hull comes with similarly constructed decks and bulkheads to maximise the power-to-weight ratio, while hard chines aid tracking and minimises heel.
I looked over two Jeanneau Sun Fast 3600 hulls: hull #8 named Kraken here in Australia and hull #17 named Ymir in China. Coincidently, I actually raced against both these boats as well; in the last Rolex Sydney Hobart where Kraken was hurriedly made ready for Category 1 by owner Todd Giraudo and his West Australian crew who on their first campaign, managed a credible fifth in Division 4 and 21st overall in a highly competitive fleet, plus winning the Battery Point Trophy for the fastest elapsed time for a small yacht. And having looked over it in Hobart, I can vouch for the fact that it completed a fairly bumpy race in one piece.
I came up against its sibling Ymir while racing on the same courses as it aboard a Beneteau First 40 during the last China Cup. Ymir excelled in the mix of windward/leewards and longer island courses, no doubt mightily aided by having designer Daniel Andrieu aboard, and won its IRC division for a very happy owner, Hong Kong businessman Kjartan Furset.
TILLERS OR TWIN WHEELS?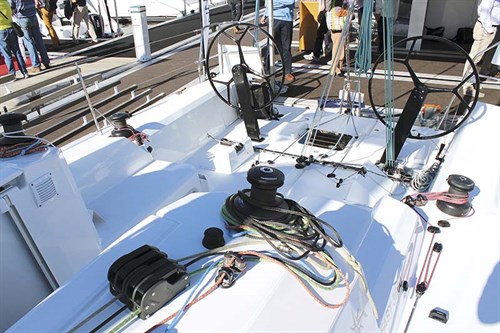 The Jeanneau Sun Fast 3600 cockpit can have either tillers or twin wheels. For this review I looked over both these configurations: hull #8 with wheels here in Australia and the tiller version Ymir in China.
Tillers offer direct control and excellent feel, while the twin steering wheels use less room so favour crewed racing and are ideal for those sailors who like standing in the cockpit. Hull #8 Kraken is sailed crewed and shorthanded and came with stylish composite Carbonautica steering wheels; both versions using quality Jefa linkages. On the wheeled Jeanneau Sun Fast 3600, slim pedestals preclude any instruments with B&G mast jumbos used instead, while smaller readouts can nestle in the bench seat coaming as used on Ymir.
On the tiller version, the key sail controls are all at hand: the main track at your feet, along with fine-tune controls for the mainsail and backstay. Also your position on the coaming is secured by the large moulded footplates and this layout is probably best for shorthanded, as the primary winches are also within reach. The wheeled version on the other hand puts the helmsman behind all the sail controls but within reach of the mainsail sheet, the engine throttle conventionally placed at ankle height to port. Underfoot is a large locker with moulded liferaft slot above.
COCKPIT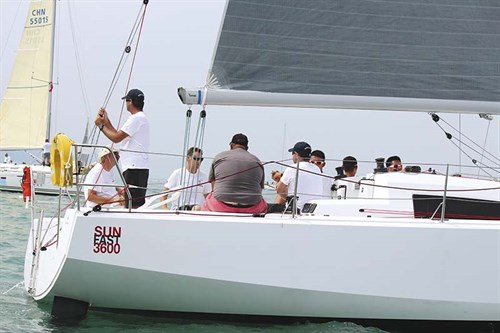 Elsewhere in the cockpit the tall saloon bulkhead protects the area well and houses all halyard controls, including alloy Harken double-drum Quattro winches for fast hoists and useful Spinlock turn buttons for relaying lines between winches. Also at hand are the controls for the jib track and barber hauler lines for lateral control.
Numerous other good features of the Jeanneau Sun Fast 3600 cockpit include bench seats with squared-off edges that match the same good ergonomics of the gunwales, so comfy for hiking and heeling. Another feature already on the Sun Fast, and something I fitted to my own boat before singlehanded racing, was a transom ladder – so you can climb back aboard as you dangle in the water by your tether. A salutary lesson I learned decades ago when a family friend sailing solo without a ladder was drowned at sea, and was found being dragged along.
SAILS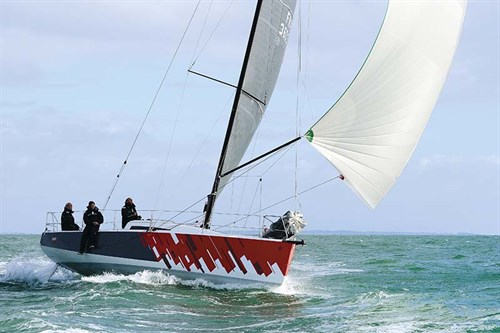 The high-aspect rig has sweptback spreaders and a mechanical backstay to support the alloy mast. Interestingly an unusual plastic vang is used to support the large-diameter alloy boom, in conjunction with a pulley system for adjustment. The mast is fitted with a track for symmetrical spinnakers and the fixed carbon bowsprit comes in two sizes – a shorter IRC optimised one or longer version for flying asymmetricals as well. The mast is supported by outboard wire shrouds that run into substantial chainplates. Carbon spars can be fitted to reduce weight aloft and enhance righting moment.
For headsails the two boats looked at had different approaches, Kraken using a wire forestay better suited to offshore passages and shorthanded sailing, Ymir a Harken tuff luff which is ideal for crewed inshore regattas. The sail wardrobes are similar, both owners choosing North Sails based on the experience gleaned from the loft's work with hull #1 Yolo that has done the Transquadra. Both yachts use asymmetrical spinnakers and I think the only difference is that Kraken has 3DL jibs while Ymir has 3Di versions. Usefully for shorthanded work Kraken has been fitted with lazy jacks.
Looking around the deck there's plenty to like as well, such as angled gunwales for comfy hiking and an integrated GRP toerail to support the bowman. The pulpit is basic with a deep chain locker only but has some subtle touches such as rubber rollers on the braced stanchion bases to aid lines running; plus cleats fore and aft that are substantial for cruising.
BELOW DECKS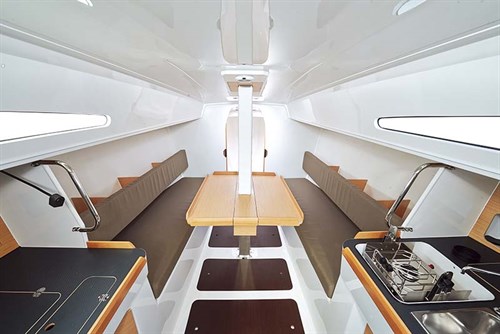 Moving below decks – you're protected by sensible conventional washboards – the layout is understandably Spartan for weight reduction, with twin cabins aft and head forward, alongside the sail locker. The compression post for the deck-stepped mast anchors the folding table mid-saloon, with sufficiently long benches either side for napping or for use as pipecots when fully crewed.
Another useful feature for sail handling is the large forward bathroom hatch with double doors, allowing easy spinnaker handling. A manual toilet and sizeable sink take care of ablutions here, while a forehatch accesses the watertight collision bulkhead; again all seaworthy design features. In fact the entire boat really oozes practicalities, reflecting the fact that designer Daniel Andrieu has raced and cruised his own Jeanneau Sun Fast 3200 for many years.
Being safe in a bumpy sea means having good handholds all-round and in the cabin there are handrails on the navigation station and galley, each unit having large, solid-wood fiddles. The nav station has ample bulkhead space for the factory-fitted B&G kit; or NKE electronics favoured by shorthanded boats. Opposite the full-sized chart table are two-burner cooker and stainless steel sink with 60lt icebox.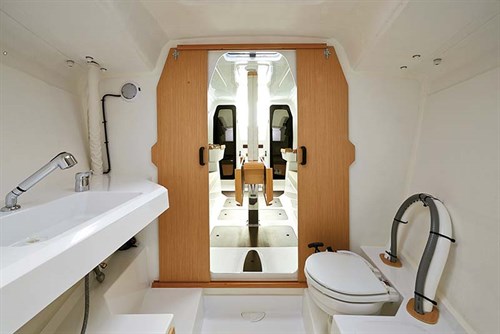 Ymir has a few more comfort options for occasional cruising such as a water heater, fridge, shorepower plug, battery charger and a house battery. Other good features in the galley include the inward-facing seating either side of the companionway allowing comfortable watch-keeping on both tacks. Storage is simply done via open side bins and under-bench space.
Aft is always the best place to sleep on a bouncy boat so the twin double cabins should do the job, but just mind your head on the exposed deck studs. Jeanneau builds these hulls in one fusion process and no liners are used in order to keep weight down. Access to the transom is via watertight hatches in the aft cabins, where I peered at the sturdy Jefa steering quadrants. Similar to sister company Beneteau, Jeanneau uses removable soft wardrobes in these cabins, another commendable idea.
CONSTRUCTION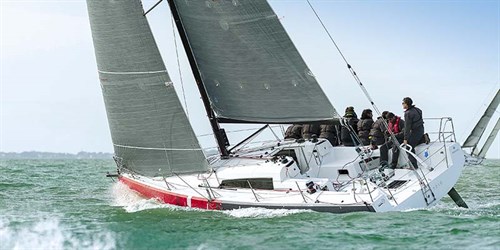 The balsa cored GRP hull includes a structural grid for stiffness. The deck is foam cored and bulkheads honeycombed for weight saving and insulation. Hull shape shows plenty of rocker, which lifts the aft section clear of the water to prevent stickiness in light wind, something the flatter built 3200 suffered from.
Interestingly the Jeanneau Sun Fast 3600 has the same beam as the Jeanneau 3200 but taller topsides allow for living space, something the global market required – but Andrieu bridled at the idea of a reverse sheer line as used on raceboats such as the Farr 400. "A boat must still have elegant lines," he says. But the hard chines demonstrate that the French designer is more than just a traditionalist, as these allow for more beam to aid form stability. Elsewhere the 3600 ends have minimum overhangs and relatively upright topsides to curry favour with IRC ratings (she has a TCC of 1.044), in a similar way to its competitor the Elan 360. Keeping everything upright is an L-shaped lead keel, something  Andrieu was adamant about, as opposed to the popular convention for T-keels. "This is really important for offshore because if you catch a rope when shorthanded, you could be dead, so no T-bulbs!" he stressed. Clearly a stiff boat, showing high ballast ratio of 44 per cent, means the Jeanneau Sun Fast 3600 doesn't rely on crew weight alone.
THE TRADE-A-BOAT VERDICT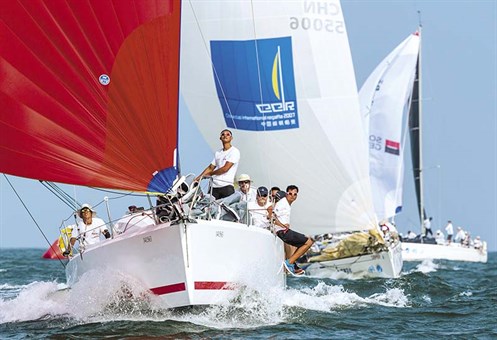 Offshore is where I'd like to be on the new Jeanneau Sun Fast 3600 and if my fairy godmother gave me a wish it would be to doublehand one in the upcoming Fastnet this August – hint, hint!
HIGHS
• Functional design
• Versatile deck layout
• Liveable interior
LOWS
• Exposed studs in cabins
• Small tankage
JEANNEAU SUN FAST 3600 SPECIFICATIONS
Jeanneau Sun Fast 3600 price: $280,000 (priced from)
GENERAL
MATERIAL GRP
TYPE Keelboat
LENGTH 11.25m overall; 9.5m waterline
BEAM 3.55m
DRAFT 2.13m
WEIGHT 4700kg (ballast 2000kg)
CAPACITIES
FUEL 75lt
WATER 100lt
ENGINE
MAKE/MODEL Yanmar saildrive w/ Gori folding propeller
RATED HP 21
SAILS
SAIL AREA 36m² mainsail; 33m² genoa (106 per cent); 100m² spinnaker
ORAKEI YACHT SALES
Orakei Marina, 12-14 Tamaki Drive,
Orakei, Auckland, NZ, 1745
Phone +64 21 929 592
Email sales@orakeimarina.co.nz
Web orakeiyachtsales.nz/jeanneau
See the full version of this review in Trade-A-Boat #252, April / May 2015. Why not subscribe today?
Keep up to date with news from Trade-A-boat or like us on Facebook!