Review: Jeanneau Velasco 43F
---
The new Jeanneau Velasco 43F is a stylish step up from its predecessor 43, but with this new boat Jeanneau has not sacrificed style for substance.
JEANNEAU VELASCO 43F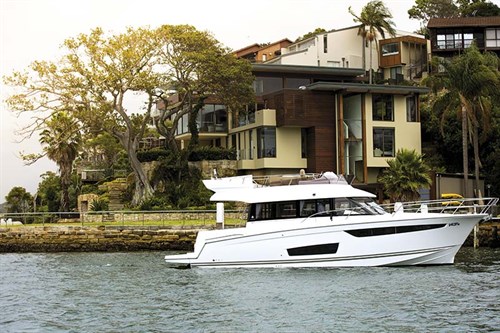 The first Jeanneau Velasco 43 boats were produced with the upright trawler-style windscreen which has its devotees and detractors. The new Jeanneau 43F Velasco, however, has sportier lines, with a sloping windscreen. It's an image that's enhanced by a low Targa arch on the rear of the long sportsbridge. She's a very practical boat that will appeal to the cruising and entertaining sector but has some real seafaring cred to boot.
LAYOUT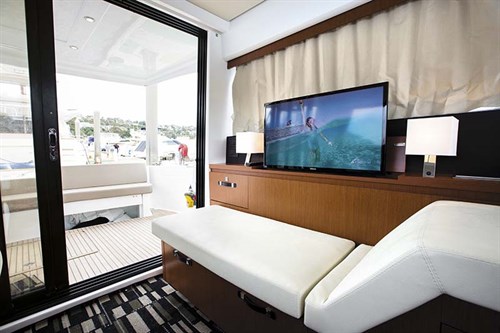 The Jeanneau 43F Velasco's appointments include a large forward stateroom plus a convertible twin for visitors and kids, both with individual en suite for convenience and privacy. There's a big saloon area with functional galley, comfortable seating, and a convertible dinette leading to a large rear deck with lounge. Boarding is made easy via a large rear platform leading to the starboard rear door.
The trim and feel throughout is tastefully European, incorporating modern square line upholstery, matt timber finishes, Leathertex trim, a U-shaped galley with beige stone benchtops, all enhanced by a very stylish roof liner with white fibreglass frame. She has premium recessed lighting and a big, open feel with large 360-degree windows and a three-piece sliding rear door. There's even a neat, convertible chaise lounge on the port side that separates to become extra seating when the ingenious folding dinette is fully extended.
The galley incorporates a stainless sink and a preparation recess. Additionally there's a two burner electric hotplate, microwave, optional drawer style dishwasher and a bar fridge. The standard refrigeration is a bit limited for our Aussie lifestyle, however this boat had the optional inclusion of a chilled wine cellar in the spacious underfloor storage.
---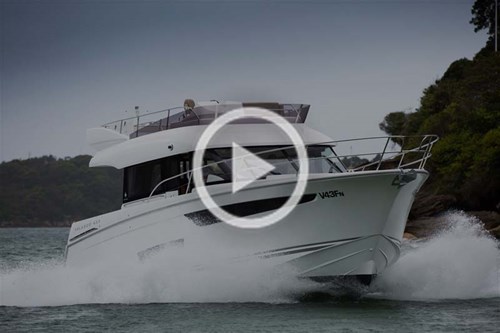 Watch our video on the Jeanneau Velasco 43F.
---
INTERIOR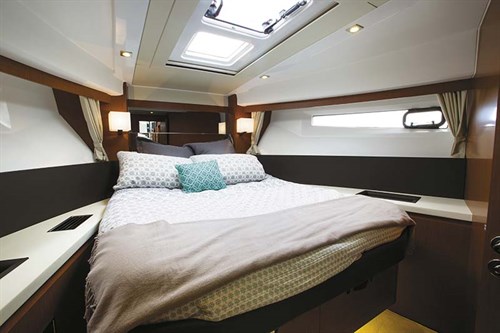 In my opinion every good cruising boat needs a large stateroom with a big bed – a Queen at least. The Jeanneau 43F Velasco ticks this box with a quite spacious layout which is visually assisted by a mirrored bedhead. There are individual reading lamps, down-lighting and vented and tinted windows on both sides.
Overhead is a pair of sun hatches; one of them opening and both with a sliding blind so there is plenty of light and ventilation. I like the side pockets either side of the room to keep all of those nick-nacks in place and the timber cabinetry houses the reverse-cycle climate control vents. There are not many drawers other than a large one under the bed, and another in the full-sized wardrobe.
The second stateroom has walk-in headspace leading to another full wardrobe but the headroom is reduced over the beds as they lie under the helm position. It is quite a serviceable bedding area that quickly transforms from twin singles to larger than double, but grandma and grandpa may have difficulty with the limited overhead space. It's perfect for the kids or able adults and is actually very inviting with its full-length tinted side window.
Both staterooms are fully serviced by individual en suites and the one attached to the second bedroom doubles as the day facility for the guests.
HELM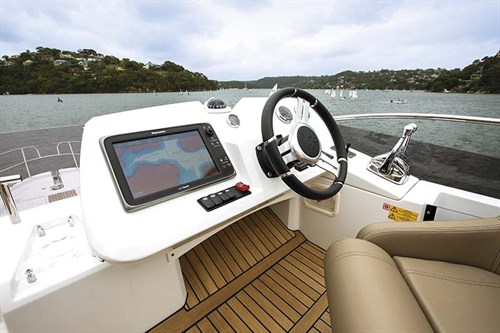 I have to admit that I felt a little awkward as a passenger in the sloppy seas. There is no passenger seating near the helm and very few handholds in the galley area. You wouldn't ever notice in normal conditions; however some overhead handgrips would help secure your crew in a big sea. Obviously most people will be enjoying the flybridge in ideal conditions.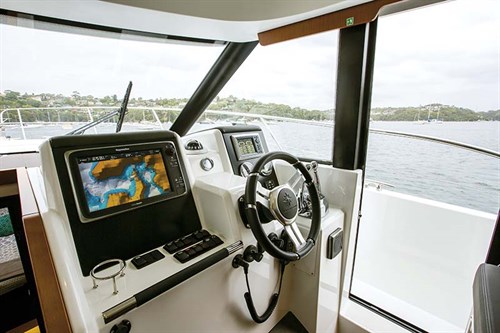 The downstairs helm is very neat with a double bench seat with folding bolster and footrest that makes it comfortable to sit or stand. The Jeanneau 43F Velasco offers terrific 360-degree visibility and comfortable controls via the twin binnacles and sports steering wheel. This package was optioned with a Raymarine electronics package with multi-function units and digital engine monitoring combined with basic analogue gauges. A huge bonus feature are the dual thrusters fore and aft combining with the twin electronic shift shaft drives, making docking and slow speed manoeuvrability a cinch. I also really liked the trawler-style side access door at the helm which greatly adds to traffic flow around the boat and makes single handed operation a pleasure.
SALOON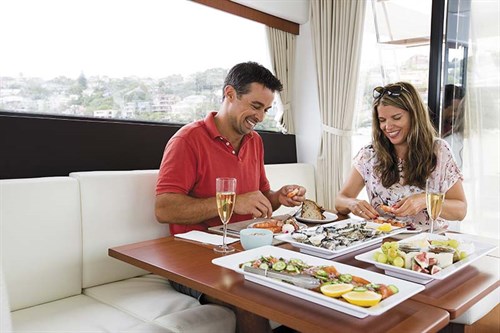 The internal dining and entertaining layout is neat, functional and very inviting with plenty of convertible options from the chaise lounge and convertible dinette. The matt-finish Moabi cabinetry presents very well, especially when highlighted by the cream vinylette (Alcantara and leather options available) upholstery and fibreglass trim. There's a nifty pop-up flatscreen TV in the port side console behind the chaise, along with the control unit for the reverse-cycle climate control on the bulkhead. I just loved the all-round vision and there are blinds for privacy.
The rear of the saloon is enclosed by a tri-sliding doorway that allows very good flow from within to the large rear deck. The transom has a full rear lounge with some very convenient storage. Nearly all external decks were practical teak flooring and the cockpit is well shaded by the extended sundeck. The rear platform has an optional hydraulic lift but at around $30,000 I don't know how popular it will be.
HANDLING AND RIDE
The Jeanneau Velasco 43F is certainly a beautiful boat, Sydney Harbour a beautiful place and I would like to think that NSW Jeanneau dealer Matt Willett and our illustrious Trade-a-Boat crew are beautiful people – but the day of our boat review was far from it.
There was an air of trepidation as we departed Matt Willett Marine's office at The Spit in Mosman and headed toward Sydney Heads. A big south-easterly buster was pushing through, forcing winds averaging 20kts at sea level but gusting to around 30-35kts. Up in the air our helicopter pilot reported even higher winds just above our heads and the camera crew were well strapped in for the buffeting.
Matt and I rounded South Head and continued seaward with the Velasco taking the sea straight on the nose. It's easy to be sceptical about the sea-keeping abilities of many imported luxury cruisers. However the mood quickly changed from trepidation to sheer joy as the Jeanneau Velasco 43F fearlessly confronted the might of the Tasman Sea with a strong and confident attitude.
Our confidence was enhanced by the power of the twin 380hp Cummins QSV 6.7lt, six-cylinder, turbo-charged and after-cooled diesels transmitting bold grunt through the V-drive shafts. Sensibly, we backed her off into the head sea, maintaining a comfortable and fuel-efficient 10kts. She liked a little throttle when punching into the cresting waves, allowing full control at the helm with surprisingly little need for windscreen wipers. There was no thought of steering from the elevated flybridge in these frigid conditions.
After a good run into the swell we rounded easily with very little roll and ran back down the waves like a couple of kids surfing an endless point break. She sat up nicely at 20kts, showing 2800rpm and using 50lt/h per side and revelling in the swell as she tracked straight and true down the face.
She gave a very slight complaint as the turbos surged up the backs of some rather large swells which may well have been a hint of cavitation in the aerated water. We tend to forget that Jeanneau's home on the Mediterranean has its own class of foul weather and that this industry giant produces boats for a huge worldwide market.
THE TRADE-A-BOAT VERDICT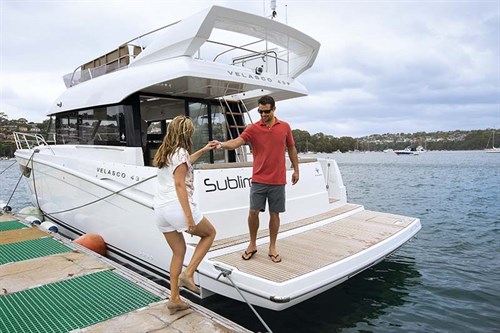 Jeanneau has certainly packed plenty of features and style into the Velasco 43F. It is a very appealing boat with distinctively proud lines and an obviously European heritage. She has the guts to go to sea, yet the grace and facility for a luxury cruiser.
HIGHS
Extended flybridge
Modernised looks
Saloon visibility
LOWS
Slightly confined second stateroom
Limited cool storage
JEANNEAU VELASCO 43F SEA TRIALS
2 x Cummins QSB 6.7lt diesels with V-drive
| | | |
| --- | --- | --- |
| RPM | SPEED (KTS) | FUEL BURN (LT/H) |
| 2500 | 20 | 50 |
| 3000 | 25 | 60 |
* Sea-trial data from author. Fuel burn figures are per engine.
JEANNEAU VELASCO 43F SPECIFICATIONS
Jeanneau Velasco 43F price: $829,760 (price as tested)
PRICED FROM
$645,405
GENERAL
MATERIAL Fibreglass
TYPE Monohull
LENGTH 13.7m
BEAM 4.13m
WEIGHT 10,761 kg
STANDARD KEEL DRAUGHT 1.17m
CAPACITIES
PEOPLE (DAY) 8 (NIGHT) 4
REC. MAX HP 760
FUEL 1170lt
WATER 400lt
ENGINE
MAKE/MODEL 2 x Cummins QSB 6.7L marine engines
TYPE High pressure common rail, 24-valve, inline, turbocharged and after-cooled six-cylinder diesel marine engine
RATED HP 2 x 380
WEIGHT 659kg plus V-drive
DISPLACEMENT 6.7lt
MANUFACTURED BY
SPBI Jeanneau
Web jeanneau.com
MORE INFORMATION
Orakei Yacht Sales
Orakei Marina, 12-14 Tamaki Drive,
Orakei, Auckland 1745
Phone 09 524 8444
Email sales@orakeimarina.co.nz
See the full version of this review in Trade-A-Boat #253, May / June 2015. Why not subscribe today?
Keep up to date with news from Trade-A-boat or like us on Facebook!