Video: Jeanneau Velasco 43F review
---
We review the brand new Jeanneau Velasco 43F, just in time for its Australian launch at the 2015 Sanctuary Cove International Boat Show.
JEANNEAU VELASCO 43F
The Jeanneau Velasco 43F is a brand new luxury power boat from the famous French yard. It's a two-cabin, two bathroom power boat with twin V-drive Cummins Diesel shaft drives, something which (Australian) distributor Matt Willet from Matthew Willet Marine  says is a notable point of difference on the Jeanneau boats range.
LAYOUT
Incorporating a traditional trawler-style design, the Jeanneau Velasco 43F has an upstairs galley and one-deck layout with side-opening door. Even so, says Matt, fitted with twin 380hp Cummins engines as standard, the Velasco 43F can comfortably perform at 25kts.
"It has a sort of cruising harbour-style layout," says Matt. "Mum and dad will feel quite comfortable on here. The two beds and two bathrooms are great for going away for a few days and if you want to go on at 8kts it's got a good 400 to 450 mile range," he says.
Interestingly, the layout is slightly offset, echoing European tradition. The result is a walkway that is a bit wider on the starboard side than the port side. The logic behind this is very deliberate.
"The reasoning behind it is that, rather than have two wide walkways and a narrow saloon, we have one good accessible walkway and one slightly narrower one, but we still have plenty of space in the saloon," says Matt.
---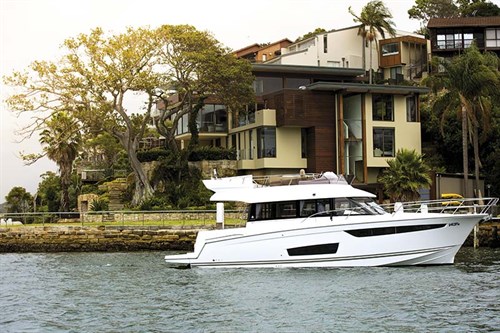 Like what you see? Check out our full Jeanneau Velasco 43F review.
---
SHAFT DRIVES
The Jeanneau Velasco 43F comes standard with bow and stern thrusters, as well as the previously mentioned twin 380hp Cummins diesel shaft drives. This gives the Velasco 43F a high degree of manoeuvrability.
Indeed, shaft drives have been around for many years. Although pod drives have become a trend lately, says Matthew, Jeanneau opted to build the Velasco 43F with this style of engine.
The verdict? The Jeanneau Velasco 43F is a luxury boat that is fantastically easy to drive and has the benefit of also being very easy to maintain.
"It's about as easy as you can get drive," says Matt.
Keep up to date with news from Trade-A-boat or like us on Facebook!