Review: MasterCraft X23 Gen 2
---
We review the MasterCraft X23 Gen 2, a wake boat of such high quality it's hard to fault.
The MasterCraft X23 Gen 2 wake boat is a very difficult boat to fault as there is no compromise on quality and the finishes are impeccable. From tasteful colour-combo vinyls, to heavy bass and crisp sounds, and high-tech finishes in the gelcoat and aluminum work, the MasterCraft X23 Gen 2 is a classic example of class, style and X-factor combined into one.
MASTERCRAFT X23 GEN 2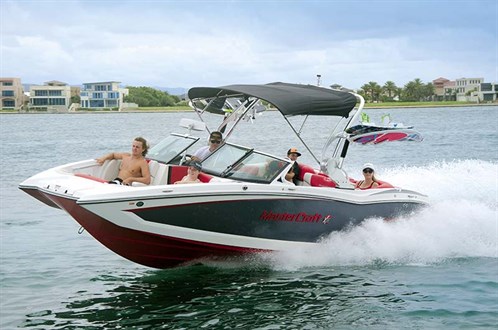 The MasterCraft X23 Gen 2 is the latest showpiece from this renowned wake boat manufacturer. It's a dedicated wake surfing boat and besides boasting the typical MasterCraft seductive looks and features, the X23 Gen 2 is loaded with innovative features. A standout is the new Gen 2 Surf ballast system, which should get you excited if you're into the super-fast-growing sport of wakesurfing.
To top this test off, we also had the privilege of having local talent Harley Clifford (Men's 2014 Wakeboarding world champion), and Mackenzie McCarthy (2014 10-year-old Girls world champion) onboard, showcasing their moves!
LAYOUT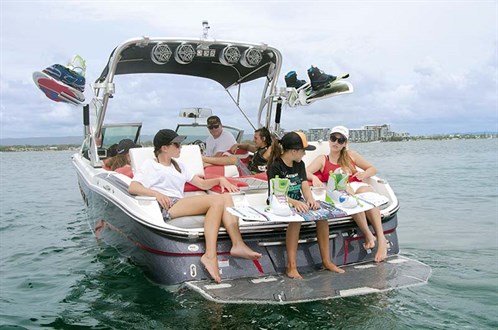 The layout offers generous space throughout, with enough room to load all the mates and more onboard with its 15-person (or 964kg) rating – and that's on top of a full ballast of 1360kg.
Seating on the MasterCraft X23 Gen 2 is virtually unlimited, with comfort and style being the key priority for those onboard. Up front, the open bow has a number of seating options – including forward-facing port and starboard loungers with armrests or a wraparound lounger or a full daybed with centre infill. Helm and cockpit seating is fully protected behind the large screens, as well as completely wraparound to the rear of the captain's helm seat to maintain the social aspect.
Sealed storage below is plentiful with inbuilt coolbox, trash bin and loads of space to stash all sorts of gear away. In the stern is a cool reversible mid-seat for viewing wakeboarders or surfers.
The X23 Gen 2 also has the new MasterCraft rear-facing sundeck seats positioned just back from the swimplatform. I like the way the seats have been recessed into the main platform and at a lazy-boy styled angle so they can be safely used while underway.
Other impressive parts include the abundance of simple things like drinkholders and USB charge ports, and a well-appointed and stylish captain's helm with multifunction digital control panel that controls all the wake and surf ballast setups (Gen 2 Surf) and engine data. The waketower and bimini combination is a piece of art on its own, while the overall feel, ergonomics and quality throughout the layout is really impressive and pretty much faultless.
GEN 2 SURF SYSTEM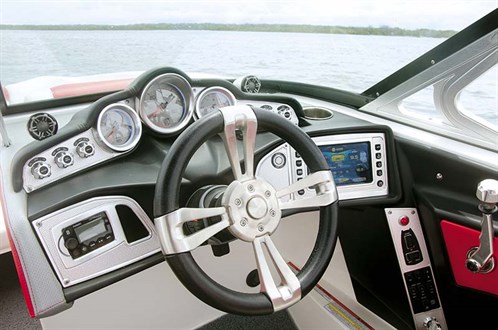 The MasterCraft Gen 2 Surf System is one of the best I've seen from this wake boat manufacturer. The X23 has more volume to it and this can be seen in the overall freeboard from bow to stern. Designed purely around creating the perfect wakesurfing wave, the Gen 2 Surf consists of four pillars, including individual boat hull (also available on other MasterCraft models), a colossal-sized ballast system, software to control it all and a wake-shaping device beneath the transom that sculpts the wave (a space age trim tab of sorts).
Designed and calibrated to the individual boat, the Gen 2 Surf System creates a cleaner, larger and longer wave, and more push at length through simple control of the ballast system via the touchscreen on the dash. Basically, you select a wave type to suit the rider, the ballasts are filled once and away you go – the boat does the maths and dials in the perfect port or starboard wave of choice.
Unlike standard boats used for wakesurfing, the Gen 2 Surf has four different preset zones for the dedicated wake-surfer. They include:
Zone 1 For building confidence and honing skills with a powerful, stable wave that's great for learning to surf, recovering or riding out some chop. Distance approximately zero to 1.5m from the platform.
Zone 2 Step it up with a stronger push and more defined lip edge – good for charging and a bit of air. Distance approximately 1.5 to 3m from the platform.
Zone 3 Add some agro and take it to the next level at Zone 3, providing the most vertical lip and steepest face to drop in and accelerate. Distance approximately 3 to 4.5m from the platform.
Zone 4 Exclusively on the MasterCraft X23, you can spread it out in Zone 4 with room to roam, recover or surf bigger boards. Distance approximately 4.5 to 6m from the platform.
PERFORMANCE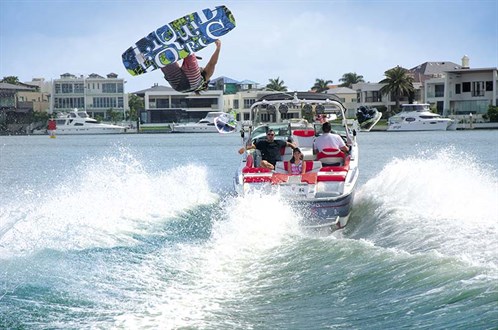 Besides Gen 2 Surf, the MasterCraft X23 Gen 2 also shines in other areas when it comes to performance. I liked the positioning of the engine bay, being as far back as possible and not encroaching on the deck space. The days of monster engine covers sitting in the middle of a deck are long over and this how it should be.
The MasterCraft X23 Gen 2 sports the 6.2lt Ilmor V8 motor that not only looks amazing but also produces hardcore performance in all areas. It is quiet but still has a small crackle to let you know it's a V8 – and that's good – as well as running economically in comparison to yesteryear's V8s.
At 6.93m in length and with a beam of 2.59m it's a big piece of boat to throw around, but with all the high-tech features and functions built in, the X23 Gen 2 is a breeze to drive – pretty much turnkey and go. Weight-wise it does pack a decent 2500kg approximately, so an adequate vehicle is necessary for towing and possibly overwidth plates needed depending on the State.
THE TRADE-A-BOAT VERDICT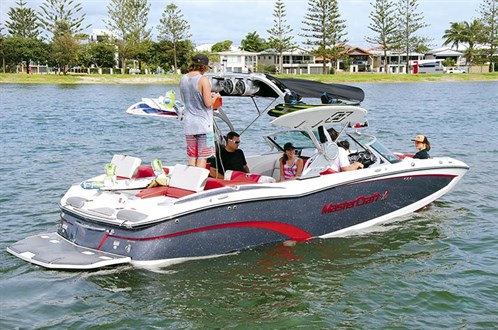 Whether for professional or recreational boating, the MasterCraft X23 Gen 2 is the ultimate in watersports boats. Its Gen 2 Surf System is a marvel of technology — and with a load capacity of 15 people, everyone can come along for the ride.
HIGHS
• Impeccable finishes throughout
• Gen 2 Surf System
• Advanced technology
LOWS
• Beam is overwidth for towing
MASTERCRAFT X23 GEN 2 SEA TRIALS
Single 430hp Ilmor 6.2lt V8 boat engine.
| | |
| --- | --- |
| RPM | SPEED (KTS) |
| 1500 | 5.2 |
| 2500 | 8.3 |
| 3500 | 13.5 |
| 4500 | 24.2 |
| 5500 | 31.6 |
| 5850 WOT | 34.9 |
* Sea-trial data supplied by the author.
MASTERCRAFT X-23 GEN 2 SPECIFICATIONS
MasterCraft X23 Gen 2 price: $POA (price as tested)
OPTIONS FITTED
Convenience package, Surf package, 6.2lt closed-cooled motor, Advance sound package, sundeck seating, underwater lights, custom colours, BTS windshield, convertible centre, heater, heated seats, rear lights, and more.
PRICED FROM
$159,000
GENERAL
MATERIAL GRP
TYPE Monohull
LENGTH 6.93m
BEAM 2.59m
WEIGHT 2495kg
CAPACITIES
PEOPLE 15
REC. HP 400
REC. MAX HP 550
FUEL 216lt
ENGINE
MAKE/MODEL Ilmor 6.2
TYPE Inboard V8 petrol
RATED HP 430
DISPLACEMENT 6.16lt
WEIGHT 427kg
GEAR RATIO 2:1
MORE INFORMATION
MasterCraft New Zealand
560 Te Rapa Road, Hamilton
Phone 07 849 0083
See the full version of this review in Trade-A-Boat #252, April / May 2015. Why not subscribe today?
Keep up to date with news from Trade-A-boat or like us on Facebook!