Review: PowerCat 3100 Platinum Series Cruiser
---
The 3100 Platinum Series Cruiser adds modern updates and innovations to an already well-reputed sportscruiser.
Back in 2010 we ran a review on the big PowerCat 3100 Sports Cruiser and one the manufacturer's 2600. Both were excellent powered catamarans although the PowerCat 3100 was easily the best for me.
A few years and we have a new release, the PowerCat 3100 Platinum Series Cruiser. As per the norm when it comes to the PowerCats I wouldn't expect anything less than cat purr-fection. These boats not only look the cruisiest and sportiest out of the local power cat brigade but also boast some classic internal features and innovative ideas within the build.
---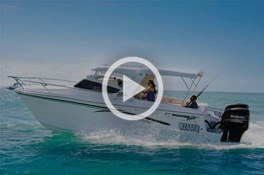 See this cat in action: PowerCat 3100 video
---
POWERCAT 3100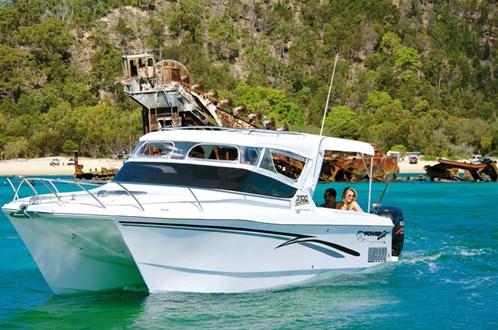 The external features of the PowerCat 3100 Platinum Series Cruiser are definitely worth a mention. I really like the way PowerCat maintains the lower profile sporty look on these boats. Rather than looking like a bulky 31-foot (9.45m) cat, these have a sleek, classy and more manageable appearance to them.
Another bonus of the PowerCat 3100 Platinum Series Cruiser is its trailerability. Although classed as oversized, it can be done with a decent 4x4 as the weight is just under three-tonnes.
Being trailerable eliminates the need to permanently moor the boat, as well as opening up a number of options when it comes to on-the-road and on-the-water adventures, especially for those into island hopping or hitting the road when retiring. If you have a partner who doesn't mind the ocean then this is definitely the way to go.
LAYOUT
Extended time on the water on the PowerCat 3100 Platinum Series Cruiser can comfortably be undertaken, thanks to the new internal layout that's loaded with new ergonomic and extra features that make this boat even more like a mini-home on the water. For example, when you climb aboard via the stern the natural feel of luxury kicks in immediately, thanks to the rear deck oozing comfort and entertainment. A generously-sized wraparound rear lounger protected by the extended bimini will comfortably seat the gang, while the large infill table has plenty of space for those loaded platters of seafood and a bottle or three of bubbly.
The entrance from the PowerCat 3100 Platinum Series Cruiser helm area into the cockpit has side mouldings with a portside mini-galley featuring sink, hot plate, fridge below and storage for cooking utensils. The starboard side has a nice, deep, insulated icebox with fridge/freezer plate fitted, as well as storage below. Both sides have granite benchtops and even intricate stainless steel rails along the edges to prevent anything from falling off. I really like this design as both sections form part of the front seating, have protection from the large hardtop, and don't encroach on deck space.
The 2.82m beam of the PowerCat 3100 Platinum Series Cruiser gives you a wide screen at the helm station with comfortable captain's and passenger seating either side. The screen is low-profile but due to the height of the dash the visibility is good when seated and standing. Rather than full screens there are clears with roll-up window and ventilation inserts which work well for air-flow on warm days.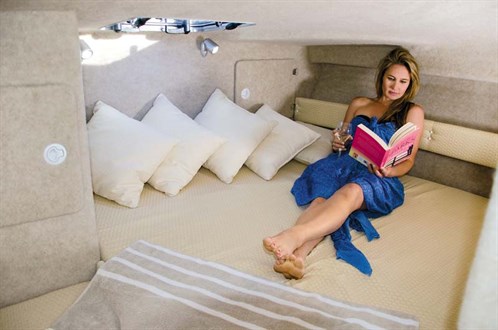 The helm station and dash is another well-thought-out area. The captain getting a good-sized dash section for all the necessary electronics, along with nicely positioned controls and steering to suit the helm station and driving positions. On top of that the helm station sits slightly back off the dash, making space for the separate head, shower and basin cubicle – an innovative use of space and another great feature to have onboard.
Another win in having such a wide beam comes within the cabin itself. It's spacious with a king-sized berth, storage options, lighting and plush linings throughout to give it quite the luxurious feel. This is a cabin you actually want to sleep in…
HANDLING AND RIDE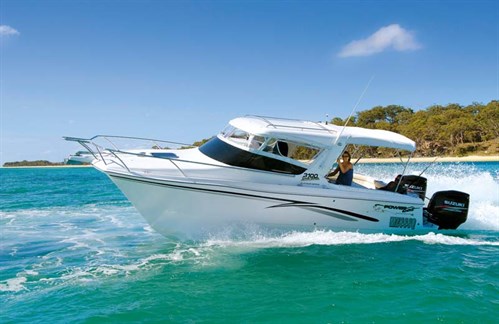 When it comes to powered catamarans and their ride you get the overachievers and the underachievers. If I said that the PowerCat 3100 Platinum Series Cruiser is an overachiever it would be an understatement. To give you an idea, a southeasterly was blowing a solid 20 to 25kts and combined with crosscurrents in the bay to create a solid 1.5m swell and chop. That made for conditions that could be classified as unsuitable and definitely the type one would avoid going out in.
I knew there was light at the end of the tunnel though, as Tangalooma is nicely protected in the lee of the southeaster, but getting there was going to be the fun part…
Steve Shaw, the owner of PowerCat Marine, assured me that the ride would be a breeze for the PowerCat 3100 Platinum Series Cruiser and regardless of the reassurance, I braced myself for what would normally be a total bashing and abuse of the body.
We entered the main channel with a sour greeting from the 1.5m swell and chop and rather than driving Miss Daisy, the hammers were knocked down to set the speed at around 30kts – yes 30kts – into a quartering foul swell and strong wind. Expecting to be bruised and battered by the time we arrived on the island I positioned myself strategically amidships to at least get some type of comfort.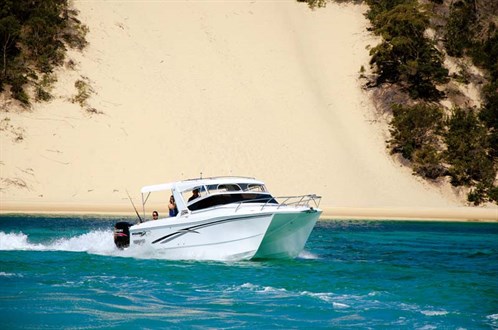 I most certainly got that wrong, the PowerCat 3100 Platinum doing its job by abusing the conditions rather than the conditions abusing us. The hull gets good lift off the sponsons and combined with the 28-degree deadrise it does a magnificent job at maintaining a solid cutting-edge soft ride, together with superb stability. Even at times where the odd curler stood up and we launched into the air the hull still felt like it was landing on a bed of cotton, with zero noise.
A trip like this on most other trailerboats could take more than an hour in these conditions. Instead it took us 40 minutes – and without being battered and bruised. Like most power cats there is a style to driving them and in particular, the PowerCat 3100 doesn't mind being driven hard.
TWIN SUZUKI OUTBOARDS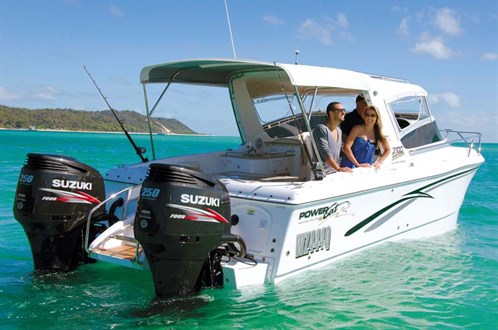 Another impressive characteristic of the ride was the performance from the twin 250hp Suzuki four-strokes, producing sweet running throughout the rev range and even getting this baby right up to a tick over 49kts in the flat water. That is exceptional and the best thing about it is the boat still felt safe at that speed.
The motors combine with good hull design to produce very low fuel consumption despite the size of the boat. At a standard cruise speed of 27.5kts the revs sat around 3500rpm with a combined economy of 46lt/h – that's as good as running on fumes in my opinion.
The last performance element to justify the overachiever status is definitely the turning capabilities of the 3100 PowerCat. A level-turning cat on a tightly locked turn is always a good feeling rather than one that leans to the outer sponson – the PowerCat 3100 Platinum Series Cruiser achieves one better and even has an inward lean to it. Steve pulled a few big full-lock turns at speed just to prove how well this hull performs and rides, and that it sure does.
THE VERDICT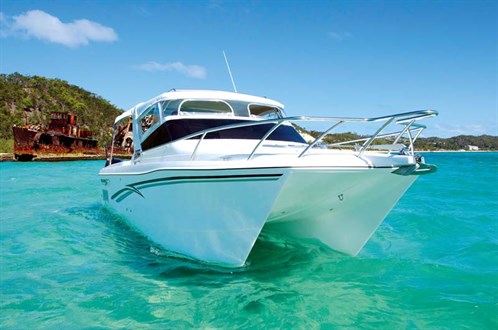 The PowerCat 3100 Platinum Series Cruiser is a massive performer and sizeable cat that is sure to impress with its functional and homely layout, luxurious finishes and by the number of standard and optional inclusions. Yes, like all cats it does carry more than the standard price tag found on most monohulls, but you have to consider the benefits, like: added safety through stability and having twin motors; the finer touchers and build quality; and all the optional inclusions as listed for this particular boat that make it a home-away-from-home.
HIGHS
• Cruising layout
• Ergonomics
• Comfort to layout
• Exceptional performer
• A hinged splashback for the hotplate would be good
LOWS
• A hinged splashback for the hotplate would be good
POWERCAT 3100 PLATINUM SERIES CRUISER SEA TRIALS
Twin 250hp Suzuki DF250 outboard motors
| | | |
| --- | --- | --- |
| RPM | SPEED (KTS) | FUEL BURN (LT/H) |
| 1500 | 6.9 | 15 |
| 2500 | 16 | 34 |
| 3500 | 27.5 | 46 |
| 4500 | 36.2 | 80 |
| 5500 | 45.3 | 134 |
| 6000 | 49.1 | 180 |
* Sea-trial data supplied by the author. Fuel burn figures are for both engines combined.
POWERCAT 3100 PLATINUM SERIES CRUISER SPECIFICATIONS
PRICED AS TESTED
PowerCat 3100 Platinum Series Cruiser price: $A275,584 (subject to exchange rate, delivery cost and GST)
OPTIONS FITTED
Twin 250hp Suzuki four-stroke outboard motors, PowerCat custom cavitation plates, SeaStar outboard power-steering kit, bathroom exhaust fan, two Truecharge 20amp battery chargers, Deckplank marine carpet to cockpit, livebait tank, Clarion iPod interface unit, convection plate, microwave, 1800W inverter, rear underfloor storage, stainless steel roof bars for tender, auxiliary motor bracket on transom boarding rail, and more
PRICED FROM
$A239,826
GENERAL
MATERIAL GRP
TYPE Power catamaran
LENGTH 9.3m
BEAM 2.82m
WEIGHT Approx 2700kg
DEADRISE 28°
CAPACITIES
PEOPLE 8
REC. HP 300 to 400
REC. MAX HP 600
FUEL 500lt
WATER 120lt
HOLDING TANK 40lt
ENGINE               
MAKE/MODEL 2 x Suzuki DF250 outboard motors
TYPE V6 DOHC 24-valve four-stroke outboard motor
RATED HP 250 each
DISPLACEMENT 3614cc each
WEIGHT 268kg each
GEAR RATIO 2.29:1
MORE INFORMATION
Powercat Marine
Unit 2/28 Cessna Drive,
Caboolture, QLD, 4510, Australia
Phone +61 7 5428 0043; +61 411 477 795
Email sales@powercatmarine.com.au
See the full version of this review in Trade-A-Boat #251, March / April 2015. Why not subscribe today?
Keep up to date with news from Trade-A-boat or like us on Facebook!