Video: PowerCat 3100 Platinum Series
---
Our boat reviewer is deeply impressed with the handling and ride of the luxurious PowerCat 3100 Platinum Series.
The 3100 Platinum Series is a PowerCat model orientated more towards leisure and cruising. It is different to previous PowerCat models in its layout and extended creature comforts. It has full wraparound lounges, fridges, stoves, and just about everything a family would need to stay onboard for a week. The cabin has a full King size bed that could sleep four — it's that big.
---
---
HANDLING AND RIDE
On the way out from Bribie Island in Brisbane, Australia, the crew encountered 25kts of wind, with 1.5m swell charging through with reverse tides and current making things sloppy and quite unpleasant. "Not the normal day that anyone would go out on a boat," says our Queensland boat reviewer, Kevin Smith.
"Well, coming out on this 3100 Powercat, this thing just sliced through the chop like butter," says Kevin.
The PowerCat 3100 sat at around 25kts all the way through the chop and throughout the crew still managed to hold a good conversation — without the need to hang on for dear life.
"It's a magnificent boat when it comes to ride," says Kevin. Stability is also great in addition to the soft ride, and there's the added protection of the hardtop.
TWIN SUZUKI OUTBOARDS
This PowerCat 3100 Platinum Series was fitted with twin 250hp Suzuki outboard motors. Running the boat at around 30kts the outboard motors were only doing about 4000rpm while using considerably little fuel for a boat this size.
THE VERDICT
The PowerCat 3100 Platinum Series is a gorgeous weekend cruiser that'll happily take the whole family away for an extended adventure and back.
"A week up at Airlie Beach or around the islands would be nothing on this boat. It would be fantastic," says Kevin.
The ride is comfortable and feels very soft and confident. Even better, the PowerCat 3100 Platinum Series is legally trailerable. True, you'd need a big tow vehicle like a Ford F250, but it can still be done. You could even pull into a caravan park with the PowerCat 3100 in tow and stay in it.
---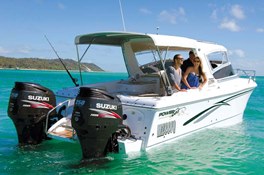 See this cat reviewed in full: PowerCat 3100 review
---
Like what you see? Why not subscribe to Trade-a-Boat magazine.
Keep up to date with news from Trade-A-boat or like us on Facebook!