Review: Tohatsu MFS50A outboard motor
---
The MFS50A is Tohatsu's first mid-range four-stroke outboard motor — and it's a corker of an engine.
Despite the traditional Tohatsu emphasis on two-stroke outboard motors being the way to go, its first low-emission outboard was the four-stroke Tohatsu MFS5A, released on the Aussie market in 1999. This was followed a year later with the direct fuel injection two-stroke TLDI 50. Over the next ten years Tohatsu released a range of low-emission outboard motors, with its most powerful four-stroke being the Tohatsu MFS30B and DFI model TLDI 115.
I had hoped the 115 would be developed into a 130 or 135 but as the world trend is towards four-strokes, Tohatsu quietly worked away extending its own range of four-stroke outboards. The engines were kept simple, reducing weight to little more than their TLDI counterparts. The next model is the three-cylinder Tohatsu MFS50A, also available as the de-rated Tohatsu MFS40A. Both engines weigh only 97kg with power trim/tilt, way lighter than the competition and only 2.5kg above the TLDI 50.
TOHATSU MFS50A
Just a simple belt-driven SOHC design, with six valves and the usual low-pressure sequential multipoint EFI. The Tohatsu MFS50A develops 49.3 brake horsepower (746 Watts equals 1 BHP) at 5500rpm, with a wide open throttle range of 5000 to 6000rpm and a rev limiter set at 6500.
The 866cc crossflow powerhead has OEDA 3-star exhaust emissions compliance and the voltage regulated alternator pumps out a maximum of 21amp, not bad for a 50.
Tohatsu is one of only two outboard motor manufacturers on the Aussie market to supply torque curves. An engine's torque output is way more important than maximum output because it gives an indication of just how gutsy the engine really is. The Tohatsu MFS50A develops a whopping 71.6 Newton metres at 4500rpm, but way more impressive is that it puts out 60Nm at only 2000rpm. This is why the demo engine supplied by Lakeside Marine (Charmhaven, NSW) performed so well relative to its maximum output.
Another unique feature is the variable trolling rpm control. The direct three-cylinder four-stroke competition only troll down to 800rpm, way too quick for some freshwater fish species. But by holding in the ignition key for one second at a time the rpm can be varied from 650 to 950rpm in steps of 100rpm. Simply brilliant!
The powerhead layout is clever too. The starter motor, straight from the TLDI 90, is mounted at the forward end, leaving the sides free for instant access to the engine oil dipstick, canister oil filter, bowl-type fuel filter and sparkplugs. A freshwater port is provided for flushing the engine without running it and the air intake manifold is alloy, not plastic which can distort if the engine overheats.
The 2.4lt oil capacity is adequate for absorbing oil sludging between changes (which Lakeside Marine recommends every 50 hours or annually after the first 20 hours). A good quality FCW SAE 10W30 oil is recommended for temperate climates. The recreational usage warranty is three years.
PERFORMANCE
Swinging the standard 14in pitch alloy prop to suit the 2.08:1 gear ratio, the demo MFS50A provided all the torque and power needed for the Clark Abalone 435 Centre Console it was mounted on, which displaced a total of 750kg including two adults and test gear. The engine started instantly hot or cold and had plenty of power astern.
First thing I noticed was how smooth the 50 was, even at 650rpm where its vibration levels were comparable to the three-cylinder four-stroke competition at 800rpm. No flab reduction here, just a slight vibration through the hull and steering wheel. And fuel flow is as miserly as the TLDI 50 at 700rpm! At 950rpm vibration levels were as low as the four-cylinder competition.
Like most stern-heavy centre consoles the best way of planing the 435 was to open the throttle to 4000rpm then throttle back once up. Through tight turns at 4000rpm there was no prop ventilation and even at WOT my tinnitus didn't get a workout.
THE TRADE-A-BOAT VERDICT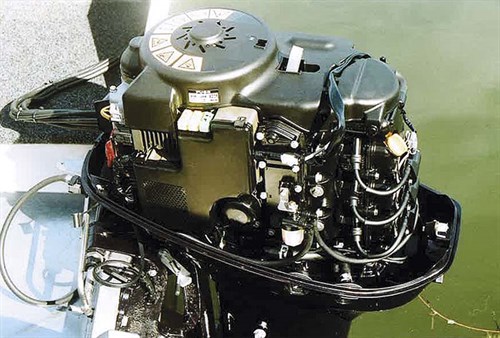 I've always loved the Tohatsu TLDI 50 but I gotta admit the Tohatsu MFS50A is damned good. It's gutsy, economical and quiet without being complex, qualities an old fart like me appreciates. It's not perfect as it didn't reduce my flab but it did make for a very pleasant few hours afloat.
As of 1 May, 2014 the remote control PT&T model Tohatsu MFS50A price was $11,125 RRP with standard rigging kit including prop, tacho and trim gauge and a 25lt fuel tank. Visit tohatsu.co.nz for more information.
TOHATSU MFS50A SEA TRIALS
Average of two-way runs on Lake Munmorah-NSW using handheld GPS and my own fuel-flow gear, calm water
| | | |
| --- | --- | --- |
| RPM | SPEED (KTS) | FUEL BURN (LT/H) |
| 650 (slow troll) | 1.7 |  0.5 |
| 750 | 1.9 |  – |
| 850 | 2.1 |  – |
| 950 (fast troll) | 2.4 |  0.6 |
| 2000 | 4.9 |  2 |
| 3400 (min. plane) | 12.3 |  5.7 |
| 4000 (best cruise) | 18.6 |  6.5 |
| 5000 (max cruise) | 24.6 |  9.7 |
| 6300 (WOT) | 30.5 | 16.8 |
*Sea-trial data supplied by the author.
DIRECTLY COMPETING OUTBOARD MOTORS
| | | |
| --- | --- | --- |
|   | Honda BF50D | Suzuki DF50 |
| WEIGHT (KG) | 102 | 104* |
| CYL/BHP/RPM | 3/49.3/5750 | 3/49.3/5800 |
| DISPLACEMENT (CC) | 808 | 941 |
| WARRANTY (YRS) | 5 | 5 |
| OEDA STARS | 3 | 3 |
*The Suzuki DF50 is de-rated from the DF60.
TOHATSU MFS50A SPECIFICATIONS
Tohatsu MFS50A price: $11,125
TYPE Three-cylinder petrol four-stroke outboard motor
RATED HP 49.3
REC. RPM RANGE 5000 to 6000
DISPLACEMENT 866cc
BORE X STROKE 70 x 75mm
WEIGHT 97kg
GEAR RATIO 2.08:1
WARRANTY 3 years
OEDA STARS 3
See the full version of this review in Trade-A-Boat #253, May / June 2015. Why not subscribe today?
Keep up to date with news from Trade-A-boat or like us on Facebook!