Review: Yanmar 4JH4-TE marine engine
---
More air equals better output with the Yanmar 4JH4-TE marine engine.
Yanmar JH4 engines have been around a while now. Starting at 74 brake horsepower and rising to 108bhp, these Yanmar engines are the smallest in the manufacturer's marine engine recreational range to have turbocharging. Both models have four valves per cylinder, though still with pushrod valve actuation, and mechanical engine management and straightforward distributor pump-type fuel injection for reliability. No potential issues with common rail here!
Sensibly they have direct injection, which is really the way to go when turbocharging an engine. Adding a turbocharger to an indirect injection engine can stress the cylinder head around the pre-combustion chamber outlet.
Though having only straight turbocharging (no aftercooler) the Yanmar 4JH4-TE model is the largest Yanmar to be mated with a saildrive.
YANMAR 4JH4-TE
It might seem odd that Yanmar didn't simply turbocharge the 2.2lt 4JH5E engine, which is a four-cylinder version of its smallest direct injection marine diesel the three-cylinder 3JH5E. Instead it opted for the two-litre JH4 engine which has a smaller cylinder bore but the same piston stroke. This particular bore/stroke combination is used in the JH4, JH3 and BY2 series. The BY2 models develop up to 177bhp from DOHC valve actuation and turbocharging and intercooling with electronically managed common rail injection, so the base engine sure is flexible!
Like the 4JH5E the turbo cousin has heat exchanger cooling and a voltage regulated 80amp alternator, a bit light on output considering the engine output. The same 1.4kW starter motor is fitted. Both the alternator and starter motor are mounted well above the engine bearers.
Concerned about stray fingers damaging the V-belt that drives the alternator and freshwater cooling pump, Yanmar has fitted a removable shroud. The turbocharger is mounted neatly at the aft end of the rocker cover but no higher than it, easing engine installation. The oil filter is easily reached and a sump oil evacuation pump is standard. Yanmar recommends an API (American Petroleum Institute) CD or higher grade oil with SAE ratings of 10W30 or 15W40, the latter providing better engine protection in tropical climates. The oil and filter should be changed every 200 hours or annually, or six months if using the engine infrequently.
With a mechanical cone clutch KM4A2-4 gearbox that has a seven-degree down angle at the output flange the 4JH4-TE is 903mm long, 661mm wide and 659mm high, so it's not much bulkier than the 4JH5E that develops 53.1bhp at 3000rpm. The total dry weight is only 11 per cent higher despite a 39 per cent increase in power and 35 per cent more torque. However only one gearbox model, the straight-output ZF30M has a deeper gear ratio astern than ahead (2.15:1/2.64:1), while all the others up to the hydraulic ZF25A have the same ahead and astern ratios from 1.47:1 to 2.63:1.
To handle the additional engine torque over the 4JH5E, Yanmar mates the 4JH4-TE with its SD50-T saildrive, raising the engine/drive dry weight to 249kg. Only Quicksilver High Performance Gear Lube is recommended for the SD50-T compared to SAE 80/90 for the SD50, though at 2.32:1 ahead and astern the gear ratios are the same. Fortunately these drives have mechanical cone clutches whereas the smaller SD20 drive has a dog clutch, so shifting action is way smoother.
Complete with leg and fibreglass mounting bed the saildrive 4JH4-TE is 1086mm long, 565mm wide and 643mm high from the leg mounting flange. Leg lengths to prop hub centre of 395, 453 and 495mm are available.
Standard is the digital C instrument panel that's a bit light on with information displayed. Better is the B panel that has analogue displays of engine rpm (with digital hour meter), engine temperature and oil pressure. Call me archaic but I prefer the key switch panel that also has alarms for low engine oil pressure, engine overheat and low battery charge. But whichever panel you choose the tacho still reads to 5000rpm, really annoying!
THE TRADE-A-BOAT VERDICT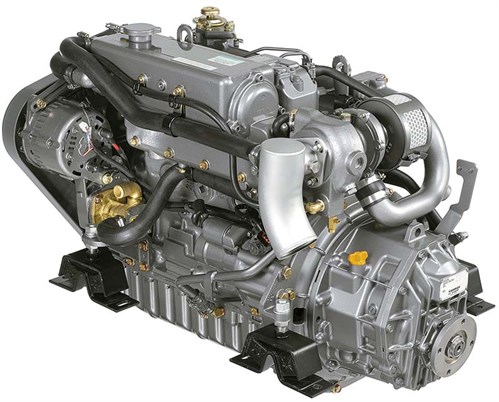 With its healthy blend of power and torque due to better breathing from the turbo than a comparable displacement naturally aspirated diesel, the 4JH4-TE suits performance keelboats to 15m or 13 tonnes. The saildrive version can be mated with the Gori folding prop with brilliant overdrive function, great for motorsailing or powering downwind. But like all turbocharged diesels it must reach its rated maximum rpm and preferably out to around 3300rpm at wide open throttle.
Clearly the 4JH4-TE was designed more as a yacht auxiliary engine than for displacement cruisers, particularly when mated with the SD50-T saildrive. It offers good power and torque delivery for weight and has a proven reputation for reliability, judging from how popular this engine is among yachtbuilders. And being a Yanmar it has good resale value when it comes to repowering. Its four-cylinder design will also massage flab when idling.
Visit yanmar.com for more information.
YANMAR 4JH4-TE PERFORMANCE
Torque and fuel consumption
| | | | |
| --- | --- | --- | --- |
| RPM | MAX TORQUE (NM) | BHP (ABSORBED BY PROP) | FUEL BURN (LT/H) |
| 1200 | 145 | 4 | 0.9 |
| 1400 | 160 | 6.7 | 1.2 |
| 1600 | 190 | 9.7 | 2.1 |
| 1800 | 220 | 13.4 | 3 |
| 2000 | 220 | 17.4 | 4 |
| 2200* | 215 | 23.5 | 5 |
| 2400 | 200 | 30.8 | 6.5 |
| 2600 | 190 | 38.9 | 8 |
| 2800* | 180 | 46.9 | 10.5 |
| 3000 | 175 | 60.3 | 13.5 |
| 3200 | 170 | 74 | 17 |
* Minimum and maximum recommended cruising rpm. Yanmar states 3100rpm as maximum continuous but in my opinion this is too close to WOT. The actual kW maximum is 55.2 or 74 brake horsepower or 75.1 metric horsepower (MHP) which mixes imperial and metric engine output measurements and is not logical.
YANMAR 4JH4-TE SPECIFICATIONS
TYPE Four-cylinder turbocharged diesel marine engine
RATED BHP 74 at 3200rpm
MAX TORQUE 220Nm at 1800 to 2000rpm
DISPLACEMENT 1995cc
BORE X STROKE 84 x 90mm
WEIGHT 237kg (dry w/gearbox); 249kg (dry w/ saildrive)
See the full version of this review in Trade-A-Boat #253, May / June 2015. Why not subscribe today?
Keep up to date with news from Trade-A-boat or like us on Facebook!